Having the appropriate equipment is crucial for a successful and enjoyable hiking trip. The right tools may make all the difference, whether you're a seasoned hiker or just getting started. A nice pair of socks is one of the essential items for any hiker. Your feet will receive cushioning and support from hiking socks, which will shield them from blisters, hotspots, and other typical foot problems that might occur while on the path.
That's where Cloudline, a business specializing in producing top-notch hiking socks, comes in. Since its establishment in 2015, Cloudline has been committed to creating socks enabling people to get the most out of their outside time. Each pair of hiking socks has qualities that make them both comfortable and robust, with the demands of hikers in mind.
We'll examine the characteristics and advantages of Cloudline socks in more detail in this post, along with why each serious hiker should own a pair. We'll talk about the components utilized in their creation, the design features that set them apart from other hiking socks, and the unique advantages that hikers may anticipate from wearing Cloudline socks. Thus, learn why Cloudline socks are a perfect option for your upcoming journey, whether planning a day trek or a multi-day backpacking trip.
Cloudline Socks Review: Top 3 Picks
1. CloudLine Running Socks: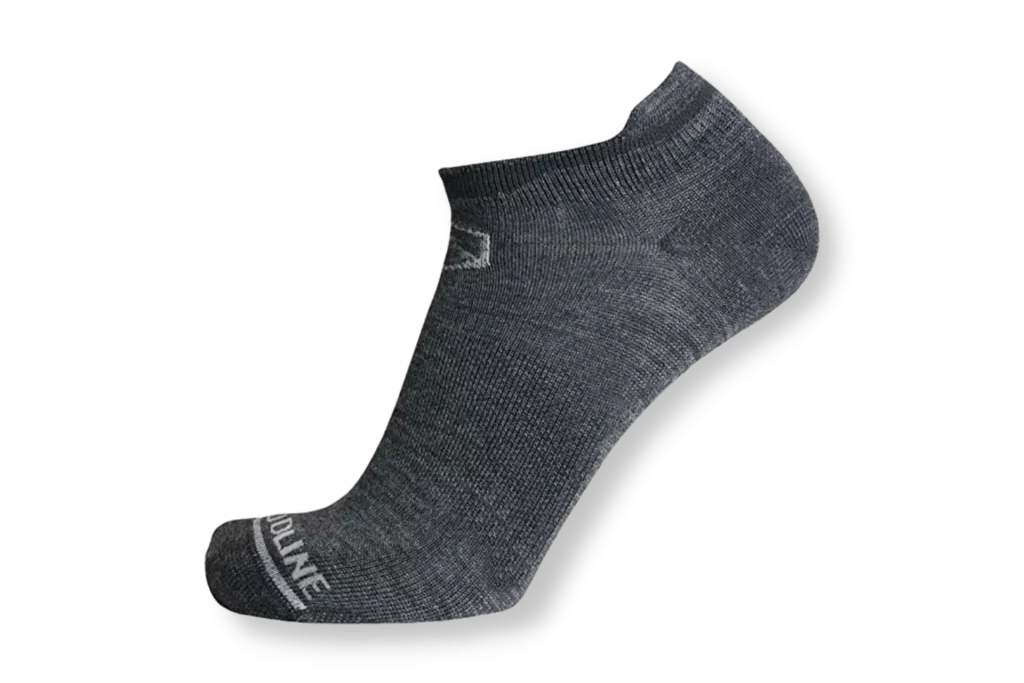 CloudLine Running Socks are a premium option for runners who take their sport seriously. These socks are filled with characteristics that make them an excellent choice for runners of all skill levels and were created with a focus on comfort and performance.
Materials and Construction:
The CloudLine Running Socks are constructed with a combination of merino wool and synthetic materials, which results in socks that are not only comfortable but also long-lasting. Merino wool is a natural fabric known for its pliability, ability to wick moisture, and breathability. Its resilience is increased because of the use of synthetic materials, which also contribute to its extended lifespan.
Light Cushioning:
These socks strike a good compromise between comfort and performance because of the thin cushioning they include. Each stride will feel more comfortable because of the cushioning, enabling the foot to feel in touch with the ground. Even on rugged terrain, this is essential advice for runners who wish to keep their feet firmly planted on the ground and keep their equilibrium.
Seamless Toe Design:
The toe of the CloudLine Running Socks is designed to be seamless, which helps avoid blisters and other foot problems during long-distance runs. Because there is no seam across the toe region, there is no possibility of pain or friction, which can lead to blisters.
Moisture Wicking:
These socks are designed with moisture-wicking technology, which helps to keep feet dry and cool. Runners must do this to prevent the accumulation of perspiration, which can result in discomfort and even blisters.
Breathability:
The mesh panels provide ventilation on the top of the foot. This assists in maintaining a comfortable temperature and wards against overheating. This is of utmost significance for runners who exercise in hot weather or run long distances, as both factors can cause heat exhaustion.
CloudLine Running Socks are an excellent option for runners looking for a comfortable, long-lasting, high-performing sock. They are loaded with technologies that help avoid blisters, control temperature, and provide cushioning for a pleasant stride so that you can run for longer. These socks are an absolute must for every runner that takes their sport seriously, whether preparing for a competition or simply running in the morning.
2. CloudLine Hiking Socks: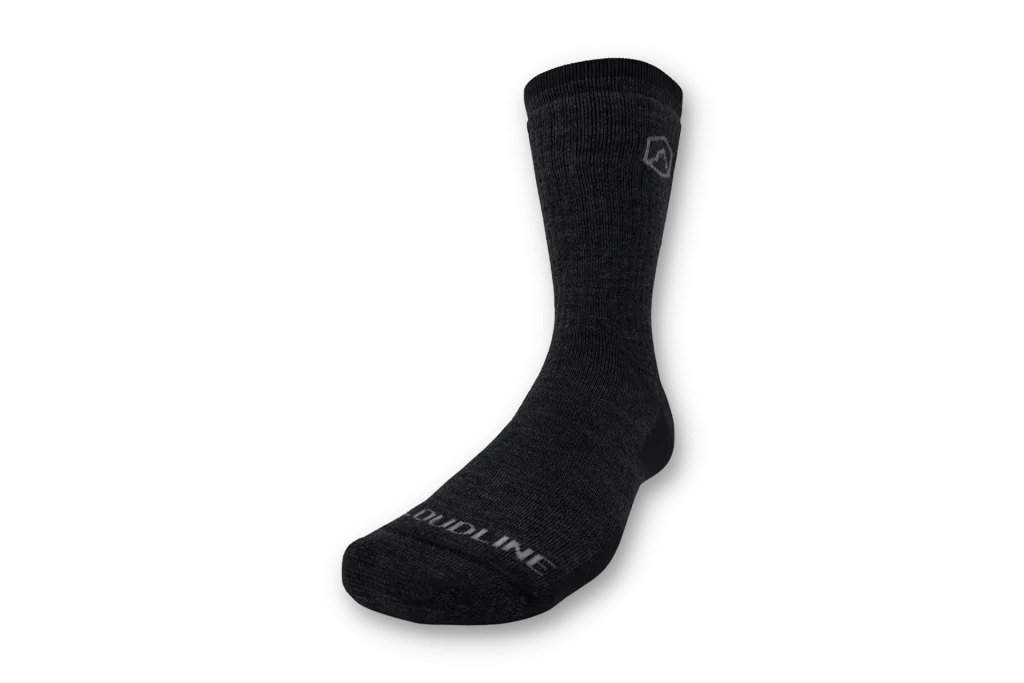 The CloudLine Hiking Socks are an excellent option for hikers and outdoor enthusiasts who prioritize comfort and longevity in their footwear and apparel. These socks have a light cushion that offers just the proper cushioning without adding additional weight to the design.
Seamless Design:
The CloudLine Hiking Socks have a seamless design, which minimizes the irritation and discomfort typically associated with bulky seams. Its design is ideal for hiking. Because of this, you won't have to worry about blisters or chafing while hiking.
Moisture Wicking and Breathable:
These socks are constructed from a combination of merino wool and synthetic materials. They are meant to drain moisture away from your feet, ensuring they remain dry and comfortable even during the most challenging climbs. Because the fabric is permeable and helps control temperature, your feet will stay calm when the weather is warm and warm when the weather is cold.
Durability:
The CloudLine Hiking Socks are durable and long-lasting. Because the merino wool blend is inherently resistant to smells and germs, you won't need to worry about your shoes getting stinky even after using them on several treks. In addition, the heels and toes of these socks have been strengthened, making them capable of withstanding the most challenging terrain.
Versatility:
These socks are perfect for a variety of activities, not just hiking. They are both lightweight and cushioned and have qualities that wick away sweat, making them an excellent option for a wide range of sports, including walking, cycling, and running.
Available in Multiple Sizes and Colors:
The CloudLine Hiking Socks are offered in various sizes and colors, making them suitable for hiking styles and personal preferences. A pair of CloudLine socks are available to meet your needs, regardless of whether you want a timeless black or an eye-catching splash of color.
The CloudLine Hiking Socks are an excellent purchase for someone who enjoys being outside for long periods. Even on the most strenuous walks, they can keep your feet dry, comfortable, and protected thanks to their seamless design, moisture-wicking qualities, and long-lasting construction.
3. CloudLine Hiking Socks – Merino Wool, Seamless Toe:
The ideal travel buddy for all of your outdoor exploits! These socks, crafted from the highest quality Merino Wool, will provide your feet with unrivaled comfort, support, and protection. Even on the most strenuous walks, these socks are designed to keep your feet comfortable and healthy by including a seamless toe construction, characteristics that keep feet warm and drain away moisture, and a shape that allows air to circulate.
Comfortable and Durable Merino Wool:
The CloudLine Hiking Socks are constructed from high-quality Merino Wool, which is well-known for its suppleness and its resistance to wear and tear. Because the material is breathable and wicks away moisture, it will ensure that your feet remain comfy and dry even during lengthy excursions. The socks are ideal for usage throughout the year since they keep your feet toasty in the winter and are breathable enough to keep them cool in the summer.
Seamless Toe Construction:
Because these socks have a seamless toe design, you won't have to worry about unwanted rubbing or chafing. Because of this function, which also helps avoid blisters, these socks are an excellent option for lengthy excursions.
Warm and Moisture-Wicking Design:
Even if the weather is damp, the CloudLine Hiking Socks will prevent your feet from getting cold and will keep them dry. Your feet will remain dry and comfortable thanks to the moisture-wicking characteristics of the Merino Wool fabric, which pulls perspiration and moisture away from the skin of your feet.
Breathable and Ventilated:
Even on the most strenuous of walks, the design of these socks, which allows air to pass through them, will keep your feet feeling fresh and comfortable. Because the socks include ventilation channels that increase airflow and avoid overheating, you can concentrate on your journey rather than your feet, giving you more freedom to explore.
Perfect Fit and Size:
These socks are offered in size designated as Large Granite, which makes them suitable for wear by the vast majority of men and women. You won't have to worry about them slipping or bunching up while you're hiking since they offer a fit that is both comfortable and secure.
The CloudLine Hiking Socks have a superior quality, comfy, and long-lasting design, making them ideal for hiking and other outdoor activities. Because of their ability to wick away moisture, be breathable, and protect against blisters, as well as their seamless toe design, they should be an essential component of any serious hiker's gear. Place your order for a pair right now to ensure your feet get the utmost comfort and protection possible.
Quality and Comfort of Cloudline socks:
The premium materials used to make Cloudline socks are one of their main selling points. Merino wool, nylon, and spandex are used in the socks' construction to give them a pleasant, breathable fit. Nylon and spandex offer strength and elasticity, while merino wool is renowned for its softness, warmth, and moisture-wicking qualities.
Cloudline socks are made to fit snugly without being too tight for comfort. In the heel and toe regions of the socks, there is cushioning, which offers additional support and comfort during high-impact sports. The socks also contain arch compression, which aids in preventing slippage and helps to keep the socks in place.
Price and Availability:
Depending on the particular product, the merchant, and the location, Cloudline socks may be more expensive or less readily available. Compared to other high-quality outdoor socks on the market, Cloudline socks are often priced in the middle.
Prices for socks on the official Cloudline website and amazon range from about $15 to $23 USD. Prices, however, may change based on the sock's shape and color. Also, specific merchants could run specials or promotions that impact the pricing.
Many businesses, including outdoor specialty shops, sports goods stores, and internet merchants like Amazon, carry Cloudline socks. Shopping around will help you locate the most incredible selections since some stores could have a bigger range of sizes and styles than others.
Cloudline socks are often easily accessible in North America, Europe, and other continents. Nevertheless, there can be limits on availability for particular designs or sizes in some locations.
Variety of Colors and Designs:
Cloudline socks come in various colors and designs to suit different preferences and needs. The most popular color options include black, gray, blue, green, and red. Many sock designs feature color-block patterns, stripes, or simple solid colors.
In addition to color, Cloudline socks come in various styles to suit different activities and preferences. Some of the most popular types include:
Hiking socks: These socks are designed for hiking and other outdoor activities, with cushioning and arch support features.
Running socks: These socks are designed for running and other high-impact activities, with a lightweight and breathable design.
Skiing socks: These socks are designed for skiing and other winter sports, with extra padding in the shin and calf areas.
Lifestyle socks: These are designed for everyday wear and come in various styles and colors.
Cloudline also offers a variety of sock heights, including ankle socks, crew socks, and knee-high socks. This allows you to choose the size best suits your needs and preferences.
Care and Performance of Cloudline Socks:
It's crucial to adhere to the recommended care guidelines for Cloudline socks to preserve their performance and longevity. Here are some pointers for maintaining the functionality of Cloudline socks and caring for them:
Merino wool, nylon, and spandex, sensitive to high heat, are the primary materials used to make Cloudline socks. Wash the socks in cold water is advised to avoid shrinking and fabric damage.
Steer clear of powerful detergents and bleach, which can harm the fibers and reduce the effectiveness of the socks. Avoid fabric softeners, which might interfere with the merino wool's ability to drain away moisture, and use a mild detergent instead.
Avoid using the dryer to dry Cloudline socks since the intense heat can harm the fibers and compromise the socks' fit and functionality. Alternatively, hang the socks up to dry or lay them flat to air dry.
Although Cloudline socks are made for outdoor use, they can still be harmed by objects like pebbles or tree branches. Avoid wearing the socks barefoot and walking on uneven surfaces.
The performance and longevity of Cloudline socks may be excellent with appropriate maintenance. Since merino wool fibers naturally resist odor and drain away moisture, they are perfect for outdoor activities. The cushioning and arch support add comfort and support when engaging in high-impact exercises.
Customer Service & Support of Cloudline:
Cloudline is dedicated to providing its clients with superior support and customer service of the highest caliber. Email support, live chat support, and support through various social media platforms are some available options for receiving assistance from this organization.
Email Cloudline's customer support staff if you have any questions or concerns about Cloudline goods or purchases, or use the live chat function on their website to receive real-time assistance if you have any queries or concerns about Cloudline products or orders.
In addition, Cloudline maintains a robust social media presence across various platforms, including Facebook and Instagram, where users may communicate directly with the firm and interact with other clients. Cloudline is committed to assisting clients with their needs and creating a pleasant experience.
Warranty of Cloudline Socks:
Every pair of Cloudline socks comes with a lifetime warranty from the company. Over the device's entire lifespan, this guarantee will take care of any problems caused by faulty materials or craft. If you have problems with your Cloudline socks, such as holes or unraveling, you may contact the firm's customer care service to begin filing a warranty claim.
You will need to submit evidence of purchase in addition to a description of the problem that you have to get the warranty claim process started. If your claim is validated, Cloudline will repair or replace your socks at no additional cost, depending on which option is more appropriate.
It is essential to remember that the lifetime guarantee does not cover damage resulting from regular wear and tear, as well as damage caused by improper usage or negligence. You can still contact customer care service even if your socks have been damaged due to natural wear and tear to enquire about possibly having them repaired or replaced.
In general, the lifetime warranty that Cloudline provides demonstrates the company's dedication to providing high-quality products and ensuring complete client satisfaction. Customers are given peace of mind and assured that they would continue to enjoy wearing their Cloudline socks for many years.
Features & Specifications of Cloudline Socks:
The Cloudline brand of socks is built with several critical features and specifications that combine to make them excellent for use in outdoor sports. The socks are constructed using a combination of merino wool, nylon, and spandex, resulting in a comfortable, long-lasting, breathable sock suited for various activities.
In addition, merino wool can wick away moisture, which helps absorb perspiration and ensures that your feet remain dry and comfortable even during strenuous activity. In addition, the heel and toe sections of the socks have cushioning built into them, which helps to give additional support and comfort when engaged in high-impact sports.
The arch compression helps to keep the sock in place and prevent slippage. There is a wide selection of sock designs and heights to choose from while shopping at Cloudline, including hiking, running, skiing, and lifestyle socks.
The socks are available in various hues and patterns to cater to different preferences and requirements. Cloudline socks are a good alternative for anybody seeking socks to wear during outdoor activities since they are comfortable, long-lasting, and perform well.
Pros & Cons of Cloudline Socks:
Cloudline socks have many pros and cons, which can help you decide if they are the right choice for you. Here are some of the pros and cons of Cloudline socks:
Pros:
High-quality materials: Merino wool, nylon, and spandex are combined to create Cloudline socks, which are soft, strong, breathable, and ideal for various sports.
Moisture-wicking: Merino wool, naturally moisture-wicking and used in Cloudline socks, may absorb perspiration and keep your feet dry and comfortable during physical activity.
Cushioning and arch support: The heel and toe regions of Cloudline socks provide cushioning, which adds additional support and comfort during high-impact activities. In addition, the compression in the arch aids sock retention and prevents slippage.
Lifetime warranty: All of Cloudline's socks come with a lifetime guarantee that covers any manufacturing or material flaws for the duration of the product.
Cons:
Price: Compared to other high-quality outdoor socks on the market, Cloudline socks are priced in the middle, which may be a drawback for those on a tight budget.
Sizing: According to some customers, the sizing of Cloudline socks might vary, which can be bothersome for people who want an exact fit.
Restricted availability: Cloudline socks may be only sold in some areas, which might make it challenging for specific buyers to buy them.
Cloudline vs. Darn Tough Socks:
Popular sock companies Cloudline and Darn Tough are renowned for their high caliber and effectiveness. The following are some variations between the two:
Materials: Merino wool, nylon, and spandex are combined to make Cloudline socks, while merino wool, nylon, and Lycra® spandex are combined to make Darn Tough socks. Both fabrics can wick away moisture and are inherently antibacterial, but Lycra® spandex is renowned for being more vital and offering a better fit than regular spandex.
Cushioning: Darn Tough offers variable amounts of cushioning based on the design of the sock, whereas Cloudline provides three levels of cushioning in their socks. Choose Cloudline if you like your socks to have much cushioning.
Price: Darn Tough socks often cost more than Cloudline socks, but they have a lifetime warranty, so you can purchase a new pair if your old ones break.
Fit: Both companies provide a variety of sizes and designs to accommodate various foot sizes, shapes, and preferences. However, some customers feel that Darn Tough socks give a better fit and don't slide down as much as Cloudline socks.
Both brands are excellent choices for anybody searching for a cozy, strong, moisture-wicking sock. It can come down to what characteristics are most essential to you and what you like.
Here is one Product Example of Darn Tough Socks.
1. Darn Tough Merino Wool Boot Sock: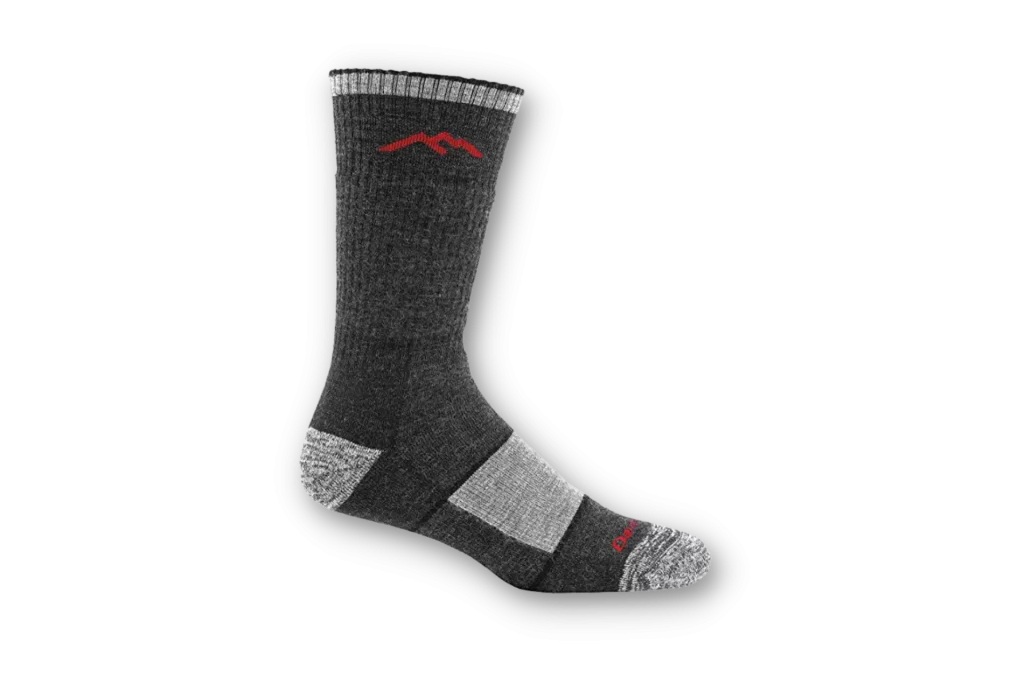 These socks are made from ultra-soft Merino wool, which wicks away moisture, strong nylon, and elastic Lycra® spandex to keep your feet cozy and supported all day. Long treks, hiking expeditions, and other activities that put your feet to the test are all made possible by the complete cushioning, which offers additional padding and impact absorption.
Yet, these socks are more than just practical; they're also fashionable. You may express your uniqueness while using the advantages of a high-quality hose, thanks to the traditional ribbed pattern and a selection of colors. Also, these socks will remain fresh and odor-free even after several uses because of their antibacterial qualities.
The lifetime warranty offered with the Darn Tough Merino Wool Boot Sock Full Cushion is the cherry on top. Darn Tough will replace your socks for free if they break. So why choose a subpar sock when you can have one that is durable, comfy, and designed to last? Get a pair right away to see and feel the difference Darn Tough can make.
Frequently Asked Questions:
How much do socks weigh?
The weight of socks can vary depending on several factors, such as the material they are made of, their size, and their thickness. Generally, socks can weigh anywhere from a few ounces to a pound or more, although most socks weigh less than half a pound. For example, lightweight running socks may weigh only a few ounces, while heavy-duty wool socks for winter weather may weigh closer to a pound. The exact weight of a pair of socks can typically be found on the product packaging or by checking the product specifications online.
What materials are used to create CloudLine socks?
Merino wool, nylon, and spandex make CloudLine socks. Although spandex lends stretch and flexibility for a comfortable fit, nylon offers durability and strength, and merino wool is a soft, moisture-wicking, and antibacterial fiber that helps regulate temperature.
Can you hike in CloudLine socks?
CloudLine socks are recognized for their performance and durability on the trail and are made with hikers in mind. High-quality materials in their construction offer moisture-wicking capabilities, antibacterial defense, and cushioning for extra comfort and support. In addition, CloudLine offers a variety of cushioning levels in their socks, so you may pick the one that's perfect for your hiking requirements.
Conclusion:
A well-known and renowned brand of socks noted for its excellent performance and quality is CloudLine. Merino wool, nylon, and spandex are combined to create CloudLine socks, a perfect option for runners, hikers, and other outdoor enthusiasts because of their moisture-wicking capabilities, antibacterial defense, and cushioning for increased comfort and support.
In addition, CloudLine provides a selection of designs and cushioning densities to accommodate various tastes and requirements. CloudLine socks offer impressive durability and comfort, whether you're seeking a pair of warm socks for regular use or a light pair for a strenuous climb. It's no surprise that CloudLine socks have a devoted following among outdoor enthusiasts and hikers alike, given their emphasis on quality and performance.