Merino wool is a game-changer in the textile industry. The advantages of using it are vast and different. Whatever your activity, whether it's just going to the workplace or hiking to the most distant corners of the world, Merino wool will alter the way you dress and may even transform the way you think about clothes entirely.
Since its fibers are long, merino wool will not pill as quickly as other types of wool. Merino wool is a sheep's wool silky, stretchy, and breathable. But, no matter how high the quality or how low the price, this cloth will pill if it is not treated with care.
Because of its inherent warmth, moisture-wicking properties, and odor resistance, merino wool has become a popular material for active lifestyle clothes. But, in all seriousness, can wool pill? And, if so, is it possible to prevent it? This article will assist you in understanding the realities of wool pilling and if it is possible to prevent it.
What is the Cause of Wool Pilling?
The formation of little, fluffy balls on woolen garments and other goods that have been subjected to some 'wear and tear,' such as rubbing or continuous friction, is called pilling.
Pilling on high-quality woolen clothes, blankets, or pillows can appear shabby, and it often causes owners to be concerned since they anticipate a more strong, long-lasting product.
Generally speaking, pilling tends to cluster in parts of a product that experience greater friction, such as the underarm, the back (particularly if you wear it while sitting), and the wrists.
When it comes to wool blankets and pillows, pilling will generally develop on the side facing down more often, particularly if the item is put on a rougher surface, such as a hard floor or outdoors. It all boils down to the amount of friction and abrasion present.
Pilling would also happen more frequently based on how aggressively the woolen item is worn or handled. If you use your sweater while engaging in strenuous activities such as gardening or jogging, you may notice that pilling happens more quickly and with more frequency.
The Best Way to Prevent Merino Wool from Pilling?
The fact that there are so many distinct elements that might impact the pilling of a merino sweater also means that there are several different things you can do to avoid merino wool being pilled in the first place.
When the shorter fibers of Merino wool find their way to the surface of the wool, a natural process takes place.
To avoid this from happening, wash your clothes after the first four times you wear them.
Whenever pilling occurs, toss your garments in the washing machine with a pair of jeans. (Make sure the zippers are properly closed.)
Over time, the shorter fibers that cause pilling will naturally peel away from the rest of the fabric.
1. Wear Merino Wool with Care:
When wearing a merino wool sweater, the quantity of pilling that cloth experiences can also be impacted by the wearer's actions (or companion). If you put in a lot of physical effort while wearing merino wool, the wool fibers will be subjected to greater abrasion and strain than usual. This will frequently result in pilling.
Therefore, wearing merino wool clothing while running or working out is not recommended. On these days, make sure to dress in training attire specifically designed for the purpose. Keep your merino wool items for more relaxed settings, such as cocktail parties and business meetings.
2. Substitute Liquid Detergent for Washing Powder:
When a merino sweater is subjected to abrasive agents, such as washing powder, it might pill and become unwearable. Washing powder particles cut and scrape against the merino wool fibers over time, causing them to fray and lose their luster. The fibers lose their form, structure, and strength due to this process.
Pilling is frequently the result of structural deterioration. That is why I propose that individuals use liquid detergent, as it will keep their wool clothing safe and help them last longer in the long run.
3. The Correct Way to Wash Merino Wool:
It is generally recommended that wool be hand washed rather than machine washed, as a general rule of thumb. However, this does not rule out the possibility of machine-washing merino wool. You very certainly can. However, you need to exercise additional caution while working with this cloth.
As a result, what is the best way to wash merino wool to keep it from pilling?
Use the "wool" cycle if your machine is equipped with one. Choose "low" or "gentle" or "delicate" cycles if your machine does not have that option available. These are the least abrasive ones.
When washing items, it is usually best to flip them inside out. This is true for both merino wool and alpaca wool.
Try washing your merino wool sweaters separately from the rest of your clothes. An excessive amount of collision with other clothing might also be pilling over the long term.
4. Avoid Pure Merino Wool:
Blends have gotten a poor rap in the fashion industry, which is unfair. People are unaware that combining two textiles may result in a superior product for the consumer, assuming that the blend proportions are correct (which they are not always).
If pilling is a serious concern for you, opt for merino wool and polyester blend in which the merino wool makes up the bulk of the fibers used. In my opinion, the optimum combination is 85 percent merino and 15 percent polyester.
Even though merino wool is likely the only type of wool that does not pill, it is still unable to compete with synthetic textiles in this regard.
As a result, if your sweater has only a small amount of polyester, you will be able to benefit from the non-pilling properties of polyester while also enjoying the warmth of merino wool. The combination of these factors is tough to beat.
How Do You Get Rid of Merino Wool Pilling?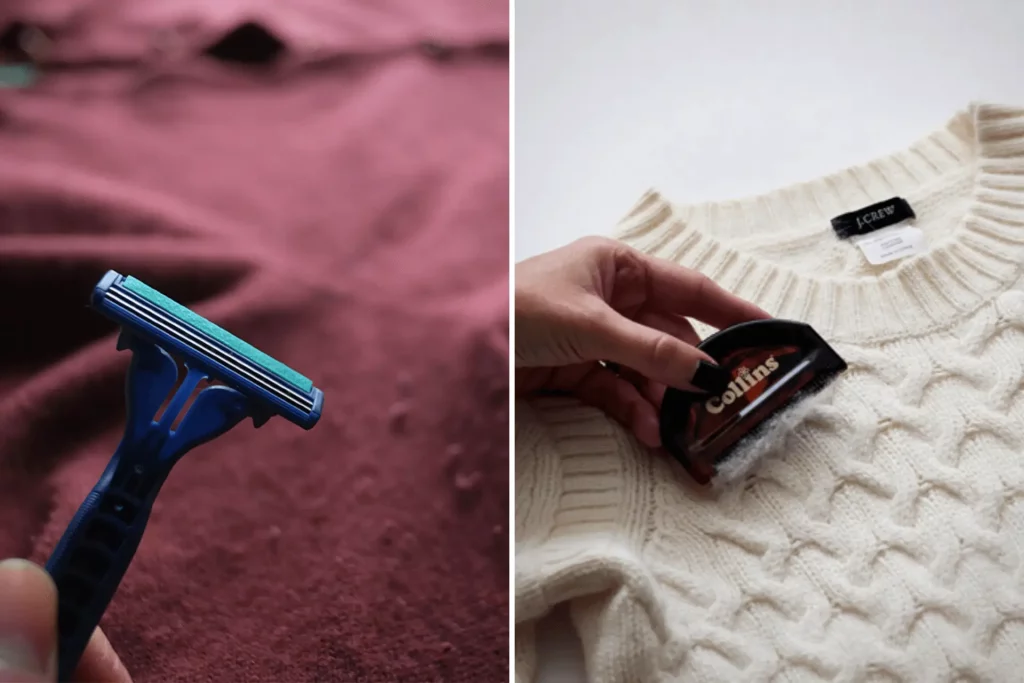 The removal of pilling and lint from your merino wool sweater is possible in various ways, depending on your preferences.
Sweater Combs Are Ideal for This Task: This device is quite similar to the fabric shaver in appearance. The only distinction is that a sweater comb is worked by hand rather than a machine. In no way does this imply that it is difficult to use. Lay your clothing out on a level surface and brush the sweater comb across it to complete the task.
Remove Lint with A Razor: Using a shaving blade or razor to get rid of pilling on your merino wool clothing is another excellent method of getting rid of pilling. Take a razor and begin making downward strokes across the fabric of your sweater to get the desired effect. The razor will remove the lint the same way a fabric shaver does, but it will take far longer. The advantage, in this case, is that you are utilizing a common home item while saving $10-20.
Frequently Asked Questions:
Is merino wool prone to bobbing?
This is a perfectly natural process that can only be stopped during the fabric's production process by including other synthetic fibers or other extra processing steps. Friction is the most common cause of merino wool garments to bobble.
How horrible is it when a sweater is pilled?
Pilling is NOT a symptom of low-quality wool but rather the polar opposite. A further consideration is that shorter fibers like Shetland wool fibers are more prone to pill since more little ends are vulnerable to the abrasion of daily usage, as previously stated.
What type of cloth has the lowest likelihood of pilling?
Because the fibers are retained securely in the cloth, smooth, tightly woven textiles and fabrics created from tightly twisted threads are less prone to pill than other types of fabrics.
Conclusion:
When properly cared for, high-quality merino wool items will not pill, even after repeated washings. It is not only Merino wool that pilled; numerous natural fibers do.
If you're searching for a fabric that will hold up over time and avoid pilling, synthetic materials such as polyester or nylon are a good option. Because they do not contain any hair-like threads on their surface, they are less prone to pill than other materials.