Egyptian and Pima cotton are identical in their characteristics. The Gossypium Barbadense is the scientific name for both kinds of cotton. The family name of Gossypium Barbadense is Malvaceae. But, the difference is that both types of cotton grow in different regions.
Pima cotton grows in the USA, and Egyptian cotton grows in dry and hot climatic conditions. The fiber of Pima cotton is longer than that of conventional cotton. Its quality is better than traditional cotton. Egyptian cotton is suitable for people having sensitive skin. The clothes made of Egyptian cotton last longer than conventional cotton.
Keep reading the blog to learn about Egyptian and Pima cotton differences.
What is Pima Cotton?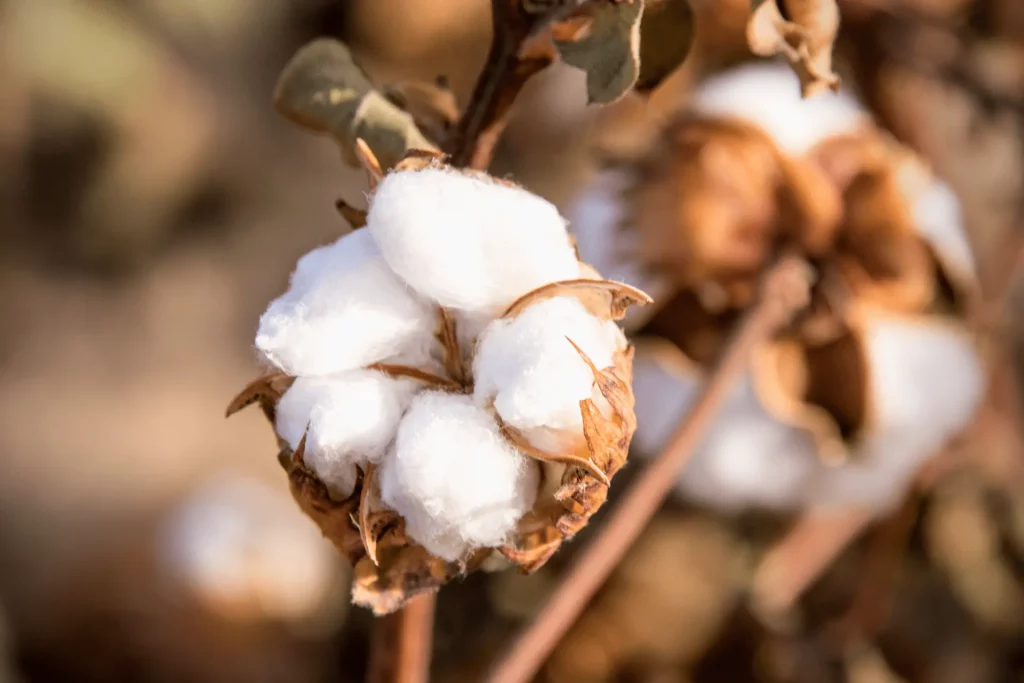 Pima cotton is a variety of extra-long staple cotton grown worldwide, including in the United States, Australia, Peru, and other places. It is renowned for being soft and of high quality. In the USA, the Pima cotton is grown in California because of its mild weather.
Grades of Pima Cotton:
Pima cotton has six grades. There is a standard of grades. The grade varies on the cotton's color and the leaf's size.
What is Egyptian Cotton?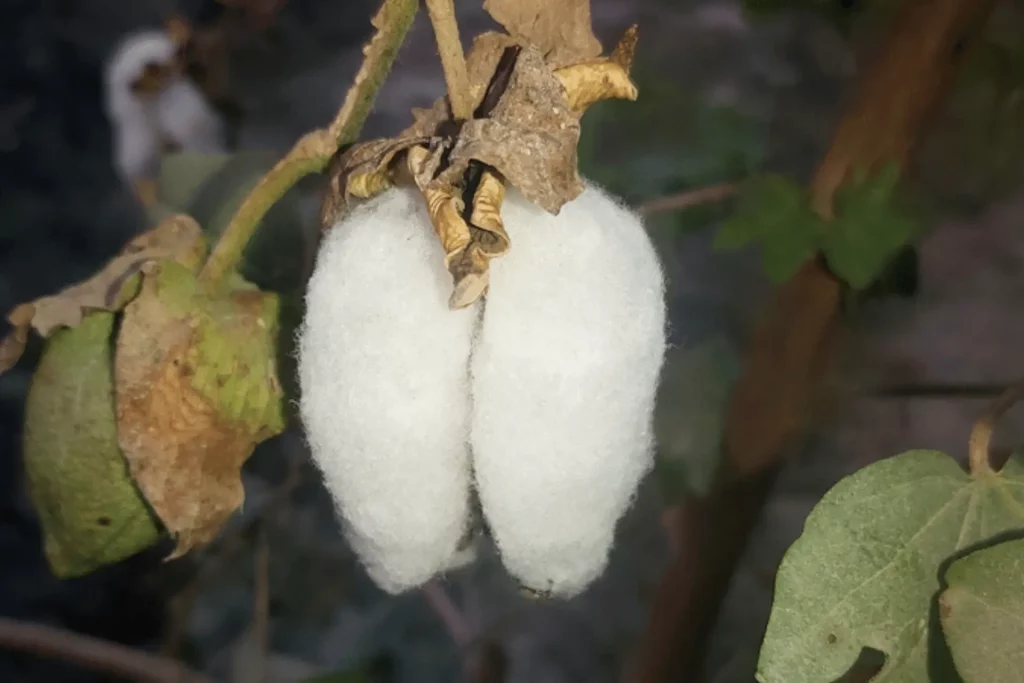 Egyptian cotton is a variety of cotton grown in Egypt that stands out for having long staple fibers. The long staple fibers result in softer and longer-lasting fabrics. Egyptian cotton has a long journey. Egyptian cotton came into the market in 1821. Today you can find the softest Egyptian cotton in every luxury hotel.
Grades of Egyptian Cotton:
Egyptian cotton also has many grades. We will discuss top-quality grades having long staples. The staples more than 33mm are in the category of long staples. The top quality includes Giza 45 and 70.
Significant Differences B/W Egyptian Cotton and Pima Cotton: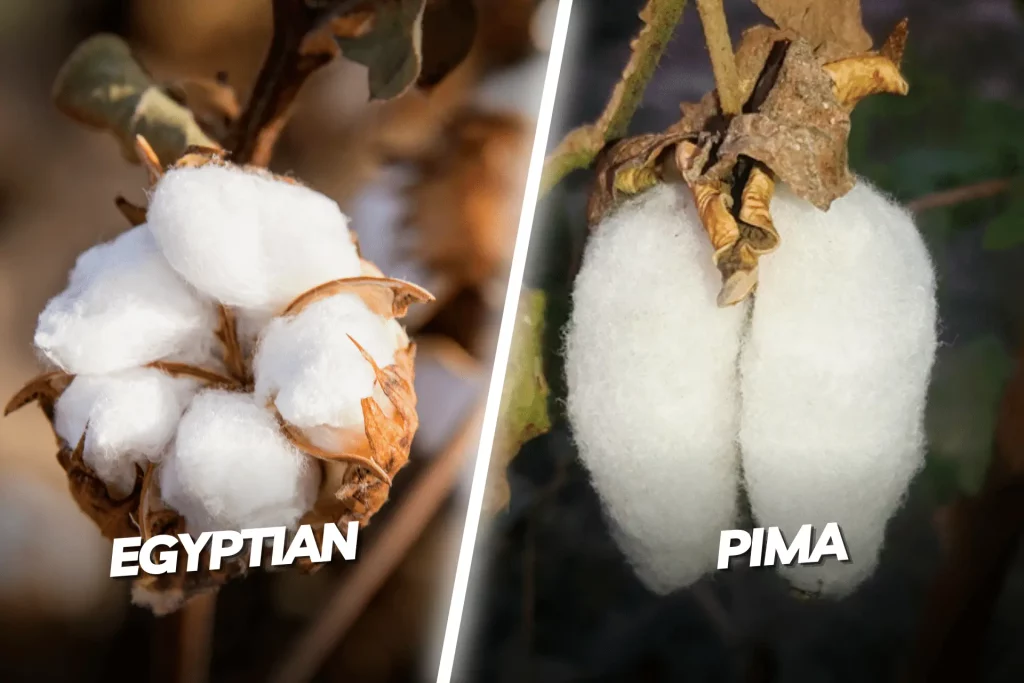 The difference between Egyptian and Pima cotton is the atmosphere. The atmosphere in which they are grown. These kinds of cotton have long, silky, and lavish fabric. Egyptian cotton grows in Lower Egypt near the river Nile. The land near the Nile river is fertile. Pima cotton grows in California due to its moderate weather. The weather in California is hot and dry, with warm springs.
Many companies claim their wardrobe products are made of Egyptian or Pima cotton. Many companies lie to their customers. You can check by using the touch test. These days the fabric material is so fine that you can not analyze it with the touch test. The touch test is not a foolproof method for the identification of cotton. You can only identify the cotton by doing a purity test. The purity test is done in laboratories.
Impact on the Environment:
Pima Cotton:
Farmers grow cotton in large quantities. Farmers use heavy machinery while growing cotton crops. Most farmers use tractors to level the land. cotton flowers are plucked by hand due maintains the texture of cotton. The production of Pima cotton has a significant impact on the environment.
While cotton is in a growing phase, it requires a lot of water. We need to consume less water to reduce water usage.
Hence, keeping in view, the Pima cotton water consumption. Water consumption can create scarcity in areas with low water levels.
Fertilizers are the chemical that farmers use to make the crop healthy and robust. Fertilizers are made of chemicals and have the worst impact on nature.
The fertilizers will contaminate the water if the crop is near the coastal area. Hence the farmers need the proper training for the use of fertilizers.
The waste material combines roots and leaves in producing cotton plants. The name of these leftover parts is the cotton stalk.
After picking the cotton from plants now, the cotton stalk is left. To cut the cost, farmers set fire to cotton stalks. The cotton stalk converts into air pollution.
Egyptian Cotton:
To maintain the purity of Egyptian cotton, farmers pluck it by hand. Almost farmers pluck every type of cotton by hand. Plucking by hand is a top priority to maintain the fibers' length and the threads straight. Egypt is the second number in the world to consume a massive amount of water to produce cotton.
Egyptian cotton is the third highest-consuming water crop in the world. Egypt consumes almost 3805m3/ton of water for growing Egyptian cotton.
According to the report of UNICEF. Egypt has a water deficit of approximately seven billion cubic meters. There will be a water scarcity in Egypt by 2025.
Egyptian cotton crops also must fertilizers. Farmers use fertilizers to get the most yield from the harvest. The crop yield is proportional to the farmer's profit margin.
Hence many farmers need to learn the proper usage of fertilizers. Thus less or excess use of fertilizer is hazardous. While Egypt is a coastal zone, the fertilizer contaminates the water. The contamination further destroys marine life.
The waste due to cotton in Egypt is around 1/3 of the country's waste. Egypt exports long and extra-long fibers. Whereas the lower quality includes Giza 86 and 94, considered waste.
Blends with a high percentage of cotton (and elastane or other fibers) make up another 20% of the waste. Yet, 20% of combinations contain high polyester and other fabrics. It makes recycling them much more difficult.
Quality of Egyptian and Pima Cotton:
United States' priority is Pima cotton. Pima cotton is grown in the USA. When comparing the price of Egyptian and Pima cotton. Egyptian cotton is more expensive. But, the quality of Egyptian and Pima cotton is the same.
The clothes, bed sheets, or any material made with this cotton are worth wearing. The fabric is wrinkle-free and becomes more soft and soft after washing. Egyptian cotton is on top and produces high-end products if you see the brand name.
Care of Fabric and Its Visual Appeal:
The fabric quality of Pima cotton or Egyptian cotton is good enough. It do not shrink or degrade after washing. After washing, the appearance of the fabric will be neat and wrinkle-free.
We can not explain the feeling once you touch the Pima or Egyptian cotton bed sheet. The bed sheet will be so smooth and as soft as a cloud. Pima cotton costs you less. People, for domestic purposes, use Pima cotton. The high-end five-star hotels use Egyptian cotton. The only thing that will influence your decision while buying cotton is affordability.
Comparison of Price Tags:
Egyptian cotton is more expensive than Pima cotton. It is due to the long fibers and softness of cotton. Egyptian cotton is more prolonged and softer than Pima cotton.
According to the price of amazon. The Egyptian cotton towel set costs you fifty-nine dollars. The Pima cotton towel set cost thirty-nine dollars. Now you can see the price difference. While purchasing the items, you must consider the price. The price tag delivers you the value. The price tag also depends on the demand and supply. Hence, it is proved that Egyptian cotton is more worth buying and is in high demand.
The Softness of Egyptian and Pima Cotton:
Egyptian cotton is very soft. Many products, from towels to bedsheets, are made of Egyptian cotton. The softness and wrinkle-free bed sheet and cushions give you relaxation. When coming home from the workplace. The Egypt Association of cotton is working to provide 100% pure cotton in and outside Egypt.
Sea Island cotton is the other name for Pima cotton. The staple of cotton is large but smaller than Egyptian cotton. If you need a durable product, buy a product made of Pima cotton.
Do you ever battle with those pesky wrinkles that seem to appear after washing your cotton bed sheets? We've tested out a few wrinkle-free washing methods to help you tackle this tricky challenge.
Frequently Asked Questions:
Is Egyptian cotton superior to Pima cotton?
No, only sometimes. Egyptian cotton is more expensive than Pima cotton. Despite having fibers that are known to be strong. Depending on the desired result and the available budget, either of these cottons might be the better option.
Does Egyptian or Pima cotton must special care? 
Care should be taken when handling both Egyptian and Pima cotton. Use a gentle washing cycle and mild detergent when laundering your clothes. Additionally, it's essential to refrain from using excess bleach or fabric softener.
What advantages come with using Pima cotton?
Using Pima cotton has advantages. Such as its extra-long staple length produces a higher thread count and is softer. It is a more resilient fabric. Pima cotton is also very absorbent, which makes it perfect for towels and bedding.
Conclusion:
Egyptian and Pima cotton are of superior quality and durability. It makes them suitable for production. While Pima cotton is grown and produced in the United States. Egyptian cotton is grown and produced in Egypt.
Although the two varieties of cotton are of comparable quality. Egyptian cotton tends to cost more than Pima cotton.
Egyptian and Pima cotton are excellent choices for clothing and other fabric products. They are both of high quality, but their differences should be considered. When making a purchase. Egyptian cotton is more luxurious and expensive. While, Pima cotton is more durable and affordable.