Levi's, the world's most recognizable denim brand, has partnered with The Woolmark Company to create an ecologically aware wool-lined boot. With the Torsten boot, Levi's has created a sustainable footwear collection in conjunction with The Woolmark Company, which includes an inside lining made of Australian Merino wool.
Designed to be worn casually, the boot features a leather top made from recycled materials, and a wool felt inner. It was introduced in time for winter to begin in the Northern Hemisphere.
Natural, renewable, biodegradable, and recyclable fibers such as merino wool were chosen for durability and environmental credentials. They were also picked for their durability and environmental credentials.
Meant to preserve structure and shape while drawing on the inherent properties of the fiber, such as breathability, humidity management, and smell resistance, the inside of the Woolmark-certified footwear is designed to retain structure and shape.
All-Weather Boot:
It's just as comfortable in the city as it is in the vast outdoors with this casual boot. Whatever the terrain, wool's inherent attributes of breathability, moisture management, and smell resistance will ensure that your feet remain fresh and comfortable throughout the journey.
With Woolmark-certified wool felt inside, you can be confident that this boot will be durable and long-lasting while also wicking moisture away and regulating the temperature of your foot.
Every aspect of the boot's makeover has been meticulously examined and refined. The upper is made of leather, sourced from manufacturers. The Leather Working Group has been awarded Gold status.
The insert is eco-Cordura with a quilted look developed from recycled waste materials and is tear-resistant. It is constructed from recycled waste resources. The new gripping sole comprises 20 percent recycled materials, while the laces are constructed entirely of recycled materials.
Company Overview: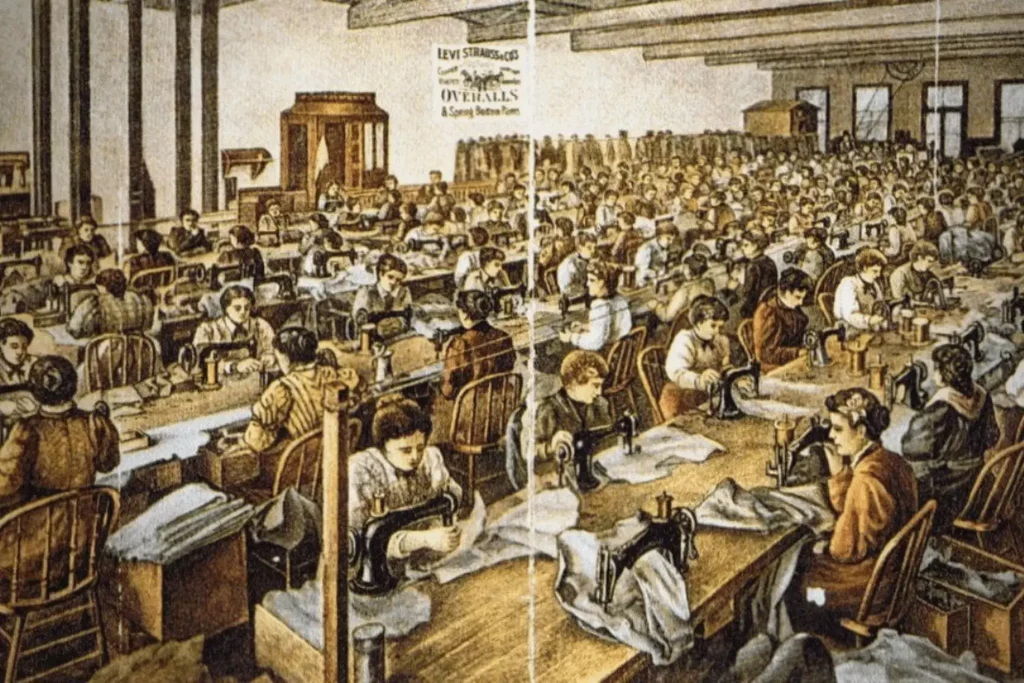 You may be familiar with Levi's as a denim manufacturer. I had no idea they were such significant makers of various apparel items. Furthermore, I was completely unaware that they were involved in the field of Merino wool.
Despite this, new claims have surfaced claiming that Levi's is entering into groundbreaking cooperation with The Woolmark Company. Both aim to create an upgraded version of their renowned wool-lined boot, the Torsten Quilted, made from Merino wool and recyclable and environmentally friendly components.
Woolmark is a company that you may be familiar with from our earlier articles. They are considered a pioneer in Merino wool innovation, and their parent firm is called Australian Wool Innovation.
So, even though some major actors are in the mix – some with less-than-stellar records –this partnership is genuine and fruitful. These boots represent a positive step forward in the direction of an eco-fashion fad.
The boots themselves have a timeless appearance. They are simple and uncluttered, but they also serve as a functional pair of boots rather than only a winter fashion piece.
This pair of casual high-performance boots are a great combination of functionality, fashion, and durability. The Merino wool lining is the cherry on top of an already delicious confection!
Now that we've covered some of the ground so far let's take a look at some of the information that has been provided to us.
In addition, we'll talk about Levi's dedication to sustainability and how Merino wool has the potential to rescue the globe in the future (sort of). Let's sink our heels into the ground and begin peeling back the layers of this Levi's x Woolmark partnership.
Durability and Performance:
The fashion sector is responsible for roughly ten percent of all carbon emissions produced worldwide. More and more worn-out garments are eschewing the donation bag and ending up in our landfills, which is a problem today. Levi's recognizes that its brand adds to this problem, and it has taken steps in recent years to safeguard our environment.
Because of Levi's long-standing dedication to high-quality, long-lasting apparel, less trash ends up in our landfills, and fewer items are purchased throughout a person's lifetime. And, because the fashion industry isn't going anywhere anytime soon, it's critical to invest in apparel that will last a long time and is sourced responsibly.
In addition, Levi's new Woolmark cooperation for their Torsten Quilted boots is an amazing illustration of its dedication to sustainability.
Apart from the Woolmark-certified Merino wool inside, these boots are jam-packed with eco-friendly details to keep you going all day. The soles are made up of 20 percent recycled materials, and the shoelace material comprises 100 percent recycled components.
The water-resistant uppers are made of Eco Cordura® and leather approved by the Leather Working Group. The insoles are constructed from recycled synthetic materials. To put it another way, the entire boot is environmentally beneficial.
And this isn't the first time that Levi's has been experimenting with environmental initiatives in recent years. A few business methods distinguish the denim firm from many of its competitors in the environmental marketplace.
Repair Service:
While Levi claims that all of their apparel has been "rigorously tested for longevity," they are well aware that nothing is guaranteed to endure indefinitely.
They do, however, all they can to ensure that their apparel lasts a lifetime through their tailoring and repair services. So, if you have a pair of Levi's jeans that are starting to show signs of wear, you may want to consider having them repaired.
Levi's Second-Hand Store:
The less waste we generate, the better our planet's long-term prospects become. Levi's is well aware of this and has established control over the second-hand market for its apparel. Not only does this help to limit the amount of garbage that ends up in landfills, but Levi's can utilize this information to design apparel that is more durable and environmentally friendly for its consumers.
A Way With Merino Wool:
The notion that Merino wool will save the planet is, to put it mildly, not entirely correct (obviously). Nonetheless, the power of Merino is immense, and the material's sustainable origins provide a look into a more environmentally responsible future.
Additionally, Woolmark collaborates with other Merino innovation businesses such as ZQ-Merino to make wool harvesting and manufacture a more sustainable and ethical approach. However, the durability of Merino wool is only second to the improved performance characteristics of the fiber.
Sustainability:
The one drawback that many people have with Merino wool is its inability to be worn for an extended period. Occasionally, pinholes, rips, and snags can be seen in Merino clothing too thin. If you want to utilize Merino wool for outdoor activities that require strength, search for goods that have been combined with high-strength synthetics.
Odor Resistant:
Yes, you read it correctly: Merino wool does not stink. It should have retained its fresh fragrance if you wore it all day, and maybe even all week. This is due to the hydrophilic structure of wool, which means it does not retain scents. In this way, any microorganisms released by your skin are not caught in the fibers.
Comfort:
Merino wool is considered one of the smoothest performance fibers available today. It is around 16-25 microns thick, approximately one-fifth of human hair's size and one-half the diameter of conventional wool fibers. And since it is so lovely, I refer to Merino as the "Cashmere of the People" whenever I speak about it.
Moisture Management:
Merino wool is good at managing your microclimate, which includes the amount of moisture in the air. The cloth draws moisture vapor away from your skin and allows it to dissipate into the surrounding environment. It is even possible for Merino to store up to 7 percent of its body weight in moisture despite feeling damp!
Temperature Regulation:
When it comes to fabrics, wool is unique in that it gives you comfort in the cold and cool in the summer. The kink in the fabric structure allows for the formation of little air pockets near your skin, which aid in regulating your body's microclimate.
Versatility:
It's possible that when you think of Merino wool, you see a traditional knit sweater or a wool cap. Nonetheless, our preferred fabric is considerably more versatile, and you can find Merino in the outdoor business, during fashion week, in baby blankets, and the firefighting profession.
Levi's Torsten Boots:
Following our discussion of the sustainability and advantages of Merino wool, you're interested in learning more about the Torsten Quilted boots.
I'll conclude by providing you with some further information regarding these boots. Let's hope they serve as a spark for a fashion revolution that is more environmentally conscious. Perhaps other, more well-known clothing companies will follow suit and include Merino in their collections.
Torsten by Levi's is a distinctive yellow Timberland-inspired style that any local New Yorker would appreciate. Because they are clean and elegant casual boots, they appear to go nicely with practically every autumn or winter attire.
Nonetheless, as you've read, they're packed with both environmentally friendly and high-performance characteristics, from tear-resistant insoles to gripping, recyclable outsoles.
We aren't sure how warm these boots will be in the coldest weather. Although the Merino wool interior will keep you warm, I'm concerned that my feet will catch fire if I wear them with heavier Merino socks.
Of course not, but at that time, you're more concerned with the moisture management of two different Merino wool layers. We will have to put them through their paces in the future before we can offer you a more accurate answer.
As of right now, the Torsten boots have been altered and are only available in Europe. However, if they prove to be a popular item, Levi's may decide to release them in the United States.
Wrapping It Up:
What makes the Woolmark partnership distinct and exceptional is full-grain, vintage-style leather and the unique hand-stitching. We were particularly amazed by how high-quality the materials were and how comfy the boots were to wear. If you're searching for a new pair of boots, we highly recommend checking out the Woolmark collaboration if you can locate a pair.