A brilliant name for a socks business, Darn Tough is an imaginative combination of the words Darn as in 'darn your socks' and strong due to the implication that they are also 'damn tough,' Darn Tough is an American company. You may have already noticed them on the shelves of certain UK retailers.
In the state of Vermont (in the northeastern region of the United States), the socks are weaved, and the surrounding area has hundreds of kilometers of hiking trails, making it the perfect destination to get a good pair of socks that will last a long time.
The firm also guarantees them for life, so if you have any problems with them, you can exchange them for a new pair or get a refund of your money. This Darn Tough socks review aims to provide customers with a thorough examination of the brand and its goods to assist them in making an informed purchasing decision.
Darn Tough Socks History: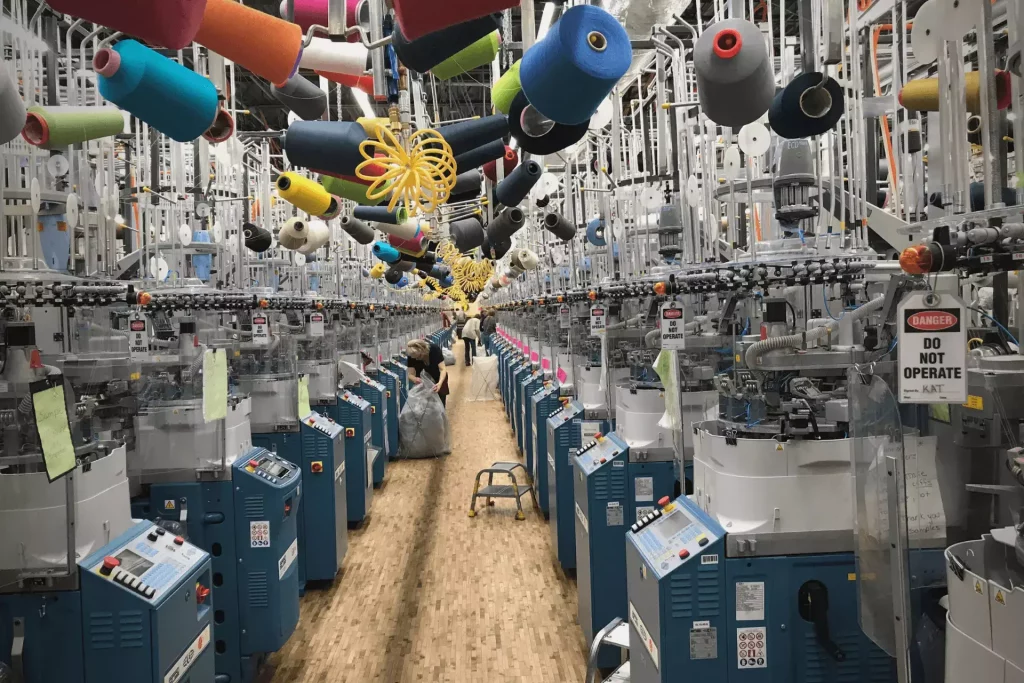 Darn Tough, a Vermont-based company, founded in 2004 by the Cabot family, has spent the past 16 years developing socks that perform well in all weather conditions.
Cabots are no strangers to the rigors of Vermont's wet, snowy, and generally unpredictable environment, and they are well aware of the challenges that socks face. Perhaps this explains why they appear to do such a good job of making them.
The Cabots aren't afraid to put their item to the test in the field because they come from a family of outdoor enthusiasts who like skiing, snowboarding, hiking, biking, and running (whew, I'm exhausted just thinking about it).
In Vermont's frigid conditions, Darn Tough socks are worn outside, and the socks are designed and produced with that in mind. Our socks ensure well-prepared for their eventual destination: your feet on the trip.
After doing a thorough investigation, we discovered that Darn Tough socks exclusively use merino wool that has been responsibly and ethically procured.
On top of that, they collaborate with the Sustainable Wool Standard to promote animal welfare through sustainable agricultural techniques. Besides being comfortable, merino wool also has the added benefit of making the warmest Darn Tough socks imaginable.
Although Darn Tough was founded in 2004, the Cabot family has been in the sock industry for more than four decades. Their socks are made in Vermont in a mill owned by its founders.
Why don't they outsource their business to make it more cost-efficient? It's not that complicated. Darn Tough takes great pleasure in manufacturing the highest-quality socks, and to do so; they require someone to manage their day-to-day operations.
Are Darn Tough Socks a Good Investment?
The Darn Tough socks are worth the money, and I've had them long before I began evaluating durable things for my blog. Not suddenly did Darn Tough establish itself as a standard brand to purchase it for the life community. Over the years, it has established a reputation for regularly delivering exceptional quality and longevity products.
Pros of Darn Tough Socks: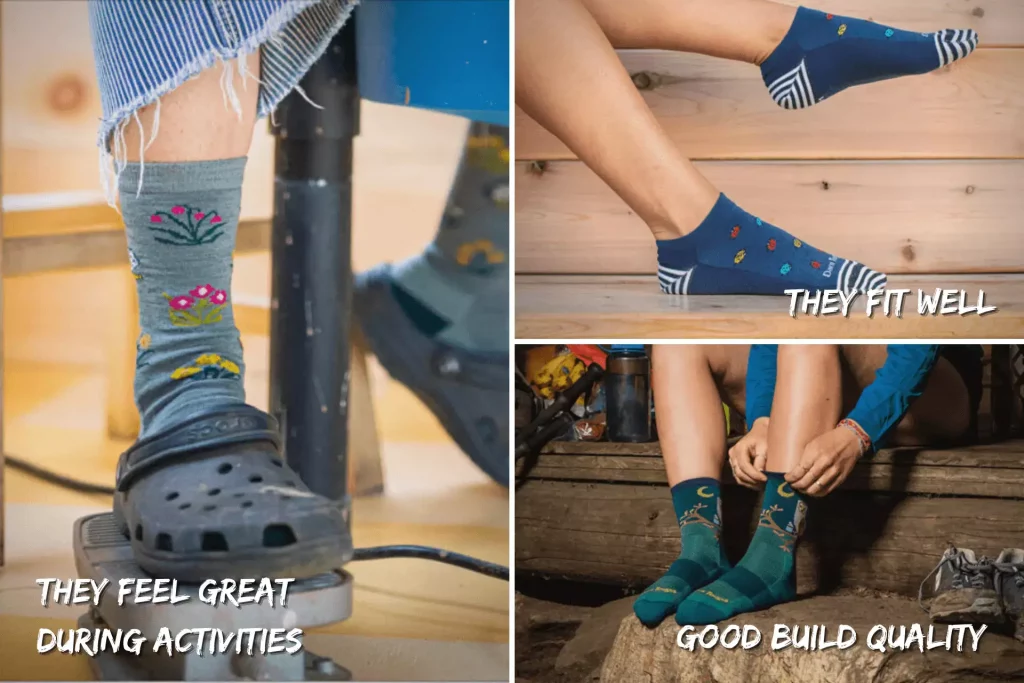 A month of using a pair of socks on and off has convinced me that they are a wonderfully soft, dependable, and comfy high-performance sock for the outdoors.
They Fit Well
First and foremost, the fit. Putting on a pair of Darn Tough socks is a somewhat more difficult chore than putting on a pair of, say, inexpensive Hanes socks, but this is entirely due to the minor compression of the socks.
The business provides socks in men's sizes ranging from S to XXL, and I went for an L, which suits men's shoe sizes 10 to 12 well. I'm a men's 11.5 and am pleased to report that they had a fantastic fit that didn't seem too loose or constricting when it comes to sneakers.
Their tightness on the leg, which keeps them in place on the leg, is one of my favorite things about them—not so tight that they suffocate my calves, but just enough to tell me that I'm wearing these and keeping them in place.
When combined with its medium weight, the socks are tight and soft to the foot and ankle. The strengthened sole feels comparable to a thin, fluffy shoe insole tucked behind the foot when the user is standing or walking.
In each sock, the additional padding on the bottom is made completely of super-soft terry fabric and runs from the top of the toe box to the back of the ankle.
Good Build Quality
Instead of using synthetic fiber to create the Light Hiker sock, Darn Tough opted to use merino wool to create the Light Hiker. Merino is a naturally occurring material with several characteristics that make it an excellent choice for socks — or any other article of clothing for that matter.
This fabric contains antibacterial qualities and is not just quick-drying, breathable, and effective at wicking sweat but also durable. This implies keeping your feet dry and comfy while not accumulating scents on them.
Darn Tough isn't the only sock maker to employ merino wool in their goods; in fact, they're not even the only one. When it comes to distinguishing itself from the competition, the firm does with the content later.
If we're talking about hiking socks, that means creating them from the ground up with hikers in consideration. Adding subtle (and welcomed) touches, such as a small amount of extra padding along the Achilles tendon, helps achieve this goal.
On journeys that include a lot of climbing and lowering, this portion of the body can take a battering, but these socks' added support helped significantly lessen weariness.
Additional support is provided by a small layer of padding located beneath the foot. This additional cushioning may not appear to be much, but it effectively reduces the impact that occurs with the repeated action of hiking on a route.
To be sure, your hiking boots or shoes play a greater part in keeping your legs and feet fresh, but the Light Hiker's built-in cushion does an impressive job of aiding in this endeavor.
Versatility
Almost everything is possible when you're wearing a sock that is thinly padded, resilient, and comfy. Because it dries so rapidly, the Darn Tough Light Hiker can withstand practically any temperature or weather situation.
They Feel Great During Activities
Several ten uses, four of which were on a 3-mile neighborhood trek, and not once did I feel any discomfort. There are no pinching, hot spots, odors, or dampness to be found in these socks, which is a major plus. Their natural microbiological properties come from the merino wool they employ rather than any other type of fabric combination.
My feet sweat when wearing Darn Tough socks, but the moisture escapes fast because of their open-weave construction. As far as my feet were concerned, I didn't experience any discomfort.
Quick Dry for Comfortable Feet
The most difficult difficulty that hikers confront when it comes to the quality of their toes is keeping them from becoming wet. This is particularly true during the hotter seasons, when hot, sweaty feet are prevalent, both on and off the path, and it is especially important to keep your feet cool.
When sweat builds in the sock, it frequently results in friction between the fabric and your skin, which may be uncomfortable. This frequently results in painful blisters, making even the most beautiful walks into arduous slogs.
The use of merino wool in the Light Hiker's construction helps mitigate this problem to some extent. Still, a strategically positioned mesh panel on the top of this sock helps further expedite the venting process.
Consequently, excess heat and moisture can move freely through the fabric, which helps to keep my foot considerably drier. Furthermore, because this sock is constructed using a seamless manufacturing approach, it is far less prone to produce irritations or hot spots.
Lifetime Guarantee
These merino monsters, created in the United States, are top-notch and dependable, even after outliving their useful lives. To achieve this, the company says that Darn Tough socks are "made on the small needle, high ratio knitting machines."
This method generates stitching that is long-lasting and dense without adding bulk. A less amount of mass equals a better fit. The better the fit of the sock, the longer it will be useful." If it appears to be straightforward, it is.
Cons of Darn Tough Socks:
Even though they are the finest sock ever, nobody is flawless. Here are some disadvantages of darn tough socks.
Color and Variety
I honestly can't think of anything negative about this company or its products. And Darn Tough compensates for what can't be done physically (such as creating an unbreakable sock) by providing a lifetime warranty.
So there aren't as many color options available as with Smartwool? If you are concerned about fashion, this may be something that you are concerned with. However, it is the only one you will ever have, and that is a fact.
They're Pricey
While it is not very unpleasant to me, it may be to others: The monetary value. I believe this is a reasonable price for a pair of socks that comes with a lifetime warranty attached.
Stocking your sock closet with Darn Tough items, on the other hand, would be quite expensive, and the brand does not, regrettably, provide discounted rates on multi-packs of pairs of socks. For example, the Hiker Micro Crew 3-Pack sells for $72, the same price as purchasing three individual pairs of shoes.
Even though I think the price of a single pair of Darn Tough performance socks is reasonable, I can't see myself purchasing enough pairs to replace my complete footwear collection.
The Debatable Subject of Cushioning
Let's discuss the cushion. Hiking socks with a lot of cushioning are not something I prefer. My seven years of hiking experience has taught me that more cushion may cause my shoes to fit strangely, affect the way I walk and create excessive perspiration if I don't use them properly.
Those who disagree with this or have found things to be the polar opposite in their own experiences are encouraged to read this forum topic, which provides a brief overview of a typical discussion.
As stated in the thread, the thicker cushioning Darn Tough socks seem to wear out more rapidly than the thinner ones. However, as other hikers have pointed out, "the basic structure has not been compromised."
No matter whatever kind of sock you wear, the cushioning will flatten. As a result, I like the Darn Tough, thin cushion over the mid-weight cushion for this reason.
Socks Made for Physical Activity: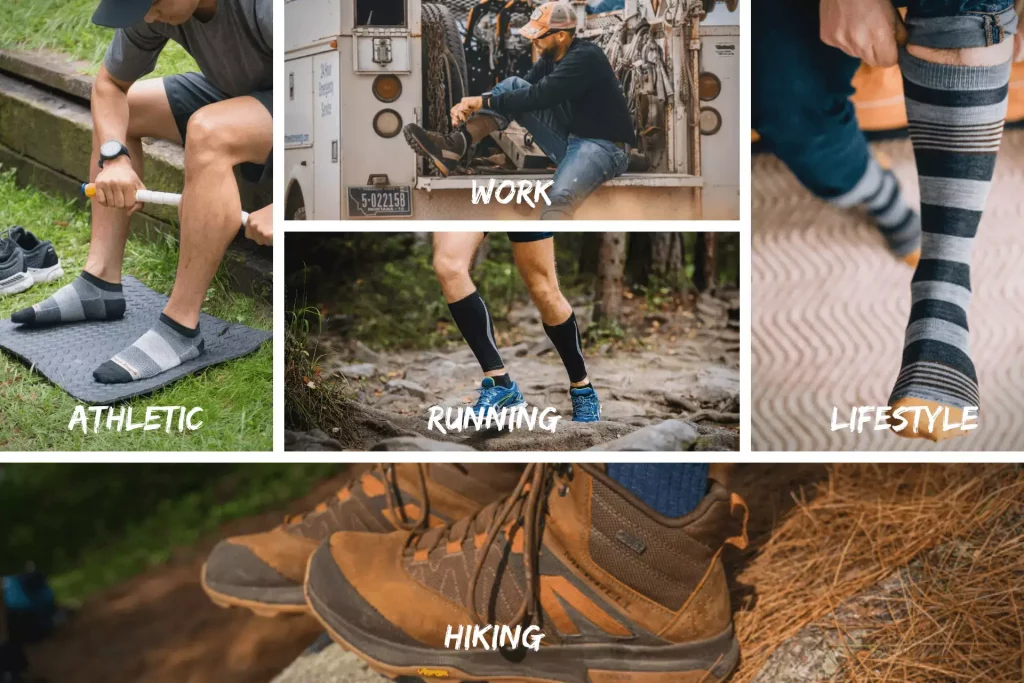 Darn Tough provides clients with the option of browsing their sock assortment based on their activity level. You can get the greatest dang tough socks for every activity, whether you're hiking, riding, or jogging.
Trekking and Hiking
If you're putting on your hiking boots for a long trek, you'll want to be sure you have a pair of socks you can trust. Darn Tough hiking socks could well be the answer to your prayers. The cushioned sole and superior fit of these socks are two of the most important characteristics to withstand a strenuous journey.
Biking
With most cyclists wearing tights or shoe coverings, likely, your socks will not be visible. Because you don't require anything spectacular, Darn Tough keeps things basic. This pair of socks will keep you pedaling all day, thanks to its ultra-lightweight and moisture-wicking material.
Running
If you're a runner, you already know how crucial it is to wear lightweight socks. Is it true that you don't want to feel bogged down as you're attempting to get in your 10,000 steps? Darn Tough running socks are under 13 grams in weight and are still as durable as they were first introduced.
Snow
In this situation, the name is self-explanatory: On the coldest of days, Darn Tough snow socks would keep your feet toasty and comfortable. But don't be concerned about them getting too hot. Merino wool is used to make its fabric both breathable and smell resistant. If you want to see for yourself, put on a pair of skis and head to the slopes.
Athletic
Darn Tough, athletic socks are created with two goals in mind: to provide maximum performance while also providing maximum protection. These sports socks are equipped with a contoured heel, orthotic inserts, and extremely breathable mesh paneling to assist you in reaching your goals.
Lifestyle
Darn Tough lifestyle socks are designed to take on the challenges of everyday living. Carry them with you everywhere you go: in the vehicle, to work, and all the way home. Do you have to make a pit stop? It's not an issue. These lifestyle socks promise to provide you with non-stop comfort throughout the day.
Hunting
Darn Tough is well aware that the weather can be very unpredictable. A bright day can turn into a drizzly one, and their hunting socks are made to transition you from one weather condition to another with ease. With a dense population and ribbed knitting, these socks are the perfect companion for those long, arduous days in the woods.
Work
The employees at Darn Tough are no strangers to long hours and arduous tasks. And these socks aren't much better. They're built to resist even the most demanding working conditions on the job.
They are cushioned for maximum comfort and are durable enough to be worn beneath steel-toe boots. Do you have a long workday ahead of you? Meet your new employees and get to know them.
Darn Tough Men and Women Socks Review:
Hiker Micro Crew Cushion Sock for Women
The Hiking Micro Crew Cushion Sock is one of Darn Tough's most popular hiker socks for women, and it's easy to see why. These socks are a customer favorite because of their comfortable fit and long-lasting construction. On more difficult terrains, the mid-level cushions keep your feet comfortable.
Your feet will remain blister-free and cool, dry, and devoid of any foul odors thanks to the thick merino wool that keeps them protected. These socks are available in a variety of colors. No one could have predicted that hiking could be fashionable and invigorating in vivid blues and pinks. The Hiker Micro Crew Cushion Sock is available for purchase for $23.
Hiker Micro Crew Cushion Sock for Men
Darn Tough's Hiker Micro Crew Cushion Sock for Men is the company's best-selling hiker sock for men. You won't be worried about all of those heavy-duty boots biting into your thighs any thanks to their mid-high length.
Their padded soles keep your feet comfy even after a long day of hiking on rough terrain. Because the fabric is antimicrobial and moisture-wicking, your feet will remain dry and odorless in any weather situation.
These socks, which are available in seven neutral hues, are available for $23. If you're a hiker, you might want to put these "world's greatest hiking socks" through their paces. Instead of coming from our Darn Tough socks review, this comment came directly from the company's founding team.
Garden Crew Light Sock
Besides being aesthetically pleasing, these Darn Tough Garden Crew Light Socks are also functional since they are made to keep you running from day tonight. If you're looking for a stylish, comfy, and seamless pair of socks, they appear to be an excellent choice for days when you want to relax about the house or do a million errands.
These Garden Crew socks have a floral design that is both quirky and charming, and they are available in a variety of colors to match your everyday clothing. Make a statement with a vibrant hue like the plum seen above, or keep it more subdued with a medium gray.
They're perfect for wearing when you explore your garden in the springtime, with a dress or any casual ensemble. The Garden Crew socks are available for purchase for $21.
The Standard Crew Light Cushion Sock
The Standard Crew Light Cushion Sock, part of Darn Tough's lifestyle line, is noted for its adaptability and durability. A light-cushioned sole ensures that your feet are as comfortable as possible no matter what the day has in hand for you.
These seamless socks with fine-gauge knitting are perfect for pairing with your favorite loafers or stylish sneakers since they are guaranteed to keep you comfy all day. Everything else is up to you. In addition to black and charcoal, medium gray and navy are the only colors available for the Basic Crew Light Cushion Sock.
Pebbles Crew Light Cushion Socks
Darn Tough's Pebbles Crew Lightweight Cushion lifestyle socks for women have a quirky pebble design that will transport you back to your favorite beach location. Due to a thin layer of padding on the soles of these socks, they are excellent for everyday, casual usage.
This style's crew length hugs your calf and fits snugly enough that you won't have to worry about your socks dropping down to your feet during the day. This design is fun and patterned, making it a fantastic choice for anybody looking to freshen up their sock drawer. In the colors eclipse, taupe, and black, the Pebbles Crew Light Socks are sold for $22.
Frequently Asked Questions:
Is it worth it to be Darn Tough?
This fabric contains antibacterial qualities and is not just quick-drying, breathable, and effective at wicking sweat but also durable. This implies keeping your feet dry and comfy while not accumulating scents on them.
Is it necessary to wash your Darn Tough socks?
You won't have to be concerned if you wear Darn Tough socks. All of our socks have been pre-shrunk. We cleansed them before they even left Northfield, Vermont, where they were originally purchased. When you wash your socks, you may find that they seem a little tighter after being cleaned, similar to how a pair of jeans feels after being newly washed, but they will loosen up as you use them.
Should I order a larger size in Darn Tough socks?
Darn tough wool socks are present in a range of different sizes for you to choose from. On the other hand, people have expressed dissatisfaction that typical sizes do not always fit well. They will need to purchase a size larger than their typical size to achieve the optimum fit.
Wrapping it Up:
In Vermont, USA, darn Tough socks are handcrafted from the finest merino wool available. A specific type of wool known as merino is highly regarded for its softness, breathability, and moisture-wicking characteristics. Darn Rugged has been manufacturing socks since 1978 and is well-known in the outdoor sector for producing tough and devoid of frills.
In addition to hiking/trekking socks, Darn Tough manufactures running socks, skiing/snowboarding socks, cycling socks, and workplace socks in various colors and patterns. Their specialized socks include the Boot Sock (which is meant to be worn with boots) and the Women's Hiker Crew (which is designed to be worn with hiking boots) (a lightweight hiker designed specifically for women).
---
Featured In