Smartwool creates high-performance clothes for men, women, and children using Merino Wool. Merino wool has a favorable impact on the environment since it breathes, decomposes organically, aids in the regulation of body temperature, and has anti-odor characteristics.
Smartwool provides apparel that encourages individuals to be physically active while simultaneously positively influencing the environment, society, and the economy via sustainability. That is a whole bundle! Our Smartwool Apparel Review will present an in-depth examination of the brand and its goods to assist you in making your buying decision.
Brief History and Overview of SmartWool: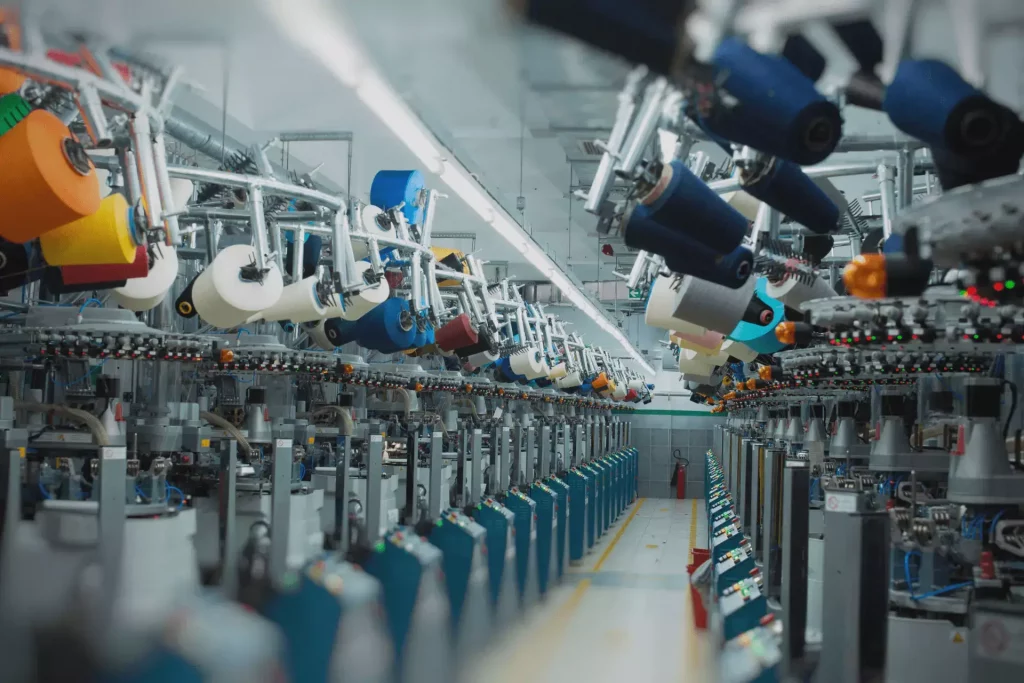 Smartwool was established in Steamboat Springs, Colorado, in 1994 by Peter and Patty Duke, who were originally from New England and worked as ski instructors. Smartwool's objective is to encourage people to spend more time outside while protecting the environment's resources.
They feel that producing environmentally friendly apparel is crucial for ensuring that future generations will enjoy the beauty and richness of the environment.
You might be wondering how Smartwool manages to have such a positive influence on the environment. Product innovation and supply chain management are the starting points for evaluating sustainable sourcing practices.
Smartwool comprises top achievers with unwavering standards, and they are committed to providing the finest and most compassionate treatment possible for sheep and wool farmers.
Smartwool collaborates with farmers to assist them in reducing their environmental footprint. They also collaborate with advocacy organizations that have similar principles to their own.
Smartwool needs to take into account the minor details since they build up. Some of the ways they have capitalized on the impact of tiny modifications include using clothing remnants from their Merino 250 base layers to create warmth for their Smartloft products, made from recycled Merino wool.
They also employ recycled wool fiber in several fleece items, which helps to reduce their impact on the environment without sacrificing performance.
In our Smartwool clothing study, we discovered that sustainability is at the center of all of the company's activities, resulting in precise procedures and well-thought-out products. Read on for more information. It's a positive feedback loop that benefits everyone involved.
Pros of SmartWool: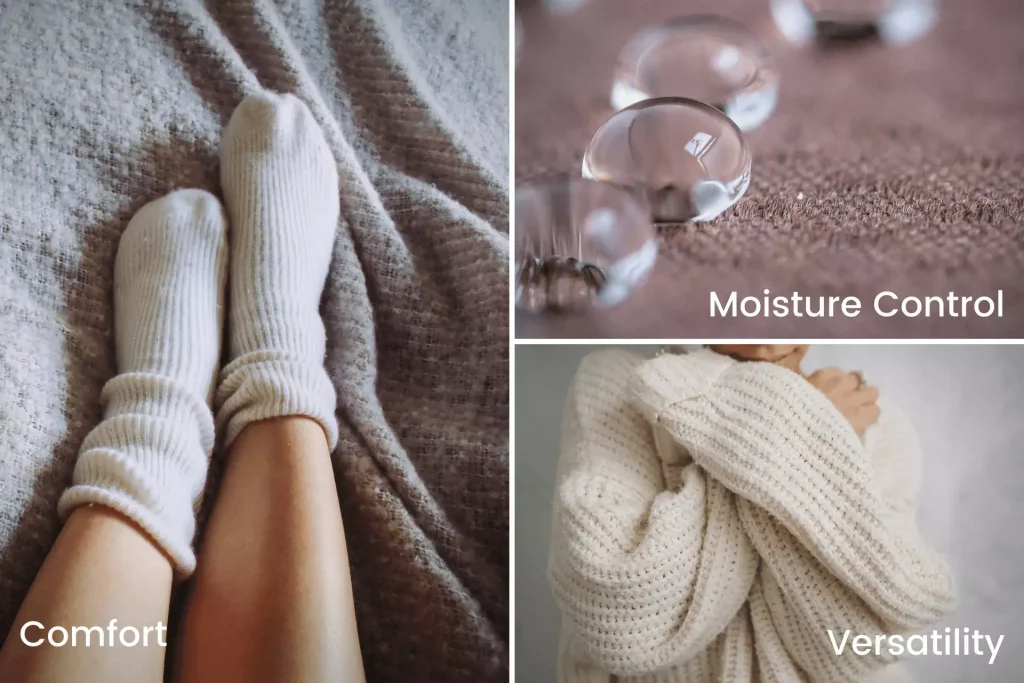 Mercerized wool is known for its moisture-regulating properties; hence, you will sweat in a Smartwool sock, but you will not be drenched in sweat when wearing one. The Smartwool PhD socks are pleasant, soft, and typically warm enough without being too padded, especially during intense exertion.
Comfort:
I've discovered that hiking socks with thick cushioning create more blisters and extra friction than normal. On the other hand, lightly cushioned socks dry more quickly while still providing all of the comfort and warmth you want.
And when it comes to merino, you're talking about the smoothest fabric available on the market. There will never be an itch again. The Smartwool PhD provides the ideal quantity of cushioning for people who engage in intense physical activities.
Moisture Control:
When it comes to Smartwool PhD, breathability is the aim of the game. Because of the superior moisture control, your feet will not become damp or soggy, reducing the possibility of developing blisters or cold. The PhD comprises 62 percent merino wool, which has great moisture-wicking properties.
According to Smartwool, "both synthetic materials and wool have the potential to wick away moisture in their vapor form, but only wool can wick moisture away in its liquid state." It keeps it up with you at all times.
Versatility:
As a result of its breathability, the Smartwool PhD is an excellent sock for virtually any everyday activity, particularly hiking. Unless I'm skiing in extreme winter conditions, I'm confident in my ability to transport the PhD almost anywhere.
Merino wool puts in the same amount of effort as you do. It can store up to 30 percent of its weight in moisture while remaining dry to the touch on the outside.
Cons of Smartwool: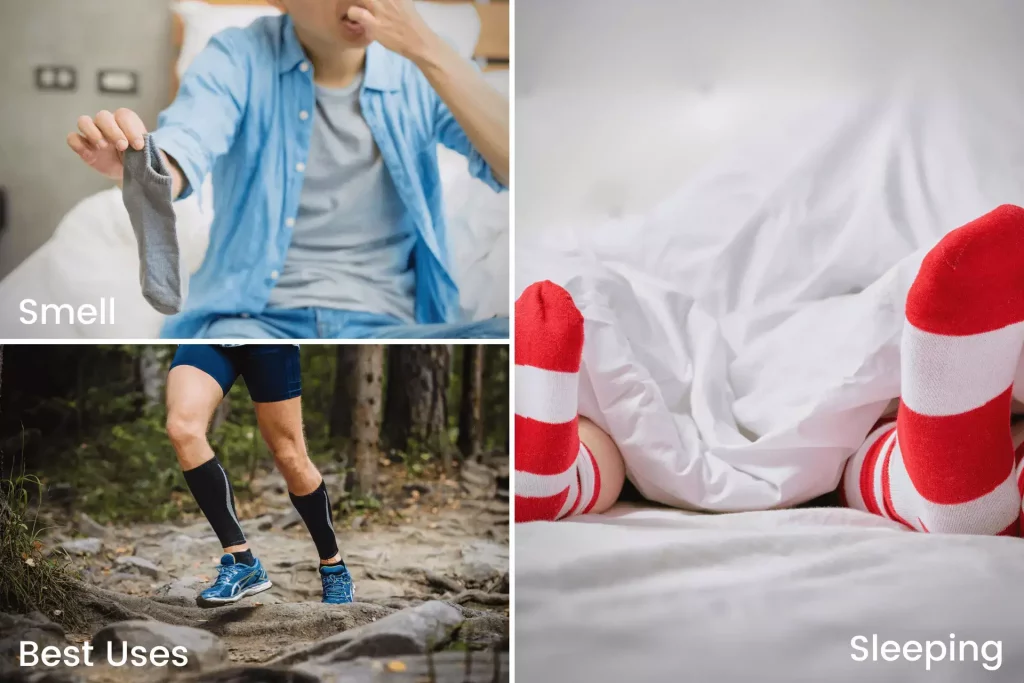 Because merino wool dries more slowly than other synthetic materials, you will frequently experience chilly toes when wearing it. Furthermore, this specific sock is not recommended for sleeping or resting.
Smell:
Have you ever taken a long, deep smell of a wet sheep after it has rained a lot? You can at least envision it by sniffing a set of trekking socks after a three-day journey if you don't have the experience yourself. Merino wool is far less odorized than other types of wool. That doesn't rule out the possibility of using your fragrance locker room perfume to put out a hound dog.
Cold Toes:
The PhD is less likely to become wet, but it will remain wet for long. If you wear your insulated boots after a hard day of trekking, your toes will remain toasty for the rest of the day. After that, you won't have to worry about overheating yourself up at camp anymore.
There's a reason why we split the trekking socks from the camping socks: they're more comfortable. If you're not constantly warming yourself up via physical activity, the socks are also not actively warming themselves up.
Best Uses:
The Smartwool PhD is best suited for outdoor activities, including hiking, trail running, and perhaps even spring cross-country or downhill skiing in mild climates. As a result, I would never rest in these socks since they are not sufficiently thick.
Because of the interesting colors and patterns that distinguish these classic Smartwools, I also wear them to work regularly. These are socks for a more active lifestyle.
Sleeping:
If possible, avoid sleeping in the same socks that you hiked in. Nonetheless, I would never wear these socks only for sleeping because I am naturally quite cold at night, and the medium-thickness of the fabric is not what I want, mostly during winter months.
Even while this is primarily a matter of personal opinion, it is recommended that you wear something heavier if you are constantly exposed to the elements.
SmartWool Base Layer Men and Woman Review: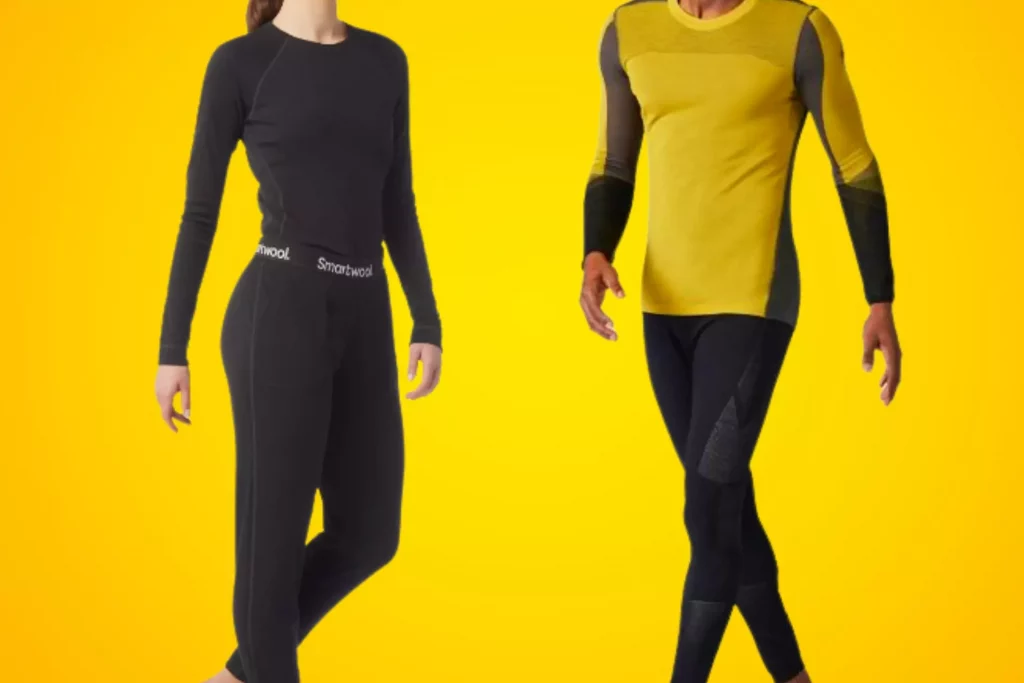 Men's Merino 250 Base Layer ¼ Zip: The Merino 250 is designed to keep up with your pace, providing both warmth and ventilation from 100 percent Merino wool throughout your outdoor excursions. It is available for purchase at USD 105.
Slim fit and flatlock seam construction, both meant to prevent chafing, enhance the next-to-skin comfort. Because of the 14 zip technology, you can boost your breathability after your muscles have warmed up when hiking or skiing in colder weather situations.
Men's Merino 250 Base Layer Bottom: If you're searching for a skinny fit and mid-rise pant that will keep you warm and comfortable on the coldest days, the Merino 250 is a great option for under $100.
As a result of the Merino-covered elastic band and classic fly design, you will have no trouble getting out of your equipment to join the party at Apres Ski. The 100 percent Merino wool material is sweat-wicking, toasty, and breathable, and it will leave you feeling pampered on the chairlift.
Women's Merino 150 Base Layer: You may ride your bike or run in the Merino 150 Base Layer in warmer weather, knowing that your skin is guarded with UPF 20+, which is a natural sun protection factor.
It's critical to feel comfortable in your training clothes next to your skin; the light, the soft porous fabric wicks moisture away from the body, keeping you comfortable even during high-intensity activity.
In addition to being functional, this technical item is also vibrant and attractive, with a narrow fit and side splits that wrap into the front for an improved fit, all only $80.
Smartwool Outerwear Review:
Smartwool Hat for Women: The Smartwool Beanie is available in one size and black for $25. As a result of the clean seams, the Merino Beanie has a no-bulk fit that allows you to use it in all seasons, weather conditions, and sporting activities.
In addition to being breathable, the garment can perform effectively in various climates. It features UPF 20+ protection against the sun's rays, so your head will be warm and protected from the sun!
Smartwool Hat for Men: The Cozy Cabin Hat, available in four earthy tones and a one-size fit for $32, provides the type of comfort, thanks to its two-layer thick knit construction, that you could find yourself wearing your hat indoors. For further warmth and comfort, an inside headband has been added.
Smartwool Gloves for Men: The Ridgeway Gloves are influenced by classic labor gloves and would look great with whatever ski or boarding outfit you have. The Smartwool lining gloves are accessible in black for $80 and 100% acrylic.
The glove is exceptionally durable, making it ideal for all of your most daring mountain expeditions. The Smartwool glove liners are constructed of merino fabric, with the thumb, and index finger strengthened with a double layer thickness. They are designed to provide warmth and comfort.
The glove, made entirely of leather with a lining composed of 70 percent Merino wool and 30 percent nylon, is ideal for Spring skiing because of its durability.
Smartwool Gloves for Woman: Practicing with cross-country ice axes that lack grip is a painful, blister-inducing, and all-too-common experience. The Merino Sport Wool Training Gloves, which retail for $45 and include soft-brushed Merino close to the skin as well as silicone grips on the fingers, make all the difference.
Your hands will stay warm thanks to the wind-resistant panels, no matter what the weather throws at you, and the silicon support will help you perfect the wrist flick in no time. Another feature that will appeal to all technical ski enthusiasts is using reflective components to improve visibility in low-light settings.
Is Smartwool Clothing a Good Investment?
Most clients who responded to our Smartwool clothing review stated that Smartwool apparel epitomized comfort. They claimed that they were the most comfortable socks they had ever worn. Some people were enamored with everything about Smartwool.
Those who made the switch to Smartwool did so for various reasons and were completely won over. Wearers of Smartwool items remained dry and toasty.
Some buyers complained that the goods were expensive, but they insisted that the price was justified by the quality of the materials, their longevity, and their overall feel.
As was the case with every group, a few people had bad things about Smartwool. Some people had worn their Smartwool socks for 10 or more years while traveling the world, and when they purchased a new pair, they found that it was just not up to par.
Contrary to some predictions, Smartwool emerges victorious as a high-quality company that carefully selects its materials and develops sophisticated, high-performance clothing for outdoor enthusiasts.
Outdoor explorers can rely on Smartwool to accompany them in all weather conditions, enabling them to comfortably achieve their objectives with goods that take care of the intricacies and the unknowns. Even though the items are not affordable, they are well-crafted and thoughtfully developed for athletes.
Frequently Asked Questions:
What is it about Smartwool that makes it unique?
Smartwool socks are created from a specific blend of high-quality New Zealand lambswool. This is the same wool used in high-end shearling items, such as the renowned Ugg Boot. Smartwool socks are produced from high-quality sheepskin; they are extremely soft, easy to wear, and provide a great sensation against the skin.
What causes Smartwool to be itchy?
You might want to experiment with liquid lanolin. The natural oil released by sheep can wash away with time. It was a little uncomfortable when I first got my Smartwool clothing, but it appeared to soften up and possibly draw out some loose fibers after a week.
What is the distinction between Merino wool and Smartwool?
To be very technical, Smartwool prefers to weave a little bit more Merino wool into its textiles than the average company. If you're looking for durability, Smartwool and Icebreaker are right there with each other. It all relies on how you dress or how well you take care of your shoes and accessories.
Conclusion:
So, what is the final word? In general, Smartwool is a fantastic fabric that can keep you warm and comfy in cold weather conditions. The cloth is soft and breathable, and it appears to be of good quality and durability.
Because it is composed of recycled materials, it is also beneficial to the environment. If you're seeking a winter outfit that is both environmentally responsible and high-quality, Smartwool may be the solution for you.
---
Featured In