You should probably already be thinking about layering your clothing if you're spending time in chilly weather. It can become rather cumbersome, and wearing several layers can be downright painful, not to mention challenging to take off.
Because of this, now is the time to invest in merino wool long underwear, a lightweight base layer that may keep you warm and minimize the need for extra layers.
Long underwear made of Merino wool can be made entirely of wool or a combination of wool and other fibers. Both options provide higher comfort and warmth than conventional fleece or bulky clothing. Because the long underwear is intended to function as a foundation layer, it is simple to don it underneath a pair of jeans or pants for the day.
Because long underwear is so cozy, it is worn not only by individuals who enjoy being outside but also by those who work outside and the average person who is somewhere with low temperatures. If it is taken care of properly, it may survive for years, in contrast to other types of clothing and outerwear.
Our Top 13 Picks for the Best Merino Wool Long Underwear:
1. Smartwool Classic Thermal Merino Baselayer Bottom: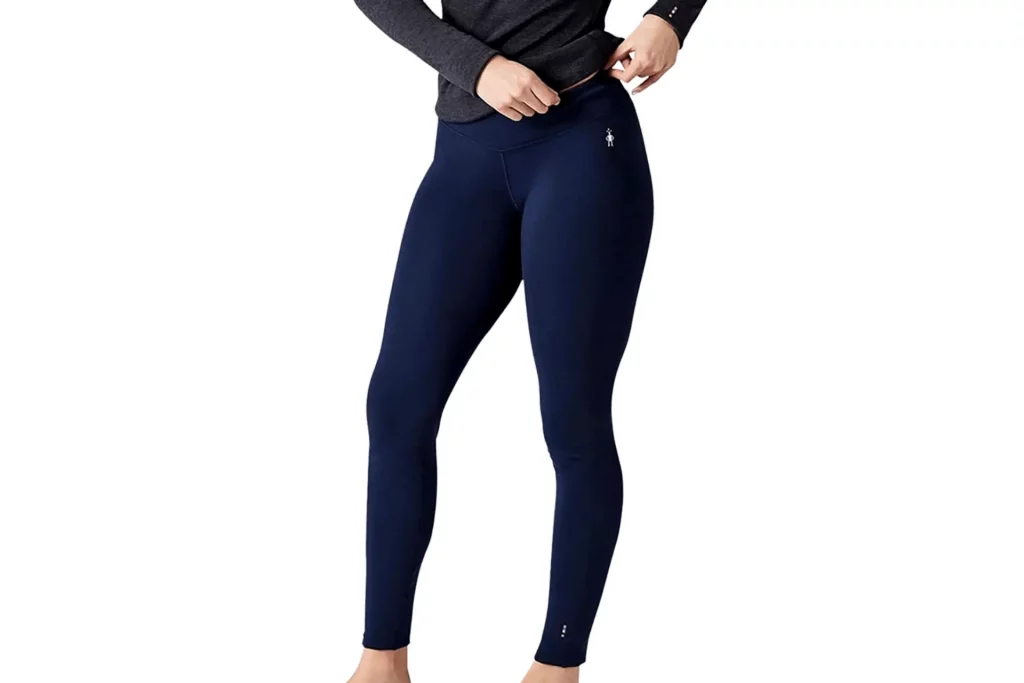 Our fondness for the Smartwool Merino bare Bottoms shouldn't come as much of a surprise to anyone. When the temperatures genuinely start to drop, we recommend this set since it provides warmth and comfort.
Considering the substantial 250 g/m2 cut of the 100 percent Merino wool, this design's unique interlock knit delivers excellent breathability. The back gussets have been updated to match the front gussets, which will help improve the fit of the product, which was an issue in the past.
The extra-wide waistband that is wool-lined, as well as the full-flatlock seam support, helps to reduce the number of typical complaints of irritation.
Even though they are intended to be worn in cold weather, the combination of insulating properties and airflow makes them useful in various settings, including when the weather starts to warm up.
Despite the robust construction of this pair of bottoms — and in fact, it is one of the most durable all-natural layers we examined — Merino layers, like other layers made from Merino wool, require a level of care that exceeds that needed for the majority of different pieces of clothing.
The Merino classic Bottoms tend to stretch out with frequent usage in the time between washings; nevertheless, you should resist the urge to dry them to bring them back to their original size.
It is possible to extend the life of this and any other Merino base layer by taking extra care while washing and drying it, preferably by laying it flat or hanging it to dry.
The exceptional thermoregulation potential of this pair of long underwear makes it well worth the additional effort, particularly for people who work or play in frigid temperatures. This is especially true for individuals who work or play in conditions that are below freezing.
Product Features:
Made in the good old USA.
Odor-resistant.
Temperature regulation.
Will assist in keeping you cool when the intensity of your workout increases, and its design assists in minimizing chafing.
Pros
Cozy and relaxed in every way.
Amazing control of the temperature
Merino wool has been used to line the waistline.
Cons
Becomes more stretched out between washes.
Expensive.
2. Minus33 Merino Wool 5102 Osceola Women's: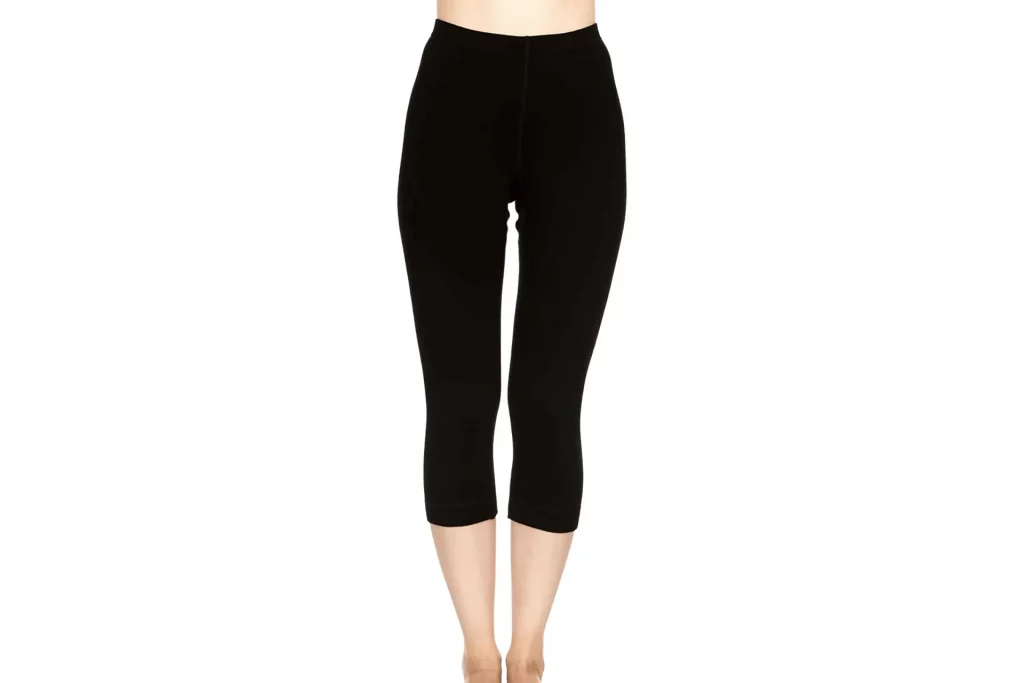 These Osceola Wool 3/4 Bottoms by Minus33 are a pair of ladies' leggings that have been constructed in a way that is uncomplicated yet aesthetically beautiful. On the mountain, your legs will stay toasty thanks to the 235 GSM fabric, which also leaves plenty of freedom for air circulation and movement.
Although the simplistic design of the Osceola leggings may seem unremarkable at first glance, Minus33 has packed an incredible amount of detail into every square inch of these tights. The waistband is not exposed and is drawn higher, so it sits just below the belly button.
The gusset structure and the flatlock seams help avoid chafing and discomfort. In addition to this, the 3/4-length inseam alleviates any pain that a "boot bulge may cause."
Unlike many other items on our list, these Merino bottoms do not have a very snug fit, which is crucial to keep in mind. They have a lot more relaxed feel, which is why some users have noticed that they run a touch large.
This is because they have a significantly more relaxed fit. If you are searching for an athletic fit, Minus33 recommends that you purchase a size smaller than you usually would.
Overall, we believe that the Osceola Minus33 3/4 bottoms are more than simply a great pair of long underwear to wear while skiing or snowboarding. The yoga class, the CrossFit gym, and even just lazing around the house are all suitable environments for their use.
Product Features:
Merino Wool, made entirely of fiber, is plush and cozy.
Because it is treated with the most advanced technologies for simple maintenance, merino wool may be washed and dried in a machine.
This three-quarter length merino wool thermal bottom is a vital piece of your outdoor gear due to its versatility and warmth.
Pros
The fit is soft and comfy.
The perfect measurement for ski boots.
Excellent control over the temperature.
Cons
Users have observed problems with sizers.
The overuse of this muscle causes it to stretch.
3. Arc'teryx Rho AR Bottom Men's: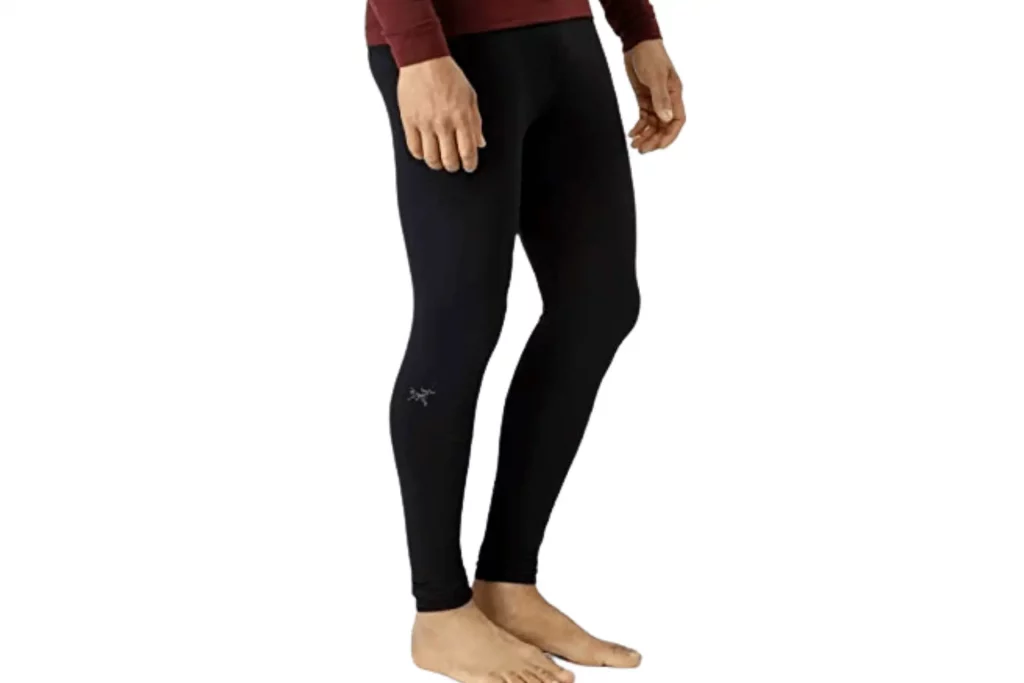 These skinny leggings will surprise you with how warm they are and will hug your legs in all the correct places. When you buy a product from a well-known outdoor company like Arc'teryx, you can be assured that it has been meticulously developed, and the Rho LTs are not an exception to this rule.
During the production process, the Torrent fleece fabric, composed of 84 percent polyester and 16 percent elastane, is brushed to provide a comfortable, next-to-skin feel and increase the rate at which sweat is wicked away from the body.
The articulated design and elastic stretch provide a fit that moves with you rather than against you as you move, rather than restricting your range of motion. Even the crotch area has been thoughtfully constructed with a gusset and a zippered pocket.
We must discuss some negative aspects to ensure that our reviews are as objective as possible. There have been rumors that the Rho LT has poor ventilation due to its snug fit and brushed fleece material.
These bottoms are likewise on the more expensive end of the Merino range; nevertheless, we believe the price point is reasonable given the sheer number of additional features.
However, when taken as a whole, the Arc'teryx Rho LT Bottoms stands out as one of the thermal bottoms that offer the best combination of a tailored fit and excellent performance. Because of this, we consider them the best pair of non-merino long underwear for skiing, and we recommend them to both men and women.
Product Features:
A foundation layer that is both thermally efficient and has good qualities for managing moisture. Providing comfort when stretching.
protection against the elements and materials of a high-performance level, emphasizing adaptability for various activities.
Designs that are versatile and high performing adapt to various activities and environments.
Pros
Unanticipatedly comfortable.
Unexpectedly warm.
Excellent durability.
Cons
A little "staticy" in nature.
A restricted range of capabilities.
4. Minus33 Merino Wool Women's Kenai Expedition Bottom: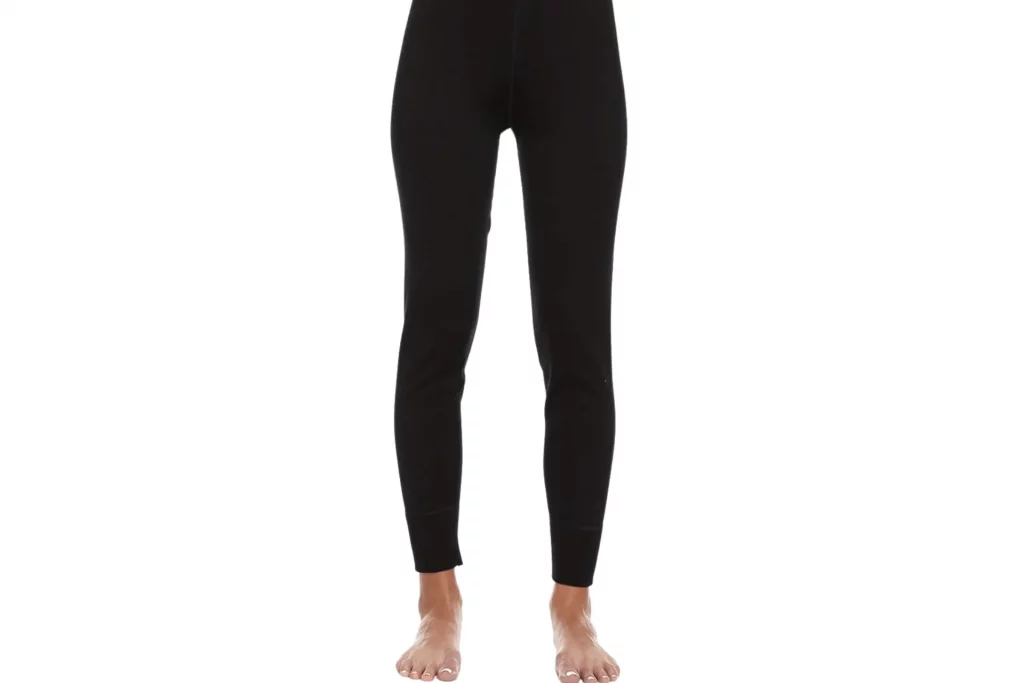 Backcountry skiing may be a fantastic way to spend the day. It is as if you are an explorer of the arctic regions, putting your limitations to the test against the splendor and ferocity of nature to discover the ideal line.
When you travel into these undiscovered places, you risk encountering unpredictable weather. The Kenai Expedition bottoms from Minus33 are pretty helpful in situations like these.
These bottoms are made of Merino wool and have a fabric thickness of 400 GSM, roughly twice as much as any of the other pairs we have on our list. As a point of comparison, that is approximately the thickness of six pieces of paper.
The fact that they are also permeable despite their thickness surprises you despite being aware they would provide superb insulation. Your skin will not feel any abrasions or irritation from the delicate strands, which measure 18.5 microns.
The protection and comfort offered by these long underwear items might give the wearer the impression that they are not even using long underwear.
Some people have reported sizing concerns. However, we haven't encountered anything like that in our experience. This is likely because the fit itself is pretty flexible. In addition, the price of this pair of thermals is the highest on our list.
However, given that they include features like flatlock seams, structural gussets, a covered waistline, and 400 GSM of insulation, we believe the pricing is reasonable for them.
Therefore, if you are interested in going on an adventure into the unknown, you should ensure that you can maintain your comfort and protection by wearing the Minus33 Expedition long underwear.
Product Features:
Chafing-resistant flat lock seams and the ability to be machine washed and machine dried.
Merino wool with 18.5 microns and 400 grams per square meter in an interlock knit structure.
Mid Layer clothing
Pros
The couple with the highest degree of warmth.
Comfort that is gentle against the skin.
Surprisingly breathable for its thickness.
Cons
Users reported difficulties with the first.
Expensive.
5. Outdoor Research Men's Enigma Bottoms: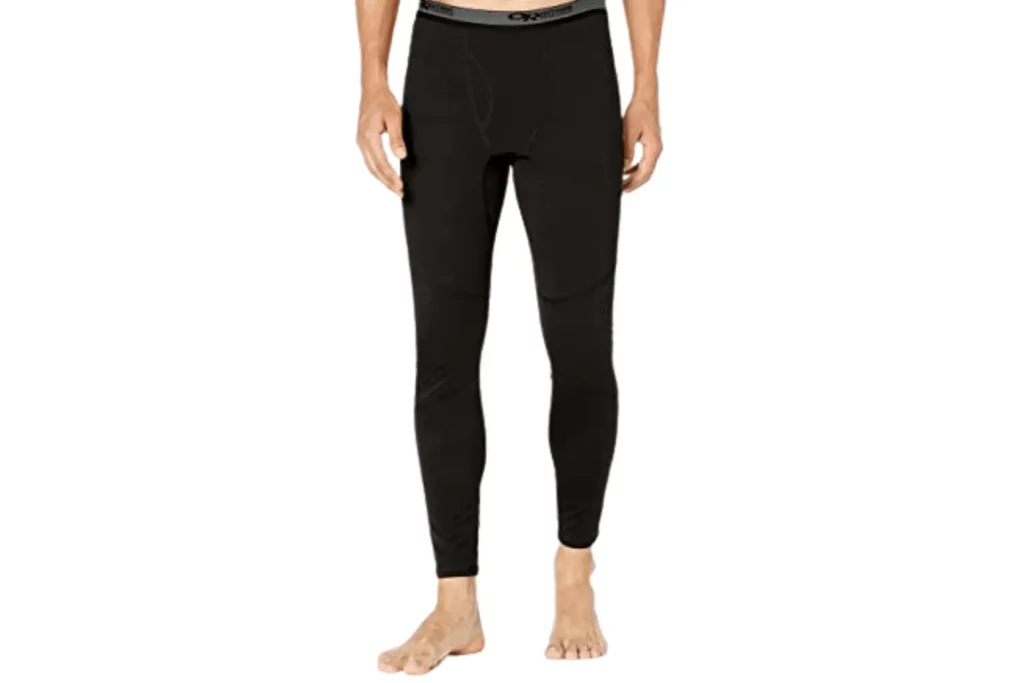 Imagine that you are usually lovely and warm in your snow pants and require an additional thin layer of protection. If this is the case, the bottoms from the Outdoor Research Enigma collection could be your best option.
They weigh less than 5 ounces each and offer superior breathability compared to other similar products. They are an excellent choice for skiers concerned about the environment because the fabric combines recycled polyester and Merino wool.
The Enigma bottoms only have a material thickness of 155 GSM is our most significant problem (if you can even call it that) with them. In other words, they are not optimal for use in highly frigid mountain environments.
In addition, several customers have mentioned experiencing slight discomfort from the seams and potential snagging concerns with the fabric. Outdoor Research Engima Bottoms, on the other hand, are lightweight pair of long pants that manages to keep up with their weight.
Pros
xtremely lightweight.
Breathable.
Quick-drying.
Cons
Not for use in frigid temperatures.
Reported problems with the seams.
6. Icebreaker Men's 200 Oasis Leggings with Fly: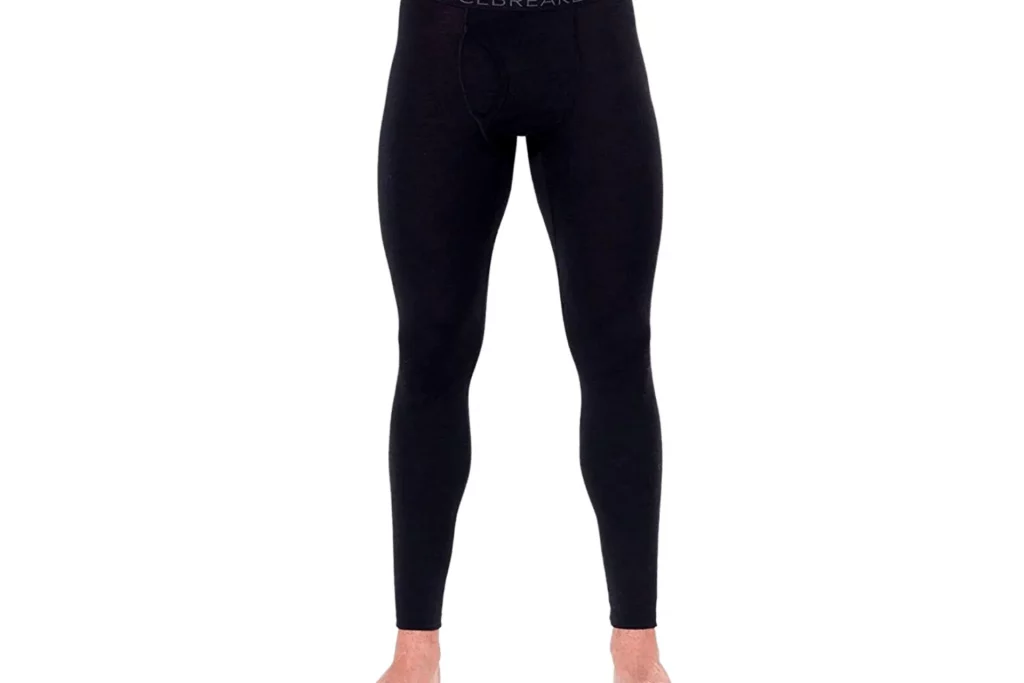 The Merino 200 Oasis Thermal Leggings from Icebreaker are designed for both men and women and combine fashionable design with practicality. The jersey fabric made from one hundred percent Merino wool is exceptionally gentle on the skin. It provides a high degree of breathability, which assists in maintaining a healthy body temperature.
The choice of a midweight fabric with a fabric density of 200 GSM is one that we like since it is substantial enough to keep you warm in the ever-changing alpine climate.
Because they can be worn on their own, these Oasis leggings are, in our opinion, one of the alternatives that offer the most significant degree of versatility among those we have included in this guide.
There is no such thing as flawless long underwear, but a few problems have been brought to our attention. Some customers have complained that the waistline is overly constricting, while others have pointed out that the cloth eventually wears out.
Because we have not seen either of these problems firsthand, we cannot say what caused the first difficulty, although it seems likely that it was caused by a matter of taste on the individual's part.
In general, we have the impression that every piece of apparel created by Icebreaker is well worth the investment. Even though it's a bit of a stretch to say so, Icebreaker's Oasis 200 Thermal Leggings deserve to be recognized as a product that deserves to be co-king of the mountain.
Product Features:
These second-skin wool leggings with a fly are the ideal base layer for your usual layering strategy for chilly weather.
The flat-lock seams and brushed elastic waistband on these wool men's base layer slim fit leggings help prevent chafing and make for a more comfortable fit overall.
crafted entirely out of merino wool in its purest form.
Pros
Amazing warmth for its relatively little weight.
Excellent performance.
svelte and hip in appearance.
Cons
Customers noted fabric problems.
The waistline is a little bit constricting.
7. Ridge Merino Men's Aspect Midweight Merino: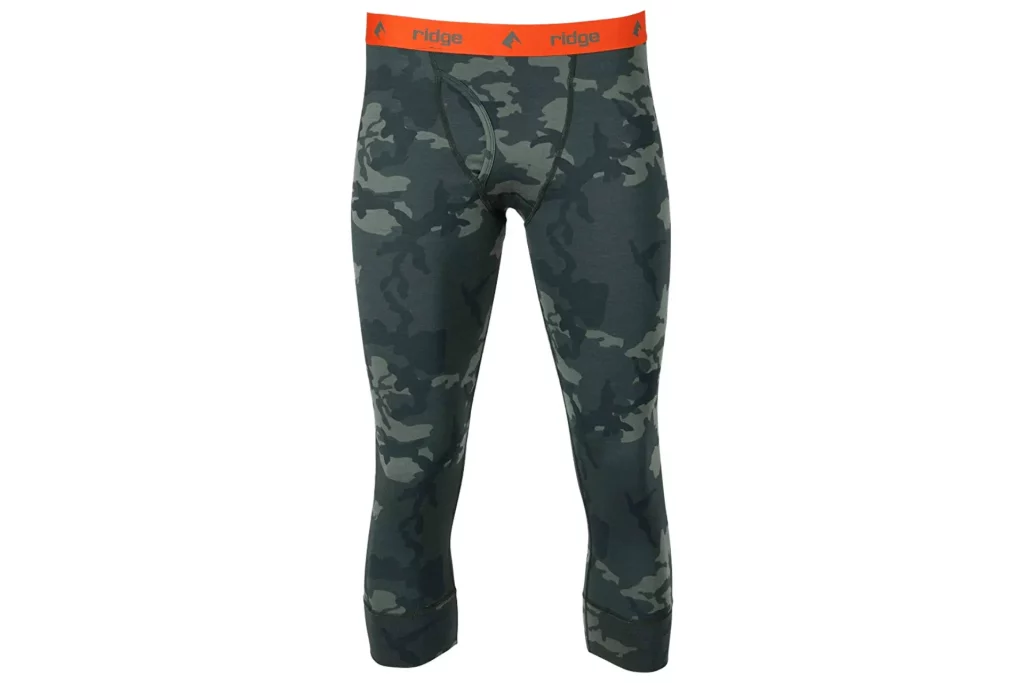 Imagine you are weary of the discomfort caused by the combination of socks, underwear, and boots, but you still want the protection that long underwear provides. In this scenario, the Ridge Merino 3/4-Length bottoms could be the most acceptable option for you to choose.
They provide adequate support without being overly constrictive in their fit. Their 180 GSM fabric offers enough insulation to keep you comfortable even on colder days on the mountain.
One of the things we appreciate most about the Aspect, as well as a good deal of the gear that Ridge Merino produces in general, is the company's commitment to the lifespan of the garments.
When left to its own devices, Merino wool might be too sensitive to handle the typical wear and tear of long underwear for skiing.
Ridge Merino employs a cutting-edge technique called (m)Force Merino, which wraps the softer woolen fibers around with a stronger nylon thread to increase the product's resilience and lifetime. In doing so, you take advantage of Merino's perks while minimizing some of the breed's drawbacks.
The calf grips are fantastic for these particular thermals; however, individuals with legs like tree trunks may find them to be a little too constricting. Also, remember that the 3/4 length fits shorter persons more like a 7/8 length, so keep that in mind.
Despite this, the price-to-quality balance that Ridge Merino offers with this skiing underwear is unrivaled and cannot be beaten.
Although they are only three quarters of an inch long, their pricing is only half what most of their rivals charge. If you want to enjoy your time on the mountain without spending a fortune, the Ridge Merino Aspect leggings are an excellent choice.
Product Features:
Merino Wool 180g that is natural and sustainable, fortified with our (m)Force Technology so that it has more excellent durability, faster dry times, and better recovery.
The best durability in its class, with a strength that is 50% greater* than that of Merino fabrics of equivalent weights.
Offers a flexible base layer weight that is of a mid-weight and is warm without being too so.
Cut to a length of three quarters for better boot integration.
Pros
Outstanding capacity to breathe.
Comparatively more resistant to wear and tear.
Costs not too much money overall.
Cons
Not as warm as some of the other available selections.
It may be uncomfortable for bigger calves.
8. Ortovox 185 Rock'N'Wool Short Pant: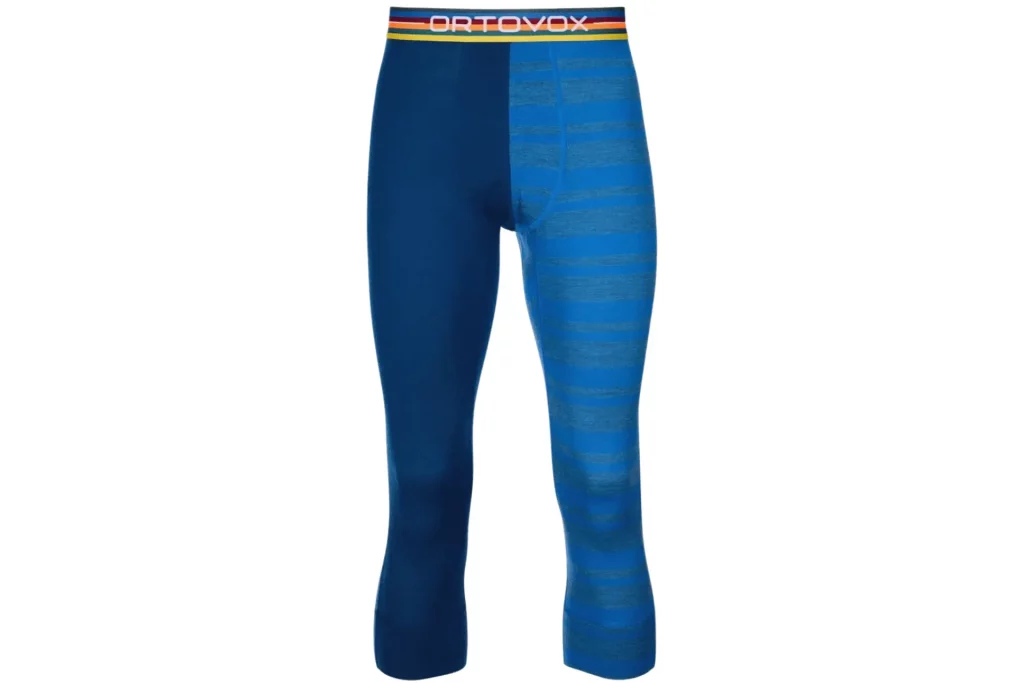 After being put through a battery of rigorous tests over several months, the Ortovox 185 Rock'N'Wool Pant emerged victorious and took first place among the top long underwear bottoms.
These bottoms have a weight that is just right for a base layer; they are neither too light nor too heavy. They are in the "Goldilocks zone." They provide the kind of fit and comfort that will keep you continuing to wear them long after the events of the day have come to an end.
The next-to-skin comfort provided by the knit made from one hundred percent Merino wool is virtually unrivaled. The broad waistband is strategically sewed on the outside of the pant to eliminate any possibility of that bothersome itch that frequently appears after these all-natural layers eventually stretch out. This is the most notable feature of these pants.
The warmth provided by these bottoms much outweighs the weight of the fabric, which results in an excellent weight-to-warmth ratio; nevertheless, this comes at the sacrifice of breathability to some degree.
Before embarking on a long day of ski touring, slide on this pair of long underwear and be sure that the Merino wool will effectively wick away any sweat that may accumulate on the ascent.
They will prevent you from being wet, uncomfortable, and cold while standing on the peak, but they will not be as breathable as a pair lower in weight.
Although the wool knit is surprisingly long-lasting, much like other layers made entirely of Merino, they are, without a doubt, more prone to snags and rips than a model made entirely of synthetic material.
The 185 Rock'N'Wool Pant is another expensive purchase, but if you take care of them properly, you can expect them to last for many winters of exciting outdoor activity.
Product Features:
Merino has a naturally occurring quality that makes it anti-odor.
One hundred percent wool from Merino sheep
Pros
Excellent capacity to breathe.
Excellent fit.
Quick-drying.
Cons
Not the warmest.
A Fairly High Price to Pay.
9. Smartwool Men's Merino 250 Baselayer Bottom: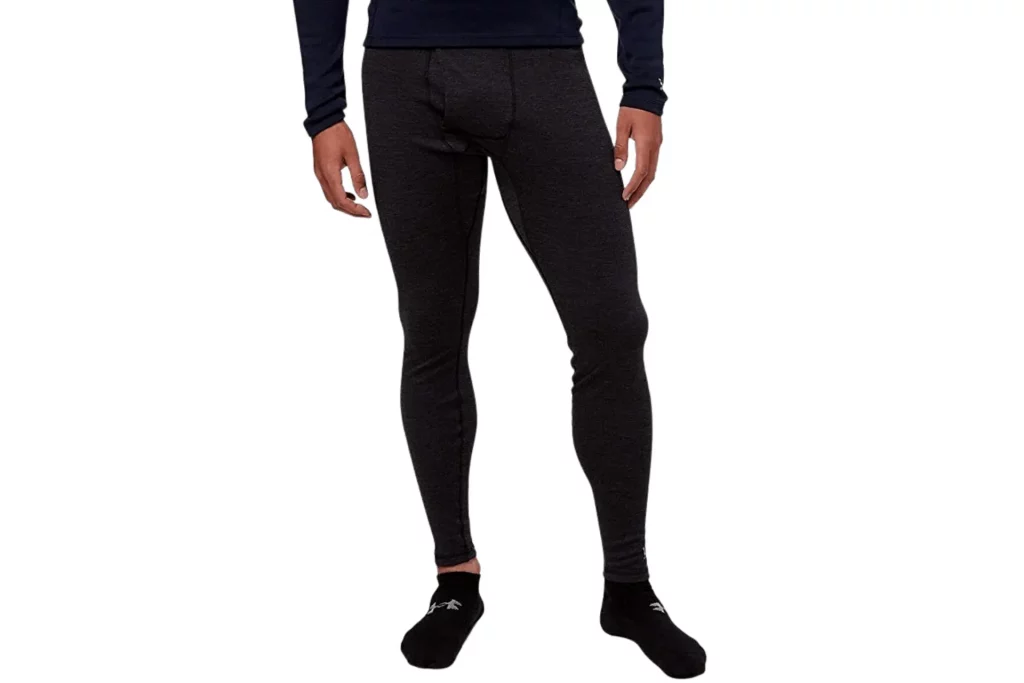 The Smartwool Merino 250 Bottoms are tied for second place in our list of the best pairs of long underwear made of Merino wool. They have a little greater thickness than their competitor, which gives them a minor advantage in the warmth department.
Nevertheless, despite having a GSM of 250, these Merino's bottoms are remarkably breathable and provide excellent temperature regulation. At the same time, you go up and down the mountain all day.
Smartwool's careful attention to detail when designing these long underwear is the real reason for our enthusiasm for them. It's the small things, like a Merino-lined waistband for optimal comfort and garment-wide flatlock seams to avoid discomfort.
Both of these features are standard on all of our products. Because of the input from customers, Smartwool even changed the back gusset pattern, resulting in a much more supportive fit for the product.
You may use these bottoms as a mid-layer because the fit is neither too loose nor tight. However, you must exercise caution since, if not properly maintained, the cloth may stretch or wrinkle with time.
When choosing the most effective long underwear, it is a foregone conclusion that a reputable Merino brand, such as Smartwool, should be considered a co-gold medalist.
Product Features:
Made in the good old USA.
Odor-resistant.
Temperature regulation.
Will assist in keeping you cool when the intensity of your workout increases, and its design assists in minimizing chafing.
Pros
Exceptional control of temperature.
Comfort may be enhanced via design.
Known and respected outdoor brand.
Cons
When not adequately cared for, it may stretch.
Drying out at a relatively modest rate.
10. Merino.tech Merino Wool Base Layer Mens Bottom: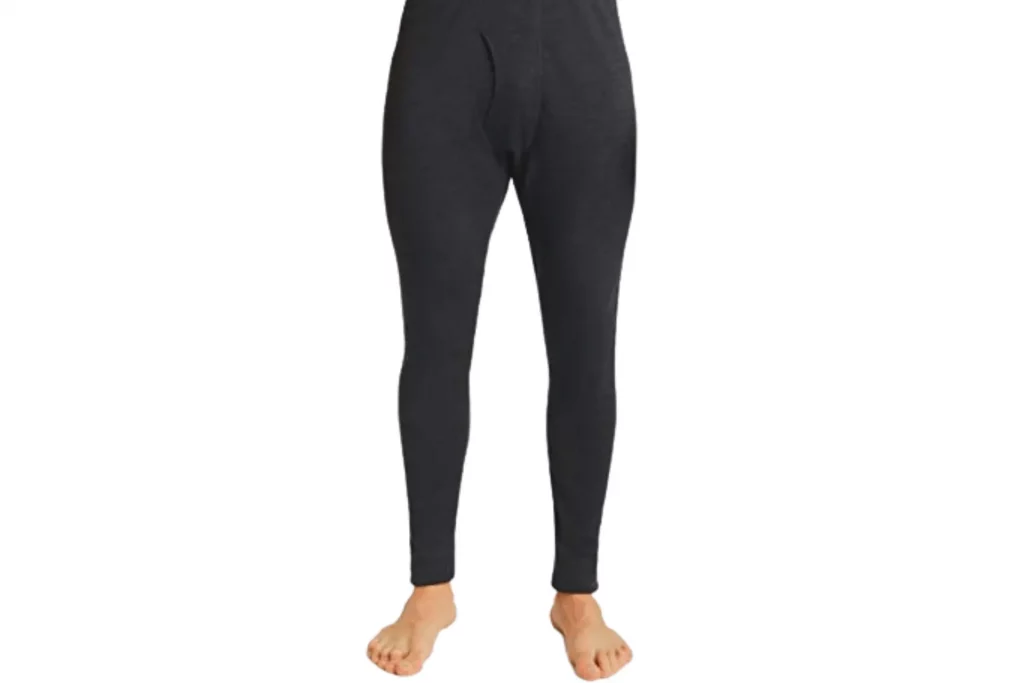 The Merino.tech Merino Wool Base Layer Men's Bottoms is the ideal base layer for any outdoor activity, whether heading to the slopes or venturing into the wilderness.
These pants, made entirely of merino wool, will keep you warm and comfy no matter the temperature or the humidity outside. In addition, the thread has a natural resistance to the development of odor, which ensures that you will smell great throughout the day.
You can purchase the pants in either a medium or heavy weight, allowing you to select the most suited option to meet your requirements.
In addition, they come with a pair of wool socks that match, which means that you won't need to do any more preparation before heading out into the path.
Product Features:
Merino wool underwear for men made from 100 percent Superfine 18.5 Micron Merino wool offers all-day comfort without itching. Developed to be worn throughout the day without the chafing and excessive heat that conventional cotton causes.
Because of its inherent wicking and odor-resistant characteristics, Merino Baselayer Men can absorb moisture more effectively than any other fabric, keeping you dry and smelling fresh.
Pros
100% Merino Wool.
Imported.
Pull On closure.
11. LAPASA Men's 100% Merino Wool Base Layer: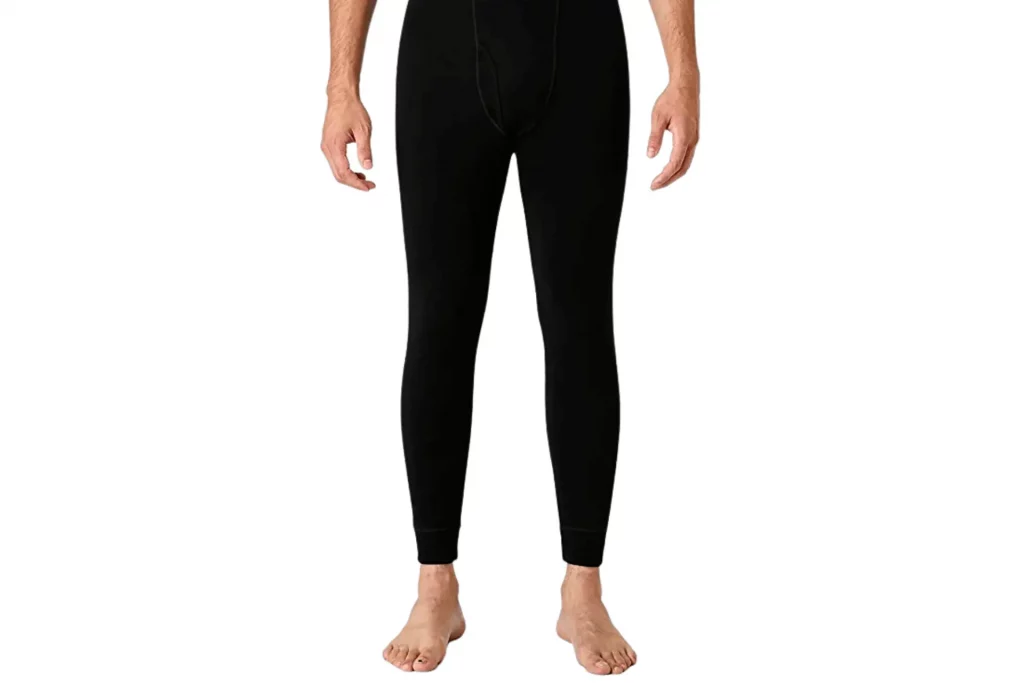 The LAPASA Men's 100 Percent Merino Wool Base Layer Thermal Underwear Pants are ideal for layering or wearing on their own and are versatile enough to do either.
These trousers are inherently resistant to odors and microbes because they are made entirely from Merino wool. They are also quite comfortable to wear, making them suitable for daily use.
The extended john coverage complete covering, while the gusseted crotch facilitates unrestricted movement across the whole range of motion. These trousers will keep you toasty and comfortable all day long, whether hitting the slopes or just trying to remain warm in the chilly weather.
Product Features:
Standard 100 Oeko Tex Merino Wool is 100 percent natural and sourced from Australia.
Because merino wool is permeable and knit in an interlocking pattern, it is an excellent material for preserving thermal comfort. This material will keep you cool when it's hot and warm when it's cold, allowing you to be comfortable in all four seasons.
Odor-resistant merino base layer shirts have natural sanitary features that will keep you feeling fresh even after prolonged use while traveling due to their antimicrobial and antibacterial capabilities.
Pros
Light Comfort.
Stays Fresh.
100% Merino Wool.
12. Bodtek Long Underwear Men's Set: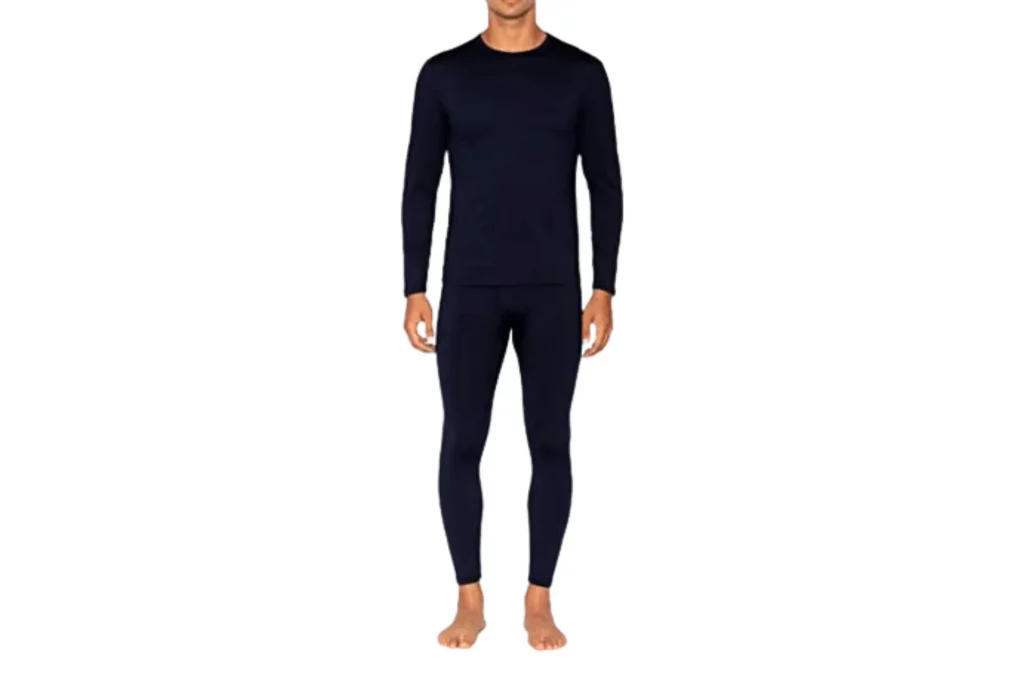 Is anything more comforting on a brisk winter day air of long johns on a quick win? The Long Underwear Set for Men by Bodtek is the best option to stay warm during winter.
This set comes with a shirt with long sleeves and pants that are both manufactured from a fabric that is comfortable and breathable, and both pieces are lined with fleece for additional warmth. Both the shirt and pants feature an elastic waistband to provide a comfortable and adjustable fit.
The shirt has a crew neckline, while the pants have an elastic waistline. In addition, these thermal pajamas are offered in a wide range of colors and sizes, making it possible for you to locate the set that is the ideal fit for you.
Product Features:
The Bodtek Men's Thermal Underwear Set is constructed with a poly-spandex combination that provides 4-way stretchability. These thermal underwear are designed specifically for men.
Your thermals will last longer since the inside is lined with fleece, and the stitching prevents ripping and tearing.
The men's thermal underwear made by Bodtek will lessen the amount of weariness and pain you may experience after an exercise. This is accomplished by the creation of pressure around the body.
Our moisture-wicking technology features thermal sets and removes sweat from the body.
Pros
High-Performance Fabric.
Muscle Fatigue Reduction.
Comfort and Design.
Moisture-Wicking Technology.
13. MERIWOOL Mens Base Layer 100% Merino Wool Thermal Pants: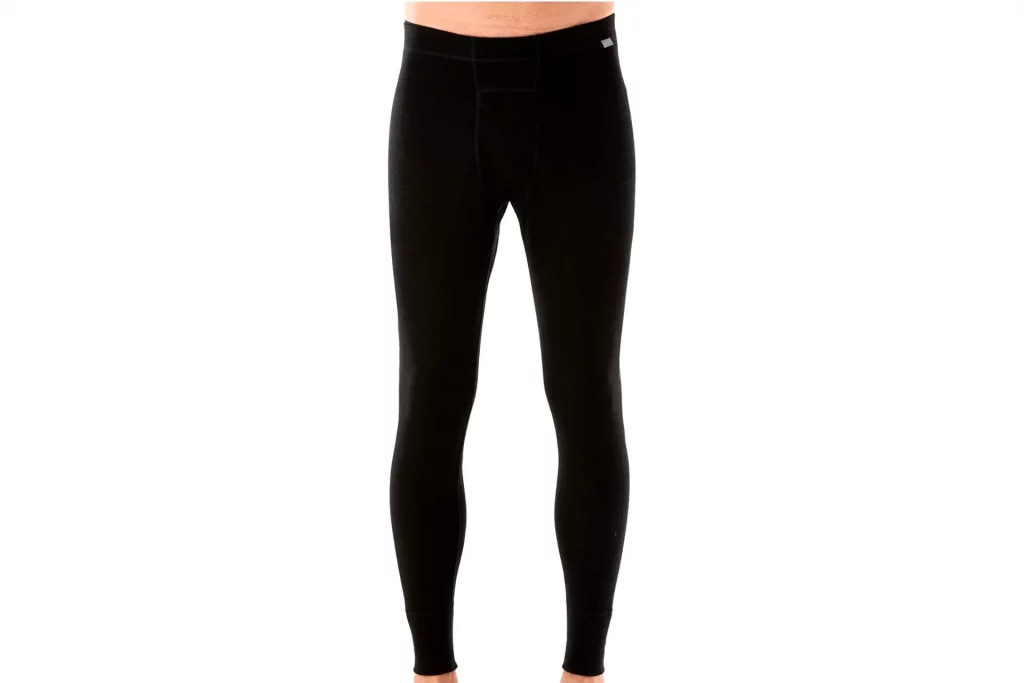 Are you looking for a pair of jeans to wear as your base layer that will keep you warm throughout the entire winter? If you're looking for the perfect pair of thermal pants, go no farther than the MERIWOOL Men's Base Layer 100 Percent Merino Wool Thermal Pants.
These trousers are constructed from one hundred percent merino wool and are meant to give excellent insulation and breathability. This will allow you to remain comfortable regardless of the weather.
Because of the inherent qualities of merino wool, it is naturally resistant to odor. You don't have to worry about these trousers getting smelly even if you wear them many times a day.
In addition, they may be easily cleaned in the washing machine if they become soiled. The fact that the MERIWOOL Men's Base Layer 100 Percent Merino Wool Thermal Pants are offered in a range of sizes is one of the best features of this product.
Product Features:
Your thermal pants may be washed in the machine on the cold setting, and it is safe to tumble dry them on a low heat setting with like colors. As a result, they will be prepared for your next journey wherever you are.
Protecting you from the heat in the summer and the cold in the winter
Pros
Super soft.
Breathable.
Comfortable and convenient.
Wicking and odor resistance.
Things to Consider when buying a Merino wool long underwear: Buying Guide
Warmth:
One of the most important considerations when looking for long underwear is how warm the garment should be. The power of a layer to keep you warm stems from that layer's capacity to drain sweat out of your body, maintaining you dry and comfortable as you engage in physical activity.
Therefore, even if we frequently observe a link between the thickness of a material and its level of warmth, we still need to take into account the kind of fabric and how something fits.
Bottoms for base layers are adaptable, but warmth is a variable measure because we do not all maintain the same core body temperature. Before purchasing a pair of bottoms, you should assess whether you want to put them to use.
We have worn these garments while working up a sweat on steep terrain, walking the dog in frigid weather, going autumn hiking, and sleeping in the back of the vehicle or out in a tent during the long, dark, and cold evenings.
Do you want something that can be worn across all four seasons, or do you need warmth in the winter? Are you planning to use them as an additional layer below a single pair of technical hardshell climbing pants or underneath a thick pair of ski pants that already provide warmth and insulation? It is essential to be aware that the bottoms that give the most incredible warmth are not usually the ones that provide the most functionality.
Value:
Some of these bottoms are rather pricey, which can come as somewhat of a surprise to you. If you are a climber, go on multi-day ski excursions, love winter hiking, or spend a great deal of time recreating outside in freezing conditions, it is easy to rationalize investing in a high-end, performance base layer.
On the other hand, if all you need is a pair of boots to put on when you go outside to shovel the sidewalk, you probably have a bit more wiggle space in your budget, and you can still find a product of decent quality that costs less.
Because Merino wool is a more expensive material to produce, models made from it will generally carry a higher price tag. Nevertheless, by selecting an all-natural product, you may contribute to the reduction of expenses incurred by third parties.
Models made of synthetic materials are nearly always available at lower prices. They frequently have a capability for rapid drying, which may be helpful when the temperature rises.
Despite the environmental impacts associated with their manufacture, synthetics are often more long-lasting than Merino. They can withstand a more significant number of washings without deteriorating, contributing to the material's value.
Breathability:
When it comes to maintaining a comfortable internal temperature, the breathability of your base layer is one of the qualities that may make or break its effectiveness. The capacity of a garment to breathe is determined by the fibers that make up the fabric.
The capability of fiber to transfer heat-induced moisture (i.e., sweat) from the inside of a garment to the outside, where it may then be allowed to evaporate off the surface of the layer, is referred to as that fiber's breathability.
This procedure prevents you from being too hot and permits the bottoms to continue drying off when you work up a sweat. An increase in breathability prevents you from becoming a drenched mess and, as a result, keeps you warmer when the temperature is low.
Coziness and a Good Fit:
Comfort is a measure that is relatively consistent across various users; for example, we would all prefer our legs to be wrapped in plush material, soft-spun wool, or polyester that feels like silk.
The optimum fit will naturally differ from person to person because we all have different body types. However, the fit is a very subjective affair.
We try our best to discover any areas of worry that may apply to every user by analyzing the product's articulation, seam location, cut, and design elements.
This goes beyond merely identifying areas of concern that match our bodies. We always advise trying on articles of clothing in person so that you can judge for yourself whether or not they are a good fit for you.
Durability:
Remember that these bottoms are intended to be worn at the bottom of your kit. Thus their durability has never been a solid point.
Base layers are created to be worn under other layers of your gear when these layers can also serve as a pair of running tights. To think of that ability as more of a perk than a need because it gives us more flexibility.
Merino wool has a history of being prone to rips, splits, and punctures; nevertheless, in recent years, manufacturers have made significant progress toward improving the durability of this all-natural material.
Size:
Long underwear made of merino wool is available in sizes suited for men, women, and even unisex wear. Compared to other types of apparel, it is typically not difficult to locate large and extra-large sizes in men's long underwear. However, this is not always the case.
If you are tall, it is necessary to pay attention to the inseam length, which some companies provide. You want the underwear size to be sufficient to keep you toasty down to your ankles. Styles that measure the inseam are a little more costly, but at least you're assured of a better fit with these measurements.
A wide range of sizes is available for women, but it might be more difficult to obtain long underwear in larger sizes. When it comes to unisex sizes, these do not always give the best fit; nevertheless, occasionally, this type of long underwear is more affordable than sizes exclusive to a specific gender.
Weight:
When you go shopping for long underwear made of merino wool, you will notice that the fabric has a number linked. On a scale from 0 to over 250, the weight of the yarn is measured in grams per square meter, abbreviated as gsm.
Even if the weight isn't explicitly stated in the description, most manufacturers will include the grams per square meter to keep things as straightforward as possible.
Frequently Asked Questions:
Will merino wool long underwear keep me warm, or do I need shirts and socks too?
It is highly dependent on the preferences you have and the location you will be in. A base layer of merino wool covering your body from head to toe will unquestionably help you stay warm. You are free to remain with the shirts, socks, and outerwear you usually wear if you feel it too much. 
How can I mend a hole in a piece of merino wool?
If you plan to put it together on your own but have never done it before, you will need the appropriate needles, thread, and a guide you can get online. It is not difficult, but you will need time and patience to do it. This is necessary to prevent the wool from puckered at the repair site. You might be able to get it repaired at a tailor if the cost of doing so is affordable and less than the cost of buying a new one. You also can contact the manufacturer to find out whether or not the clothing is protected by any satisfaction guarantee or other type of guarantee.
What is the most effective method for washing long underwear made of merino wool?
The suggested maintenance procedures are listed on the label by each manufacturer. It would help to wash the long underwear in warm or cool water with ordinary laundry detergent. You may choose to wash them at any temperature. Avoid fabric softener and products that include bleach or other potentially harmful chemicals. Also, stay away from goods that contain bleach. Certain merino wool clothes may indicate that they may be dried in the dryer; nevertheless, merely air-drying the item will make it last far longer.
Bottom Line:
Long underwear is an excellent method to extend your seasons and keep you outside even during the coldest months. These bottoms can be used for both work and play. It is crucial to examine your temperature disposition and how and when you want to utilize them before choosing the next appropriate pair of shoes for you.
These elastic bottoms are guaranteed to keep you warm and dry no matter the activity or the occasion, whether it be an all-day ski tour, a hiking trip across the desert, shoveling the driveway, or just chilling out on the sofa.