After high school, there was a noticeable drop in the overall quality of the hoodie experience. Despite this, there has been a recent uptick in demand, and the secret to success is to execute well. If you are an adult, which I will assume you are, the days of wearing hoodies that are too big for you are long gone. Nevertheless, kudos to you for sticking with it if you are.
The purpose of this article is to assist you in finding the finest merino wool hoodie so that you may update your wardrobe. Merino wool's popularity has skyrocketed in recent years, and there's an excellent explanation for this trend's meteoric rise. It excels cotton in many respects and for a variety of reasons. Not all merino wool is of the same quality.
As a direct result of this, the cost of a quality merino wool hoodie might vary greatly. In most cases, you receive the value that you paid for. Hoodies have seen a recent spike in popularity and have become an integral part of one's wardrobe that extends far beyond their use in athletics. If you pick the right fit and go for better quality fabrics like merino wool, they have the potential to give off a very chic appearance.
Merino hoodies are often slim-fit rather than large, making them seem respectable enough to wear to the workplace if matched with a pair of dress merino wool slacks or worn over a short merino wool dress. The following items are some of our top recommendations for the year 2022:
1. SITKA Gear Apex Hoody: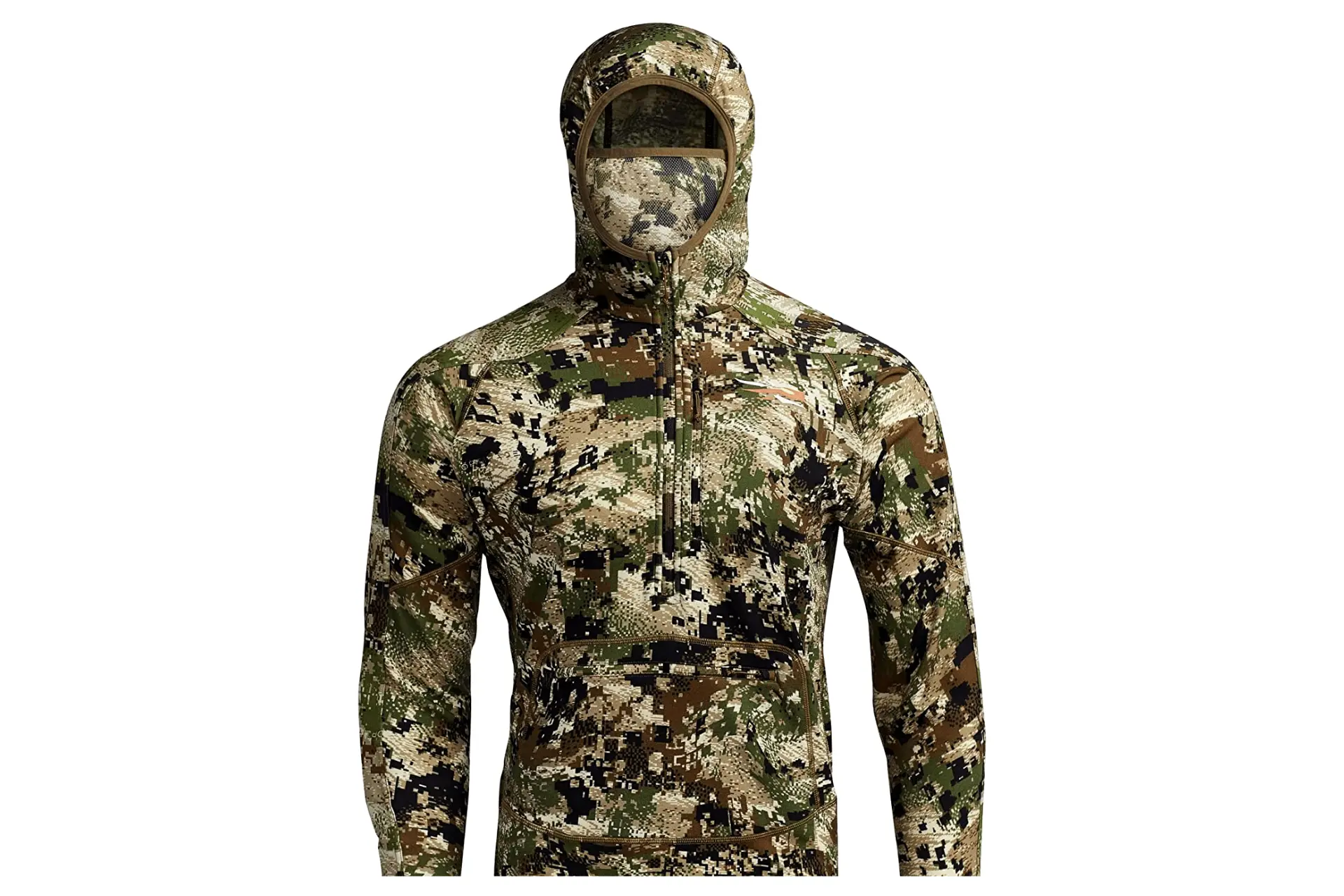 When you go hunting, you quickly learn the value of having enough protection from the elements. Sitka Gear is also aware of this fact. As a result, they made one of the most advanced and comfortable hunting hoodies available to anyone interested in bringing home a monster deer. Additionally, the website of Sitka Gear states that this Merino hoodie is "quiet, hidden, and lethal."
Let's begin with the high-quality craftsmanship since it was initially what caught my attention to this hunting clothing in the first place. Merino wool with a micron count of 17.5 is incredibly soft to the touch, yet nylon adds the fabric's overall strength.
Moreover, it's even water repellent. The fabric, in general, is designed to keep you warm and increase your performance, regardless of whether you are trailing a herd or sitting in a tree stand.
In addition, Apex Hoody's one-of-a-kind qualities are the product's primary selling point. A facemask can be quickly deployed for total concealment, but you probably won't need it because the subalpine pattern is sufficient.
In addition, Sitka Gear has included fabric reinforcements in each joint that might use them, which results in greater mobility and increased durability. They even made a place for elbow protection, which is impressive. It seems as though they have thoroughly considered every possibility.
On the other hand, the Apex Hoodie is pricey, and it is most likely the most expensive piece of Merino wool clothing included in our list. But I felt that the pricing was fair (if not a little on the cheap side) considering the well-engineered build and high-quality features.
Therefore, if you are interested in purchasing a new hunting sweatshirt, the Sitka Gear Apex should be at the top of your wish list.
Product Features:
Made in the USA or imported from another country.
The Apex Hoody is purpose-built for hunting big game and combines the advantages of merino wool and nylon in a customized design that offers natural moisture and odor management. This product was designed specifically for hunters.
The elbows, shoulders, and arms have all been reinforced to survive years of usage, and detachable elbow pads provide cushioning for prolonged stalking and glassing sessions on demanding vantage points.
Pros
Integrated face mask.
Shoulders and elbows have been given further support.
Divided storage pockets.
Cons
There are no thumbholes.
There is a restricted choice of patterns.
Exorbitantly priced.
2. MERIWOOL Women's Base Layer Hoodie: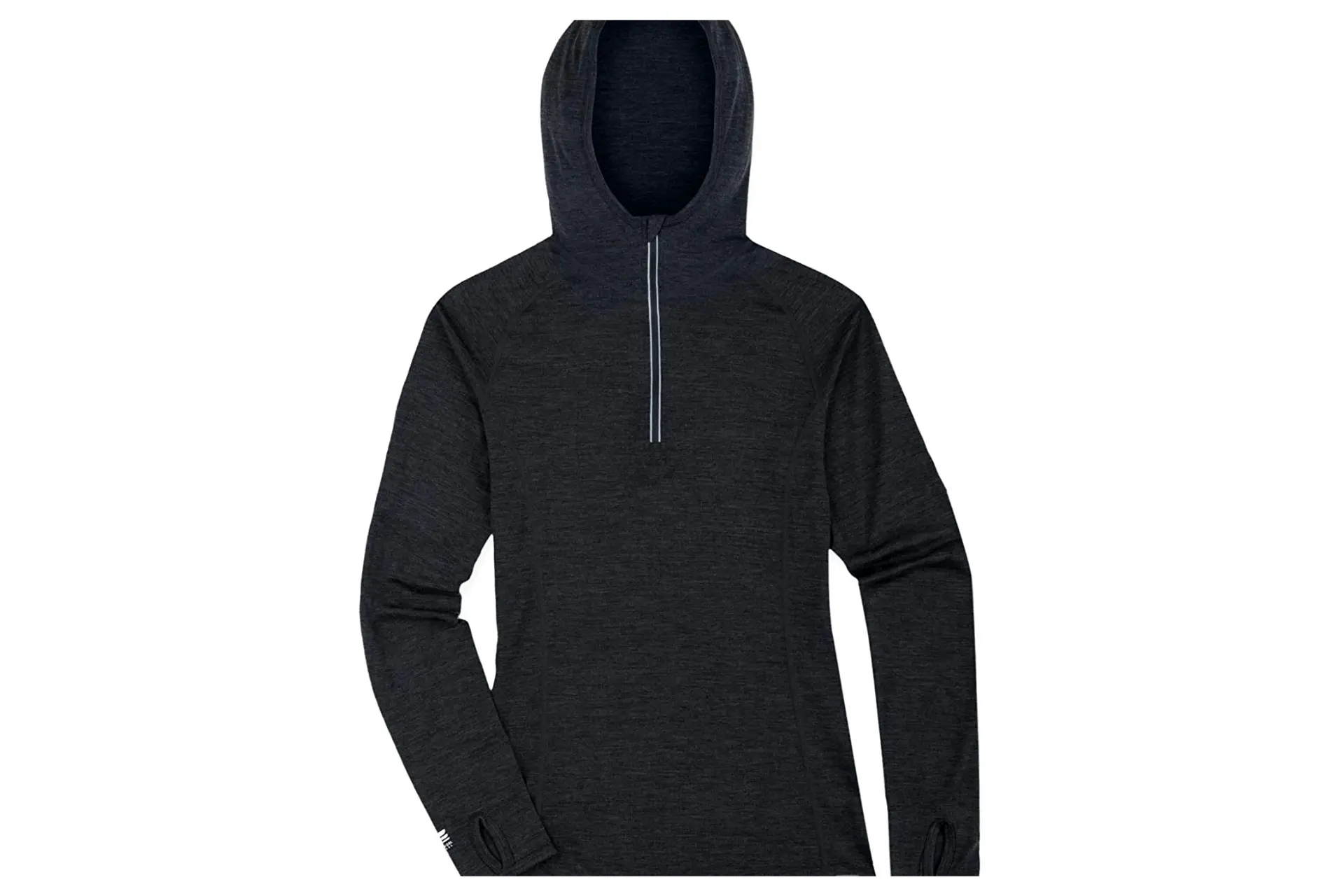 This lightweight merino hoodie from Meriwool is our top pick for the best value in this category. Therefore, if this hoody is your first item of merino apparel and you want to test the waters before diving in headfirst, you should consider it before purchasing.
One of the most notable qualities of this hoodie is the 16.5-micron merino that is guaranteed not to cause itching and feels quite comfortable next to your skin. Keep in mind that those fibers are even finer than those found in brands that sell for a significantly higher price.
On the other side, the wool has a gsm of 190, which means that it isn't quite as hefty as the previous choice sequence; the hoodie is most suitable for usage during seasons other than winter or during winter as a base layer.
Next, it has a midway cut between a slim and relaxed fit, making it an excellent option for people of varying body shapes. To improve the wearer's degree of convenience, the zipper on this hoodie does not rest at the neck level but rather pops up higher to the chin.
The design has a half-zip closure, thumbholes, a zipper garage, and a form-fitting hood extending over your forehead to improve heat retention.
These are just a few of the many advantages of this product. Ultimately, the Meriwool Base Layer Hoodie is made of merino of excellent quality at an affordable price. It comes with an amazing satisfaction guarantee that lasts for ninety days and a warranty that lasts for one year.
Product Features:
Thermal Base Layer Hoodie with Lightweight Long Sleeves and Merino Wool for Women from Merino Wools.
Our thermal long-sleeve t-shirts assist in regulating body temperature, making them ideal for outdoor activities like fishing expeditions with the kids or days spent hiking.
Warmth for the winter is provided by elements like a hood and thumb holes, while a half-zip allows cold, refreshing air circulation.
Our pullover sweater is a lightweight base layer with a jersey knit of 16.5 microns in diameter. It is luxuriously soft and itches not at all!
Pros
Affordable.
Ultra-fine 16.5-micron merino.
Merino wool has been used in its entirety.
Thumbholes and a garage for the zipper.
A smart pick for anyone who likes to jog or ride a bike.
Warranty and a satisfaction guarantee are also included.
Cons
Could make you feel as though you are too thin.
It's possible that the zipper will irritate your skin when worn under layers.
3. Woolly Clothing Men's Merino Wool Henley Hoodie: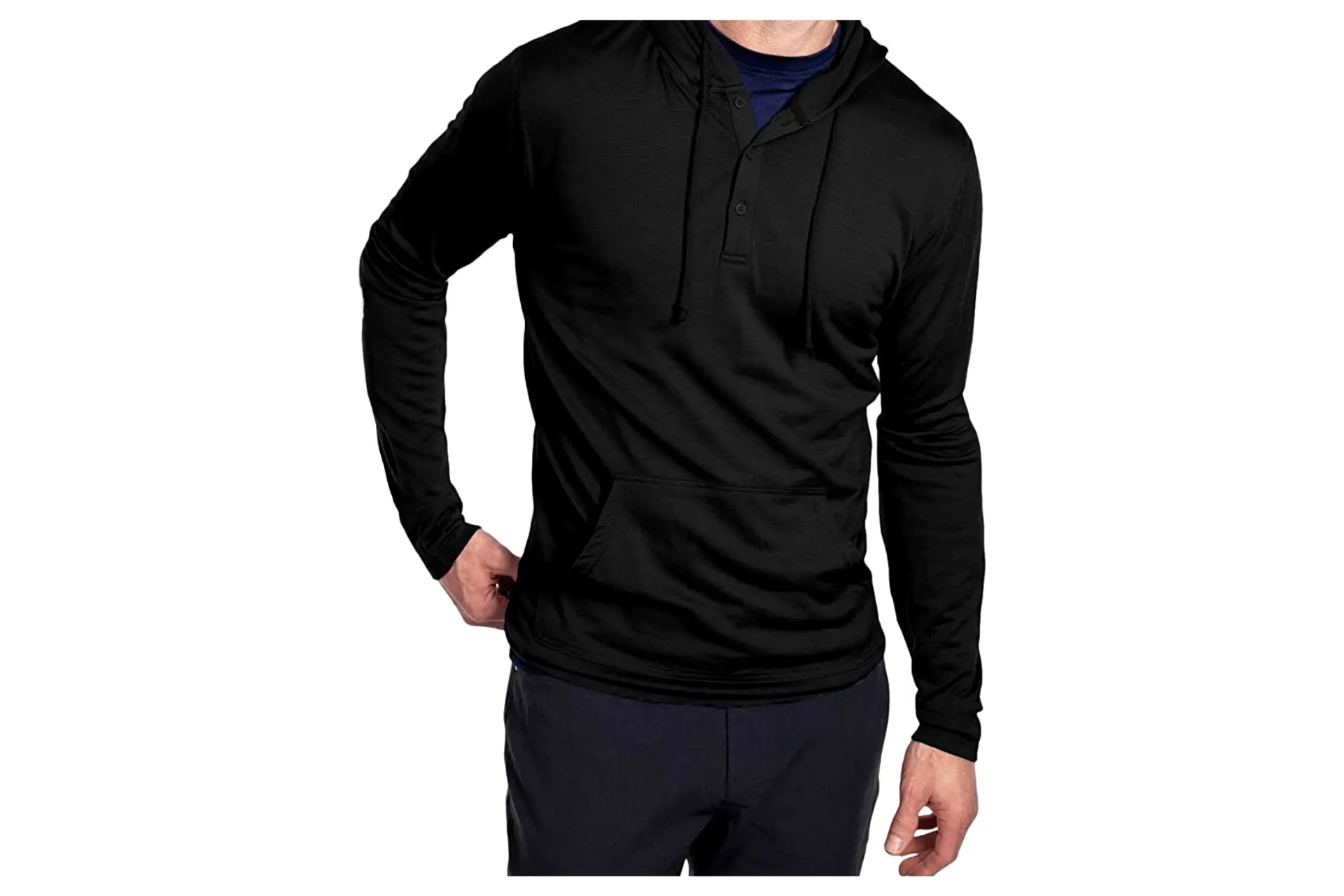 In contrast to the other quarter-zip hoodies on this list, our Woolly sweatshirt features a closure that consists of three buttons. This results in the hoodie having a more trendy and adaptable style.
For instance, it does not give the impression that you will climb a fourteener every time you wear it. Despite this, the updated look has not compromised the general level of comfort. The lightweight fabric has a 190 GSM and is soft and moisture-wicking. However, it is still substantial enough to be worn as outerwear in not very harsh situations.
In addition, just like the rest of Woolly's apparel, this henley hoodie is constructed to be worn as Merino Foundation Wear. The pioneers of the Woolly brand recognized a gap in the casual and everyday wear sector of the Merino business.
They remedied the situation by supplying an abundance of high-quality clothing. They are reimagining the industry of Merino wool after successfully raising more than one million dollars on Kickstarter. It's a terrific example of perseverance and hard work.
You don't need to search any further if you want a hoodie made of Merino wool that is comfortable to wear every day and lightweight. Woolly has got you taken care of.
If, on the other hand, you plan to use your sweatshirt for more demanding activities, you might want to opt for something a little bit bulkier and more long-lasting.
Product Features:
Flatlock seams, tangles inside, kangaroo pockets for storing stuff and warming hands, a henley collar, and a wide hood are all features of this jacket.
Constructed entirely from merino wool for natural stretch, odor-resistant moisture-wicking, freedom from itching, and comfort in all four seasons.
Keep the Henley Hoodie close at hand when the weather is unsure or unpaid, stable, and you require an extra layer to fill any potential void.
Woolly combines the time-tested health benefits of merino wool with timeless daily designs suitable for any setting.
Pros
Designed for everyday usage.
Full kangaroo pouch.
There are a variety of color choices.
Cons
The cut is a little on the boxy side.
Not really "rugged".
Thea is a need for improvement in the seam construction.
4. Smartwool Merino 250 Base Layer Hoodie: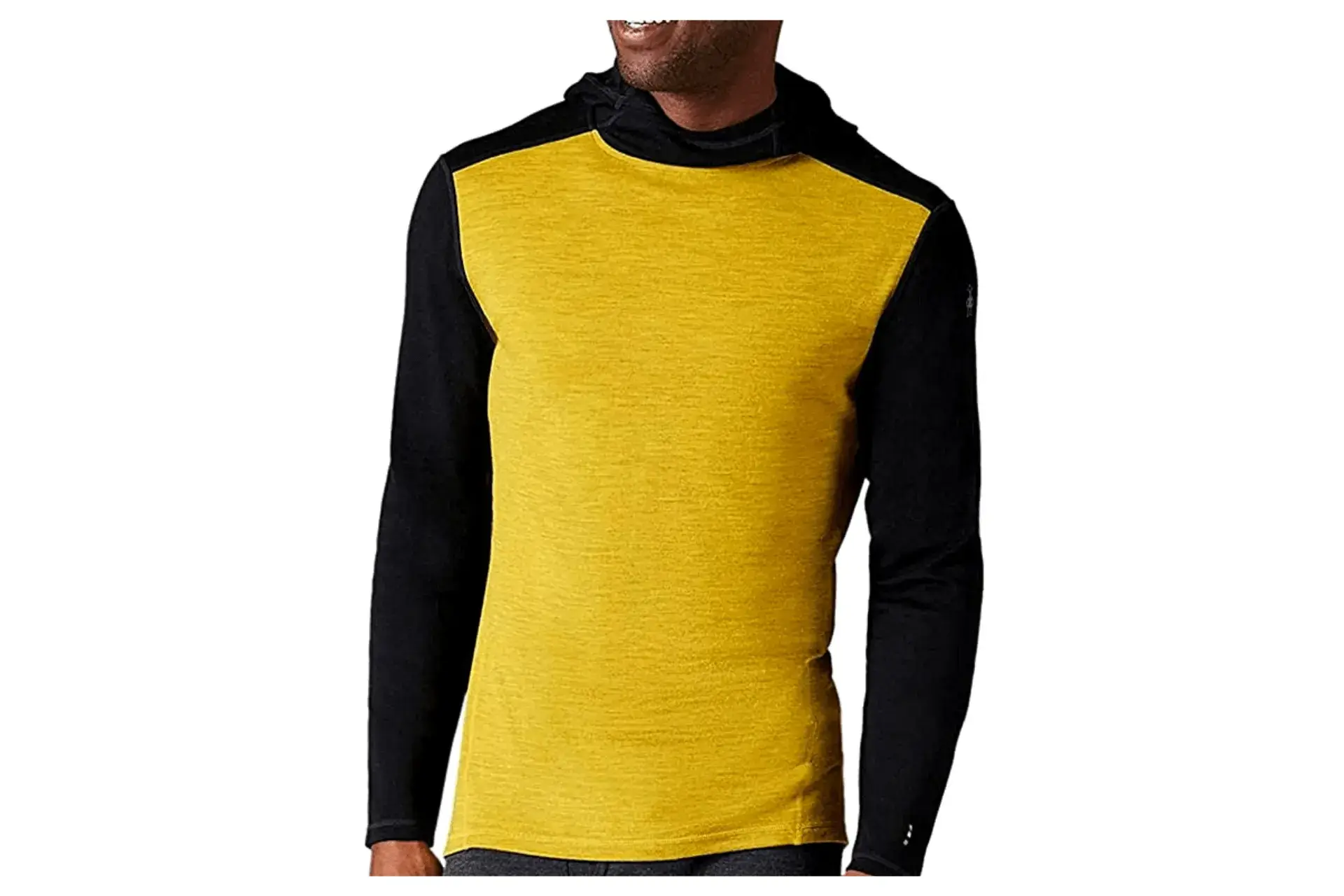 The Smartwool Merino 250 is our pick for the best base layer hoodie for both men and women in this guide. It does not have a zipper, which, in contrast to the previous three choices, makes it easier and more comfortable to wear as a top layer or under additional layers.
Especially if you wear a hoodie with a zipper and are concerned about the zipper coming into touch with your neck when the hood is pulled down, it gives additional warmth all around the neck like a scarf would, which is why the style of the hood on this version is one that I find to be quite appealing.
It does not appear excessively large when the hood is worn down. Next, the shoulder panels do away with the need for shoulder seams, and the flatlock seam structure ensures that the wearer will not encounter chafing while still looking fashionable.
Regarding the construction, the hoodie is made of 100 percent 250 gsm merino wool, which is dense and substantial enough to withstand the harsh conditions of cold weather. However, this hoodie weighs only 11.22 ounces, making it a lightweight option that you won't need to sacrifice much space in either your checked or carry-on luggage.
At the moment, Smartwool's Merino 250 is obtainable for both men and women, and the Olive Mountain Scape pattern adds extra taste, maybe something that you enjoy.
Additionally, there are alternatives to this hoodie with zippers, and it is recommended that you investigate these options. The absence of pockets is this hoodie's last and most significant shortcoming.
Product Features:
Imported Wool Content is One Hundred Percent.
Merino wool has been used in its entirety as the material.
Insulation Weight is 250 grams per square meter.
Pros
The neck opening is covered with extra plush fabric rather than having a zipper.
It works well either as a foundation layer or a top layer.
Multiple colors, patterns, and versions available.
Cons
The hood does not have any elastic or drawstrings to modify it.
There are no pockets nor thumbholes.
5. Helly-Hansen Men's Hoodie Baselayer: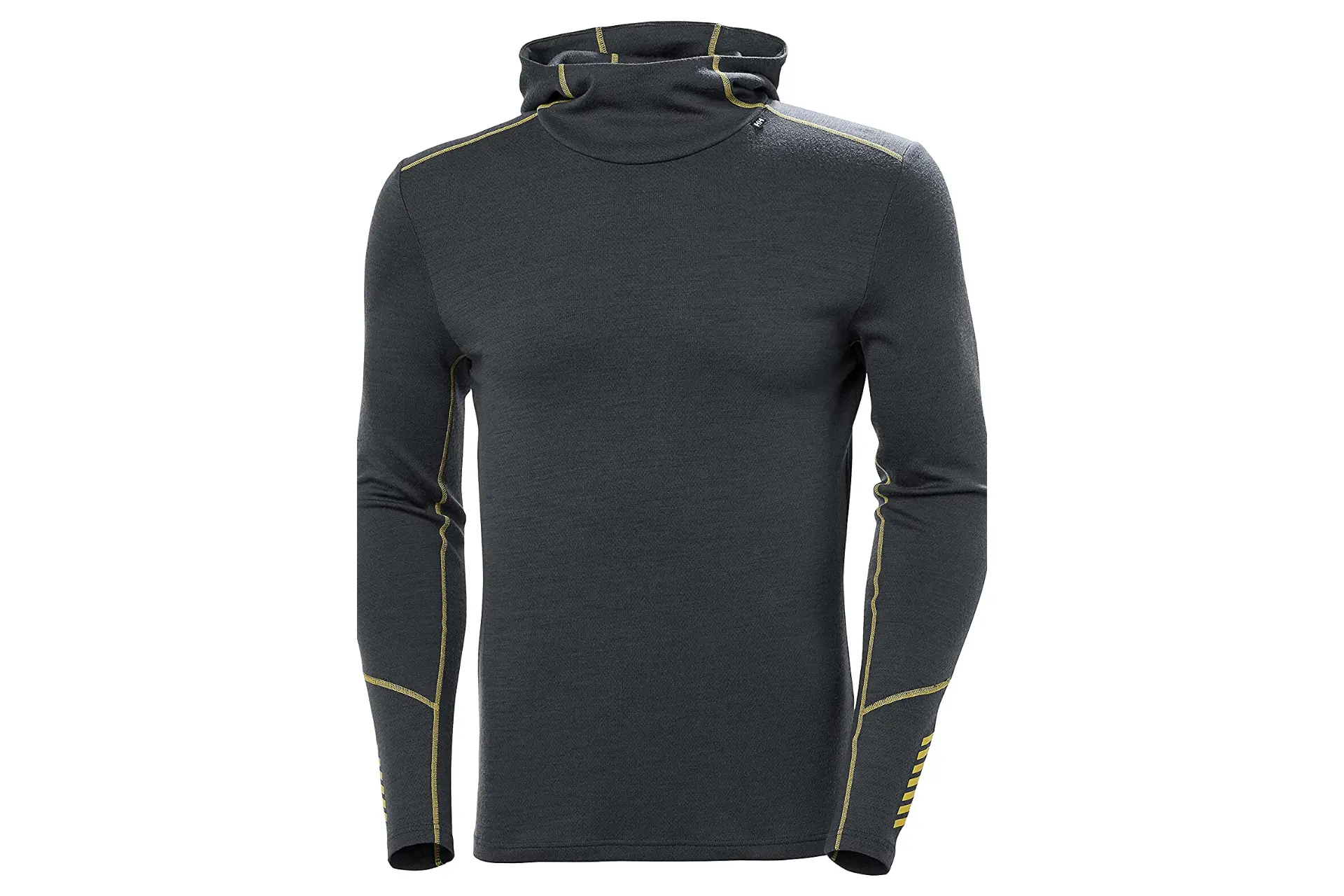 If you are a passionate skier, I do not doubt that you are familiar with Helly Hansen's brand. They provide a wide variety of items, ranging from pom-pom beanies to puffy parkas.
You could, in essence, equip your entire ski vacation with their apparel, even though it could set you back a good coin if you do so. Nevertheless, the LIFA Merino Midweight Hoodie is the one item of Helly Hansen apparel that every snow guy should have in their closet.
At first glance, this hoodie may appear to be nothing more than a classic layering piece. However, a world of fabric technology hides beneath the simplistic appearance.
I won't go into too much detail for brevity, but several important structural aspects should be mentioned. The hybrid construction of Merino wool and synthetic fiber combines the most desirable qualities of both types of fiber.
You receive wool's cozy and plush sensation and enhanced breathability and durability from synthetic materials (LIFA). To put it another way, it is designed to keep you safe on the slopes without causing any further annoyance.
In addition, Helly Hansen has designed a mid-layer that has one of the best fits for the hood of all of the items on our list. Because it is snug and well-fitting, you may wear the hood beneath your helmet without worrying about it.
Plus, because it has flatlock seams, you likely won't even realize you're wearing this sweatshirt, thanks to its improvements.
Try out the Helly Hansen LIFA Merino Hoodie if you want a great piece of outerwear to wear when you're hiking or skiing since it's a merino wool blend, and it will keep you warm.
Product Features:
A distinctive base layer that combines two materials in one, with an outside made of merino wool and an internal made of LIFA Stay Warm Technology.
Warmth and insulation are provided by the LIFA base layer, which is the original layer produced by Helly Hansen and is composed entirely of LIFA fibers.
You will remain warm, dry, and comfortable thanks to LIFA's natural ability to draw moisture away from the skin and into the garment's outer layer.
Pros
Outstanding warmth for its weight.
A hood can be worn underneath a helmet.
Constructed using two different fabrics in one.
Cons
Not as resistant to odors as some other options.
Fewer hues than usual.
Expensive.
6. Ibex Merino Wool Indie Hoody: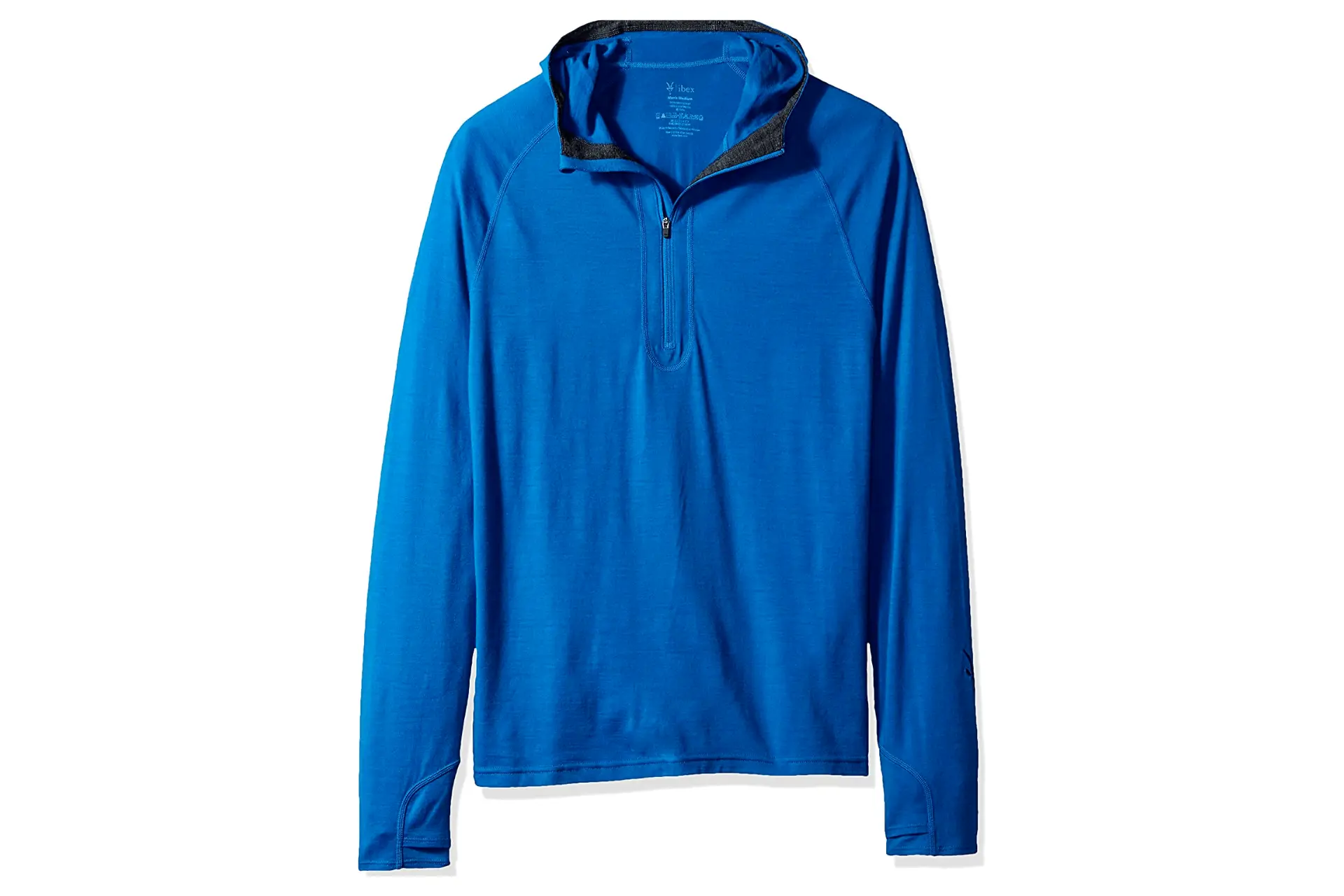 When I think of Ibex gear made of Merino wool, the first thing that is comes to mind outdoor clothing. They create all of their apparel with utility, safety, and comfort in mind first and foremost.
And even though it doesn't look like much, the Ibex Indie Hoodie is one of the outdoor hoodies that performs the best on our list, despite its unassuming appearance.
Let's get started with the cloth made entirely out of Merino wool. In addition to being gentle and pleasant to wear, it has a thickness of 185 GSM, making it sufficiently warm even when the weather drops below freezing.
In addition, the general shape is form-fitting while still being loose enough to allow for freedom of movement. As a result, you won't need to worry about anything if you're hiking along the route.
Now, onto the characteristics. At first appearance, you would believe that this is just a simple hoodie designed for use in the great outdoors. It's nothing too fancy. On the other hand, Ibex grated one-of-a-kind details into their clothes.
The Raglan seams enhance movement and significantly cut down on chafing caused by backpack straps. It has thumbholes so that you may layer it. Even a hood has a slimmer fit and may be used underneath a climbing helmet. To put it another way, there is a great deal more to the performance than initially.
Product Features:
Zipper closing.
Merino wool half-zip hoodie that may be worn year-round.
11-inch zip neck with a locking zipper pull and chin guard. Chin guard is 11 inches tall.
Thumbholes, tag-free labels, flatlock seams, and flatlock seams on the seams of the middle layer.
Pros
The height of outdoor luxury.
Incredible control over the temperature.
Scuba-inspired form of a hood.
Cons
Unsuitable for use in extremely cold temperatures.
Finicky zipper.
Costly in terms of one's weight.
7. Woolly Clothing Women's Merino: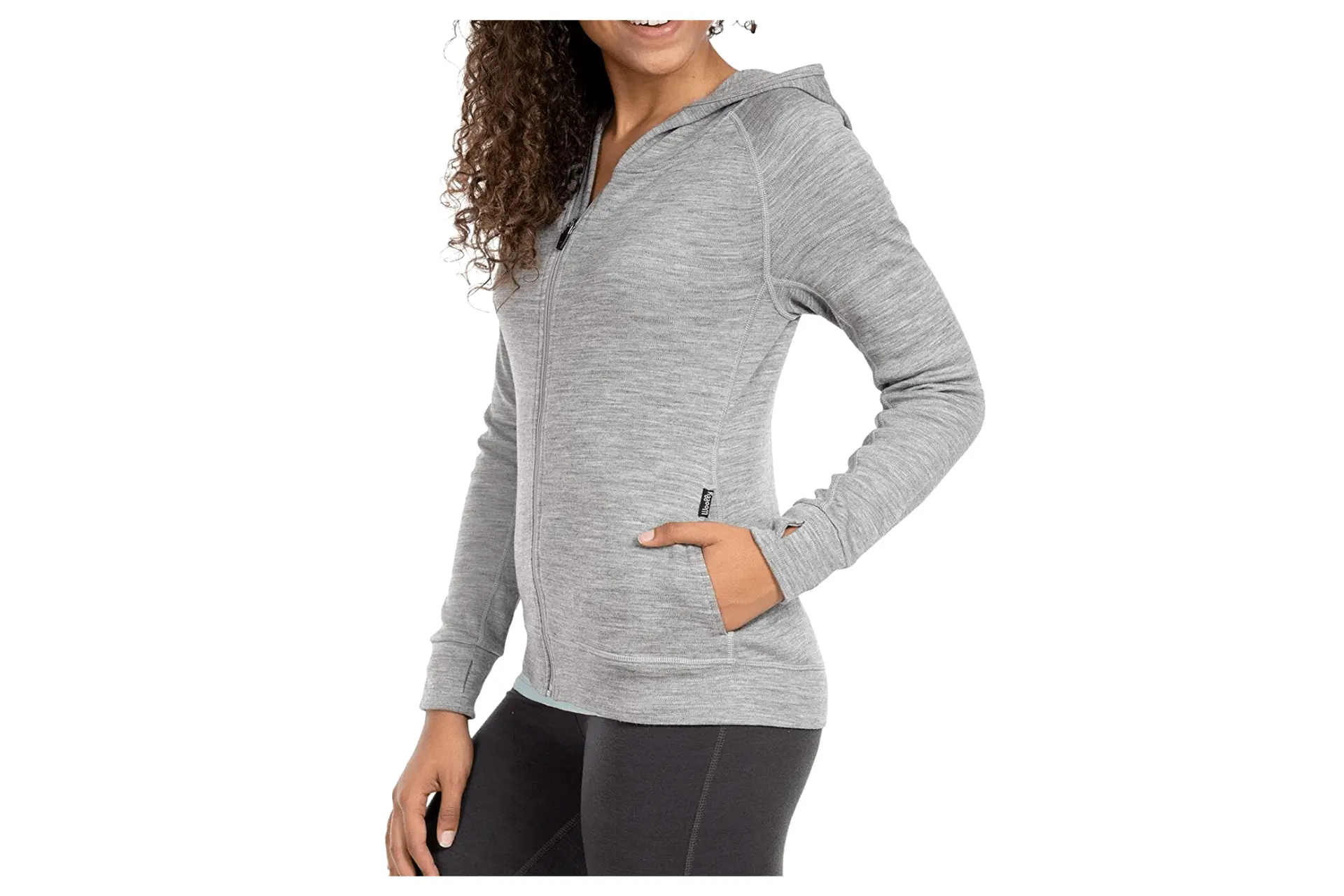 This hoodie contours itself to my shape and is one of my favorite features. The slim fit is just right for my torso; it is neither too loose nor too tight. It tapers beautifully.
In addition, it is adaptable enough to be worn with leggings and any other type of clothing because of the general style. At the moment, this is one of the Merino garments that I wear the most frequently for my daily rotation.
In terms of the material, Woolly employs Merino wool that has been certified by Woolmark and is of a medium weight. It is comfortable to wear, but not to the point where I forget I'm even we a sweatshirt because of how it feels on my skin.
The one significant problem that I could run across (but haven't so far) is that Merino wool clothing tends to wear out more quickly. However, this pro-knit hoodie is not going anywhere just yet.
Oh, and I can't leave out that it also has some wonderful features, can I? In addition to the lined pockets, the zipper cover keeps your chin safe from becoming snagged, and there are even finger holes to maintain your sleeves in place! However, I wish some holes were larger for the latter because they are not quite big enough to accommodate my thumbs.
To summarize, the Woolly Pro-Knit hoodie made from Merino wool is, in my opinion, the best option overall. It satisfies all of the requirements for purchasing, and the cost is reasonable compared to other options.
Product Features:
Flat-locked Seamsed, have a tagless inside and an athletic fit with minimal bulk.
Excellent for the chilly days of fall and winter and for resting or working hard when the weather is cool.
Woolly combines the time-tested health benefits of merino wool with timeless daily designs suitable for any setting.
In every part of your life, you may take advantage of the odor-free, fire-resistant, moisture-wicking, and long-wearing comfort that merino provides.
Pros
Versatile construction.
Protection appropriate for all four seasons of wear.
Enhanced convenience and comfort components.
Cons
Tiny holes for the thumb.
Some people may not prefer the shorter length.
Questionable longevity.
8. Minus33 Merino Wool Kodiak Men's: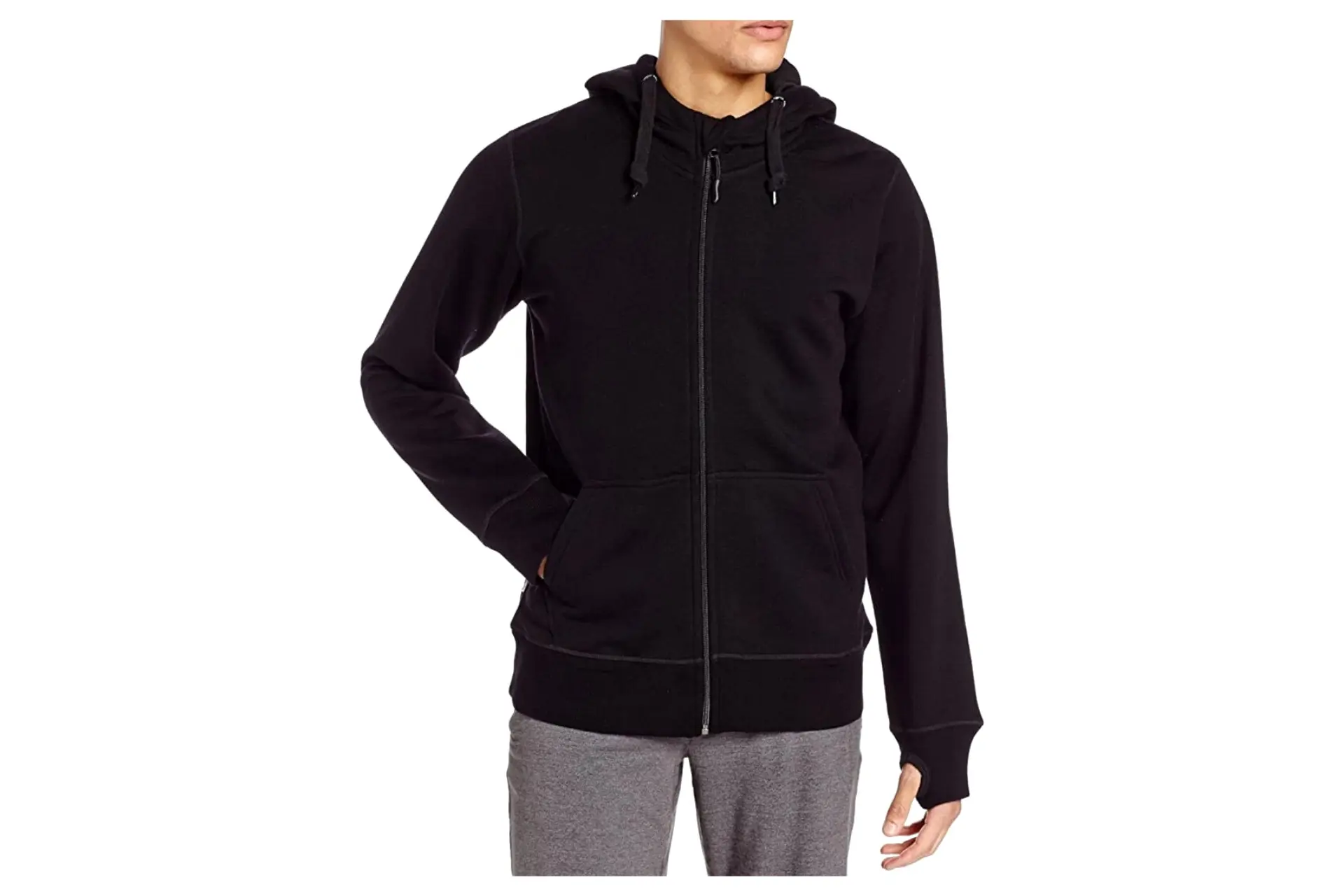 One of the best brands of merino wool is called Minus33, and the company makes no sacrifices in the quality of either the fabric or the production.
The Kodiak Expedition is now one of the greatest hoodies available on the market for both men and women and is considered one of the best all-around hoodies.
To begin, this hoodie is made of heavyweight material, making it the model in this guide that will keep you the warmest. This hoodie is the epitome of coziness, quality, and ease of wear thanks to the 400 gsm interlock-knit wool that measures 18.5 microns in thickness.
Second, this hoodie works well with a variety of different body shapes. If one thing can be said with absolute certainty, most ordinary people do not have the same physique as the models seen wearing the goods.
As a result, not all of us can wear hoodies with a slimmer fit. Because of this, we decided that the hoodie ranked #1 was the best option because it flatters a wide range of body types. The Kodiak Expedition is now offered in understated hues such as ash grey and black for color options.
Because of these hues, you shouldn't have any trouble matching the hoodie with just much any outfit you want to wear. Merino wool may be worn frequently without deteriorating quality is another advantage of this fabric.
Last but not least, some fascinating characteristics to take into consideration are a zipper garage at the neck to prevent chafing, and inside that is lined with an ultra-soft fleece, thumbholes in the arms, and two huge front pockets that have enough capacity to hold current iPhones and bigger Android phones.
Overall, this is a high-quality hoodie made of one hundred percent merino wool, which will keep you toasty and comfortable in any season.
Product Features:
Merino Wool, which is 95 percent, and Spandex, which is 5 percent, create an exceptionally comfy and incredibly soft fabric.
Because it is treated with the most advanced technologies for simple maintenance, merino wool may be washed and dried in a machine.
The Merino Wool Full-Zip Hoodie from Minus33 is an important piece of your everyday go-to gear since it provides superior insulation and looks amazing.
Ventilation may be adjusted thanks to the heavy-duty zipper.
Pros
A relaxed fit without being overly baggy.
Garage for the zipper and thumbholes.
Fashions for both men and women.
Interior made of plush fleece.
Flap located on the interior to prevent heat leakage.
Cons
It's possible that the hood is broader than you'd want.
Very expensive.
There is a possibility of zipper contact at the throat until it has been broken in.
9. First Lite Men's Kiln Hoody: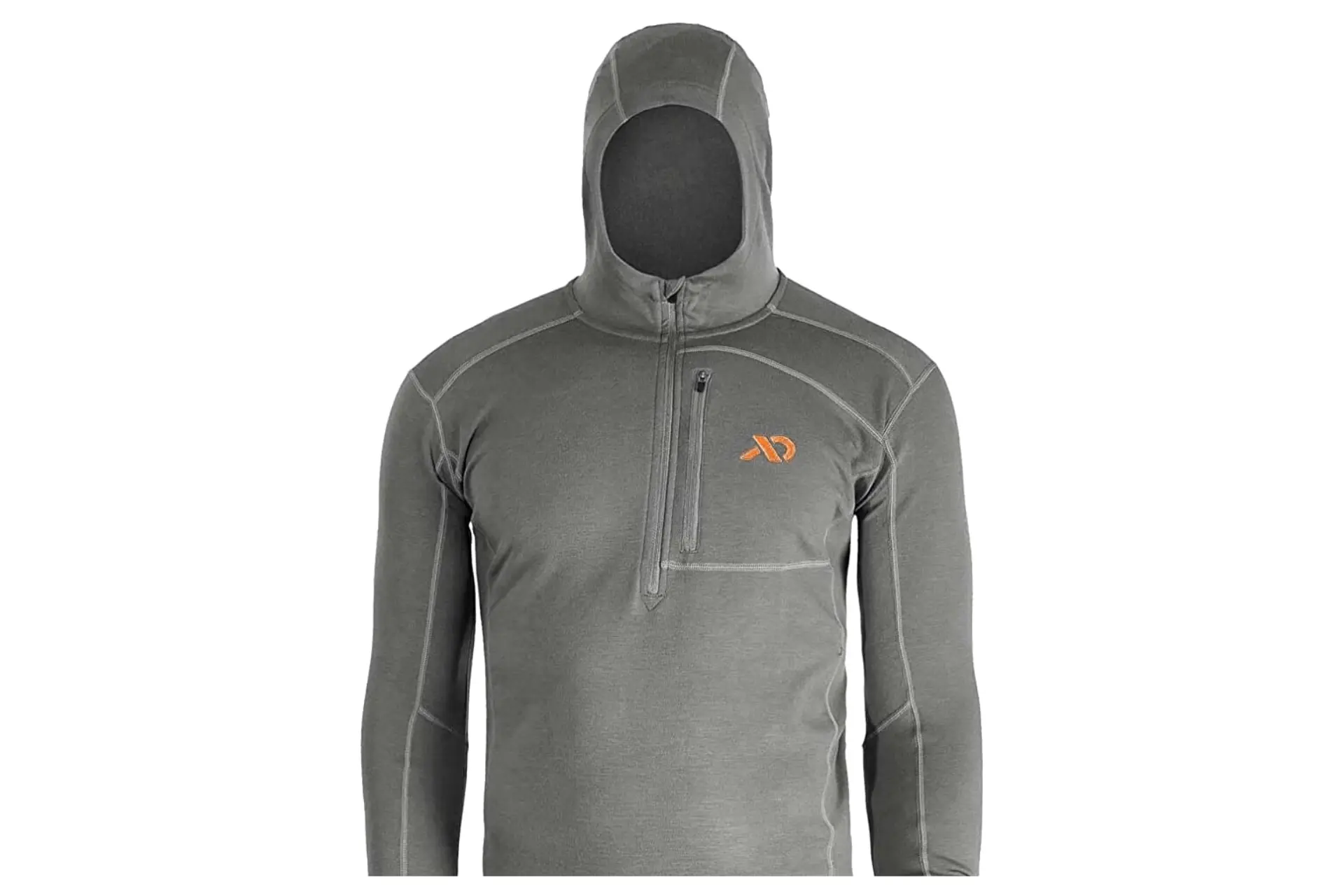 The men's and women's versions of First Lite's Kiln merino wool hoody are now on the market, and it is widely considered the greatest option for hunting. This hoodie stands out from the crowd thanks to the camo color variations.
This hoodie is something you should look into purchasing if you are the sort of person that enjoys being outside and hunting. The Kiln may be worn either on its own or as a base layer hoodie, in contrast to the Minus33 hoodie mentioned. Keep in mind that it will fit more closely to your body as a result is another aspect to consider.
If the camouflage patterns on the hoodie put you off, you may get it in more subdued colors if you want. I think this is the best option out of all the ones shown in this tutorial. In terms of its construction, the Kiln comprises 95% merino wool and 5% spandex, giving it greater flexibility.
The Kiln hood is more compact and is designed to wrap over the wearer's head as the temperature drops. Compared to the bigger hood featured on the Minus33 hoody, you could find that you prefer this particular kind of hood.
Additional factors to consider are the midweight 250 gsm wool, a convenient zip pocket located at chest height, thumbholes in the sleeves, and the Kiln has a quarter-zip rather than a full-zip.
When these aspects are considered, the Kiln is an excellent choice for minimalist hikers, hunters, and travelers looking to decrease the amount of space in their pack taken up by a hoody.
Product Features:
Because Merino wool is odorless, temperature regulating, and quiet, the Kiln Hoody is an essential item of clothing for any professional hunter searching for an advantage in the treestand or the wilderness.
Ergonomic, quarter-zip hood for optimal temperature regulation and concealing. When not in use, it can be quickly and easily laid flat, and it will not get in the way of your pack straps or harness.
The user can layer this midweight item over heavier baselayers or outerwear for top-notch warmth, thanks to thumb loops located on the cuffs of the garment.
Pros
It is not too heavy to be worn as a top layer, but
it is not too light to be used as a base layer.
A hood with a close fit to keep in the heat.
Camouflage and plain hues are both available.
Convenient zip pocket on the breast.
Thumbholes.
Our best recommendation for going hunting.
Cons
Not as plush as the finest merino wool (no micron listed).
People who have a relatively small torso could discover that the torso is excessively lengthy for them.
10. Men's Lightweight Fullzip Hoodie: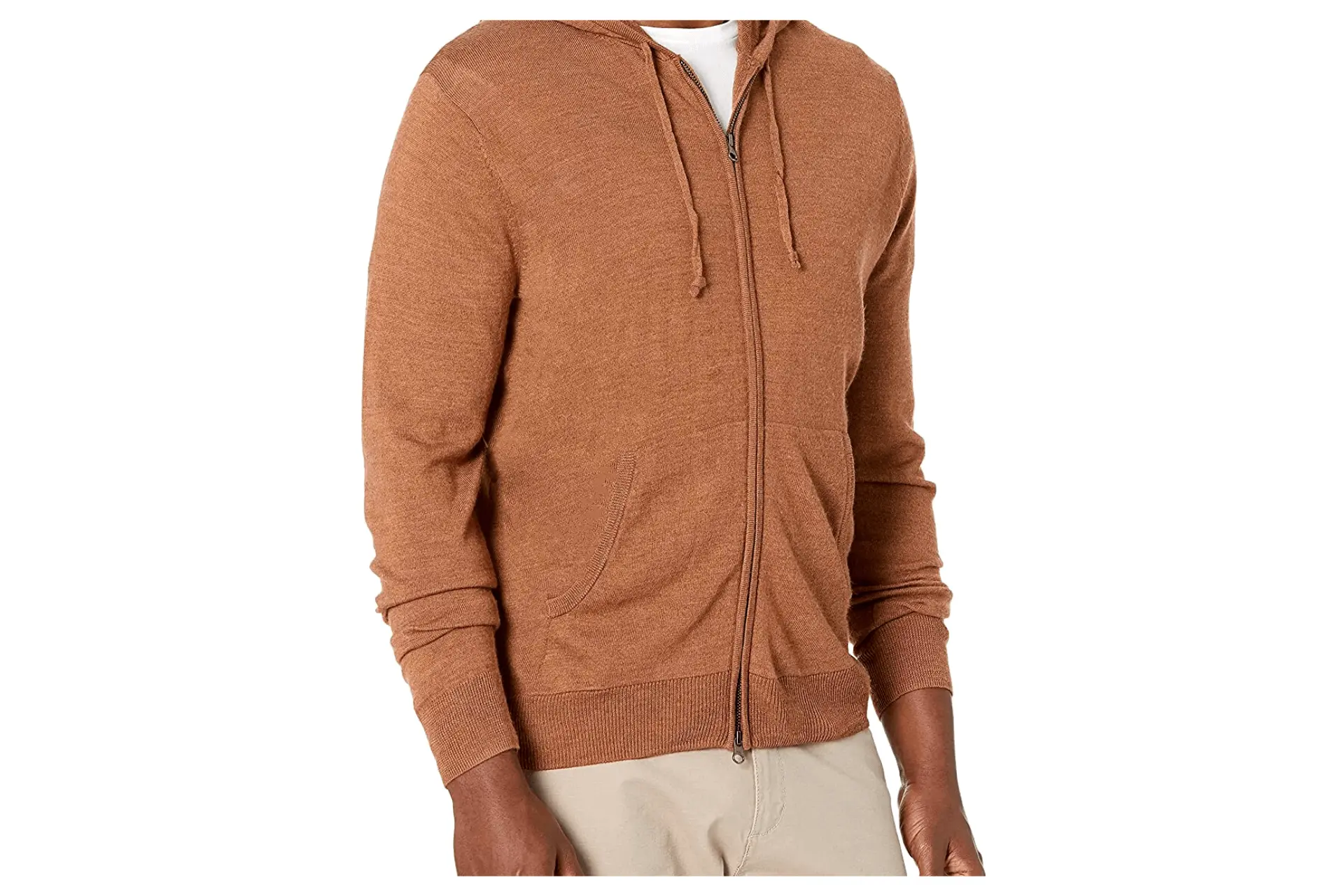 I haven't put this sweater from Goodreads through its paces yet. Because I already own a sufficient number of Merino hoodies I am content with, I have no reason to get another one.
On the other hand, if you want to feel the strength of Merino wool without completely emptying your financial account, this may be the perfect alternative for you.
Still, "budget" doesn't mean awful. Even though I've gone through several possibilities that have a better level of performance, it's possible that you won't require a top-of-the-line hoodie for your day-to-day activities.
The lightweight merino wool and acrylic combination in a 50/50 ratio provides appropriate warmth while allowing considerable ventilation. In addition, the adaptable cut makes it a great choice for any activity.
And even if this sweatshirt is more simple than the others, it does not imply that it is devoid of any characteristics. A zipper goes in both directions, kangaroo pockets, and ribbed cuffs to prevent your sleeves from flailing. Even if it might not be the best of the best, it nonetheless has a good performance.
In addition, this hooded sweatshirt with a zipper has received many positive reviews and is likely available in the most colors of any on this list (eight in total as I write this). You could give this Merino wool hoodie from Goodthreads a try if you are low on funds but want a quality outerwear piece.
Product Features:
This lightweight full-zip hoodie sweater is excellent for wearing on its own or as a layer underneath a blazer or jacket since it is both comfortable and adaptable.
characterized by a zippered front fastening, a split kangaroo pocket, ribbed cuffs, and a hem.
Everyday life is made better by paying attention to what our customers have to say and refining every aspect to maximize quality, fit, and comfort.
Pros
Simple, flexible structure.
Suitable for usage in all four seasons.
Inexpensive.
Cons
Questionable durability.
It is reasonable to anticipate pilling.
Sizing discrepancies.
Things to Consider Before Buying Merino Wool Hoodie:
Fit and Style:
There are a few different ways that hoodies made of Merino wool may be put together. Some of them feature a more form-fitting athletic cut designed for activities that need layering. The structure of the others is often more draped, and they are designed to be worn either as an outer layer or as a separate garment.
How you want to wear your hoodie (for example, when traveling, while trekking, on an everyday basis, etc.) should decide how well it fits you.
Fabric:
It's crucial to remember that not all Merino wool is created equal, even though all of the hoodies we tested were made with a wool blend that kept the wearer warm and cozy.
There are three important characteristics to watch out for with each of these hoodies made from Merino wool: the percentage of wool, the fibers' diameter, and the fabric's thickness. Let's take a quick look at the benefits and drawbacks of each option.
Generally speaking, the material will be softer and more resistant to odor if it has a larger percentage of Merino wool. On the other hand, Merino wool is a more sensitive material than synthetic material. Thus this often comes at the expense of its durability.
Therefore, if you want to wear your hoodie during activities in which snagging and rubbing can be a problem, you should seek material that combines natural and synthetic fibers. A sweatshirt made entirely of Merino sheepskin should be sufficient for low-impact activities such as commuting or touring.
The Many Benefits That Using Merino Wool for Clothing May Bring About:
The fact that merino wool prevents the growth of germs responsible for unpleasant odors is the primary reason it is regarded as a superior material for producing garments. However, because it is fantastic for layering, it is particularly well suited for use in hoodies.
Hoodies are typically used as outerwear; however, hoodies made from merino wool tend to be more form-fitting than their looser counterparts. Instead of feeling like a cumbersome snowman when you wear a jacket during the winter, you can keep warm while still maintaining a comfortable level of warmth.
Frequently Asked Questions:
Is Merino wool manufactured in the United States of America?
The Best Clothing Made in the USA From Merino Wool Yes.
How can you tell whether the hoodie you're buying is high quality?
Hoodies with a greater percentage of cotton in their construction are typically considered superior quality.
Is minus 33 created in the USA?
Yes, the fact that Minus33 goods are manufactured in the United States allows the company to be more sensitive to its customers' demands, seasonal shifts, and industry trends.
Bottom Line:
Merino Wool is beneficial in many different ways. The use of Merino Wool in the garment industry is highly recommended. It is inherently resistant to odors, maintains a consistent temperature, and has a long lifespan.
Merino Wool is breathable even though it does not let either wind or water pass through is one of the fiber's many wonderful qualities. This kind of material would be perfect for anybody who is always on the move or active.
We hope you had a good time reading this blog post on the greatest hoodie made of merino wool. As discussed in the post, Merino wool comes with several advantages and is an excellent choice in the wintertime. We are having a great time wearing these hoodies, and we hope you have appreciated reading this blog article about the advantages of using Merino Wool.