Are you trying to decide between the Smartwool 150 and the Smartwool 250 because you hope to participate in some valuable outdoor activities? You don't need to let yourself get mixed up, do you? If you take into account several aspects and considerations before using either of them, it is relatively simple to choose between the two of them.
In this analysis, we will compare the Smartwool 150 to the Smartwool 250 and explore the key differences between the two. You will also get an understanding of the qualities and benefits that Merino Wool possesses. This guide will be up your alley if you are interested in purchasing apparel or other goods constructed with either Merino 150 or Merino 250.
Differences Between Smartwool 150 Vs. 250:
When selecting the best base layer for outdoor activities, you can't go wrong with Smartwool. Their 150 and 250 base layers are two of their most popular styles and offer distinct advantages depending on how you plan to use them.
The lightweight Smartwool 150 is designed for high-energy activities in milder temperatures. It features a slim fit to prevent bunching and provide maximum mobility, plus soft and breathable merino wool fibers that wick away moisture and keep you warm with just the right amount of insulation.
The Smartwool 250 is ideal for colder temperatures or low-energy activities like camping or snowshoeing. This base layer is thicker and more insulated than the 150, making it perfect for colder climates. It's also made with merino wool fibers that help pull moisture away from your skin while insulating you from the cold. It's a little heavier than the 150 but provides excellent mobility and comfort.
No matter which Smartwool base layer you choose, you can be sure you're getting a high-quality product designed to keep you warm and comfortable in any environment or activity. So check out the 150 and 250 styles before deciding which is best for your outdoor adventures!
| Features | Smartwool 150 | Smartwool 250 |
| --- | --- | --- |
| Suitability | Hikers and climbers choose merino wool. Why? Merino wool socks keep feet dry and odor-free. | Merino 250 baselayers are appropriate for chilly to cold conditions. |
| Year-Round Fabric | Year-Round Base Layers are Smartwool 150. This Smartwool layering technology layer acts with the body's standard cooling and heating function. | Stop-and-go or cold-weather activities are best with the Merino 250 base layer. Warm and breathable winter apparel is the makers' priority. |
| Suitable Heating Mechanism | Next-to-Skin Base Layers utilize Smartwool 150. They function with your body temperature to aid the heating and cooling system. This optimizes core temperature. | Interlock knit provides warmth and loft without bulk. This makes cloth inherently odor-resistant. |
| Increased Durability | The core Spun technique wraps Merino strands around a nylon core to make the Merino 150 durable and comfortable. | The Smartwool 250 has increased durability over the Smartwool 150, meaning it will last longer before it needs to be replaced. |
Comparison Table of Smartwool 150 Vs. 250
SmartWool 150 vs. 250 Baselayer:
The SmartWool 150 and 250 base layers are perfect for layering or wearing. The 150 is designed with a lighter-weight Merino wool fabric to give you lightweight, breathable warmth, while the 250 offers a midweight fabric ideal for colder temperatures.
Both provide next-to-skin comfort, natural temperature regulation, odor resistance, and moisture management capabilities. For those days when you need extra protection against the elements, the 150 can be easily layered under heavier garments like jackets and coats without feeling bulky or uncomfortable.
The 250 has been designed with a slightly thicker fabric to ensure you stay warm even in icy conditions. Whether it's an active day outdoors or just lounging around the house, these base layers are sure to keep you comfortable and warm. Try them both and find out which one is right for you!
1. Smartwool Men's Merino 150 Baselayer Ls:
87% Merino Wool/13% Nylon | Zipper Closure | Made in the USA | Temperature Regulating | Odor-Resistant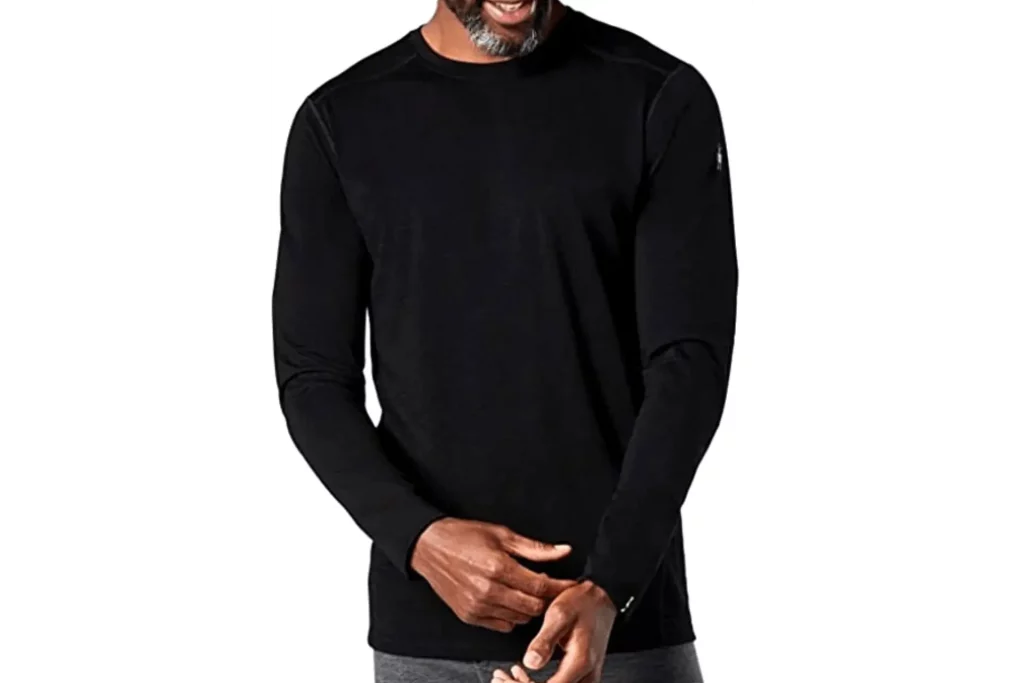 This top-of-the-line baselayer is perfect for any winter activity. The Merino 150 fabric is an ultra-lightweight, warm, and breathable layer that helps keep you comfortable no matter the conditions.
It's designed with corespun technology, which uses durable nylon fibers wrapped around a soft Merino wool core for added strength and next-to-skin softness.
With flatlock seams and raglan sleeves, this base layer provides a chafe-free experience on cold days. And it's odor resistant, so you can stay fresher for longer during whatever activities you participate in!
2. Smartwool Men's Merino 250 Baselayer Crew:
100% Merino Wool | Made in the USA | Pull On Closure | Odor-Resistant | Temperature Regulating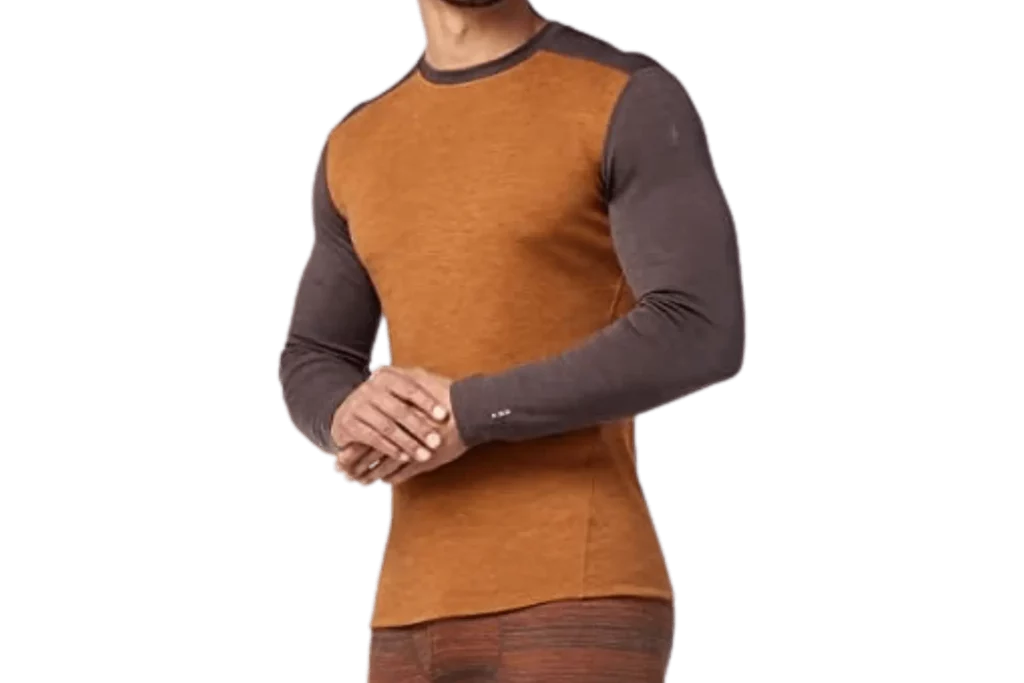 The Smartwool Men's Merino 250 Baselayer Crew is the perfect garment to keep you warm and comfortable on your outdoor adventures. The advanced fabric blend of merino wool and elastane creates a lightweight yet durable material that hugs your body for maximum warmth and breathability.
It also has flatlock seams to reduce chafing and odor-resistant properties, so you stay fresh all day long. With its raglan cut sleeves for unrestricted movement, this baselayer will help prevent any cold air from getting in while still allowing freedom of motion.
Whether taking a hike in the woods or hitting the slopes, the Smartwool Men's Merino 250 Baselayer Crew keeps you both warm and comfortable. Its stylish look will be your go-to garment for any outdoor activity!
Smartwool 150 vs. 250 Base Layer Bottom:
Smartwool's 150 and 250 Base Layer Bottoms are perfect for winter weather. The 150 is a midweight layer that provides warmth with its soft Merino wool fabric, while the 250 is a heavyweight option made of a more dense wool material for extra insulation.
Both will keep you toasty in cold conditions and provide superior breathability and odor resistance. Plus, they come in vibrant colors to add style to your outfit.
Whether you're looking for something lightweight or heavy-duty, Smartwool has an option that will fit your needs. With their quality construction, these base layers are sure to make winter days much more enjoyable!
1. Smartwool Men's Merino 250 Baselayer Bottom:
100% Wool | Made in the USA | Machine Wash | Odor-Resistant | Temperature Regulating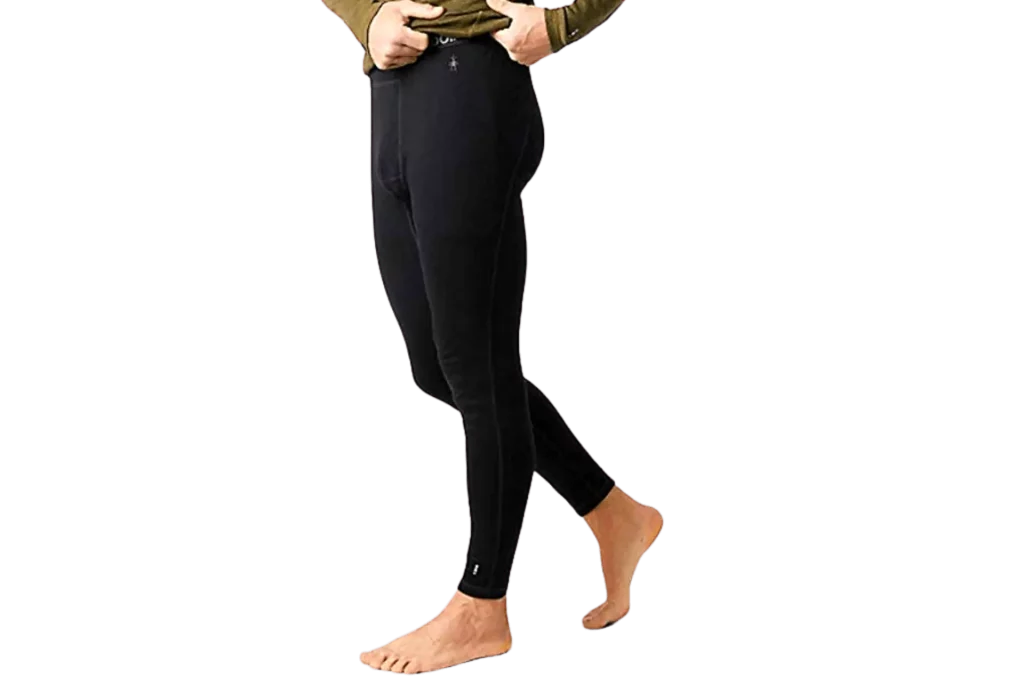 The Smartwool Men's Merino 250 Baselayer Bottom is essential for any outdoor enthusiast. Combining the warmth of wool with the comfort and breathability of a stretchy knit fabric provides maximum insulation without compromising mobility.
Plus, its natural odor-fighting properties mean you won't have to worry about your baselayer getting overly smelly after days spent on the trail. It's perfect for long hikes, backpacking trips, skiing excursions – whatever adventure you take!
Whether you're looking to stay warm in cold weather or want something comfortable to lounge around in at home, this bottom is sure to provide excellent performance and lasting comfort.
2. Smartwool Merino 150 Baselayer Bottom:
100% Wool | Made in the USA | Machine Wash | Odor-Resistant | Temperature Regulating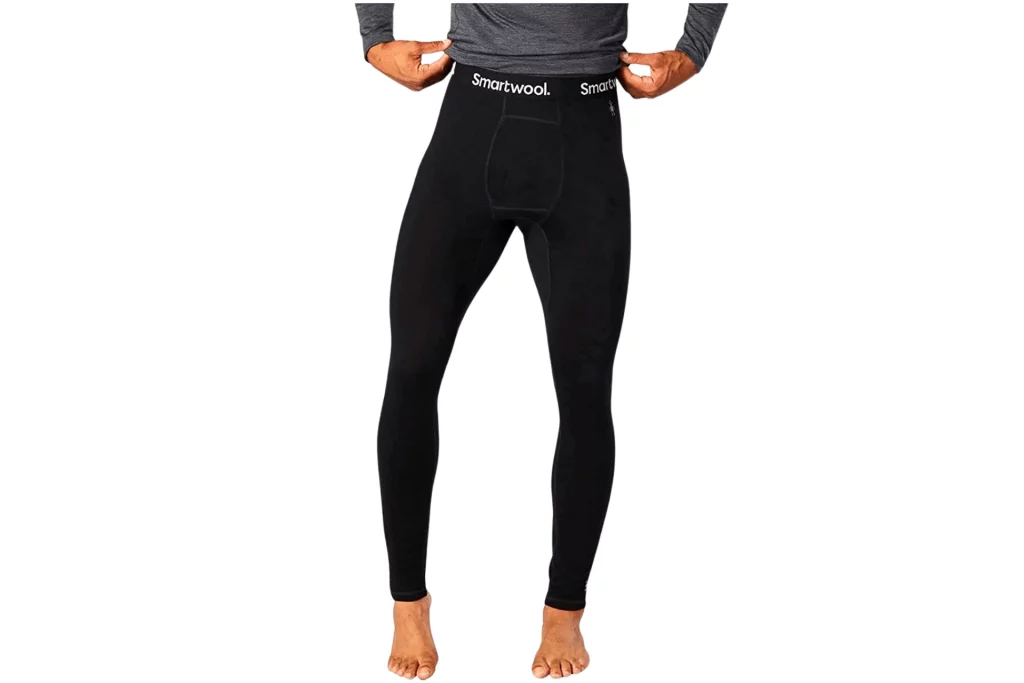 100% Cashmere | Machine Wash, Super Soft | Unisex | 3 Ply Cashmere
Regarding comfort, the Smartwool Merino 150 Baselayer Bottom is in a league of its own. Crafted from merino wool, this bottom has natural insulation qualities that keep you warm and cozy without feeling bulky. It's also super soft and breathable—comfort levels are off the charts!
Plus, the moisture-wicking fabric means sweat won't ruin your day. With flatlock seam construction that eliminates chafing, these bottoms are designed with movement in mind. So whether you're hiking or skiing, you can count on them for all-day comfort.
Smartwool 150 vs. 250 Women Base Layer:
The fabric weight is another difference between the Smartwool 150 and 250 Women Base Layer. The 150 is considered a lightweight base layer, while the 250 offers more warmth with a heavier feel.
If you're looking for something to keep you comfortable during outdoor activities, the 150 is perfect for hikes, running, and biking in mild temperatures.
The thicker 250 holds heat better and allows you to stay warm even on cooler days or when snowshoeing, skiing or mountaineering. Both are made of 100% Merino wool that offers antimicrobial protection — so your gear will continue to smell fresh no matter how hard you work out!
Whether you choose the lighter or heavier option, both layers offer reliable warmth that won't weigh you down. With the Smartwool 150 and 250 Women Base Layer, you can stay comfortable no matter what adventure life throws you!
1. Smartwool Merino 250 Base Layer Crew:
100% Merino Wool | Made in the USA | Temperature Regulating | Odor-Resistant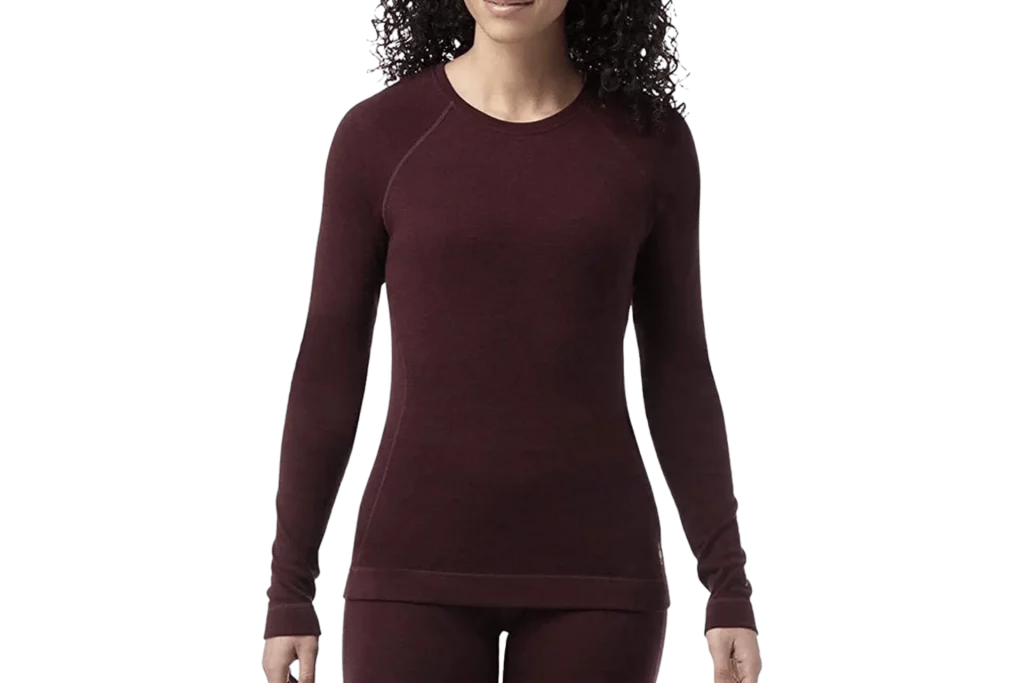 The Smartwool Merino 250 Base Layer Crew is an essential piece of apparel for any outdoor adventure. This cozy crewneck shirt is designed with 100% merino wool, so you can trust it will keep you warm and dry in the great outdoors.
Unlike cotton-based fabrics, this lightweight base layer wicks away moisture and offers natural odor control, making it ideal for long days spent on the trail or at the crag.
Plus, its flatlock seams and raglan sleeve construction provide exceptional comfort no matter how active you are. With its innovative design and superior quality material, the Smartwool Merino 250 Base Layer Crew ensures your next outdoor experience is comfortable.
2. Smartwool Merino 150 Lace Baselayer Long Sleeve:
87% Merino Wool, 13% Nylon | Imported | Pull On Closure | Pull On Closure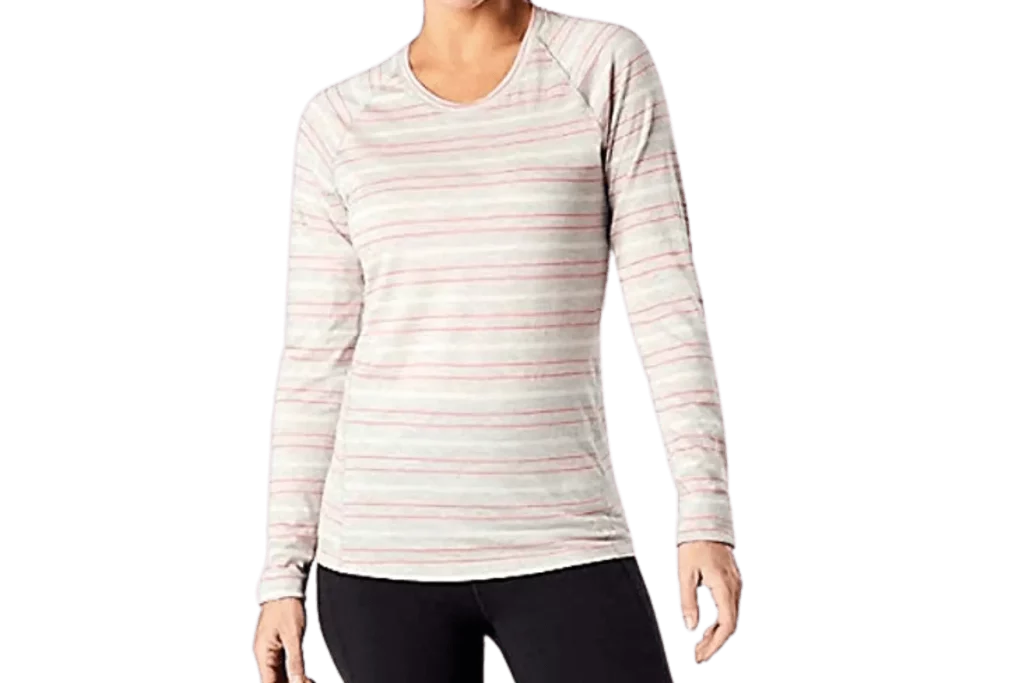 The Smartwool Merino 150 Lace Baselayer Long Sleeve is the perfect choice for women who need a lightweight yet warm layer to add to their wardrobe. Made from luxuriously soft merino wool, this top offers superior warmth without being bulky or heavy.
The stylish lace pattern gives it a touch of femininity, while the long sleeves keep your arms covered and protected in cold weather. Layer this with other pieces for maximum protection against chilly conditions, or wear it when you want extra coverage.
Whether you're out on an adventure or headed to work, the Smartwool Merino 150 Lace Baselayer Long Sleeve has you covered!
Smartwool 150 vs. 250 Gloves::

The Smartwool 150 vs. 250 Gloves offer an excellent choice for those looking for an extra layer of warmth and protection. The 150 gloves are lightweight and feature a durable knit construction in the palm and fingers, while the 250 gloves are designed with a heavier-weight fabric to provide more insulation during cold weather.
Both styles feature touchscreen technology so you can stay connected without taking off your gloves. Whether you're out on a hike or need extra coverage when it's chilly, these gloves keep your hands warm and comfortable. Plus, they come in a variety of colors to match any outfit!
1. Smartwool men Merino 250 Gloves:
100% Wool| Imported | Pull On Closure | Knit in Vietnam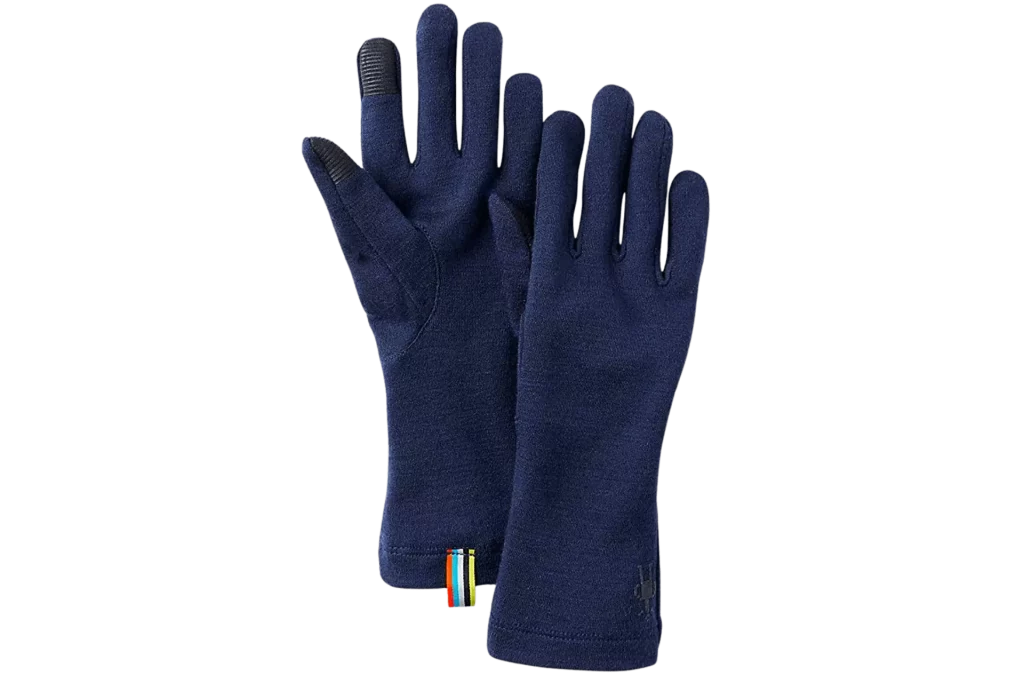 These men's Merino 250 Gloves from Smartwool are the perfect way to keep your hands warm and cozy during cold-weather adventures. Made from lightweight yet incredibly durable merino wool, these gloves protect against wind and snow while allowing for breathability and moisture-wicking properties.
The cuff closure ensures a secure fit, so you can stay focused on the journey ahead instead of worrying about dropping a glove mid-hike. Plus, with touchscreen compatibility, you'll never have to take them off when you need to grab your phone or use electronic devices.
2. Smartwool Unisex-Adult Merino 150 Glove:
100% Wool | Pull On Closure | Odor-Resistant | Temperature Regulating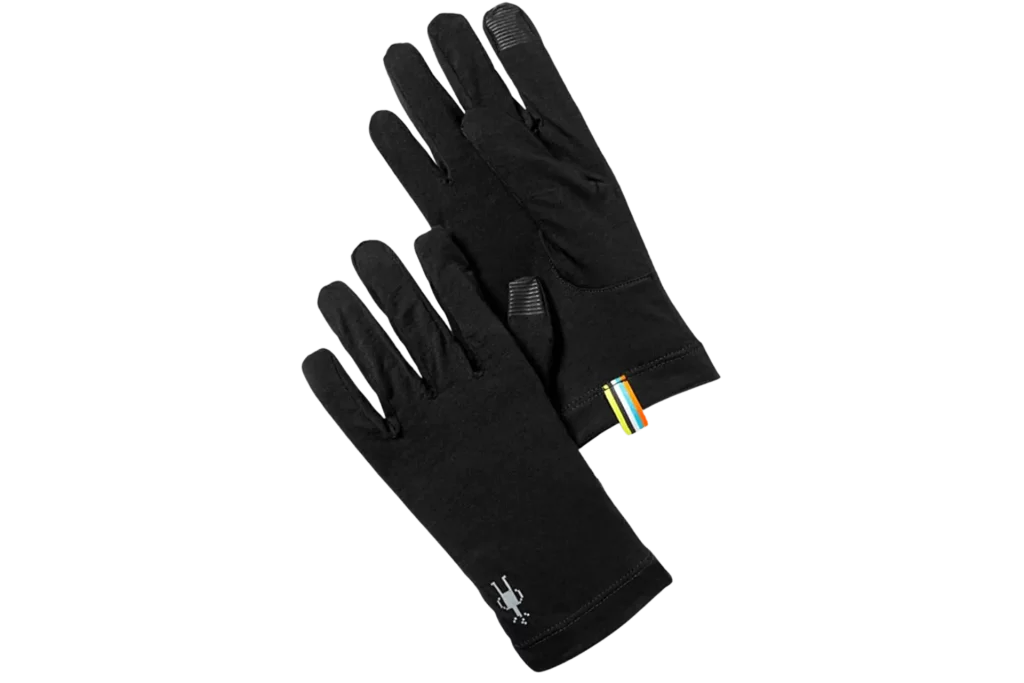 The Smartwool Merino 150 Glove is the perfect choice for anyone looking for a glove that can take them from season to season in comfort and style. It's made with soft, lightweight merino wool, which provides superior breathability and insulation, so you stay warm even when the temperatures drop.
The glove also features an ergonomic fit that conforms to your hand shape, providing full coverage and unrestricted movement. And if you get caught in wet weather while out and about? No problem! These gloves are quick-drying and abrasion-resistant.
Smartwool 150 vs. 250 Beanie:
The Smartwool 150 and 250 Beanies are significant options that keep your head warm and cozy. The main difference between the two comes down to thickness. The 150 Beanie is made of merino wool, nylon, and elastane for stretch, while the 250 consists of a warmer knit with a higher gauge yarn for extra thermal insulation.
The 150 Beanie is perfect for milder days when temperatures stay above freezing, while the 250 Beanie will be your trusty companion if you're heading out in sub-zero temperatures.
It has added protection from the elements, which helps preserve warmth and insulate against cold weather conditions. If you are looking for a beanie to take on winter hikes and snow sports, the 250 is your best option.
The 150 and 250 Beanies offer incredible comfort with their soft and breathable construction. The interior lining of the 150 has a jersey knit fabric which provides next-to-skin warmth, while the 250 has an extra plush feel thanks to its high loft insulation.
1. Smartwool Merino 250 Cuffed Beanie:
100% Merino Wool | Pull On Closure | Roll-up | 2 Years Warranty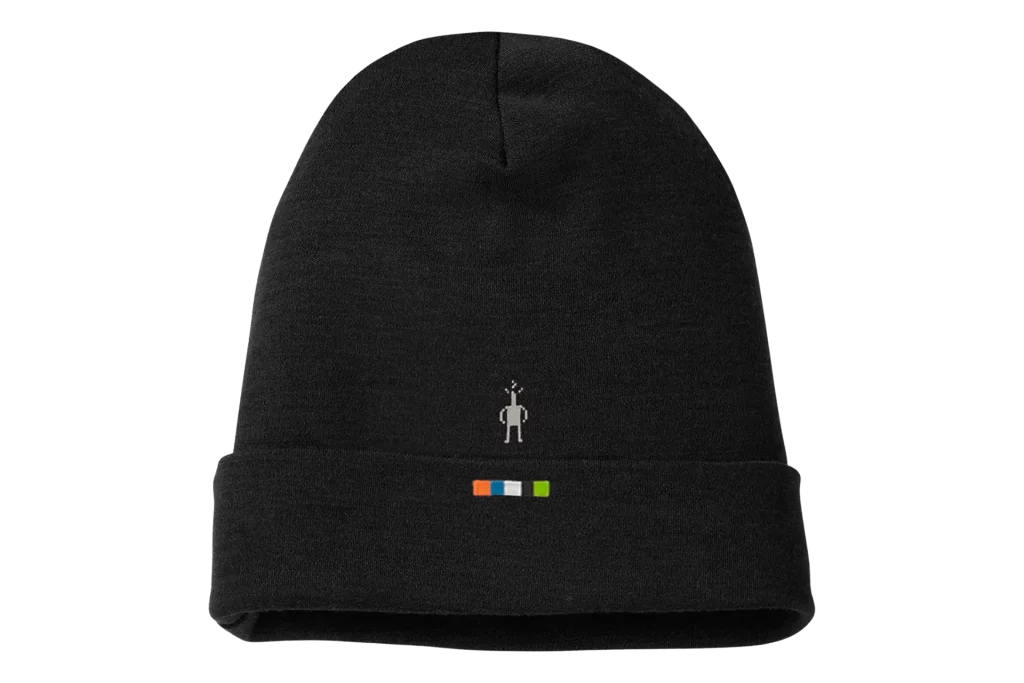 If the weather begins to drop, you should go for our Smartwool Merino 250 Cuffed Beanie as your go-to item. This fashionable beanie is constructed with one hundred percent merino wool, keeping you warm and toasty even when the weather is cold.
Its one-of-a-kind cuffed design features an additional layer of insulation that creates a heat-trapping effect and shields your head from the cold. In addition to this, it does not retain odor and is breathable, so you may wear it all day without being uncomfortable.
This beanie is available in many colors so that it may be worn with any outfit. Put on this warm and cozy headwear, and you'll be ready to take on everything Mother Nature may throw at you!
2. Smartwool Merino 150 Beanie:
100% Wool | Made in the USA | Odor-Resistant | Temperature Regulating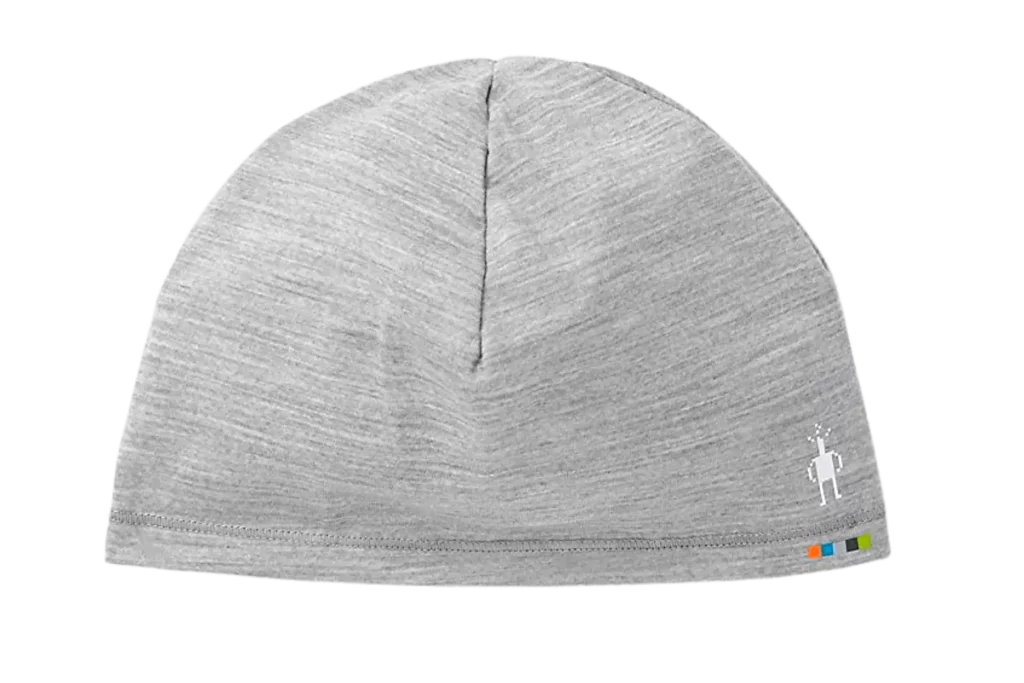 The Smartwool Merino 150 Beanie is a beautiful piece to add to your winter accessories collection since it is both comfortable and lightweight and constructed from merino wool.
This beanie helps you stay warm and comfortable while doing activities outside by providing the highest amount of warmth possible and allowing adequate ventilation.
It is so light that you will hardly even notice it on your head! The fashionable knitted pattern guarantees that you will always look your best, regardless of the activity in which you participate.
With the Smartwool Merino 150 Beanie, you can keep your head toasty while enjoying a day on the slopes or a night on the town without sacrificing your sense of style. Get one now so you won't have to worry about the chilly weather preventing you from having fun this season.
What Exactly Is Merino Wool, and What are Its Characteristics and Benefits?
Merino wool's excellent breathability, luster, and softness have helped make it one of the world's most sought-after types of yarn. Compared to other types of cloth, the fibers in Merino wool are more delicate, finer, and softer. Merino wool is produced from the wool of Merino sheep.
The most common wool forms have inherent properties that make them insulating, water resistant, resilient, and warm. The combination of these characteristics, in addition to the excellent features that this kind of wool possesses, results in the production of items of the highest quality.
Even though many grades of this type of wool are available, the diameter of the fibers is always minimal and ranges from 11.5 microns to somewhere about 24 microns. Merino Sheep are the result of careful breeding, which is why their wool is of exceptional fineness and quality. Merino Sheep are the results of selected breeding.
Therefore, what are the benefits of using Merino Wool?
Extremely relaxing and soothing.
Durable and long-lasting.
It does not readily catch fire.
Contributes to the Provision of UPF Protection.
It can be broken down naturally.
Ultrafine and soft.
Perfect for touring and lengthy trips.
Takes up the smell that germs produce.
It prevents you from sweating and helps keep you dry.
Assists in maintaining an average body temperature.
These are some of the benefits that come along with using this type of wool. To better understand this variety of yarn, let's compare the Merino 150 with the Merino 250.
The Significance of Dressing in Many Layers:
Correctly layering your clothing will assist you in achieving both of these goals: avoiding potentially hazardous exposure and getting the most use out of your cold-weather attire. Maintaining your core body heat is facilitated by wearing many layers of clothing, which is the primary reason for the necessity of this practice.
If you spend most of your time working in a cold storage facility or outside during winter, dressing in three layers of clothing is necessary.
Wearing a base layer that can pull moisture away from your body and wick it out, a second layer that can insulate your body from the cold environment, and a third layer that can act as a barrier between you and the cold are the layers that you need to wear to be warm and dry.
How to Determine Which Base Layers to Wear Based on the Weather?
Wool, especially Merino wool fabric, is an excellent choice for the base layers. You should select an item that is produced from wool. Because cotton can absorb moisture and become drenched, the best option for you would be to choose an item made of cotton.
Also, remember that the danger increases in proportion to the moisture on your clothing when exposed to the cold. On the other hand, the excellent absorption of Merino wool means that you won't have to worry about sweat getting on your clothes.
The second layer keeps you warm by drawing air close to your body and retaining it there. Because it is such a good insulator, Merino wool is an excellent choice for this endeavor. In addition, it is often available in various weights to accommodate your requirements and ensure that you are as comfortable as is practically feasible.
On the other hand, the outer layer serves its purpose just as well as armor. It does an excellent job of shielding you from bitterly cold temperatures throughout the winter. It is critical to have an outer layer because if your base layers become wet, the outer layer will stabilize your core body temperature.
Selecting this particular wool creates a channel via which excess heat and perspiration may be expelled from the body. Every layer of this wool helps to wick moisture away from your skin and direct it to the exterior of your gear, keeping you dry and comfortable.
This is challenging for synthetic layers because they tend to obstruct the path that sweat vapor might take to depart the body.
Frequently Asked Questions:
Are base layers the same as thermals?
No, base layers and thermals are not the same. Base layers, usually made from synthetic fabrics like polyester or merino wool, help wick moisture away from your skin while adding an extra layer of insulation against the cold. Thermals, on the other hand, are typically made of cotton and provide a thicker layer of warmth that is more suited for activities in frigid temperatures.
How does thermal clothing work?
Thermal clothing traps air between the fabric and your skin. This air insulation helps retain your body heat, keeping you warm in cold weather conditions. Thermal clothing is made from wool, fleece, or synthetic fabrics designed to be breathable and wick moisture away from your skin.
Is smartwool worth it?
When it comes to comfort and quality, Smartwool certainly stands out. The company's Merino wool-based products are among the most sought-after in the market. Not only do they feel great against your skin, but they're also incredibly durable and designed to last for years. You don't have to worry about odors sticking around, as Smartwool's materials are naturally odor-resistant. This makes them ideal for running, hiking, skiing, or any other outdoor activity you want to enjoy while staying warm and dry. So yes, if you're looking for a durable yet comfortable option that will last through your active adventures, then Smartwool is worth it!
Bottom Line:
Smartwool 150 Vs. 250 — these options are great for various outdoor activities but may be better suited to different situations. The thinner and lighter Smartwool 150 is more breathable and versatile, while the thicker and warmer Smartwool 250 offers more protection against the elements. Ultimately, choosing whichever option best fits your needs depends on the activity or environment you use would be best. Whichever one you pick, you can rest assured that you're getting a high-quality product with all the benefits of merino wool!