The Smartwool 250 Base Layer is an excellent option for individuals looking for a little bit of additional warmth without the bulk that comes with it. This base layer is not only incredibly plush and comfy because it is made entirely out of Merino wool, but it is also naturally resistant to odor and capable of regulating temperature.
Additionally, it can be washed and dried in a machine, making it very easy to care for. The Smartwool 250 Base Layer will keep you warm and comfortable throughout the day, whether you're hitting the slopes of a ski resort or just going for a stroll.
1. Smartwool Men's Merino 250 Baselayer Crew: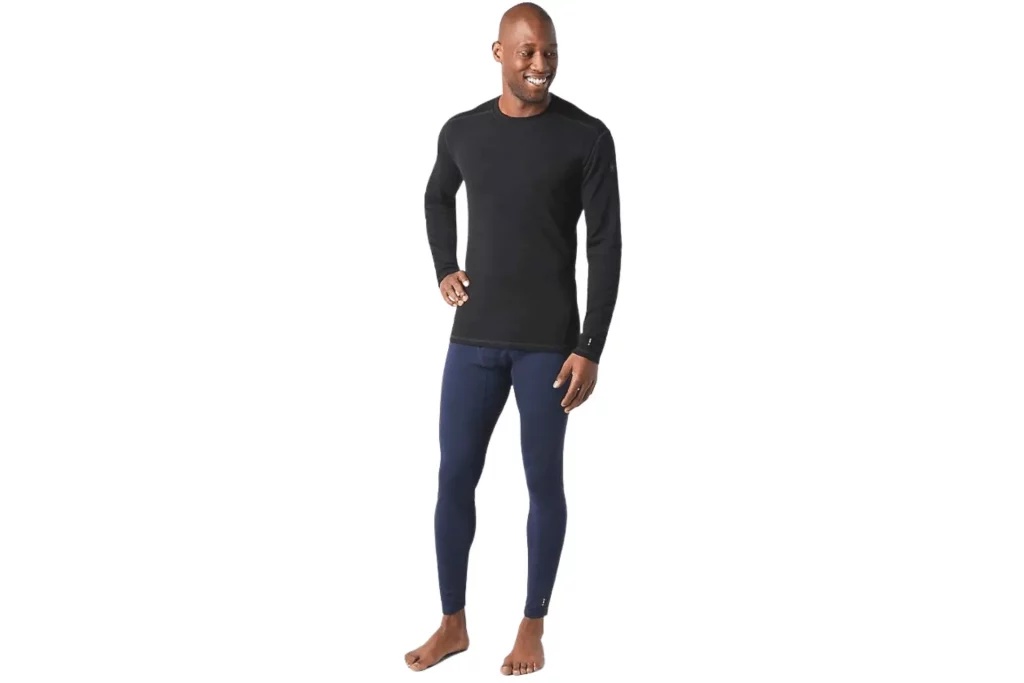 Cotton should never be worn next to the skin, even if you spend two hundred dollars on a mid-layer; therefore, if you do that, you're doing it incorrectly. The foundation layer is the most fundamental component of effective layering for any excursion.
The Smartwool 250 Base Layer is their hottest base layer, and I love it for skiing since I am usually chilly. However, this is also a fantastic solo layer in the fall and spring because it is versatile.
When I go camping in the summer, and it becomes cool at night, I can wear this about camp, and then I can wear it to bed to keep me warm when the temperatures drop.
Whether skiing at the resort, doing big-pack backcountry touring, or hiking through the high country in the summer while carrying a pack, this base layer will keep you comfortable in all situations.
It not only has a flatlock seam structure, but it also has panels on the shoulders, which prevents the seams from sitting on the top of your neck. You'll have a far deeper appreciation for this design if, after a long day spent in the backcountry, your pack has ever rubbed on a seam and caused you discomfort.
Pros
The fit is form-flattering and slim to regulate temperature and provide comfort.
Because the material is thin and does not bulk up, layering is simple and pleasant.
Color choices that are both flattering and appealing.
During the action, it helps you stay warm by regulating your body temperature and wicking away sweat.
When buying online, the length and dimensions appear to be accurate.
During strenuous exertion, it keeps you warm without causing you to overheat.
The materials used and the building itself are of a high grade.
Withstands several washing items without any loss of shape or deterioration in quality.
It does not wrinkle either after being washed or after being packed.
Cons
If you buy your usual size, the length of the garment may be inappropriate for particular body shapes.
Does not come in sizes suitable for more petite ladies or in tiny sizes.
2. Smartwool Men's Merino 250 Baselayer Bottom: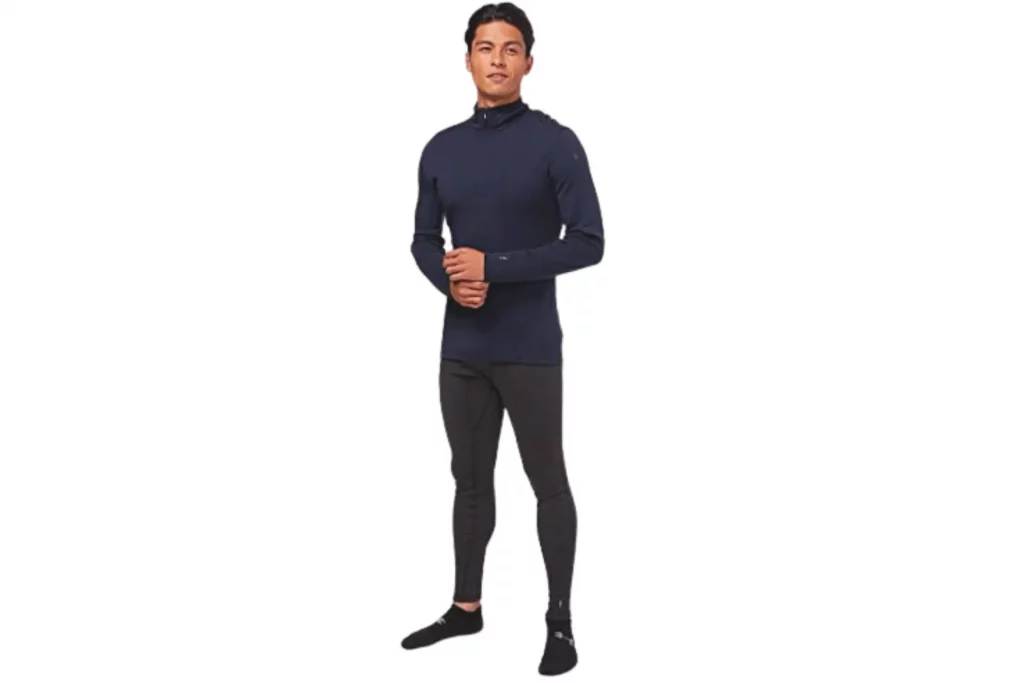 These Merino 250 baselayer bottoms are ideal for any activity, whether you're skiing down a mountain or simply spending a day outside in the winter weather. They keep you warm and comfortable no matter what you're doing.
These bottoms, constructed with SmartWool's Merino 250 fabric, are intended to keep you warm and comfortable in various environments. These bottoms are designed with a brushed elastic waistband and flatlock seams so you can wear them all day without discomfort.
In addition, you may wash them in the washing machine and reuse them several times. The Smartwool Men's Merino 250 Baselayer Bottom is an excellent option to consider purchasing if you are in the market for a new pair of ski pants or if you are looking for a couple of comfortable everyday trousers.
Pros
100% Wool.
Made in the USA.
Odor-resistant.
Temperature regulating.
Overview of Smartwool 250 Base Layer:
Merino 250, winner of the Editors' Choice Award not once, not twice, but three times, has now had an update from SmartWool that makes it even more helpful. The flatlock seams on the shoulder panels have been redesigned to be spread wide apart, making this piece of clothing more comfortable when carrying a backpack and providing a fit that is more suitable for people with broad shoulders.
Warmth:
Their thickest product is the Merino 250, which comes in at a weight of 250 g/m2; thus, this firmly positions it as one of the widest in our evaluation.
The fact that this is one of the hottest layers that we tested should thus not come as a surprise to you. The adaptability of this tried-and-true layer never ceases to amaze us, whether we're braving the bitter cold of winter or enjoying milder strolls in the early October light.
Even though it is intended to be worn against the skin as a base layer, we frequently reached for this shirt to wear as a mid-layer when we wanted to add a little extra warmth without significantly increasing our weight.
The Merino 250 is the best option for us to maintain a comfortable level of warmth throughout a wide temperature range.
Because of this, it is an almost ideal partner for fall climbing expeditions, during which you may begin the day at temperatures close to freezing in the predawn light, ascend to reach the sun, and find yourself in temperatures of up to 70 degrees Fahrenheit in the middle of the day.
This layer's capacity to adjust to fluctuating temperatures during the day makes it an excellent option for springtime ski touring, even in comparable situations, but it is significantly chillier.
While we applaud its capacity to serve you well throughout the spring, fall, and winter, we recommend that you select a base layer that is lighter in weight for activities that take place during the summer.
Breathability:
Don't be fooled by the SmartWool Merino 250 has excellent ratings regarding warmth; it also performs very well regarding breathability.
This layer performs an excellent job of preventing you from being too hot, especially when the temperature is lower and considering its weight.
The capacity of Merino wool to naturally drain away moisture is well-known, and the efficiency of the Merino 250 is very much the norm rather than the exception. Merino wool is a kind of wool.
This layer also goes into high gear while you're exercising hard, which pulls sweat away from your body and helps keep you dry. The wicked moisture is held on the surface, where it can evaporate, thanks to the dense knit made of 100% Merino wool, which is also inherently resistant to the accumulation of water vapor.
Even if you climb for hours on the skin track while the temperature is below freezing, all of this efficiency will keep you warm and dry. The Merino 250 is a friendly, substantial, and winter-focused layer; nevertheless, the thin, lightweight, and summer-focused alternatives we examined proved to be the most breathable types.
Even though this layer is not the most breathable choice among those we reviewed because warmth and breathability tend to be inversely proportional to one another, it performs an outstanding job considering its weight category. This base layer shines as a winner due to the remarkable harmony between its warmth and breathability.
Comfort and Fit:
It's the base layer you never want to take off, and the Merino 250 is just that. You could discover that you wake up in it, wear it out all day on the hill, wear it out to supper at night, and then wear it back to bed; we know this has happened to us.
The super-plush, ultra-soft Merino made of one hundred percent fabric wraps you up like your beloved blanket while allowing you to move freely. Therefore, regardless of the endeavor, you may find yourself going for this top with an extensive range of applications.
Flatlock seams are used throughout the fabrication of this basic yet sophisticated garment, ensuring that there will be no chafing even when the garment is worn against the skin. Shoulder seams on the Merino 250 have been given careful attention in this iteration's upgrade.
Because there is more space between the offset shoulder seams, it is now considerably more comfortable for people with shoulders that are wider than average.
We observed that this revised version was significantly more comfortable to wear even when carrying a big pack, even though such a straightforward modification in the design may appear random.
Even though this layer does not have underarm gussets, the elastic weave guarantees that this top moves with you and stays in place while you stretch and strain to get a better grip on the next climbing hold.
When compared to other base layers, the fit is on the roomier side. On the 5'10", 155 pound, slim mountaineer's frame of our head tester, a size medium fits pretty loosely, especially if you wear it out between washings.
Although the longer torso is convenient for tucking in, we frequently find that the longer sleeves need us to pull them up when cooking or eating.
We have concluded that this somewhat bigger size is our favorite because of its versatility as a casual top or a mid-layer. If, on the other hand, you want this to have a more form-fitting appearance as a base layer or if you are on the cusp between sizes, we could consider scaling down.
The Rate of Drying:
It should not come as a surprise that the Merino 250 does not perform exceptionally well when drying out rapidly. The soak and dry test we use is designed to replicate the process of hand-washing and flat-drying that one might engage in while on a hiking trip.
If this is going to be one of the ways that you use this base layer — and because of its versatility, we believe that it is a great layer to have for trips that last more than one day — then you need to make sure that you give yourself at least an hour to ensure that this top is completely dry before wearing it. However, this is not the only top in our study that takes a long time to dry; it dries faster than several of its competitors that use textiles of lesser weight.
During our timed test of drying speed, in which we soaked this shirt, we discovered that the Merino 250 was not the most efficient at drying out. Given that this fabric was among the thickest of those that were examined, the outcome did not come as much of a surprise to us.
It is not the slowest and dries quicker than thinner fabric items. This shirt performs an excellent job of wicking sweat and remaining dry while worn, even though it took quite some time to dry after being wet through and totally.
If you jump in that mountain lake while wearing it, the drying process will take a very long time. The fact that this top is made of wool means that it will continue to provide insulation even when wet; nonetheless, the texture is not very pleasant.
This test gives insight into how quickly a base layer dries after successfully wicking away perspiration, but it does not paint a complete picture of the situation.
When worn, Merino 250 has an excellent job of efficiently wicking up and swiftly distributing sweat to the outside of the material, where it can readily evaporate.
This helps keep the wearer dry and comfortable. Because Merino wool is inherently hydrophobic, as explained earlier, this top does not have a problem absorbing moisture.
From the exterior, this indicates that it will continue to insulate even when wet, which is valuable information to have if you are stuck outside during a thunderstorm. That, when viewed from the inside, indicates that sweat will be able to flow out and evaporate without penetrating this layer.
Durability:
Merino wool has natural characteristics to regulate temperature, wick away perspiration, insulate when moist, and resist odor. Because of these innate tendencies, merino wool is practically unrivaled in terms of warmth and breathability.
However, its durability could be the super-greatest fabric's shortcoming. At least when compared directly to the other Merino layers evaluated for this article, the thick weave of the Merino 250 is the one redeeming quality it possesses.
Due to the top-notch craftsmanship, which includes heavy-duty flatlock stitching, some of the reviewers have stated that they plan to continue using this top for many years in the great outdoors.
Even when we subjected it to our abrasion test, this top revealed mild surface scarring, in contrast to other similarly weight Merino shirts, which wore through.
Those who wear this layer externally for strenuous sports such as climbing or riding should be prepared for the inevitable wear and tear that will occur over time. However, unfortunately, incorrect washing and drying are more likely to cause this garment's demise than any other factor.
Because Merino wool is inherently anti-microbial, i.e., resistant to smells, most of us can get away with using this shirt more frequently and cleaning it less often because it won't smell as bad.
Bottom Line:
What can I say about the Smartwool 250 Base Layer? Overall, I'm impressed. In addition to having an excellent fit, it is also quite effective in preventing moisture buildup. It also has pricing that is competitive with that of other base layers available on the market today.