Merino wool should not be disregarded as an essential component while searching for the most suitable apparel and equipment for your next running excursion. This natural fiber has a variety of qualities that make it great for runners, including the capacity to regulate body temperature, wick away sweat and fight germs that cause odor. Runners should wear clothing made from this natural fiber since it gives all these benefits.
Check out our top recommendations below for the best merino wool running gear to keep you comfy on your next run if you're in the market for some new running clothes. We've got you covered with the best merino wool running gear to help you go the distance, from jackets and shirts to socks and shorts and everything in between.
Don't let the chilly weather discourage you from logging some miles on your treadmill. Having the appropriate equipment may make a world of difference. You will remain warm and dry regardless of the weather if you have a base layer of merino wool.
Out Top Picks for the Best Merino wool Running Gear:
1. SHEEP RUN Men's Workout Breathable Base Layer T-Shirt: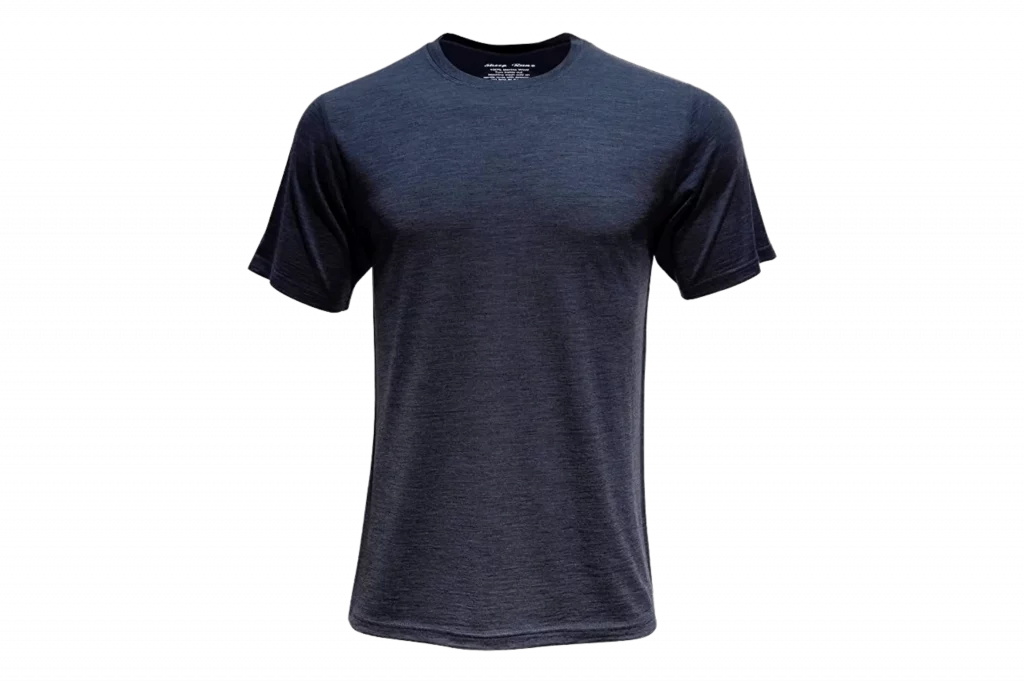 SHEEP RUN men's Merino wool T-shirt is the ideal base layer for any activity, whether you're hitting the trails or the gym. It's soft, comfortable, and breathable. This T-shirt, which is made from merino wool that is both lightweight and breathable, will keep you cool and comfortable throughout the whole day.
Merino wool naturally has qualities that make it great for controlling body temperature, which means that you can focus on your workout rather than your clothing while wearing it.
In addition, the UPF 50+ rating shields you from the sun's potentially dangerous ultraviolet radiation when you're outside. Therefore, whether participating in a marathon or running errands, the SHEEP RUN T-shirt will keep you comfortable and looking good.
Product Features:
100% Merino Wool from the Australian Sheep.
For outdoor sports, including hiking, running, cycling, etc.
Athletic Cut to Offer Comfort and Breathability While Being Extremely Fine to the Skin
Washable in the machine and resistant to shrinkage
2. Smartwool Long Merino Sport 150 Ls 1/4 Zip: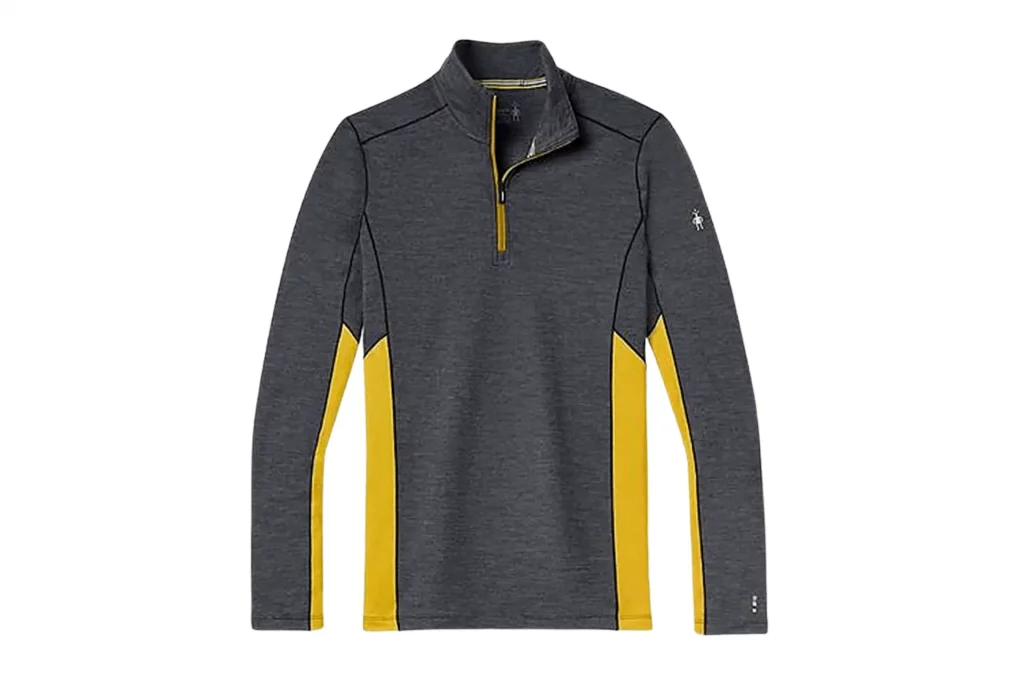 Are you seeking a shirt worn in various settings, including the gym and the office? Then it would help if you considered purchasing the Smartwool Long Merino Sport 150 Ls 1/4 Zip.
This shirt, which is constructed from a mixture of merino wool and synthetic fibers, is ideal for individuals who desire the advantages of wool but want something a bit more long-lasting.
Whether you're working up a sweat or just trying to keep warm, the design of the 1/4-zip makes it simple to control your body temperature, whatever you need to.
Merino wool has inherent characteristics that prevent it from holding odors, so wearing it will keep you feeling fresh throughout the day.
The Smartwool Long Merino Sport 150 Ls 1/4 Zip is a beautiful option for activewear and everyday wear because it can be worn on its own or as a layering piece for colder days. Additionally, it features a quarter-length zipper.
Product Features:
56% merino wool and 44% recycled polyester make up this sweater.
A form-flattering silhouette that has a tight fit that sits close to the body for ease in layering.
Raglan sleeves provide a more excellent range of motion because of their design.
A neck with a quarter zip for breathability during strenuous workouts or lengthy marathons.
Seams that are flat-locked to reduce chafing.
With these thumbholes, your sleeves will stay in place, and your hands will stay toasty.
Details that are reflective to improve visibility in low light.
3. Smartwool Women's Merino Sport 120 High Neck Tank: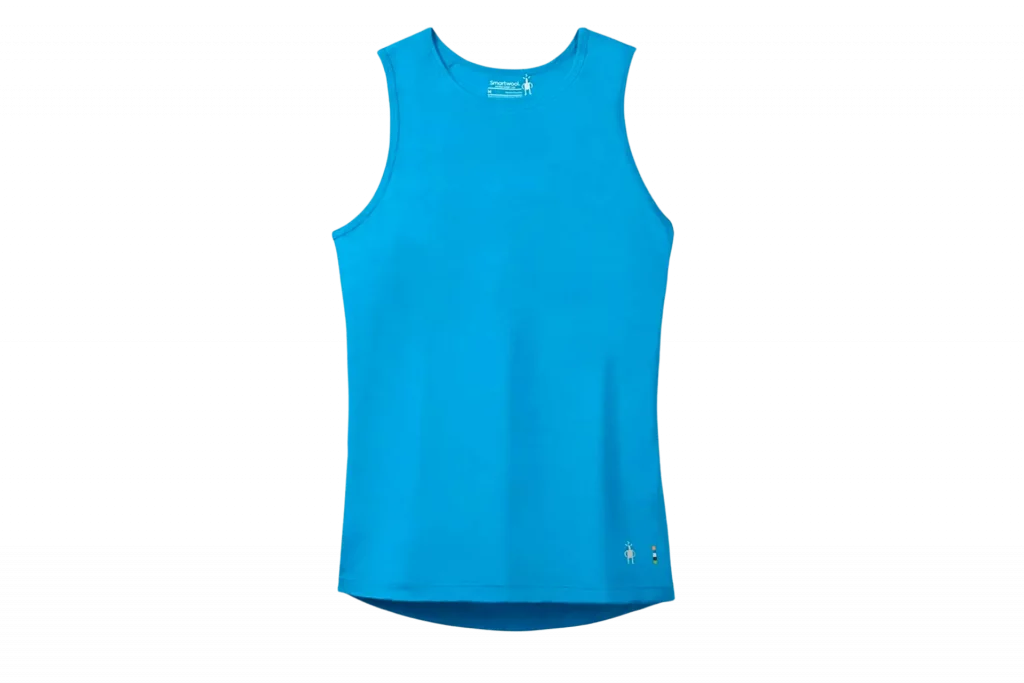 The Smartwool Women's Merino Sport 120 High Neck Tank is an excellent choice for exercises that require much effort from the wearer. This tank is constructed with our lightest Merino Sport yarn, resulting in excellent breathability and odor resistance.
As a result, wearing it will feel clean and refreshed the whole day. While the high neckline offers more coverage, the racerback style allows unrestricted movement across the entire range of motion.
With the Smartwool Women's Merino Sport 120 High Neck Tank, you'll be able to push your boundaries without sacrificing comfort, whether working out in the gym or on the trails.
Product Features:
Because the fabric of the Merino Sport 120 is odor-resistant, breathable, and able to regulate body temperature, you will be able to concentrate more on your workout and less on what you are wearing.
The high neckline offers covering and support, while the racerback shape enables a full range of motion in the shoulders and back.
In addition, the reflective accents will help others see you better in low-light environments.
This tank will help you perform at your peak, whether hitting the treadmill or the trails for your workout.
4. MERIWOOL Men's Base Layer 100% Merino Wool Thermal Pants: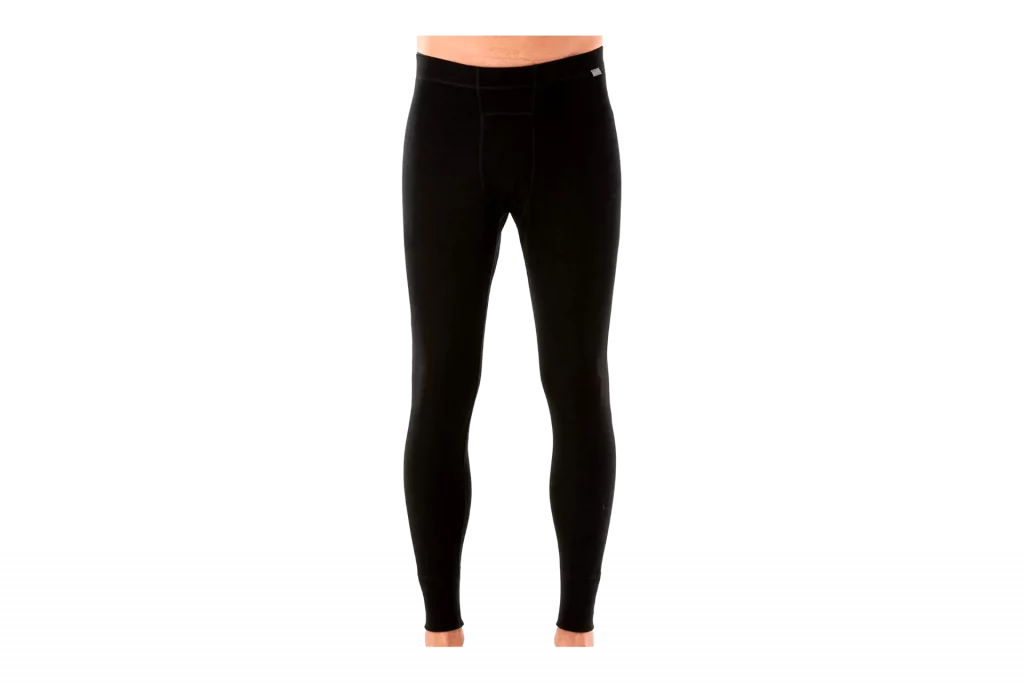 You don't need to look any farther than the MERIWOOL Men's Base Layer 100% Merino Wool Thermal Trousers if you're looking for an excellent pair of men's base layer pants that keep you toasty throughout the entirety of the winter season.
Because they are constructed entirely from merino wool, these pants are comfortable and breathable. They will drain away perspiration to keep you dry and fresh regardless of how busy you are.
They are not only thin but also adhere closely to the skin, making them an excellent choice for wearing as a base layer beneath your usual attire. The best part is that you can easily maintain them clean because they can be washed in a machine and dried in a dryer without causing any damage.
Whether you're heading to the slopes or just going for a walk in the snow, you'll want to ensure you have a pair of these trousers in your pack to keep you warm.
Product Features:
Merino wool that is 100% natural, superfine, and 18.5 microns in diameter guarantees comfort throughout the day without itching.
Maintaining your body's temperature during the summer and winter.
Pants that dry quickly and include a loop at the waist allow you to line dry them while camping.
The inherent wicking and odor-resistant characteristics of merino wool keep you dry and comfortable even while actively engaged in cold weather activities.
5. Smartwool Women's Merino Sport Lined Shorts: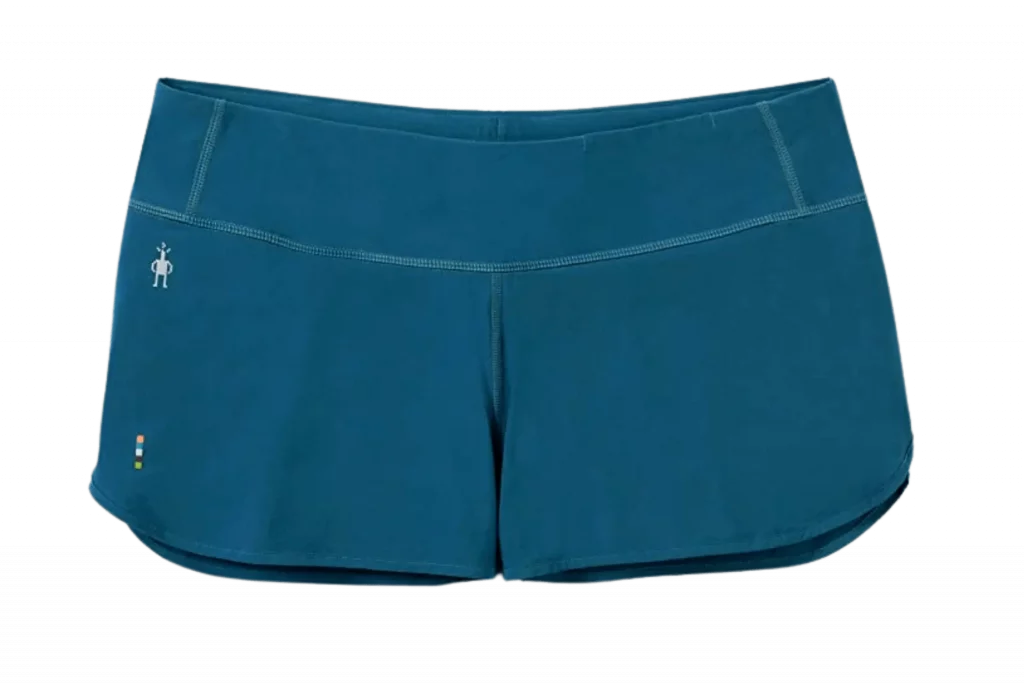 Women who lead active lifestyles and desire to reap the benefits of having merino wool close to their skin can go no farther than the Smartwool Women's Merino Sport Lined Shorts. These shorts are constructed with a merino wool blend that is both naturally breathable and resistant to odor.
They are pretty lightweight. The built-in lining is constructed from elastic merino wool and polyester that dries quickly, offers support, and wicks away sweat.
The end product is a pair of shorts that will keep you feeling comfortable the whole time, whether you're out jogging, trekking, or working out at the gym. The best part is that the merino wool blend may be washed in a machine for the utmost convenience.
Product Features:
Odor-resistant.
Temperature regulation.
Will assist in keeping you cool when the intensity of your workout increases, and its design assists in minimizing chafing.
6. Smartwool Merino Sport Hike Shorts: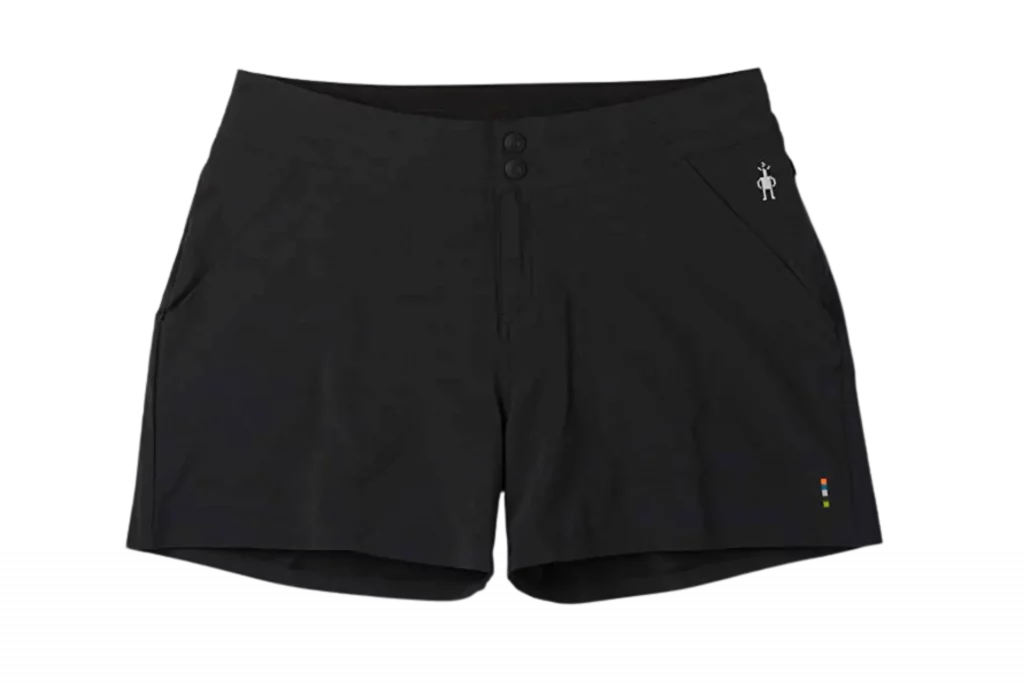 The Smartwool Merino Sports Hike Shorts are an excellent option for your upcoming excursion in the great outdoors. These shorts are constructed with a rugged merino wool blend and are meant to resist the rigors of any route.
While the breathable material will keep you cool and comfortable, the sun protection of UPF 50+ will protect you from the sun's potentially damaging rays.
You are free to concentrate on the path in front of you thanks to the elasticity of the fabric, which allows you a full range of motion. When the weather begins to fall, it will be easy for you to layer these shorts for additional warmth by wearing them underneath your favorite pair of trousers.
Because of their adaptable style and high-quality construction, these shorts will become your go-to option for any outdoor activity.
Product Features:
Even on the warmest days, you'll be able to wear these shorts without worrying about overheating because of the lightweight and breathable fabric they're created from.
In addition, they are designed to fit you comfortably and offer many pockets where you may put all of your things.
The best part is that they are crafted with our exclusive Merino Sport yarn, developed to offer improved moisture management and odor control. This makes them ideal for athletic use.
7. Busy Socks Merino Support Ankle Running Hiking Socks: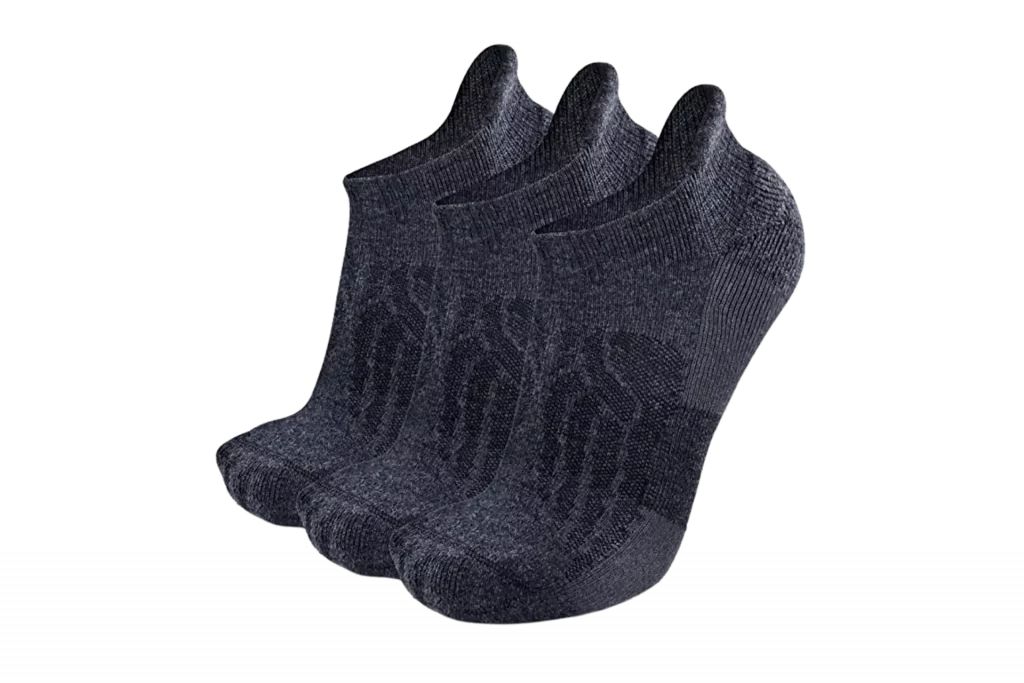 Likely, most of us will agree that coping with cold and damp feet is one of the worst things that can happen. Your entire day may be ruined if your feet, whether hiking or running errands, are chilly and wet.
Because of this, we ensured that our Busy Socks Merino Support Ankle Running Hiking Socks for Men and Women would keep your feet toasty and dry no matter the weather.
These socks are constructed using a combination of merino wool and other high-quality materials. They are meant to wick away moisture and give great warmth in very chilly environments.
Additionally, the shape of the compression support helps to increase blood circulation and prevent foot tiredness, which makes them excellent for long days spent standing or walking on your feet.
Our Busy Socks Merino Support Ankle Running Hiking Socks for Men and Women are an excellent option for anybody who wants to keep their feet warm and dry.
Whether you're an ardent outdoorsman or just someone who wants to keep their feet warm and dry, these socks are perfect for you. Place your order right now to experience the difference for yourself!
Product Features:
Running socks made with a combination of merino wool and other fibers are designed to keep your feet cool in the summer and warm in the winter, thanks to merino wool's natural cooling and heating capabilities.
The airflow is optimized thanks to the novelty wing mesh ventilation channels, and the danger of obtaining blisters is reduced by the targeted cushioning.
This pair of wool running socks has Moisture Control, Ventilation Mesh, Blister Control, Smooth Toe, Stronger heel, Torsion Support, Half Padding, Elastic Cuff, and Heel Tab, making it the ideal present for yourself, as well as for your family and friends.
Cushioning on the toe and along the bottom with thicker yarn helps avoid blisters, minimizes impact and friction caused by movement, and protects the foot from further damage.
Irritation is avoided because of the seamless toe.
Your ankle merino wool running socks will remain light and dry thanks to the moisture-wicking characteristics, which draw away perspiration to keep your feet fresh.
8. Ad Tec Running Fleece Merino Wool Athletic Shoes: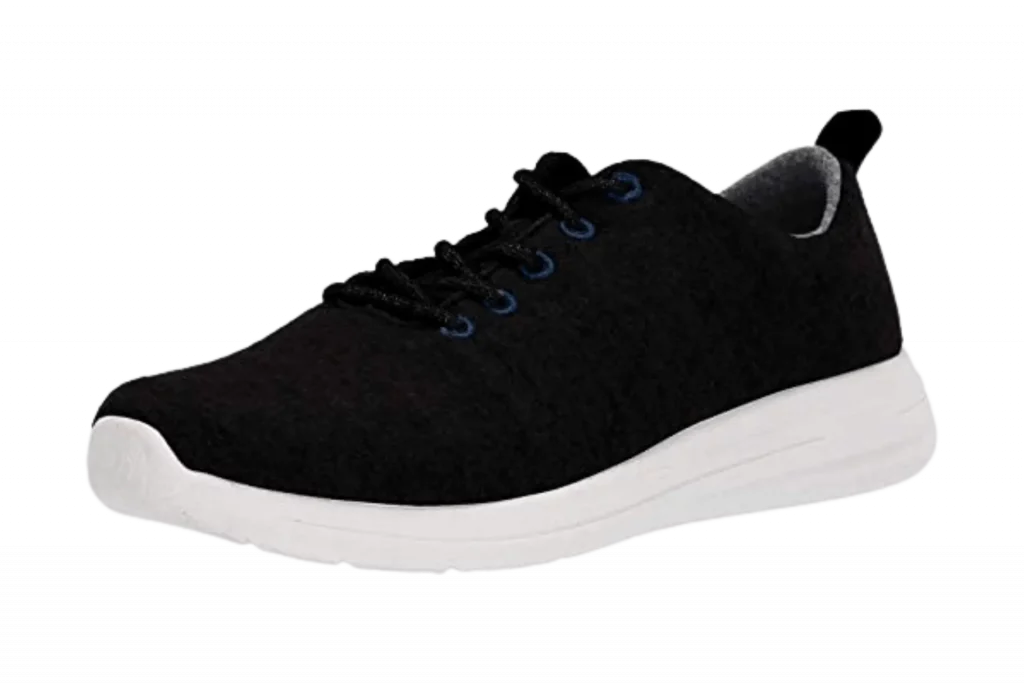 Those looking for a casual but attractive shoe need go no further than the Ad Tec Men's Fleece Merino Wool Athletic Shoes.
The lightweight fleece and merino wool that go into the construction of these sneakers lend to their exceptional breathability and coziness. Your feet will smell fresh all day thanks to the natural odor neutralizer in the outsole, while the shock absorbent EVA outsole will give superb support and cushioning for your feet.
These shoes will keep you comfortable and beautiful no matter what you have planned for the day, whether going to the gym or doing errands.
Product Features:
Upper layer constructed of one hundred percent Australian Marino wool; lightweight and temperature regulated; designed to keep your feet warm in the winter and cool in the summer.
In your Nike running shoes, flex grooves give grip and let your feet move freely, while the soft and smooth midsole softens your stride and keeps you comfortable.
These are the most comfortable shoes available since they include a supple and elastic wool top and a soft cushioned insole and lining.
Best Merino Wool Running Gear: Buying Guide
There is a reasonable probability that you are familiar with merino wool if you are a runner. When it comes to high-performance sportswear, this natural fiber has a lot to offer, and many fantastic businesses produce running gear made of merino wool.
In this article, we will look at some of the best running gear made of merino wool currently available on the market, as well as some tips on what to look for when shopping for running gear made of this material.
In addition, we will offer some pointers on how to properly care for your merino wool clothing to ensure that it serves you for a longer time.
Continue reading for our guide to the best running gear made of merino wool if you are in the market for a new pair of running socks or a base layer to wear during your workouts in the winter.
What Kind of Wool is Merino?
Merino sheep are the only kind that produces the type of wool known as merino wool. This breed of sheep is indigenous to New Zealand and Australia, and its wool is highly regarded due to its exceptional softness and fineness. Merino wool is significantly lighter and has a more delicate texture than traditional wool.
Because of this, it is an excellent choice for the fabric of performance clothing because it will neither slow you down nor make you feel too hot. Merino wool is naturally resistant to odors and wicks away moisture, making it an excellent choice for sports that generate a lot of perspiration, such as jogging.
What Characteristics Should You Seek in a Merino Wool Running Outfit?
When looking for running gear made of merino wool, you should consider a few factors while buying. First and foremost, you will want to verify that the equipment is constructed entirely of merino wool.
Several manufacturers combine merino wool with other types of fibers, most frequently polyester, to reduce costs. However, because of this potential to lessen the positive effects of merino wool, it is better to stay with clothing and equipment manufactured exclusively from this natural fiber.
Consider the fabric's weight as another important consideration before making your purchase. Merino wool may range from highly lightweight to weight between the extremes. Your choice of weight should be based on the weather conditions where you reside as well as the kind of jogging you undertake.
For instance, if you live in a warm environment and do most of your jogging during the day, you should probably be OK with a lightweight merino wool fabric. This is because merino wool breathes better than other types of yarn and is more breathable.
On the other hand, if you live in a cold region and do much jogging at night, you should probably go with a fabric that has a weight somewhere in the middle.
Last but not least, you need to check that the merino wool clothing you buy is the right size for you. Because this natural fabric tends to stretch, selecting clothing that fits comfortably close to the body without constricting is essential.
If you are undecided about the size to select, it is usually recommended to err on the side slightly larger than your typical size. This will ensure that you have enough room to move around comfortably. If you do it this manner, you won't have to worry about whether or not the gear will still fit once it has been stretched out.
Why is Merino Wool the Best Fiber to Use for Making High-Performance Fabrics?
Odor Control:
Merino wool has a combination of physical and chemical properties that, when combined, make it the most naturally odor-resistant fabric that can be found elsewhere in the world.
To begin with, fiber does not have much attraction to microbes. In most cases, germs will be drawn to the smooth, positively charged sides of synthetic fibers; however, they will not be drawn to the scaly, neutrally charged face of merino fibers.
Next, merino has a considerably better ability than other yarns to absorb moisture. When this moisture is locked up inside the structure of the fiber, germs can't reach the fiber's surface.
Because this moisture is transferred away from the skin effectively, your perspiration does not sit on the surface of your body for as long as is necessary for bacteria to proliferate and produce smells. Merino wool clothing is an excellent option for those who despise the scent of synthetic fibers.
As a part of our testing, we kept our shirts on for the whole day after a hard run in the morning without taking a shower, and we also wore them for five to seven consecutive days of running without washing them in between.
An experiment that might go either way, but the merino wool didn't smell bad at all. Period. That by itself ought to be sufficient justification for giving it a go.
Breathability:
Because the center of a merino wool fiber is inherently hydrophilic, it draws away moisture from the skin's surface and towards the drier environment outside, where it may evaporate.
The way it works is like an extension of the natural cooling mechanism that your body already has. Compared to synthetic fabrics, Merino shirts take significantly longer to dry thoroughly during and after usage. This is because the ends of the fibers have a propensity to collect moisture.
However, because the fibers produce a balance in the moisture conditions, the fabric is pleasant to wear in a more extensive variety of climatic situations.
Insulation and Absorption Capacity
Merino wool can absorb up to one-third of its weight in moisture without becoming wet or sticky. Because of this, it can keep the surface of your skin dry while the environment is warm, but more significantly, it maintains a layer of dry air near the skin when the environment is wet or cold, which helps your body retain heat.
In addition, the breaking of the water's hydrogen bond that occurs when wool absorbs moisture produces heat through a chemical reaction between the molecules of the thread and the water.
Because of all these characteristics, wool is an excellent temperature regulator in damp settings; it may be drenched and keep your body warm. This equates to outstanding protection against hypothermia for ultrarunners, whether participating in a rainy 50-miler or the frigid night portion of a mountain 100-miler.
Comfort:
A reassuring yes. If you are surprised to learn this, you most likely have images of your father's army blanket or your grandmother's uncomfortable old sweaters running through your head. Merino wool is not the same as your father's wool.
The production process has improved significantly over the past few years, which is shown in the fact that modern fabrics are every bit as velvety smooth as any other you can find.
Merino wool provides comfort beyond the surface because it helps maintain a healthy body temperature even as it wicks away moisture.
Durability:
The fact that merino wool does not retain odor even after being worn for seven days in a row throughout a series of running tests is only one of the ways that these tests demonstrated the fabric's durability. Wool fiber, when seen on a microscopic scale, assumes the form of a coil spring; this gives wool its inherent elasticity.
When wet, the fiber can be stretched by up to fifty percent, whereas when dry, it can only be extended by thirty percent. Additionally, the thread can be bent or bent back on itself hundreds of times without becoming thinner or breaking.
We've had a couple of shirts made of merino wool for the past few years that have shown no indications of wear and tear despite being worn multiple times each week. Keep this information in mind while looking at the pricing of merino clothes; as a rule, they are not inexpensive.
Merino garments are often expensive. On the other hand, each piece of clothing represents an investment that will most likely be profitable over a lifespan far longer than synthetic clothes.
Eco-Friendliness:
The shearing of sheep and the manufacture of wool is one of the garment industry's procedures that has the most negligible negative impact on the natural environment. It comes from an entirely natural and sustainable source.
Because it does not need to be washed after each use, the amount of water and energy used for laundry in your home can be reduced. In addition, once you have finished using the product – regardless of how many years this may take – the material may be recycled in its entirety or broken down naturally.
Farmers of sheep and businesses that manufacture clothing made of wool are consistently lauded as being among the most socially and morally responsible of all available types of enterprises by advocacy organizations and environmental watchdogs.
Frequently Asked Questions:
Is merino wool good for running?
Yes, merino wool is often used in running apparel because it offers several benefits. Merino wool is moisture-wicking, which helps you dry and feel comfortable even when you sweat. It's also temperature-regulating, so it can help keep you warm in cold weather and cool in warm weather. Additionally, merino wool is naturally odor-resistant, so it's ideal for running apparel that might get a little stinky after a long run.
Can you use merino wool long johns for running?
Yes, long johns made of merino wool may be used for jogging if you want to. Because they are lightweight and breathable while yet providing warmth, they might be an excellent option for runners. Because merino wool is inherently resistant to odor, you won't have to worry about whether or not your long johns will start to smell after you've gone for a run in them.
Is merino wool good for cold weather running?
The quick answer is yes, merino wool is excellent for cold weather running. It's one of the best materials to keep yourself warm when exercising in colder temperatures. Merino wool can regulate body temperature and wick away moisture, making it an ideal choice for runners who want to stay comfortable and dry while on a chilly run. If you're looking for the cold-weather running gear to keep you warm and dry, consider investing in some quality merino wool pieces.
Are merino wool socks good for running?
Merino wool socks are an excellent option if you want to find a pair of socks that will keep your feet at a comfortable temperature while running. Merino wool is recognized for its ability to wick away moisture and provide ventilation, all of which can assist in keeping your feet dry and cool. Merino wool is exceptionally long-lasting, so you can anticipate that your socks will see you through many miles of running without needing replacement.
Bottom Line:
If you want to find the best running gear made of merino wool, you can't go wrong with any of the possibilities presented in this list. While on your run, you will remain comfortable in any of them because of the premium materials from which they are constructed. Be sure to look at all these beautiful possibilities when shopping for new clothing, whether a fresh set of socks or a new shirt.