The original performance hoodie that began is now back in stock and looks and performs better than ever. Initially introduced over a decade ago, the Chrome Cobra was a game-changer. The Chrome Cobra 3.0 aspires to take the top step on the podium in your wardrobe so that you are prepared for everything life throws at you.
Although clothing made entirely of merino wool are excellent, they do not have the same level of durability as performance blends, which include merino wool in the areas where you require it and durable recycled poly in the areas where it is most important. The concept of sustainable living has never seemed so relaxing.
Your go-to hoodie has been given a significant makeover, and it still comes in men's and women's cuts. However, it now has a two-way zipper and reinforced thumb loops instead of traditional ones. The Cobra has a complete pass-through back pocket, frontal handwarmer pockets, and a form-fitting athletic cut. It is equally at home in the highlands as on the city's streets or in your home office.
Cobra Hoodie 3.0 Features: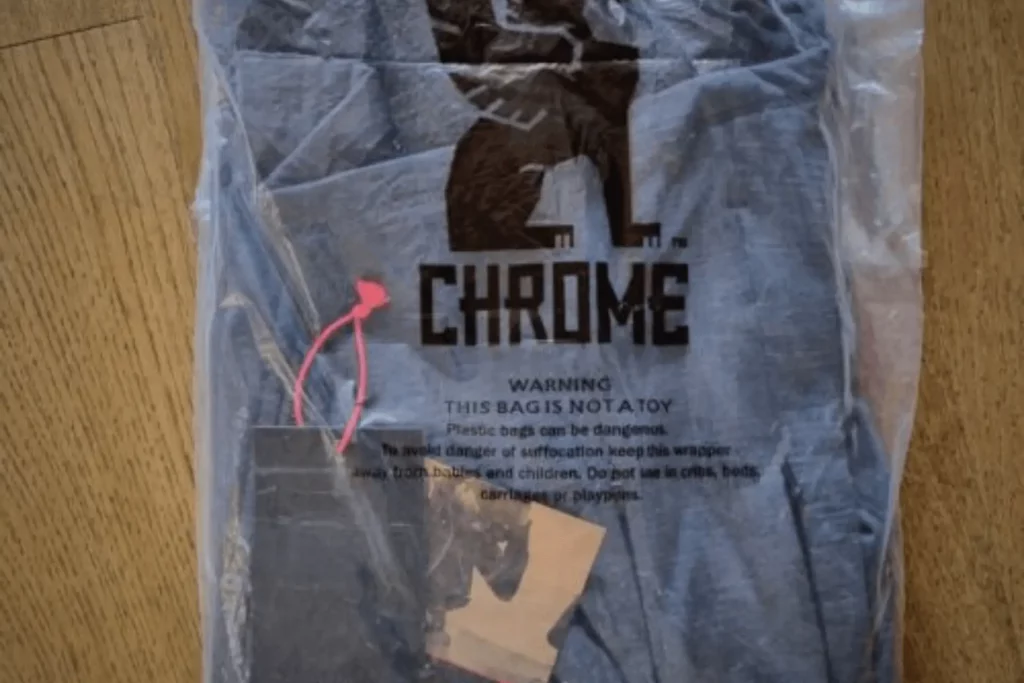 Merino Wool Composition:
There is a clear distinction between this mixed hoodie and a hoodie made entirely of wool, which I can identify. However, they both provide a somewhat comparable sensation when worn adjacent to the skin. And I'd wager that in a "blind wear test," the average user wouldn't be able to discern the difference between the two options.
A Perfect Fit and Cut: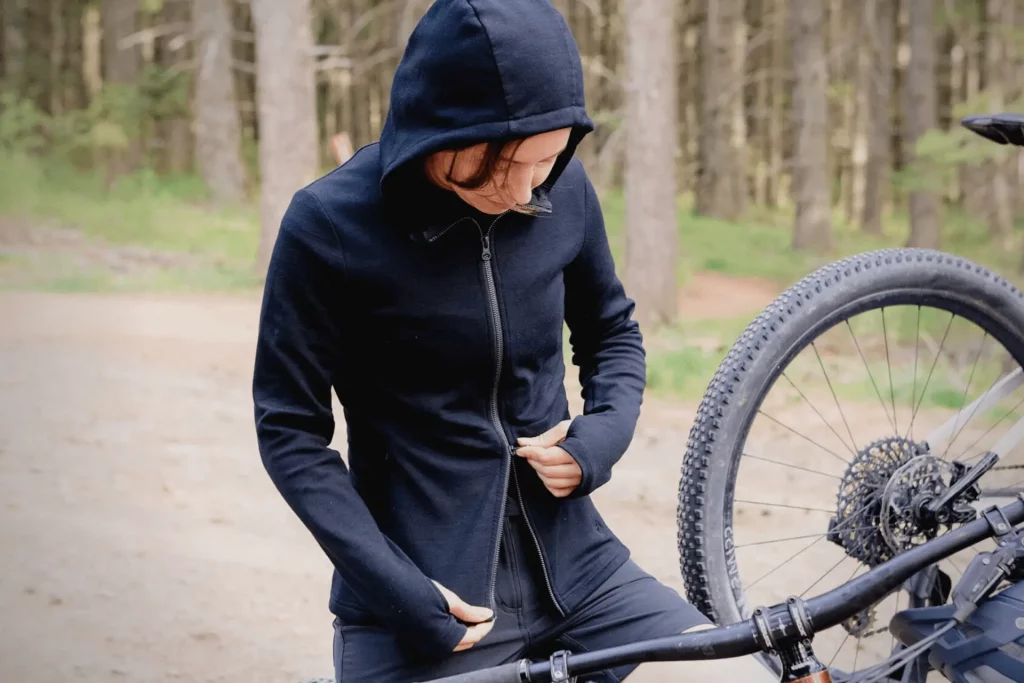 The sporty cut was one of the primary factors that piqued my interest in putting the Chrome Cobra 3.0 through its paces. Simply doing a little study before placing my pre-order, I observed the form-fitting build. After putting on the hoodie, I could confirm it has the claimed athletic fit. Also, I'm not sure whether you're aware of this, but that's not always the case with some of the items made from Merino Wool.
Regarding this hoodie, it's safe to assume that you'll receive precisely what you see on the model. At the very least, in terms of physical fitness.
3-Pocket Design:
There are two pockets on the front and one on the rear of this item. The rear-pass-through pocket has zippers on both sides and generous storage space.
The two front pockets each measure 9.5 inches in height and 6.5 inches in width. The breadth of the back pass-through pocket, which I refer to as a "reverse kangaroo pocket," is more than twice as wide as the front pass-through pocket.
Performance Cuffs:
When I've had hoodies made of Merino wool in the past, the thumbholes and cuffs have been the components that make or break the garment. This is because cuffs generally tend to have a significant durability problem.
The wrist region contains a lot of stitching, which, in my experience, is most often the location where wear and tear first begins. To put it another way, the thumbholes and the cuff are the glove parts that often have the highest risk of failure.
However, Chrome Industries is aware of this. They anticipate you will have a solid grip on the handlebars and will be pressing against them. Chrome knows that riding a bicycle can cause abrasions, punctures, scrapes, and tears to your clothes. As a result, for version 3.0 of the Cobra hoodie, they ensured that the cuffs included more robust stitching and fabric throughout.
I truly enjoyed how they felt on my hands the first time I used them. My fingers did not experience constriction even when the cuffs were on them. Their degree of skill is good enough that I can type this line even when wearing these cuffs.
A Cap and a Collar: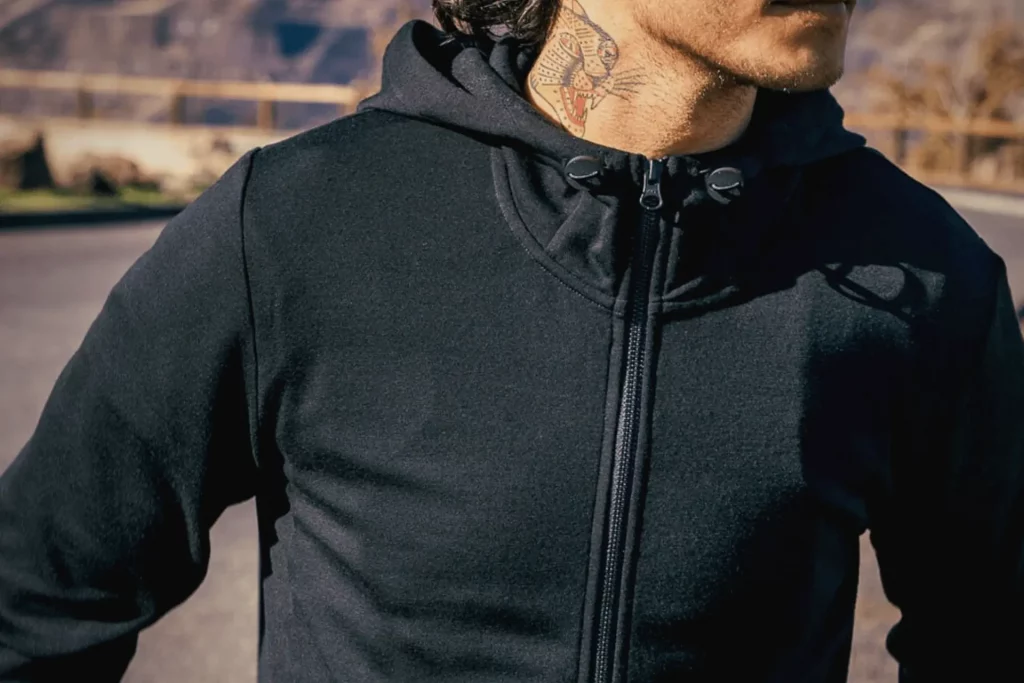 I adore it. In all seriousness, the Cobra 3.0 has a top-notch hood design. It consists of three panels designed to lie flat beneath a helmet and bungee drawcords equipped with locks to produce a cinch that will not get loose while the wearer is riding.
In addition, Merino wool is used to line the interior of the hood. Because of this, those of you who have very little or no hair (like I do) will find that whenever you wear your hood, the smooth and silky wool will be draped over your head instead.
Additionally, the draft collar has a solid feel, giving the impression that it will not slip down too much regardless of how active the wearer is. When it is fastened, it comes up to approximately the middle of my chin. Even though it can seem like a little point, it's essential to be aware of it!
Two-way Zipper: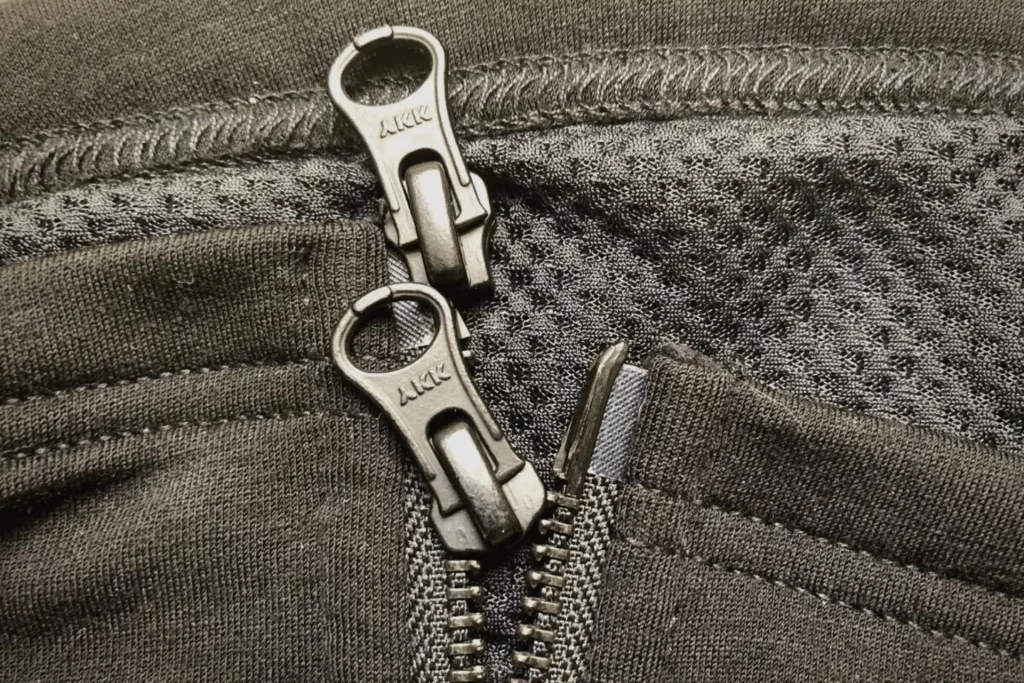 In the beginning, my initial thought was, "Really? Should I have a zipper that goes in both directions?" The answer is: it depends. If you are more of a casual wearer than I am, as I am, you probably won't need it.
On the other hand, if you're a serious rider, the hoodie's two-way zipper will allow it to drape more casually about your torso while you're on the bike. You won't experience the unpleasant bunching and discomfort that might come with wearing classic hoodies.
During the practical test of these zippers, I initially encountered some difficulties. When you place the last tooth of the zipper into the actual retainer box, you will see that it has a slight curvature rather than a straight edge. This is not a design issue but rather a need for the mechanism that controls the two-way zip lock.
What I Liked:
After doing a detailed first assessment, wearing the Chrome Cobra 3.0 for three days in a row, and successfully putting it through the washing machine, I feel as though I've exhausted every opportunity to evaluate the product in its entirety. It is now time to overview some of my preferred characteristics briefly.
Style & Versatility:
This hoodie made me feel professional and respectable whenever I wore it, regardless of whether I was at the office or hiking in the woods. The streamlined and sporty cut is versatile enough to be worn in almost any circumstance. In addition, the ratio of tightness to flow particularly appeals to me.
This hoodie is not only fashionable but also incredibly adaptable, making it an excellent choice for my day-to-day activities. And though the unpredictability of my life might at times be excruciatingly unpleasant, I might as well make the most of the fact that this sweatshirt is comfy while I power through it.
Excellent control over the Temperature:
You may already be aware of this, but Merino wool has outstanding characteristics for maintaining heat regulation. However, I must admit that the Chrome Cobra Hoodie pleasantly surprised me with how well it functioned in various settings. I kept a comfortable body temperature despite the near-freezing rain, the 70-degree workplace temperature, and being covered up at night.
Hood Design:
I'm not sure what the problem is, but I can't seem to track down a sweatshirt with a hood that is the right size for my head. Even though I do not believe the Chrome Cobra 3.0 to be the best possible hood form, I cannot deny that it is among my favorites.
On my bare head, the interior is made of Merino wool, which is comfortable, and the paneling helps produce a tangible form. In addition, as the wind picks up, the elastic drawstrings will offer the additional required to keep the hood in position. To put it another way, I wish all hoodies made of Merino wool had the same kind of hood.
What I Didn't Like:
Zipper Frustration:
As I noted in my first impressions, I had reservations about the pocket zippers' capacity to withstand daily use over the long term. The hoodie didn't give me any problems while I was trying it, but it didn't perform well enough to put my mind at ease about my initial concerns. This is only a matter of preference.
Despite this, the main zipper was occasionally tricky to use. It took me 5 minutes to get the two-way zipper into position while I was in a hurry to get out of the home. It's possible that I don't have the right touch. Nevertheless, when the zipper was correctly fastened, I found the two-way zip capability convenient, particularly while carrying a backpack.
Price:
Even though I believe the price tag is reasonable given all of the new and improved features, Chrome Industries would be wise to reduce it by a little. I am aware that the cost of the materials accounts for a significant portion of the total price. Because it is made of polyester, a less expensive material, I believe that the pricing should reflect this.
Bottom Line:
The Cobra Hoodie 3.0 is the perfect jacket for those who want to be stylish and comfortable at the same time. This jacket has a unique design that will make you stand out from the crowd, and it is made with high-quality materials that will keep you warm and cozy all winter long. If you are looking for a new jacket that will keep you warm and fashionable, then the Cobra Hoodie 3.0 is worth checking out.