I love to do traveling and hiking. I adore a nice technical shirt since it is designed for tough use, riding, and travel while yet being comfortable. But the issue with technical shirts is that they have a bad scent, and occasionally these shirts end up looking bad and having creases.
After one round of running or a long day of hectic travel, polyester shirts begin to smell. You'll eventually need to take a bath and change out of your clothing.
After some time, I came upon unbound merino wool shirts, which are really soft, cozy, easy to wash, quick to dry, and may last over a week without a wash. To keep it flawless, though, we take a little more care. I'll now share my own experience wearing an unbound merino wool crew neck t-shirt with you.
What is Merino Wool?
The merino wool comes from sheep and is perfect for traveling, running, riding, or hiking. The wool is covered in a wax-like coating called lanolin which is beneficial to wick moisture away from our skin. The lanolin also protects you from bacteria sticking around you. They can't hold on to the wool fibers. Naturally, merino wool is antibacterial and odor resistant.
Benefits of Merino Wool:
The following are the top benefits of the merino wool:
It provides good insulation.
It has anti-static properties.
This wool does not cause itches.
This wool can't smell.
It is more lightweight than any other fabric.
Merino wool is moisture regulating.
This wool is super soft and easy to care.
Who is Unbound Merino?
Unbound merino was started with a story of three friends. These three friends are loved to do hiking and traveling, but they need help with luggage and all the clothes around. They wanted clothes that were not washed every day and went for weeks. Because regular shirts are wrinkled or stunk in one wear, all travelers think fewer clothes mean more enjoyment in their traveling tour.
If anyone asks about my favorite traveling shirts, I suggest merino wool items. These outfits did not wrinkle or smell in one wear, so the manufacturer made merino shirts, hoodies, socks, and pants. These are super great for travel.
Without hesitation, I would say that merino shirts or similar sets are my go-to shirts for traveling and trekking.
So I would wear these shirts for travel all day, then go for a hike with the same shirt. Also, at night I would go to the dinner with my loved ones. These outfits looked perfect and did not smelly.
If you're looking for quality garments crafted with merino wool, check out some of these top-rated choices.
My Experience with Unbound Merino: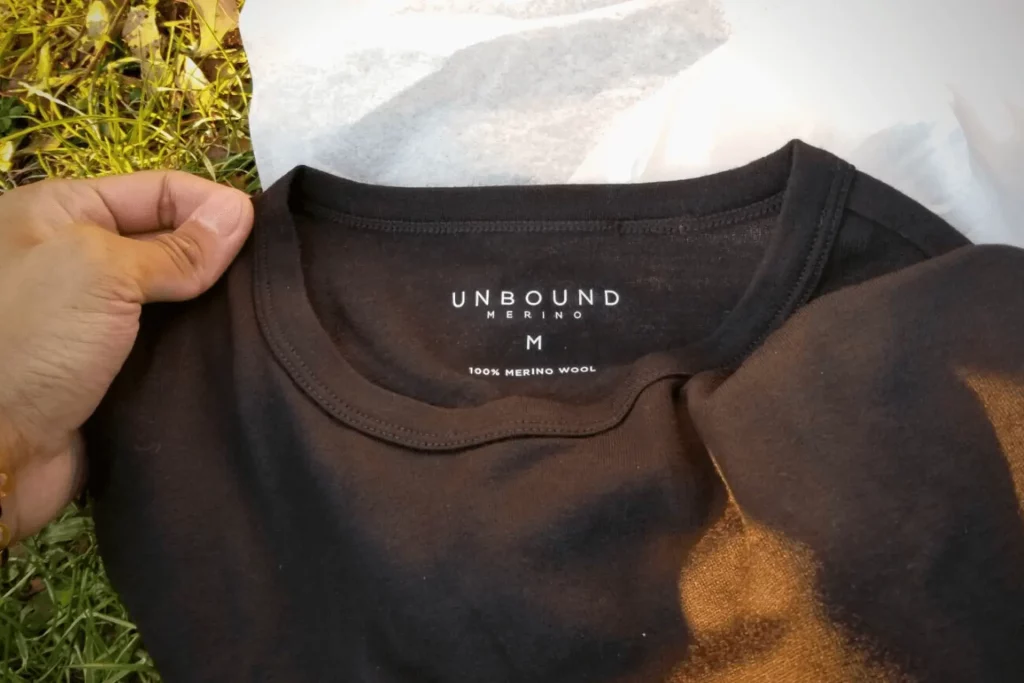 I highly recommend the unbound merino crew neck t-shirt if you love to do hiking, traveling, or riding. You can also wear it at your dinner time, on all the occasions it would be the best choice.
I simply hang up my shirt at night and wear the same one in the morning. I wash this shirt and let it air dry after wearing it for a week. After using this shirt, I would adore it. I can promise that when you wear this shirt a few weeks later, you'll still adore it.
I would never wear a tech fabric shirt for a full week, start sweating in it, then use it the next day or wear it to dinner. However, using an unbound merino shirt to do those tasks is really simple.
Product Testing after 3 Days: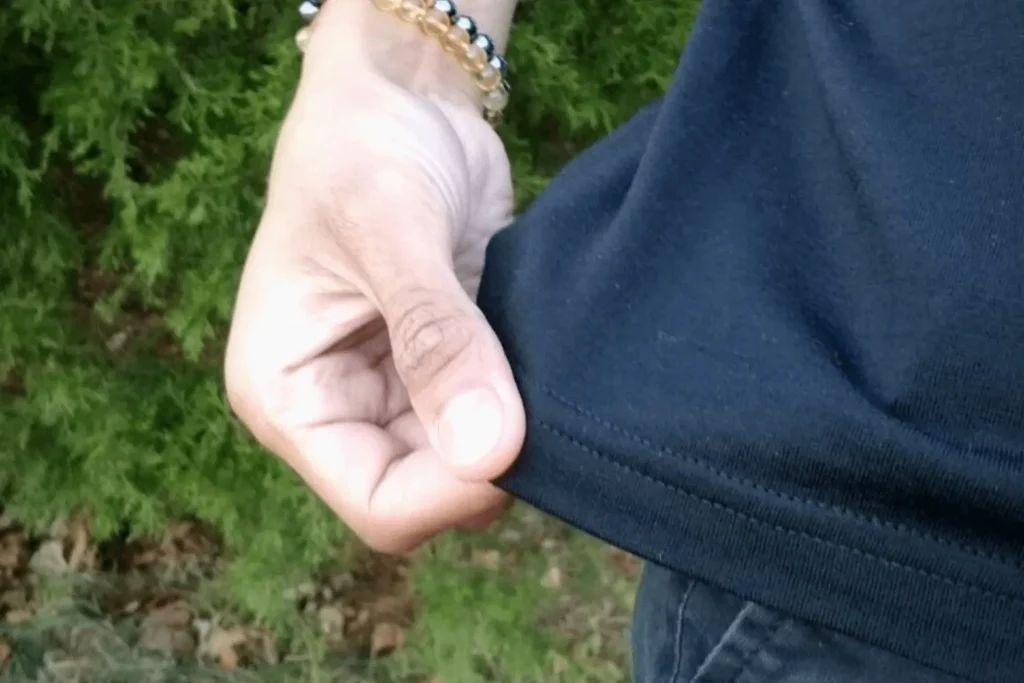 It is in fantastic shape and wonderfully suits the body. Before I understood that this shirt is a bit more velvety than other merino wool shirts that are sold for sale and do not require washing, I thought I looked good right out of the box.
Product Testing after 1 Month: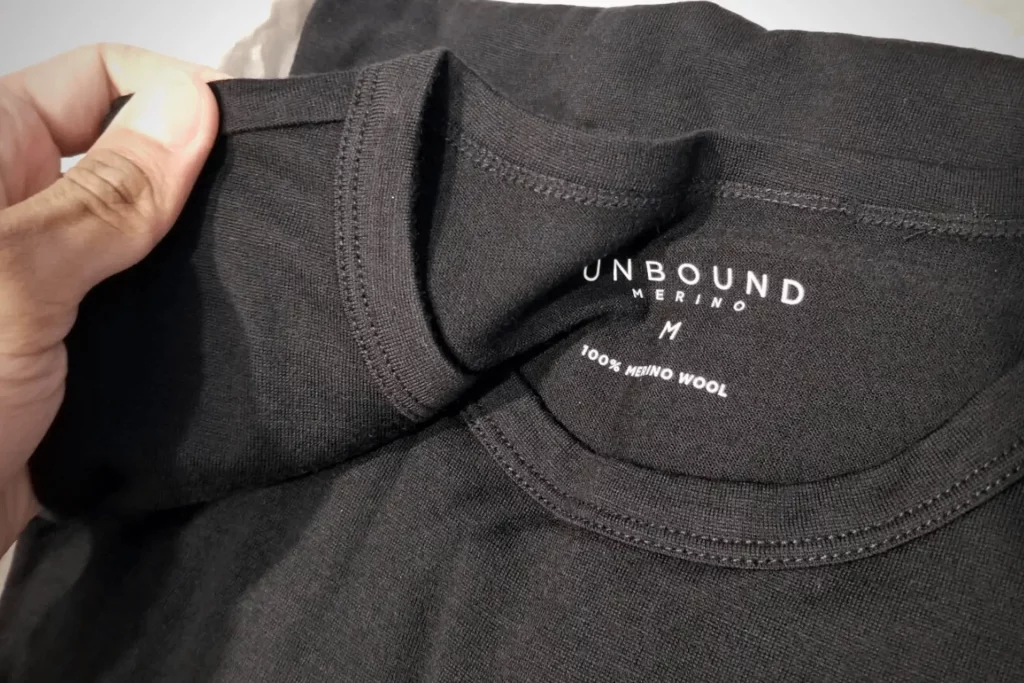 Its fabric looks incredible with the passage of time, and I use it many times in my travel journey. My favorite merino shirts did not rain from anywhere. Also, it is still in color. These are super soft on my skin, but one of my friends feels itchy on their skin, but it is normal when you were any wool t-shirts.
Also, I washed it many times. It dries quickly, and also it is anti-wrinkle.
How Does the Crew Neck Fit?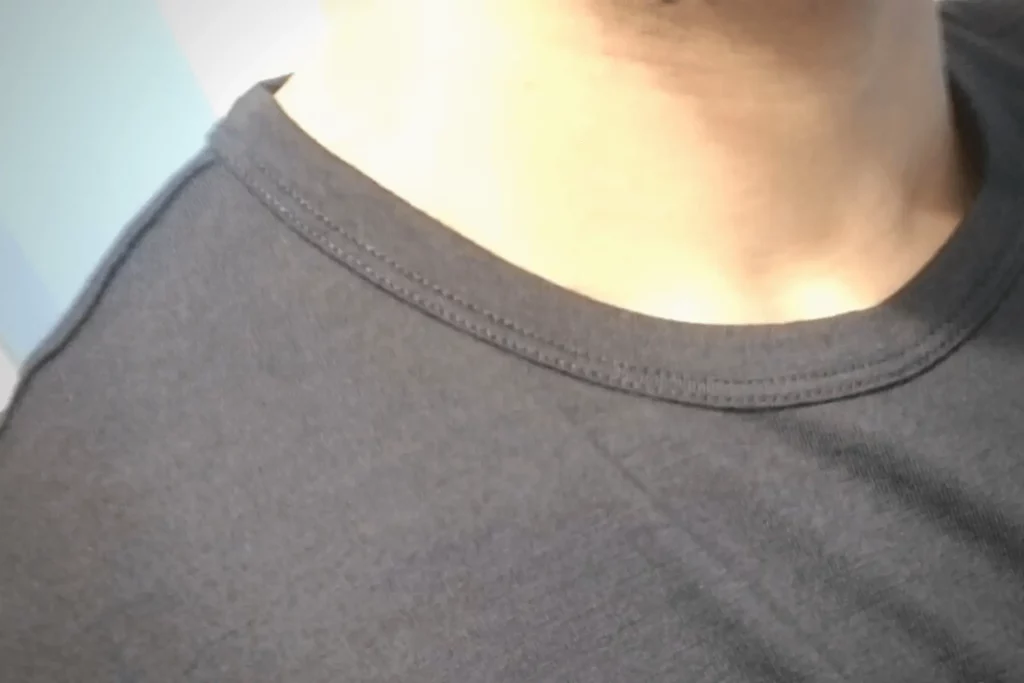 The unbound merino crew neck t-shirt fits like a regular t-shirt. It is tight enough and not too baggy. I wear medium for everything and perfect for my size. The medium crew neck t-shirt is 70cm from hem to collar and 51.5cm wide. The shirt fits well and looks perfect on a 39-40 inch chest with a 31-32 inch waist.
Why is Merino Wool more Expensive than Other Materials?
Merino is one of the rare fabrics in this world because we do not have many sheep that fulfill the need of the people in this world as compared to other materials like cotton and polyester. So, that's why merino wool is a bit expensive.
Merino sheep are present in Australia and New Zealand, and we harvest the merino wool from these sheep. Merino only grows their fleece out once in a year, so it takes a while to get wool. These animals are under the best care and supervision to live in comfortable and suitable conditions.
The result is that the happier the sheep, the better wool you get. Only when there are more farms around the world and more accessible to get merino wool, that's why the cloth made from them is a bit expensive.
The best thing I like most about merino wool is that it takes the place of my many shirts in my suitcase when I travel and in my closet at home. I can quickly wear merino shirts for a whole week without washing them. If I do laundry after a week, this merino shirt will replace my 7 shirts, which is why it would be easy to do laundry as well.
Design: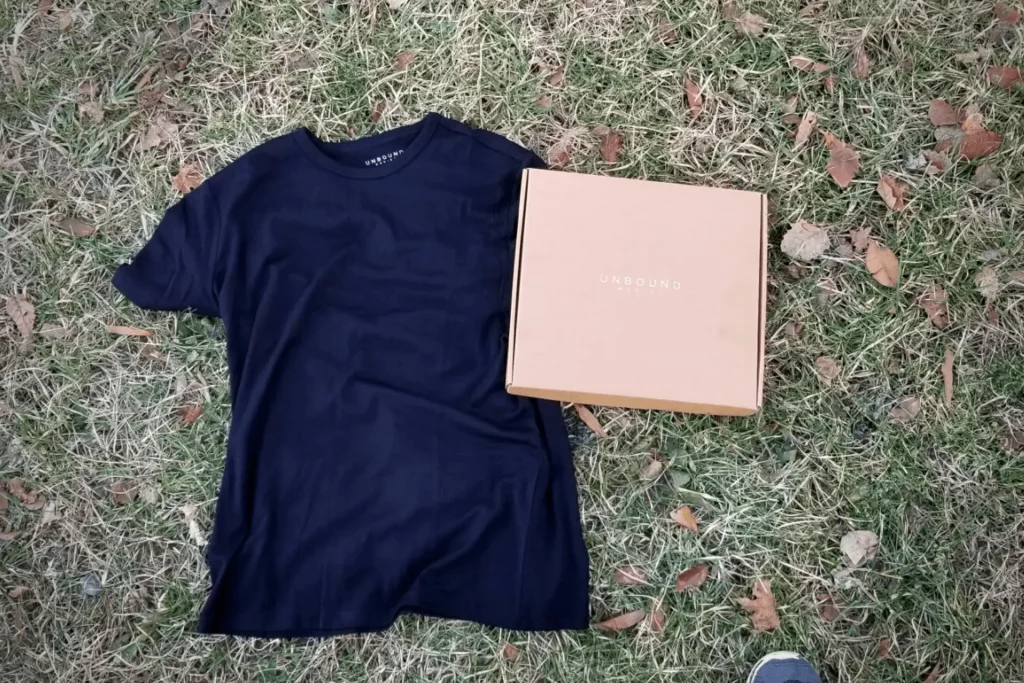 These great shirts' elasticity allows them to stretch with wear but return to their original size. Still, after the single wash, you can see that the crew neck becomes a little tight, but after a couple of wear, they return to their original shape. You do not have this problem with the V-neck shirts.
Comfort and Durability: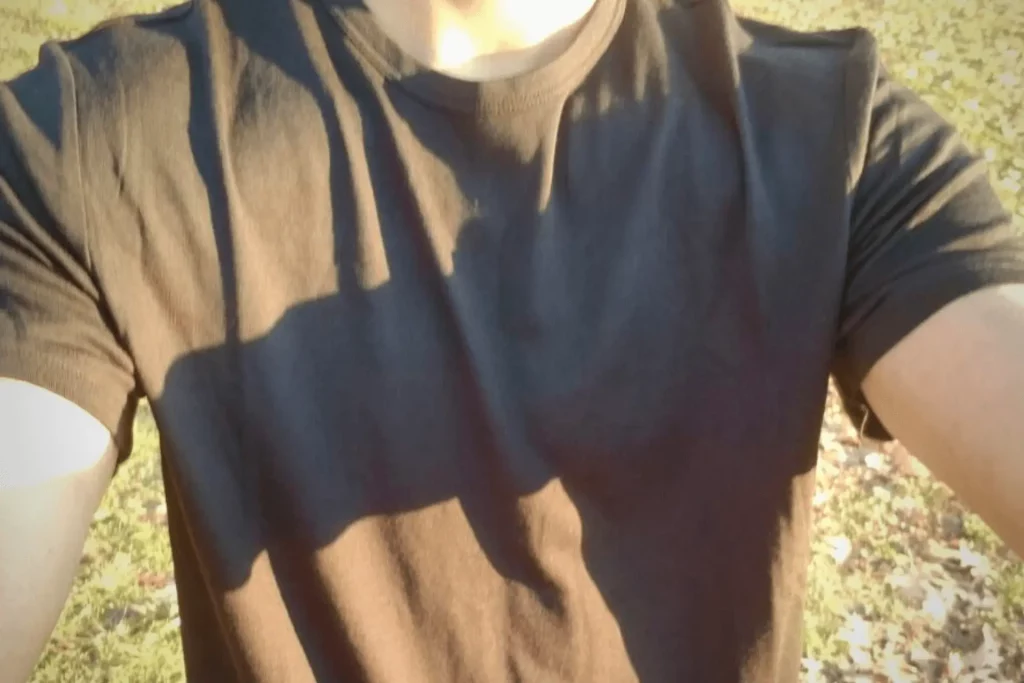 According to my experience, these shirts are super soft and quickly dried after washing, after rain, or getting sweaty. I bought two shirts, which are super good for indefinite travel anywhere in the world, any time of the year.
These shirts are reinforced stitching, and the unbound guarantee is promising, and this promise is fully completed.
Variety of Colors and Styles:
Unbound merino wool crew neck t-shirts are offered in Heather grey, Grey, Charcoal, Ivory, Pewter, Fossil, East Lake, Sedona, and Navy blue.
These shirts are available in all sizes such as small, medium, large, XL and XXL.
Price and Availability:
Any item created from merino wool will be rather pricey if you're a fan of the fiber as I am. Because fewer locations produce are fewer locations that produce merino wool and only a small number of sheep that can meet the needs of customers, as opposed to cotton and polyester farms that can meet all of your needs, Merino wool currently costs more, just like silk.
Product Details:
100% merino wool shirt.
17.5 micro wool means ultra-fine.
190 g/m2 thickness.
Approximately $ 96 CAD (USD 75).
Features:
9.8
Temperature Regulating
9.6
Pros:
Super soft.
Lightweight.
You do not need to wash often.
Excellent packaging with detailed instructions.
Quickly dried.
Cons:
Everything that exists has upsides and downsides. That's why merino wool also has some downsides for me;
They need some extra care to keep them good..
The collar on the crew neck t-shirt can become tight.
Not smooth as cotton:
Even though these ultra-fine merino jerseys are very nearly as soft as cotton, it is not quite there. I do not think I could ever wear one of those shirts in real life. These days, the merino shirts have such a delicate and smooth appearance that it is simple to forget they are even there. But when you take it at the end of the day or night, you discover that it is not as smooth on your skin as cotton.
If you adore merino wool as much as I do, you probably already know that anything manufactured from it will be quite pricey. Because fewer countries produce merino clothing and there aren't as many sheep to meet demand as there are for cotton and polyester, which may meet all of your needs, merino clothing is less common. Merino wool currently costs more, just like silk.
Polyester is considered a durable alternative to merino wool. When comparing both options, you can determine which leads to the most satisfactory outcome.
Frequently Asked Question:
What instructions do we follow to care for the unbound merino wool shirt?
It would be best if you washed them at a normal to cool temperature. Dry them on flat surfaces. Also do not use any bleach or color remover. Refrain from tumble dry your shirts.
Is merino wool softer than cotton?
Merino wool is not itchy, resulting in luxuriously silky, soft shirts that are much lighter than any other shirts. These wool shirts maintain their shape and do not ruin their material after a wash.
What are the main features of the merino unbound wool shirts?
These are resistance odor, ready-to-go wrinkle resistances, and perfect for traveling, best for any dinner, after wash, rain, or sweaty it's dried faster.
Conclusion:
Unbound Merino's crew neck t-shirt is a great option for anyone looking for a comfortable and stylish shirt. The fabric is soft and breathable, and provides a great fit. The anti-odor and anti-microbial properties make it ideal for all-day wear, while the natural UV protection helps keep you safe from the sun. With a wide range of colors and sizes available, there's something for everyone.