Hoodies have seen a recent spike in popularity and have become an integral part of one's wardrobe that extends far beyond their use as athletics. If you pick the right fit and go for better quality fabrics like merino wool, they have the potential to give off a very chic appearance.
Merino hoodies are often form-fitting as opposed to enormous, making them appropriate for wearing to the workplace when matched with dress pants made of merino wool or worn over a short dress made of merino wool.
If you're in the market for a new hoodie, you may wonder if merino wool is the right choice. Merino wool is a natural fiber from sheep and has many benefits compared to other types of wool. This post will look at some of the best merino wool hoodies for women. We'll also discuss some benefits of wearing merino wool, so you can decide if it's the right choice. Keep reading to learn more!
Our Top 10 Picks for the Best Merino Wool Hoodies for Women:
1. Helly-Hansen Women's Baselayer Hoodie:
Hand Wash Only | Super Soft & Breathable |Multipurpose Comfort | Wicking & Odor Resistance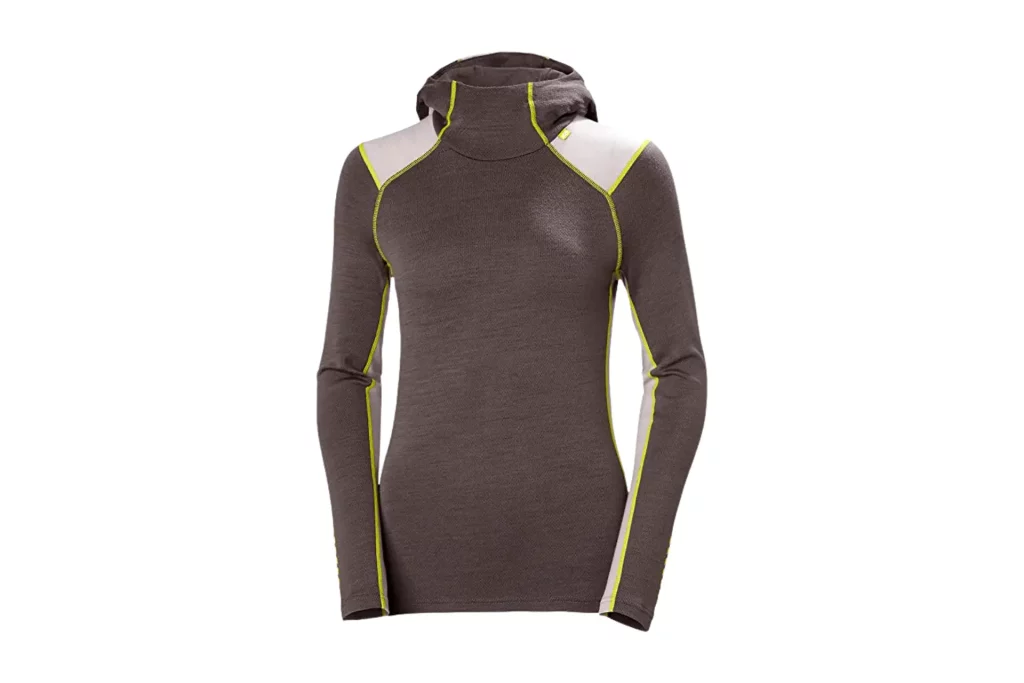 If you're a dedicated skier or snowboarder, you have yet to hear of Helly-Hansen, and you haven't been keeping up with the times. They make excellent quality gear and perform very well, making it ideal for a life on the slopes.
The LIFA Merino fabric differentiates this sweatshirt from the other selections on our list of potential purchases. LIFA, a synthetic material that helps to drain moisture away from your skin, is used in its entirety in the construction of the interior of the product.
On the other hand, the surface is constructed with 100 percent Merino wool, which contributes an additional warmth component. In a nutshell, the performance of this hoodie has been optimized for use in the great outdoors.
Even though it's made of synthetic materials, the interior is not nearly as resistant to odor as one made entirely of Merino wool. Nevertheless, the LIFA stuff makes this base layer hoodie more long-lasting when compared to other items on the market that are analogous.
In addition, the thickness of 225 GSM provides an outstanding warmth-to-weight ratio, which means that it won't slow you down as you glide through the snow because it is not heavy.
There is a minimal adjustment that I would want to see made. The hood is designed to be worn closely and snugly below the helmet; however, no adjustment strings are included. As a result, I encountered some bunching in the process.
This Helly Hansen LIFA Merino base layer hoodie is designed for high-performance endeavors like climbing and skiing. Therefore, if you are in the process of arranging your next skiing vacation, be sure to check it out!
Pros
Construction that combines two functions into one.
Enhancements to the overall performance.
Affordable.
Cons
Not precisely the height of fashion.
Fewer hues than usual.
Minimal odor resistance.
2. MERIWOOL Womens Base Layer:
98% Merino Wool, 2% Elastane| Zipper Closure | Insulation | Comfort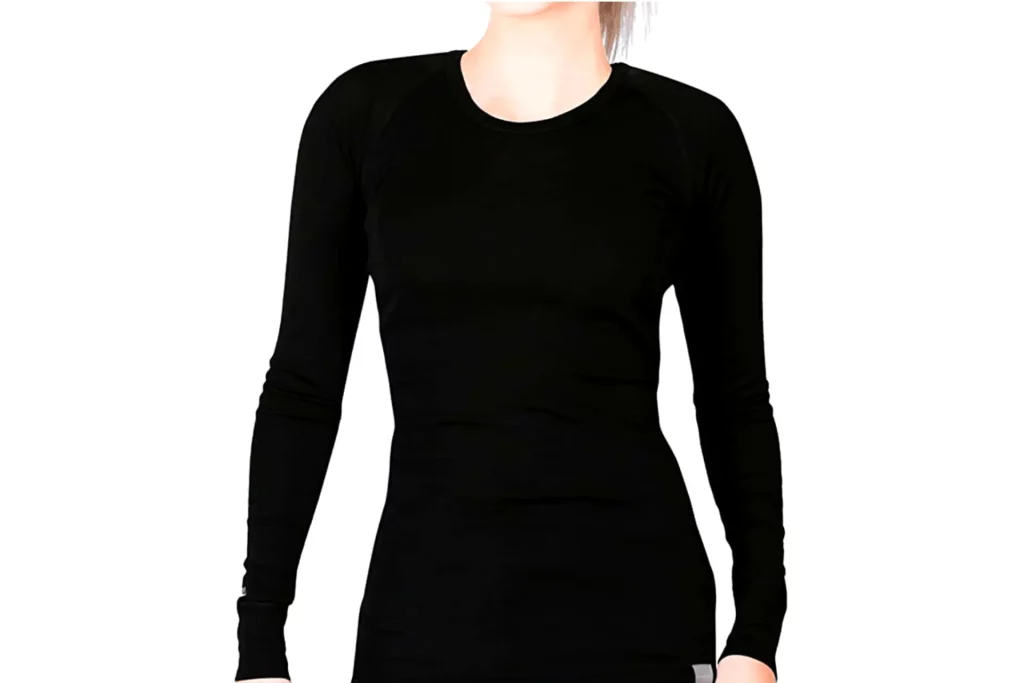 You might already be aware of this, but hoodies made from Merino wool tend to be on the pricier side. Triple digits for a sweater. Are you kidding me? It's beyond belief! On the bright side, a few choices are available that won't break your budget but won't sacrifice quality. One of these choices is the hoodie version of the Meriwool women's base layer hoodie.
Even though this female's wool hoodie may not have as many additional features as some of the other alternatives on our list, it is nonetheless created from high-quality Merino wool, which is very comfortable despite its lack of other features.
Although it has a pleasant sensation against your skin thanks to its 16.5-micron fiber diameter and lightweight 190 GSM fabric thickness, the product does not come at a luxury price.
Nevertheless, the general fit of this Meriwool women's base layer hoodie is what I appreciate the most about it. Because it is more form-fitting and slender, it is ideal for wearing as a base layer because it does not bulk up.
Despite this, it can still be worn as an outer layer if desired. Because there is sufficient space below for a T-shirt, your garments won't bunch up as they would otherwise.
However, a few things to consider regarding this sweatshirt made of Merino wool: first, if you want to wear it by itself, you should know that it is not the warmest of the options available.
If you want to feel the strength of Merino wool without breaking the bank, I strongly recommend this Meriwool women's base layer hoodie (and any other Meriwool gear).
Pros
Enhanced convenience and comfort options.
Y perfect.
Multiple pockets that serve multiple purposes.
Cons
Inner pockets are likely to become worn.
Sizing disparities.
3. Icebreaker Merino Casual Hoodie:
70% Cotton, 30% Merino Wool | Super Soft | Merino Wool Layers | Longevity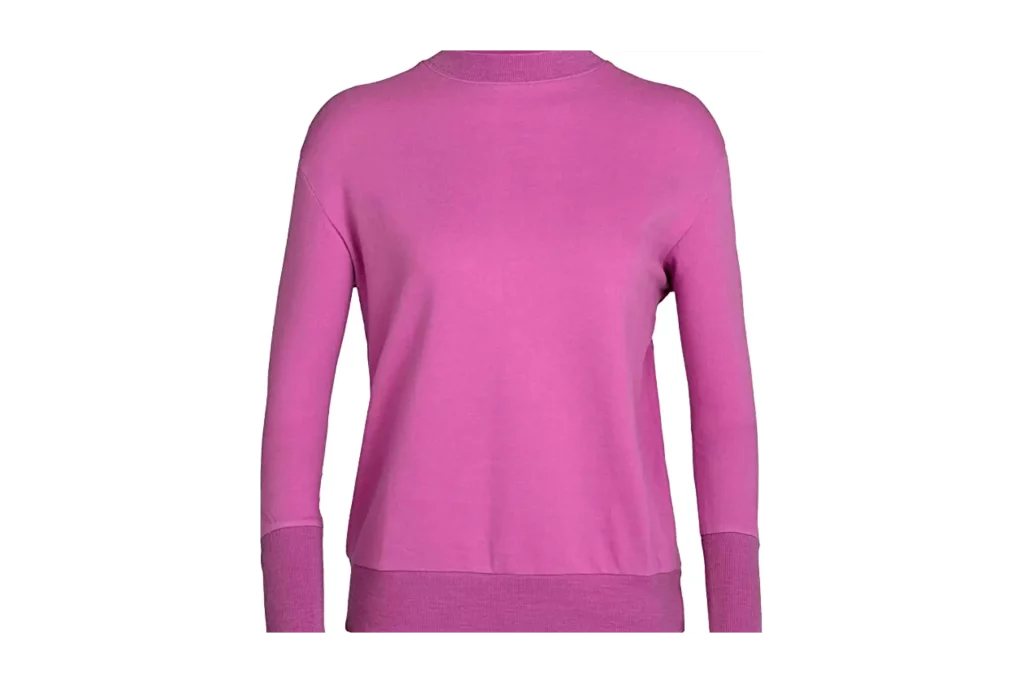 This hoodie from Icebreaker Merino is just what you need to upgrade your casual getup to the next level. It has a loose fit and long sleeves and is made of a wool material that is comfortable and will keep you warm all day long.
You may modify the hoodie's fit to be snug but comfortable around your head and face by pulling on the drawstring at the top of the neckline. When you're on the run, you may stow away essential goods in the convenient location provided by the front pocket.
This hoodie will quickly become your go-to favorite for any occasion, whether hanging out with friends or just relaxing around the home. Whether you choose to wear it over a shirt and jeans, dress it up with a skirt or leggings, or wear it on its own, you will feel even better about how you look than you will about how you look.
Pros
Provides Superior Warmth And Breathability.
Features A Full-Length Zip Front Closure.
Cons
Some May Find The Wool Material A Bit Heavy And Bulky.
4. MERIWOOL Women's Long Sleeve:
100% Wool | Year-Round Comfort | Love to Layer | Shop Risk-Free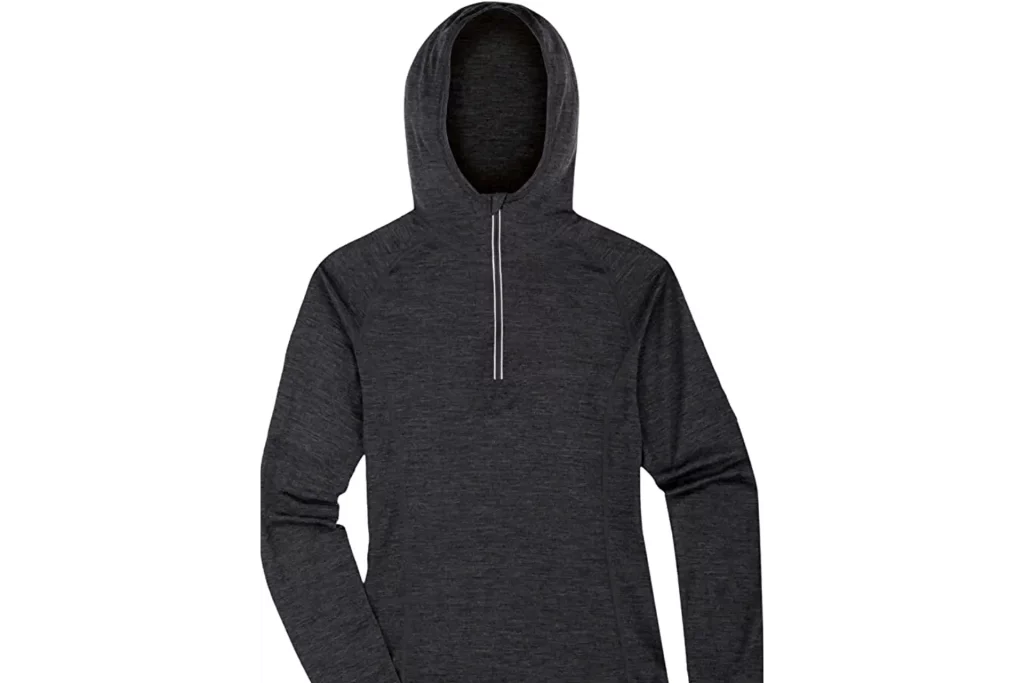 The MERIWOOL Ladies' Base Layer Hoodie is an excellent choice for physically active women who prioritize maintaining a warm and comfortable body temperature.
Despite its lightweight nature, this hoodie, constructed from merino wool, provides unrivaled thermal insulation that keeps you warm in chilly environments and allows you to remain comfortable as the temperature rises.
Because it does not retain odors, it is breathable and does not wrinkle easily, making it an excellent choice for day-to-day use. Additionally, because of its fashionable construction, it has a beautiful appearance.
If you are searching for a top layer that will keep you comfortable no matter what the day has in store, there is no better option than the MERIWOOL Women's Base Layer Hoodie.
This is because MERIWOOL is a natural fiber that regulates body temperature. When you get one today, you'll never have to worry about the weather again.
5. Smartwool Standard Merino Sport 120 Hoodie:
53% Merino Wool/47% Lyocell | Made in the USA | Pull On closure | Temperature regulating | Odor-Resistant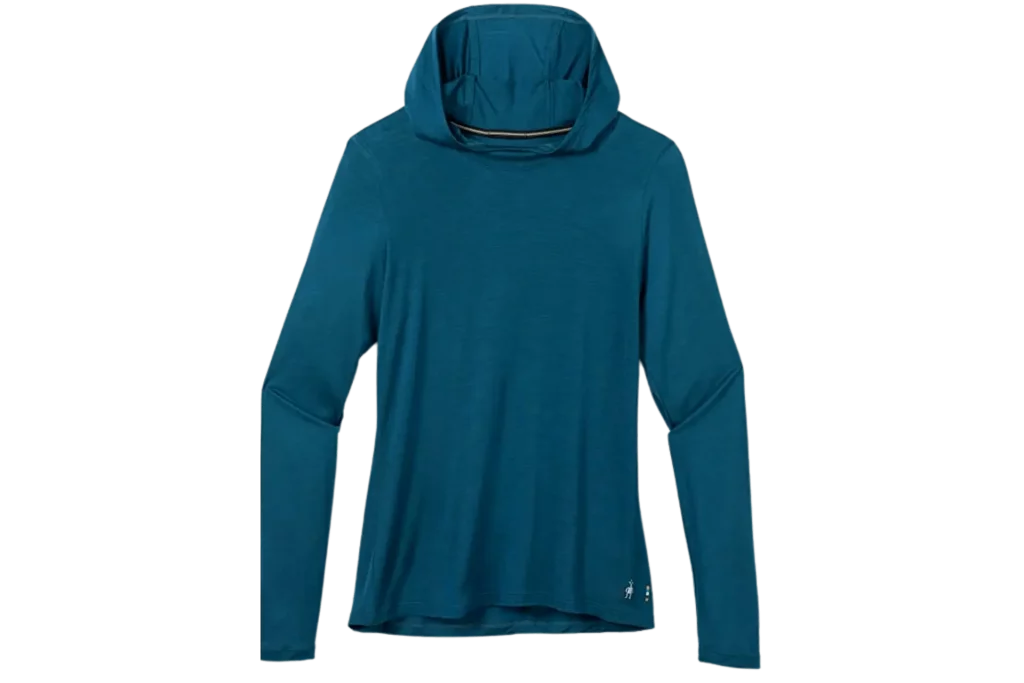 The Smartwool Standard Merino Sport 120 Hoodie is a comfy and fashionable hoodie constructed from merino wool and synthetic fibers. These materials give the hoodie the ideal combination of warmth, breathability, and durability.
It has ribbed cuffs and a hem, a drawstring hood that can be adjusted for a comfortable fit around the neck, thumbholes for additional covering, and two front pockets that can hold small items or keep your hands toasty.
The unique composition of the fabric blend provides high wicking ability, which removes perspiration from the body while letting excess heat escape.
This hoodie is perfect for you whether you are looking for something light to wear while errand-running in the fall or something that will keep you toasty warm during the chilly days of winter.
In addition, because of its close fit, it is ideal for wearing as a layering piece over t-shirts or undercoats. You'll seek it again throughout the season since it embodies the perfect balance of fashion and utility.
Pros
It's incredibly comfortable and soft due to the merino wool material, making it a cozy choice for everyday wear.
The hoodie is highly breathable, making it ideal for running, hiking, or biking.
It has a slim fit that allows you to layer other pieces of clothing over it easily.
It dries quickly when wet, so there's no need to worry about getting soaked in heavy rain or sweating after a hard workout.
Cons
The slim fit may make it hard to move freely if you wear heavier layers underneath the hoodie.
It doesn't come with any additional features like waterproofing or insulation.
6. Smartwool Women's Base Layer Hoodie:
Imported | Elite Function & Style | Warmth | Breathability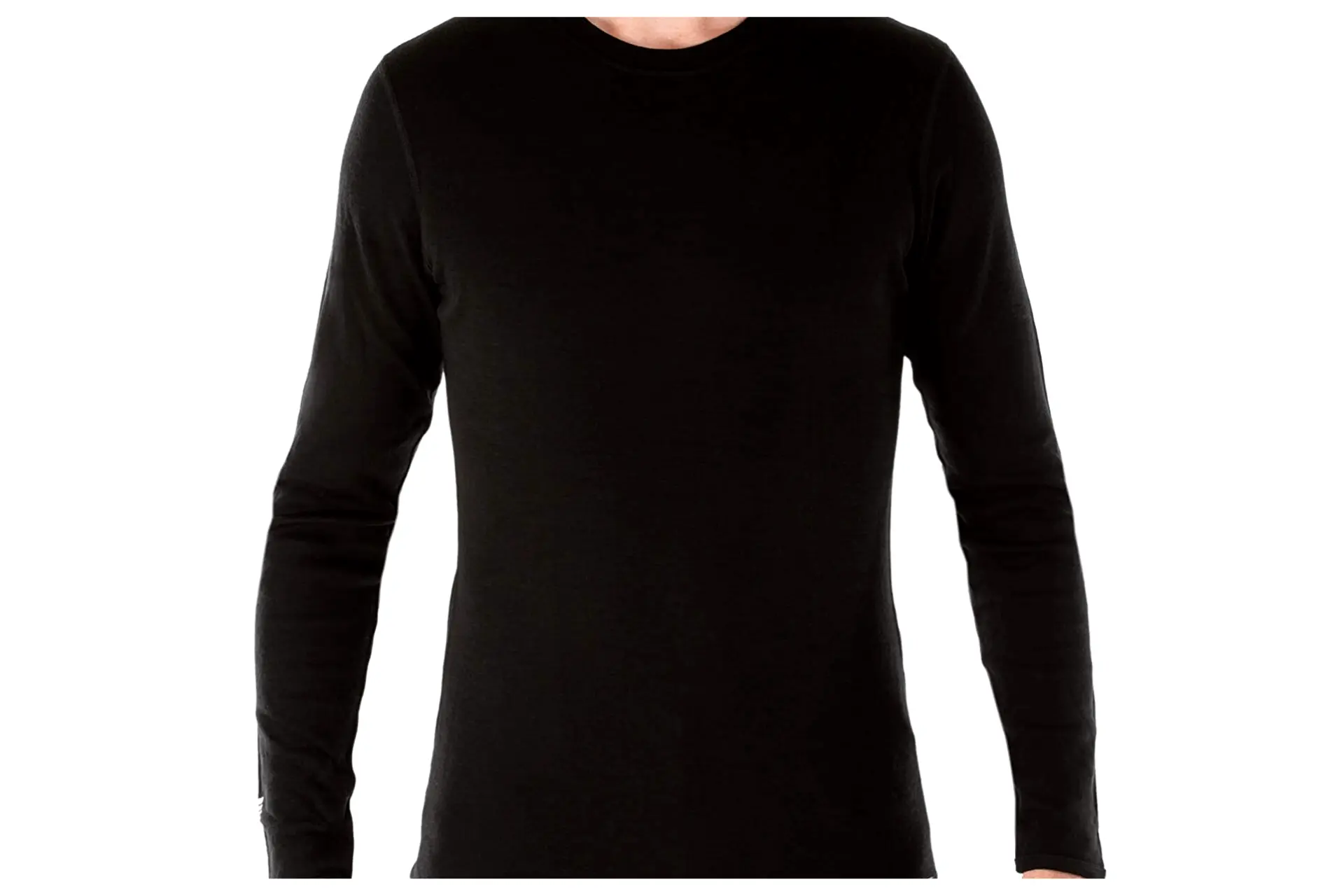 During any outdoor activity, the Smartwool Women's Merino 250 Plant-Based Dye Base Layer Hoodie is the most effective approach to maintaining a pleasant and warm body temperature.
This one-of-a-kind sweatshirt is made from a hundred percent Merino wool and contains a plant-based dye spread evenly throughout. Because the fabric wicks away moisture and does not retain perspiration, you can remain dry and comfortable regardless of the temperature or the weather.
Additionally, it includes flatlock seams, which offer next-to-skin comfort without causing chafing. This makes it an excellent choice for layering. This hoodie will keep you feeling your best no matter where you are, whether you're skiing, camping, or out for a trail run. Get your very own now to feel Smartwool's unparalleled warmth and comfort.
Pros
Amazing warmth for its relatively little weight.
Several different possibilities for layering.
A reputable name in the Smartwool brand
Cons
Amazing warmth for its relatively little weight.
Several different possibilities for layering.
A reputable name in the Smartwool brand
7. Woolly Clothing Women's Pullover Hoodie:
100% Pro-Knit Australian Merino Wool | Tagless Interior | Extra Stretch | Itch Free | 4-Season Comfort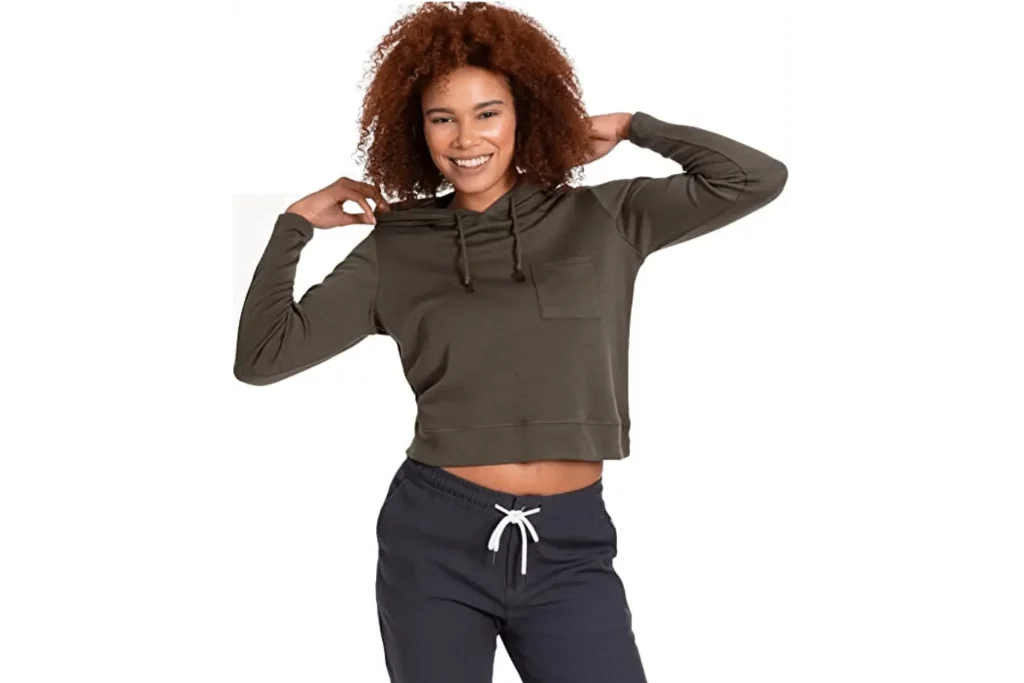 The way that this hoodie contours itself to my shape is one of my favorite features of it. The slim fit is just right for my torso; it is neither too loose nor too tight. It tapers beautifully.
In addition, because of the general style, it is adaptable enough to be worn with leggings and any other type of clothing. This is one of the Merino garments I wear most frequently for my daily rotation.
In terms of the material, Woolly employs Merino wool, which has been certified by Woolmark and is of medium weight. It is comfortable to wear, but not to the point where I forget I'm even wearing a sweatshirt because of how it feels on my skin.
The one significant problem I could run across is that clothing made entirely of Merino wool tends to wear out more quickly. However, this pro-knit hoodie is not going anywhere just yet.
Oh, and I can't leave out the fact that it also has some beautiful features, can I? There are fleece-lined pockets for your hands, a protective flap over the zipper to prevent it from snagging your chin, and thumb holes for a snug fit. However, I wish some holes were more significant for the latter because they are not quite big enough to accommodate my thumbs.
To summarise, the Woolly Pro-Knit hoodie made from Merino wool is the best option overall. It satisfies all of the requirements for purchasing, and the cost is reasonable compared to other options.
Pros
Versatile construction.
Protection appropriate for all four seasons of wear.
Enhanced convenience and comfort components.
Cons
Tiny holes for the thumb.
Some people like long sentences.
Questionable longevity
8. Woolly Clothing Co. Women's Henley Hoodie:
100% Wool | Year-Round Comfort | Love to Layer | Shop Risk-Free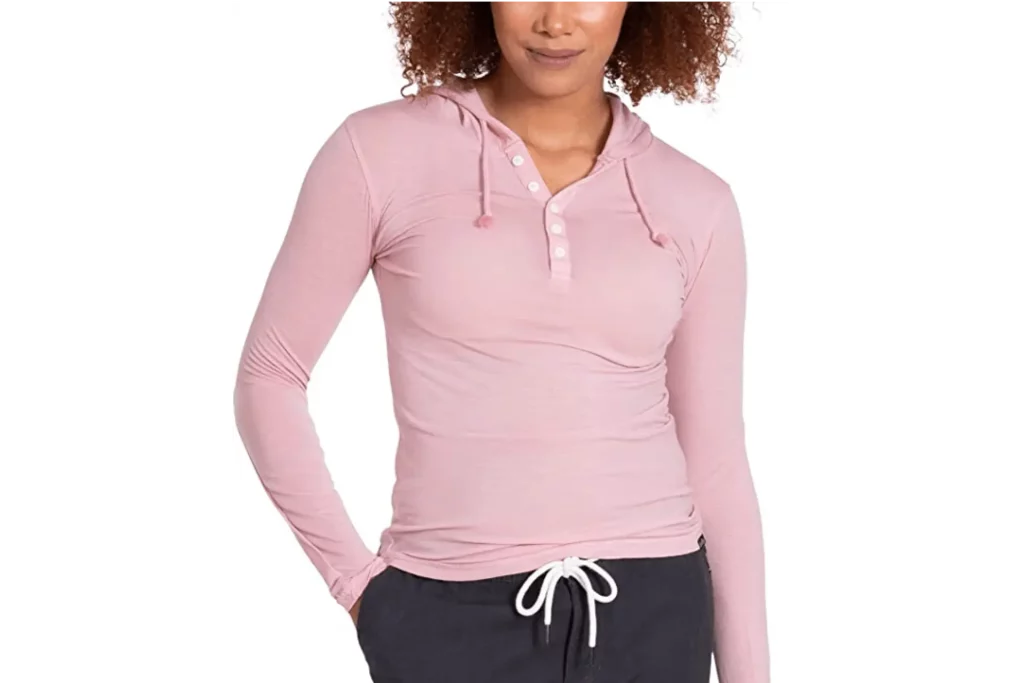 Woolly Clothing Co.'s Women's Merino Wool Henley Hoodie is here to usher you into luxury and convenience. This hoodie provides a high comfort level by being lightweight, wicking, and breathable. Because it inhibits the production of odor-causing bacteria, using it will keep you feeling clean and revitalized throughout the day.
Find the color combination that best suits you from among the available options. This hoodie will become a go-to piece in your closet, whether when you're out and about or just relaxing at home.
The Women's Merino Wool Henley Hoodie from Woolly Clothing Co. will take your comfort level to a new level! No matter how cold it is outside, the fact that this hoodie is made from merino wool will make you feel warm and snug inside.
Pros
Lightweight.
Breathable.
Anti-odor hoodie.
Cons
Some People May Find The Fit Of This Hoodie A Bit Tight Or Uncomfortable.
9. Merino Wool Hoodie – Pullover:
100% Pro-Knit Australian Merino Wool | Interlock Merino | Flatlock Seams | Pro-Knit construction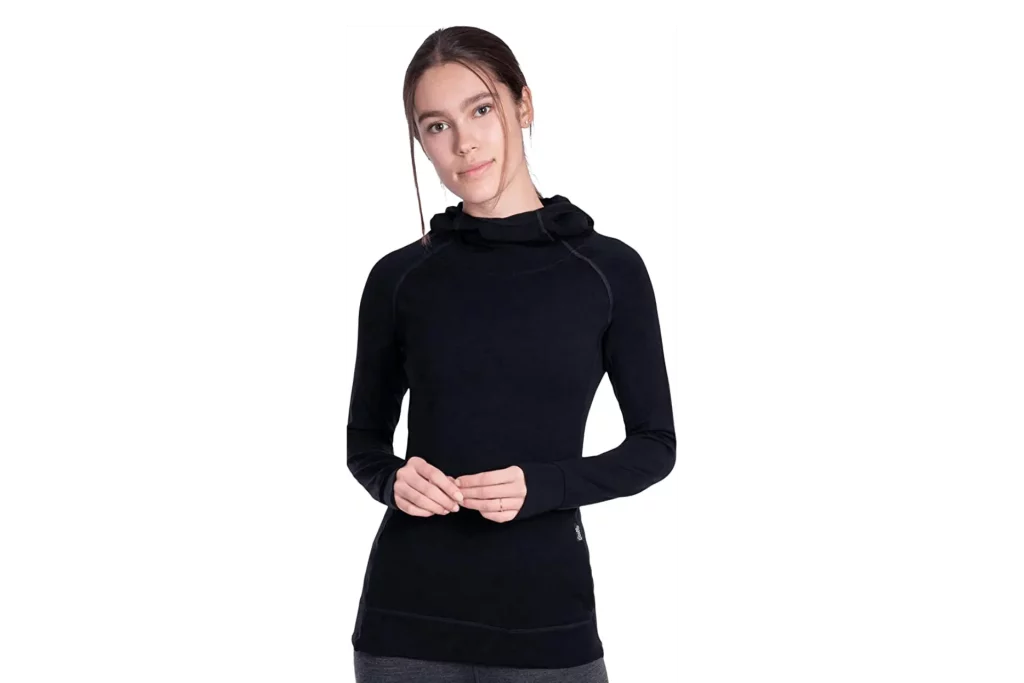 Welcoming you to warm and pleasant comfort! For those brisk autumn days and crisp winter evenings, our Women's Merino Wool Pullover is the ideal garment to have by your side.
This hoodie is constructed with Pro-Knit Mid Weight material, which allows for a close fit while still ensuring that it is warm and breathable at the same time. Because of its low weight may be worn throughout the entire year, regardless of the climate.
The Merino Wool Hoodie will keep you comfy and fashionable no matter what you're doing, whether going for a hike, running errands, or just relaxing around the home. This hoodie is guaranteed to become one of your most worn apparel items thanks to its classic look and the many ways it can be styled.
Pros
Warm And Comfortable.
Lightweight Structure.
Cons
It Tends To Pill Over Time.
10. Woolly Clothing Merino Pro-Knit Hoodie:
100% Pro-Knit Australian Merino Wool | Moisture Wicking | Extra Stretch | Athletic Fit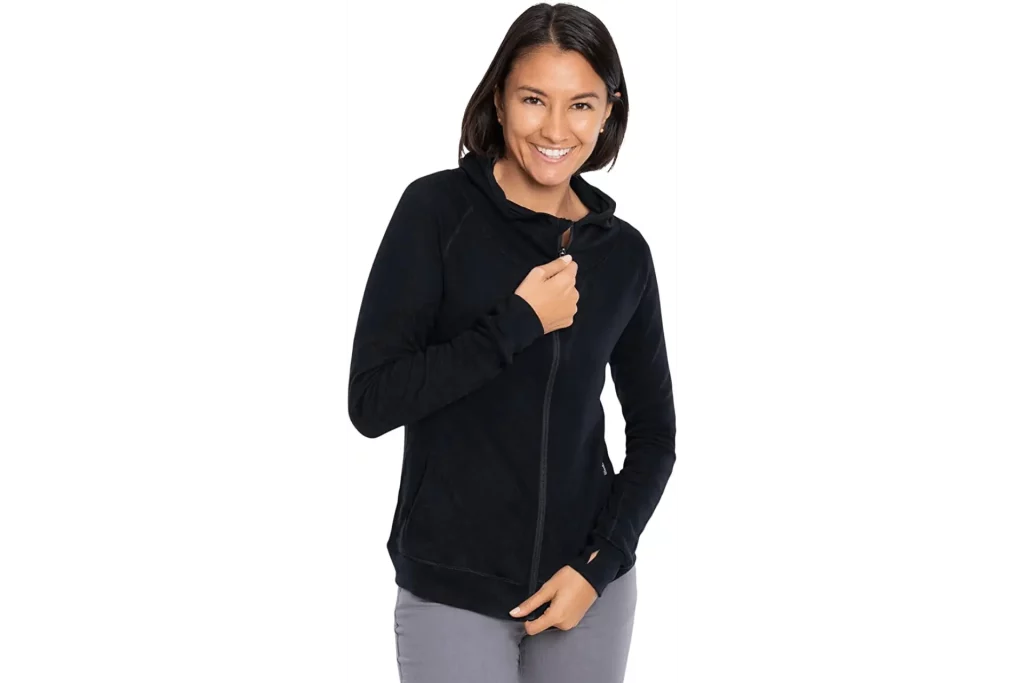 Put away those sweaters that make you feel suffocated and uncomfortable! The Merino Pro-Knit Wool Zip Hoodie Sweatshirt that Woolly Clothing offers is an article of clothing that is ideal for wearing while engaging in activities outside.
It is constructed with the finest merino wool fabric, which enables it to be lightweight and breathable while still delivering the desired warmth. This hoodie is of medium weight and contains wicking technology, allowing you to maintain dryness regardless of activity.
Because of the anti-odor characteristics, you won't have to be concerned about any scents that may be considered embarrassing. You can rest sure that this hoodie will not only keep you stylish but will also keep you comfy.
Because of its chic style, you won't have to choose between looking fashionable and feeling comfortable again. Obtain a readiness to tackle any challenge by purchasing the Woolly Clothing Women's Merino Pro-Knit Wool Zip Hoodie Sweatshirt.
Pros
Warm And Comfortable.
Anti-odor hoodie.
Cons
Some people may find the fit of this hoodie a bit tight.
Best Merino Wool Hoodies For Women: Buying Guide
When it comes to both comfort and good looks, nothing surpasses a hoodie made of Merino wool. Merino wool is the perfect material to turn to if you need something warm and comfortable to wear on a brisk winter evening or require an additional layer of insulation during winter.
It offers the highest possible comfort and breathability and is also quite durable, making it an excellent choice for daily usage.
When searching for the ideal hoodie made of Merino wool, there are a few factors that should be taken into consideration.
Fit:
Even if your hoodie is made of beautiful Merino wool, if it doesn't fit you well, you won't be satisfied with it, no matter how remarkable.
It is crucial to choose the sort of fit that is appropriate for your requirements. On the other hand, only some businesses evaluate their product's fit similarly; ratings might even differ throughout brand collections.
As a result, I've invested the effort necessary to organize the cuts of these women's hoodies into four standard categories, ranging from the most form-fitting to the most comfortable: athletic, thin, regular, and relaxed.
Fabric:
Once you've determined how the hoodie should fit you, the next step is to ensure that the fabric is appropriate for your requirements. When it comes to Merino wool, the three most important criteria for me are the percentage of Merino wool in the material, the weight of the material, and the diameter of the fibers.
Pay Close Attention to the Particulars:
Your outfit might benefit from additional style points if you wear a hoodie with drawstrings or pockets. Before you buy new clothing, it is essential to give some thought to the kinds of attributes you want it to have.
Check the Directions on How to Care for it:
Be sure to make a mental note of how simple (or challenging) the maintenance of your merino wool hoodie will be. Because the better ones can be washed in a machine, you won't need to worry about it as much as you might otherwise.
Think About how Much it Costs:
The price of hoodies made of Merino wool can vary widely based on the product's quality and the characteristics it contains. It may be tempting to go for a more affordable alternative, but investing in something that will serve you for many years and keep you warm throughout the winter is essential.
When looking for the best merino wool hoodies for women, if you take all of these considerations into account, you will be able to locate the perfect one that is within your price range and complements your style! The only thing left to do once you've chosen something that suits you ideally is to take pleasure in donning it. Enjoy
Why Is Merino Wool in Such High Demand?
The type of fabric an item is made of should be one of your first considerations while shopping for vacation attire. Merino wool is fantastic to wear when the temperature is low and extraordinary to wear when it is high since it helps keep you cool.
Merino wool is the best material for traveling since it is incredibly lightweight, long-lasting, and adaptable. You will only need to bring a few essential items with you.
The ability of merino wool to drain away moisture while allowing ventilation is one of the fiber's most significant benefits. This ensures that you will remain toasty warm while enjoying the sights.
How to Wash Merino Wool Hoodies?
The first thing you should do before washing your merino wool hoodie is to read the directions that are on the label. Your Merino wool clothing will most likely come with particular care recommendations; thus, it is imperative that you adhere strictly to these guidelines, as the specifics may be somewhat altered from one manufacturer to the next.
Next, before placing the hoodie in the washing machine, you should flip it inside out and select a soft cycle, such as the hand-wash or wool cycle, for the best possible outcomes. In addition, when you wash your hoodie, you should consider washing it with a gentle detergent that does not include optical brighteners or fabric softeners.
When washing your hoodie in the washing machine, always use cold water for rinsing and spinning since high temperatures might cause the Merino wool to feel, which is the same thing as shrinking.
Finally, hang the hoodie to dry in the open air. Never put your clothing in the dryer since doing so might cause it to shrink. After it has had a chance to air out and become dry thoroughly, you may give it a little fluff with your hand to help the cloth restore its natural form and texture.
Following these instructions guarantees your Merino wool hoodie stays pristine for years! Good luck!
How to Care For Your Merino Wool Hoodies?
When it becomes chilly outside, wearing a hoodie made of merino wool is an excellent way to both keep warm and look attractive. Nevertheless, like other clothing articles, they need to be adequately cared for to continue looking and feeling their best over time. Care for your hoodies made of Merino wool should be done according to these guidelines:
Use a moderate washing cycle, cold water, and a light detergent. Bleaches, fabric softeners, and other strong cleaning products should be avoided since they might damage the fibers in Merino wool.
Dry it by laying it out flat on a clean towel. Drying your Merino wool hoodie by hanging it might result in ugly stretching and warping of the fabric, so it is better to lay it out flat on a clean towel until it is dry.
Stay away from extremely high temperatures. Your Merino wool hoodie should never be dried in a dryer or placed near a fire since doing so can cause the fibers to shrink and get damaged.
Let it air out frequently. After each use, hang your Merino wool hoodie to let it air out for at least twenty-four hours before putting it away. This will prevent musty odors and the accumulation of bacteria.
If you follow these guidelines, you will be able to maintain your hoodies made of Merino wool looking their best and ensure that they will endure for many years. Consequently, there is no need for you to feel guilty about allowing yourself to bask in the coziness and warmth of this comfy apparel.
How to Pack your Merino Wool Hoodie?
Rolling up your merino wool hoodie is an excellent way to pack and store it. To begin, lay the hoodie out flat and fold it in half down the length of the garment. Then, starting at one end, roll it up toward yourself until you reach the opposite end.
When packing a bag or a backpack, this strategy is ideal for minimizing the amount of space taken up! It also prevents creases from appearing on the fabric of your hoodie, which is a great benefit.
After you have wrapped your hoodie, you should use an elastic band to seal it, so it does not unroll while traveling. You may avoid wrinkles in your merino wool hoodie by following these instructions, and it will be ready for you to put on as soon as you reach your location.
Using tissue paper is the last advice for packing a sweatshirt made of merino wool. During transport, the cloth is less likely to become creased or crushed due to this measure.
Put a piece of tissue paper on top of your hoodie, and then fold it with the tissue inside. That's all there is to it. Your hoodie will maintain its pristine condition and appearance for much longer if you do this.
It is optional for a hoodie made of merino wool to be tough to pack. During any trip, you can be assured that your hoodie will remain undamaged and wrinkle-free as long as you follow these straightforward instructions.
Whether you're going on a lengthy journey or need something to take on an overnight excursion, making sure that you pack your merino wool hoodie in the right way will guarantee that it lasts for many more adventures in the future!
Bottom Line:
In conclusion, the merino wool hoodie that is ideal for women is the one that caters to both their taste and their practical requirements. Because there is such a wide variety of wool hoodies available for purchase, it is essential to investigate before making a selection. You may locate the ideal hoodie made of merino wool for each woman in your life if you put a little time and effort into the search.