Are you the type who adores the winter months and finds yourself overcome with joy when the season begins to make its presence known? This is when you can finally break out all of your most fashionable outerwear, such as statement coats, overcoats, hoodies, and boots. On the other hand, you must put on the finest wool leggings to keep the bottom part of your body toasty and warm.
This article provides a rundown of the 15 best wool leggings that may be worn even when the weather drops below freezing. The merino wool used in constructing our top selections is of the highest possible grade. When you have to walk to work in the winter, Merino wool leggings are the perfect choice to keep your legs warm.
It is a remarkable fabric that assists in the regulation of the skin temperature and prevents itching as well as pain from occurring. When you go trekking or skiing, it will soak up all the sweat and eliminate any unpleasant odors. Many choices are available, so we have selected some of the finest currently on the market to simplify things for you.
Our Top 14 Picks for the Best Merino Wool Leggings:
1. Engel 70% Organic Merino Wool:
16.5-Micron| 190-Gsm Weight |Hand Wash Only | Care instructions | Organic Certified by GOTS
The warmth and suppleness of Engel's wool tights come from the combination of 70 percent organic merino wool and 30 percent silk in the knitting process. These woolen leggings, which come in a variety of five colors to choose from, would be a wonderful addition to your winter attire.
The combination of tenacious fibers gives the fabric its durability, and the fact that it is also dirt-repellent contributes to the fact that it is very simple to clean. You may use these leggings as a foundation layer or wear them on your own as a statement piece because they are lightweight.
Product Features:
Silk makes up the remaining 30 percent of the blend, 70 percent organic merino virgin wool.
When blended in the right proportions, the properties of the individual fibers are correctly highlighted, and the final result is an experience that is both comfortable and long-lasting to wear.
Pros
Lightweight.
Dirt-repellent.
Gentle and comforting.
Available in 5 hues.
Stretchable.
Cons
It could lead to itchy skin.
2. MERIWOOL Women's Merino Wool:
Cost-Effectiveness| Crafted with Comfort |Hand Wash Only | Care instructions | Organic Certified by GOTS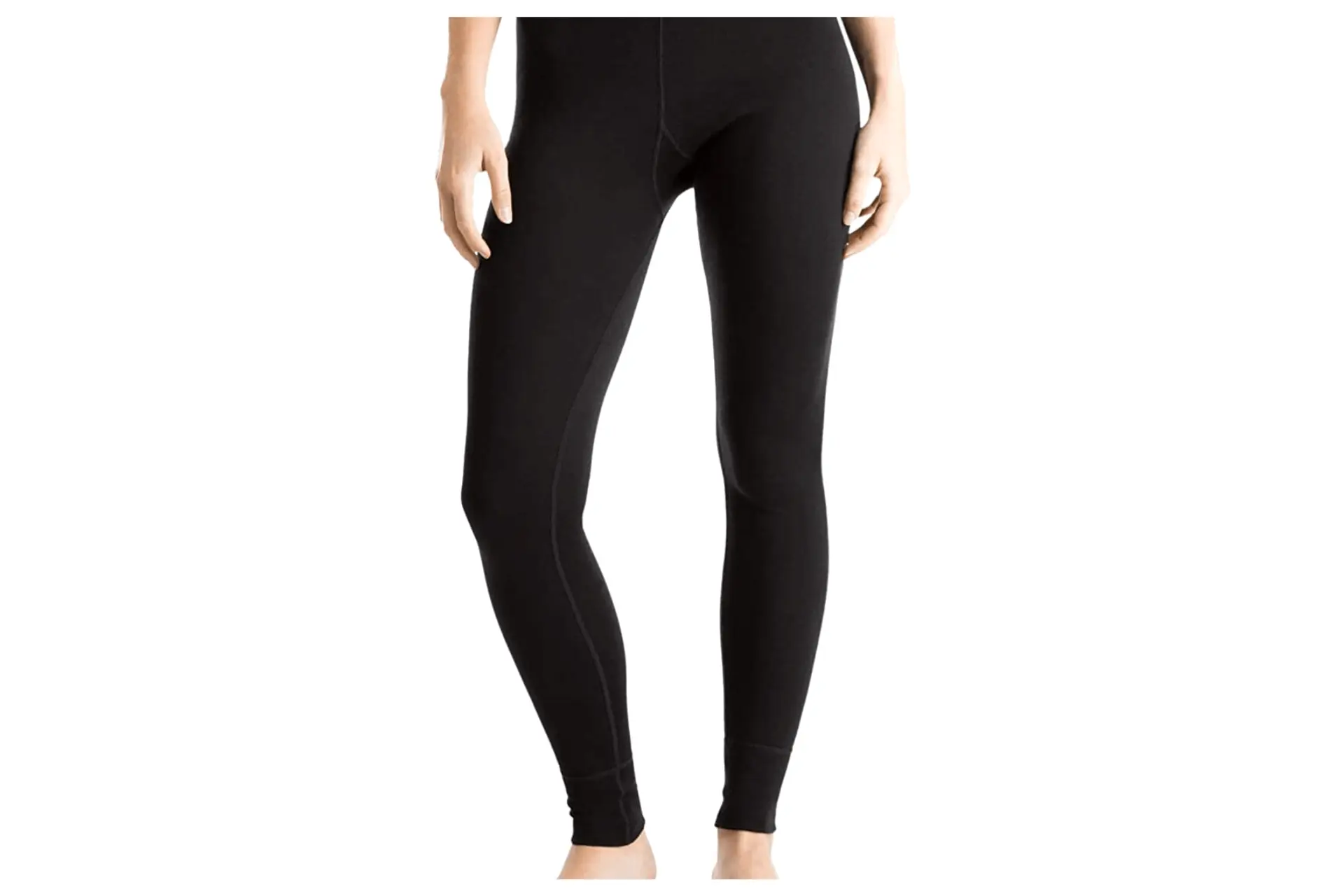 Ever since I made my initial foray into Merino wool, I've been a huge advocate of Meriwool goods. During my preliminary study into the brand, I saw something that struck me; it was the company's core principles.
According to the information provided on their website, each item is crafted with comfort, performance, and cost-effectiveness in mind during the creation process. I'm here to inform you that the company's women's base layer leggings are up to the high criteria.
In terms of coziness, the 16.5-micron Merino fibers cannot be topped by anything else on the market. They leave your skin infected and help prevent any irritation that may have been caused. Meriwool has developed three distinct fabric weight alternatives that can provide you with the level of protection you want from the elements.
Merino leggings with a 190-gsm weight are available and ideal for summer and transitional seasons. Then, the ones displayed up top, which have a midweight of 250 gsm, are ideal for use as either pants or a base layer. The 400-gsm hefty leggings are designed to be worn either as an item that can be worn on its own or as a foundation layer in the winter.
Now we will discuss the second aspect of Meriwool's design: performance. Even though different people have different conceptions of what constitutes performance, I believe that these leggings exemplify the idea of performance through their practicality.
They might not be very eye-catching (unless you choose one of the patterned ones), but they are versatile enough to be wear on their own or as a inner layer.
And now we get to the last aspect, which is how affordable it is. Meriwool leggings have a price far lower than the norm for the industry, despite the costs of the various fabric weights vary (and do so proportionally). All of this, without any reduction in quality. And here is the magic of clothes made from Merino wool: it is comfortable, performs well, and is affordable.
Product Features:
Quick-drying There is a loop at the bottom of the leggings for hanging them up to dry while you are camping.
Maintaining your body's temperature during the summer and winter.
The inherent wicking and odor-resistant characteristics of merino wool keep you dry and comfortable even while actively engaged in cold weather activities.
Merino wool is the material that wicks moisture away from the body more effectively than any other fiber, making it the most breathable fabric possible.
Wicking is a property of a fabric that describes its capacity to wick away moisture from the body and provide a pleasant environment for the wearer.
Pros
Easily within one's financial means.
All kinds of designs and hues.
Excellent use of the foundation layer.
Cons
Design needs upgrading.
Best for temperate temperatures.
3. ICEBREAKER Bodyfit 175 Everyday Legging:
Machine Wash | 100% Merino |Lightweight | Slim Fit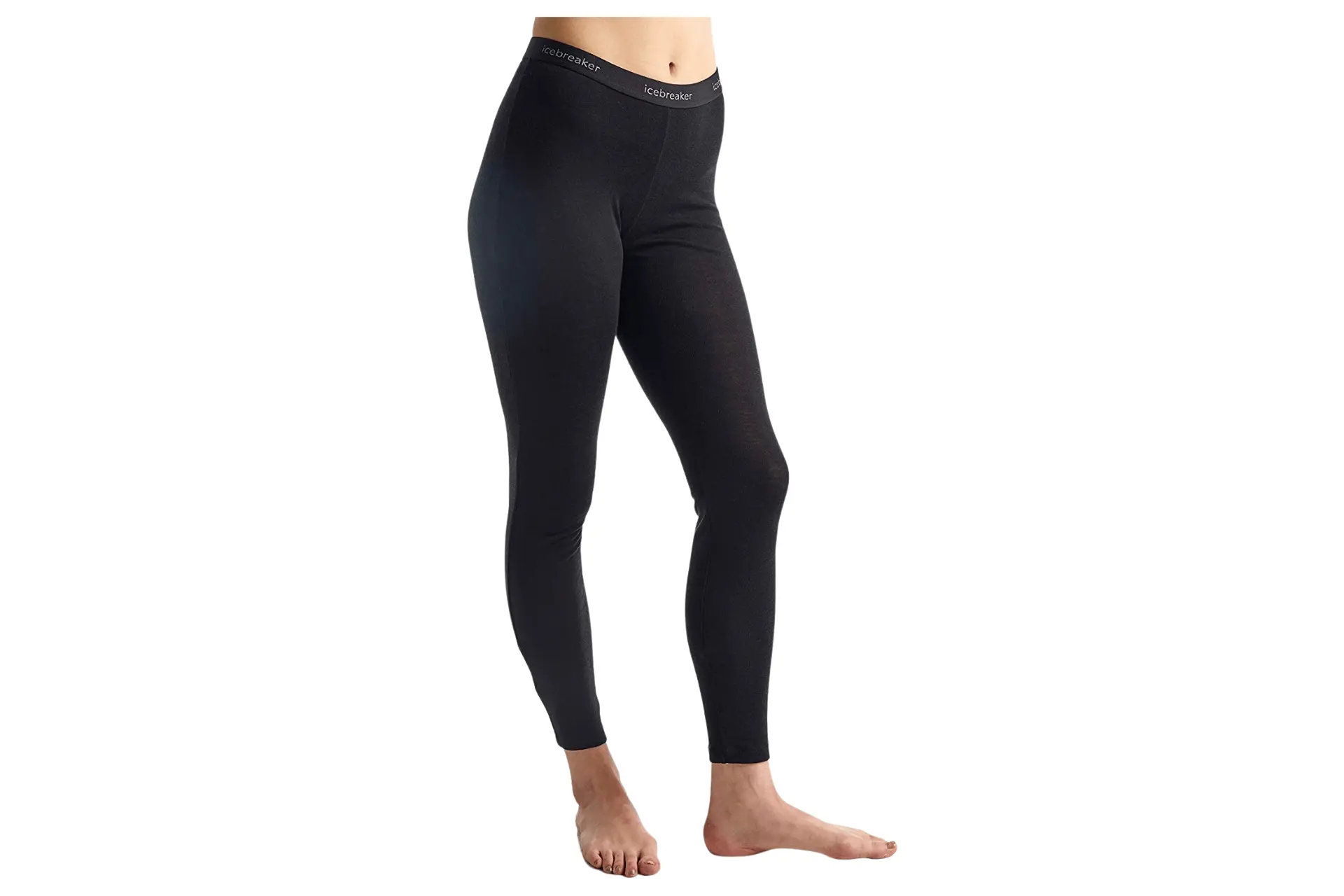 When the temperature outside lowers, you can stay warm and cozy with these Icebreaker leggings because they have thermal regulation and feel as smooth as silk to the touch.
Merino wool is extremely durable, and the fact that it is also biodegradable gives you the peace of mind that comes with knowing that you are contributing to the preservation of the natural world.
The Icebreaker merino wool leggings are designed to keep you comfortable and dry throughout the winter by preventing smells from forming and wicking away moisture. You may easily enhance your winter fashion with either of these pairs since they are available in four hues.
Product Features:
These second-skin wool leggings are the ideal base layer for your layered outfit that you use daily when the weather is chilly.
Insulated, highly breathable, and resistant to odor for those long days and nights spent trekking and camping.
Leggings made of wool designed to be wear as a inner layer have a brushed elastic waistband to provide a comfortable fit and flat-lock seams to prevent chafing. Crafted entirely out of merino wool in its purest form.
Icebreaker provides outdoor clothes and accessories that keep you toasty from head to toe.
Pros
Moisture-wicking.
Odor-controlling.
Available in 4 hues.
Regulates temperature.
Makes maintenance and upkeep simple.
Quick-drying.
Cons
Some people may feel that it is too much of a reach.
4. PARADOX Women's Base Layer Pants:
Hand Wash Only | 84% Polyester, 11% Merino Wool, and 5% Spandex |Dri-Release Fabric | Wicking & Odor Resistance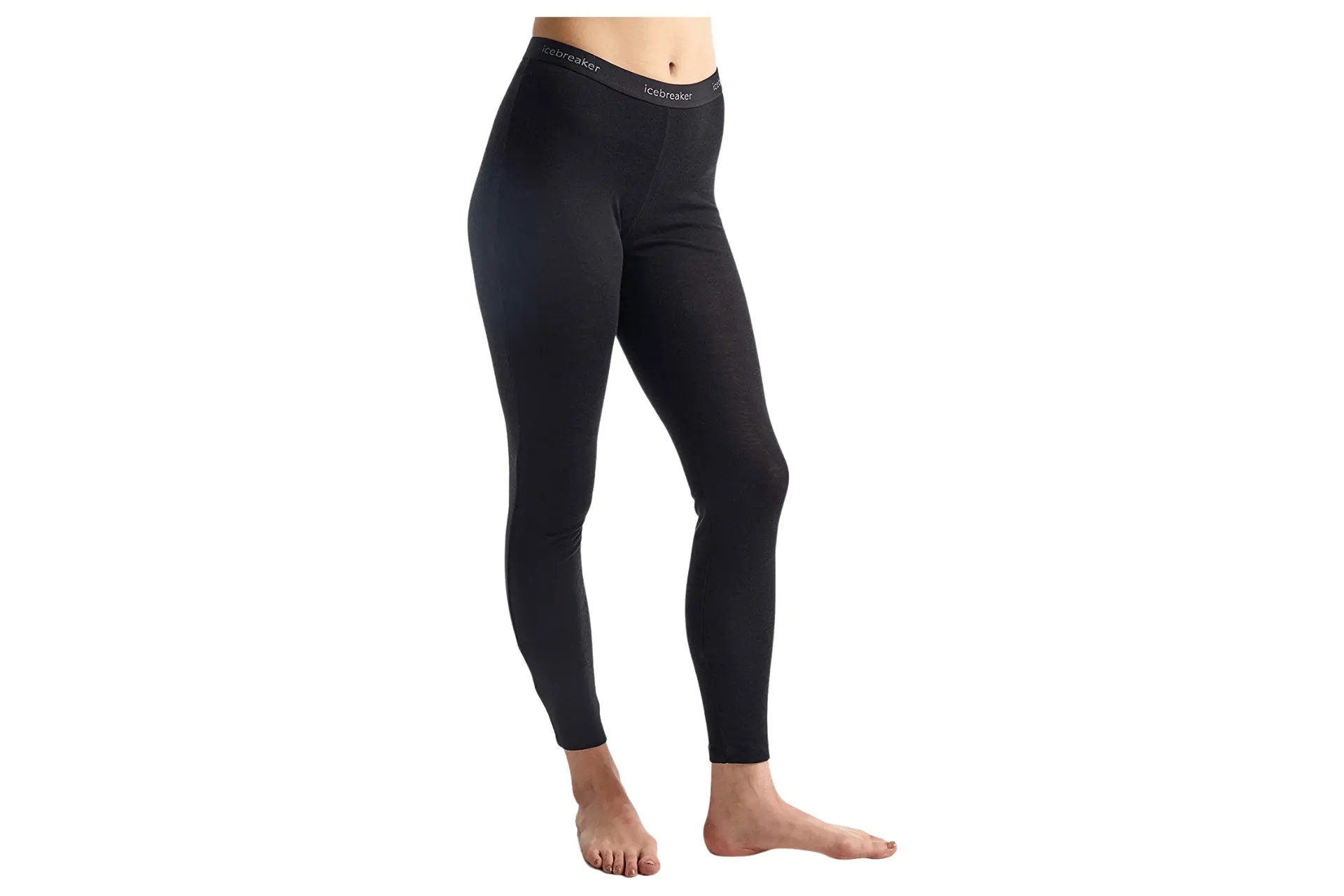 The PARADOX wool outdoors trousers that help increase your performance are made of 84 percent polyester, 11 percent merino wool, and 5 percent spandex.
These materials are woven together to create the pants. The DRI-Release fabric is designed to keep you dry by drawing moisture and sweat away from the skin and releasing it into the surrounding air.
This material makes cleaning simple because it dries four times more quickly than textiles like cotton. It would help if you got your eyes on these lightweight wool trousers for chilly weather as soon as possible since they have a FreshGuard that acts as odor control and the anti-itch function.
Product Features:
It's because they feature a FreshGuard that functions as odor control and anti-itch.
Moisture and sweat are drawn away from the skin and released into the air by the DRI-Release fabric.
Pros
Anti-itch.
Moisture-wicking.
Quick-dry.
Reduces odors.
Incredibly long-lasting stitches.
Lightweight.
Cons
May not be able to withstand the coldest of winters.
5. Helly-Hansen Women's LIFA Merino Baselayer Pants:
57% Merino Wool, 43% Polypropylene | Super Soft & Breathable |Machine Wash | Wicking & Odor Resistance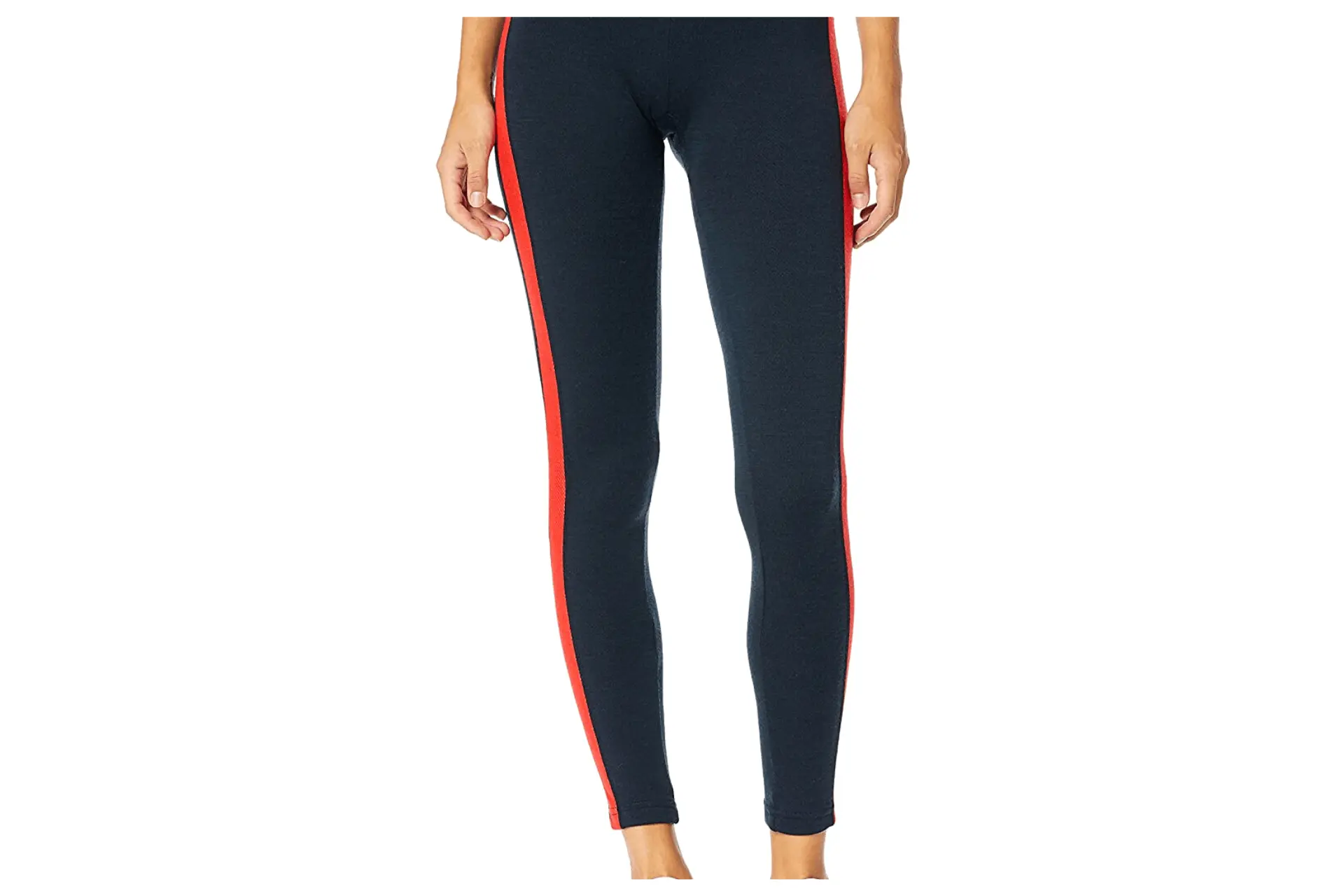 One of the best-performing pairs of Merino wool leggings we've seen is Helly Hansen Women's LIFA Merino Baselayer Pants. Because of this, they are ideal for a wide range of outdoor pursuits, from day walks to multi-day excursions.
Regarding Merino wool leggings, protection is something you don't see as often as you might expect. An inner layer of LIFA Merino is used, while the outside layer is made of 100% Merino wool.
As a result, Merino wool provides warmth and comfort, while synthetic fibers are durable and breathable. Although I wouldn't wear these leggings in the height of summer since you could overheat, they're the perfect compromise.
Finally, the leggings' general comfort sets them apart from the competitors—active comfort, to be more precise. Full range of motion is not sacrificed for performance thanks to the supportive fabric, broad waistband, and well-placed stitching. Helly-Hansen designers are active outdoor lovers so I wouldn't expect anything less from them.
Finally, if you're still undecided about these hiking leggings, you may be swayed by their eye-catching color patterns. When it comes to Merino leggings, you're usually limited to basic black and blue hues.
This is a good thing because the Helly-Hansen collection now includes more hues like Wild Rose and Taupe. Get your hands on a pair of Helly-Hansen LIFA Merino leggings in the color you like today.
Product Features:
Imported.
Construction with two layers.
Merino wool outer layer and Lifa technology within.
Non-itching.
Flat-lock the seams.
Pros
Fabric with dual-use.
Improved ability to exhale.
There are a variety of hues to choose from.
Cons
Not recommended for hot weather.
Thinner than seen in the photo.
6. Minus33 Merino Wool 803 Women's:
50+UPF Rating | 100% Merino Wool |Crafted to Fit | Experienced Brand | Wicking & Odor Resistance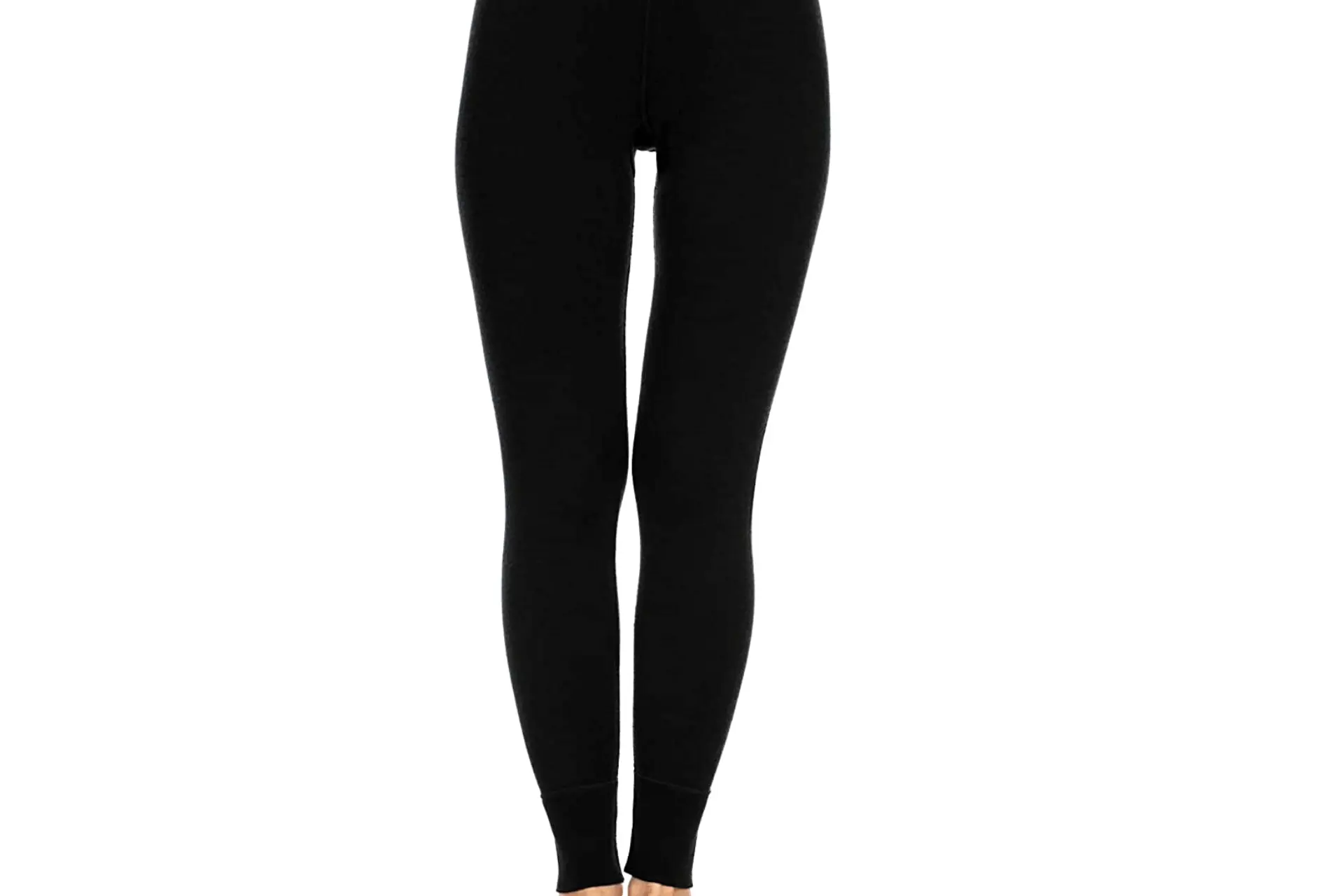 Minus33's merino wool leggings are made with an interlock fabric and flatlock seams for a neat look and feel. Thermal trousers, which are warm and comfortable, may be worn as undergarments or as outerwear in the winter.
Minus33's merino leggings have moisture-wicking characteristics that allow them to wick away sweat, save water, and dry rapidly.
The UPF rating of 50+ ensures excellent sun protection while providing excellent thermal insulation as it is a midweight thermal pant. No matter the weather, you can create a beautiful look with these Leggings.
Product Features:
Merino Wool, made from 100% Merino Wool, is exceptionally soft and comfy.
The adaptability and warmth of this three-season merino wool thermal bottom make this an essential piece of outdoor wear.
Your merino wool may be machine washed and dried thanks to the latest easy care technology.
We use sustainable resources to produce our 100% Merino Wool. You won't have to wash it as often because of its moisture-wicking capabilities, so you'll use even less water.
Pros
Versatile and easy to maintain.
Affordability at its finest.
Comfortable near to the skin.
Cons
There is room for improvement in terms of the waistband's thickness.
Care must be used during washing.
Pockets are not included.
7. Smartwool Women's Merino Sport 7/8 Legging:
100% Wool | Zipper Closure |Multipurpose Comfort |High-Rise Waist | Wicking & Odor Resistance
The Smartwool Women's Merino Sport 7/8 leggings are a great option if you're more of a 10K runner. Because of their length, these leggings are ideal for wearing with tall running socks and preventing chafing at the ankles. Additionally, you'll have more room in your legs.
While past leggings have used a single layer of wool, the Smartwool 7/8 Sport utilizes two layers. Merino wool makes up a little more than half of the internal lining.
In addition to feeling luxuriously smooth, the silkiness also helps minimize chafing. A nylon/elastane exterior, on the other hand, provides extra durability and breathability. Everything you could want is right here.
These Smartwool leggings also have performance characteristics, so you can go the extra mile when running. Merino wool is used to line the high-rise waistline for extra comfort.
Thanks to the gusset design, you won't have to worry about 'riding-up.' In addition, it's got pockets! Just like a real pair of pants' pockets! You can easily carry your phone and keys in the two drop pockets and one zippered compartment.
These leggings not only live up to but surpass the high expectations set by Smartwool. My only complaint is that there isn't enough Merino in the fabric. However, I am a Merino STAN to the core. See the Smartwool Women's Merino Sport 7/8 Leggings by clicking the link below.
Product Features:
Completely natural Wool.
Imported.
Closed with a zipper.
Added moisture-wicking and faster drying thanks to Merino Sport 150 lined waistband, gusset, and breathable 4-way stretch fabric.
Pros
It has two pockets.
Seventy-eight percent.
Protective outer layer.
Cons
Long-term viability is in doubt.
The hips are somewhat larger than normal.
8. Smartwool Women's Merino 250 Baselayer:
100% Wool | Made in the USA |Pull-On Closure| Wicking & Odor Resistance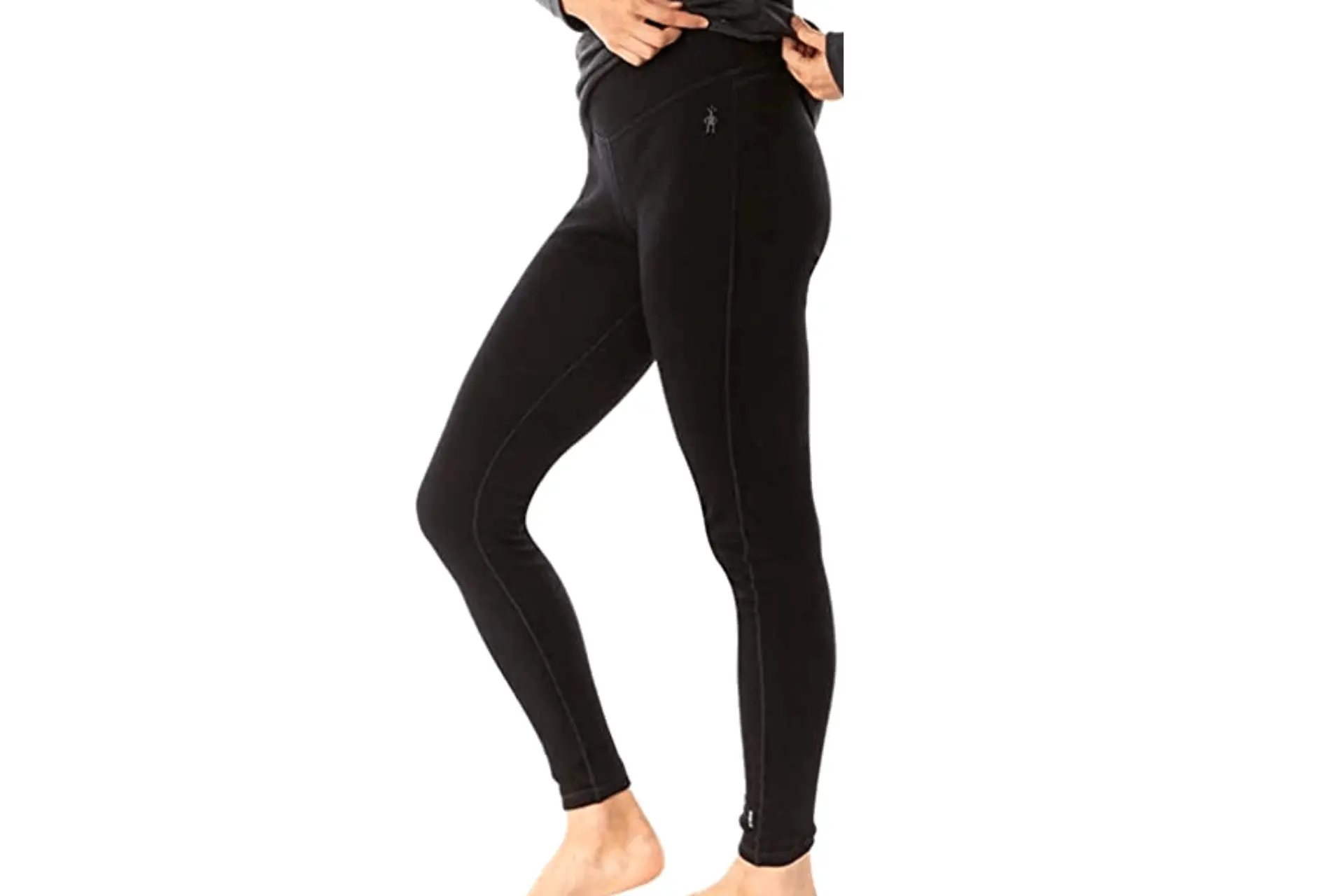 Spring is the season for outdoor adventure, whether you're tackling whitewater rapids or strolling through alpine meadows. It's also a good idea to bring the Smartwool 250 base layer bottoms for every springtime outing.
Smartwool has nailed it when it comes to quality and functionality. In terms of temperature, lightweight, design, and availability, these 250 base layer bottoms are a perfect match. It was these articles of Merino wool apparel that inspired me to create this business with my husband. Therefore they have a particular place in my heart.
Smartwool has significantly improved the general fit since I purchased these leggings over five years ago. Contrary to past years, I believe the fabric is more flexible now than before.
So, as previously said, any pair of Merino leggings reviewed today may be ideal for one individual but not for another. But don't take my word; these Smartwool 250 Bottoms aren't for everyone. You should, however, stock up on them if you're a spring-time explorer.
Product Features:
Completely natural Wool.
Designed and produced in the United States.
Using a washing machine is recommended.
Odor-resistant.
Controls the temperature.
When your intensity rises, this garment will help keep you cool and minimize chafing.
Pros
Fit and style have been improved.
Excellent levels of comfort and safety.
More than one color.
Cons
Some of the others aren't as flexible.
The waistband may be too small.
Easily snagged.
9. Kari Traa Women's Rose Base Layer Bottoms:
4-Way Stretch Design | Jacquard knit |Flatlock seam | Next-to-Skin | Wicking & Odor Resistance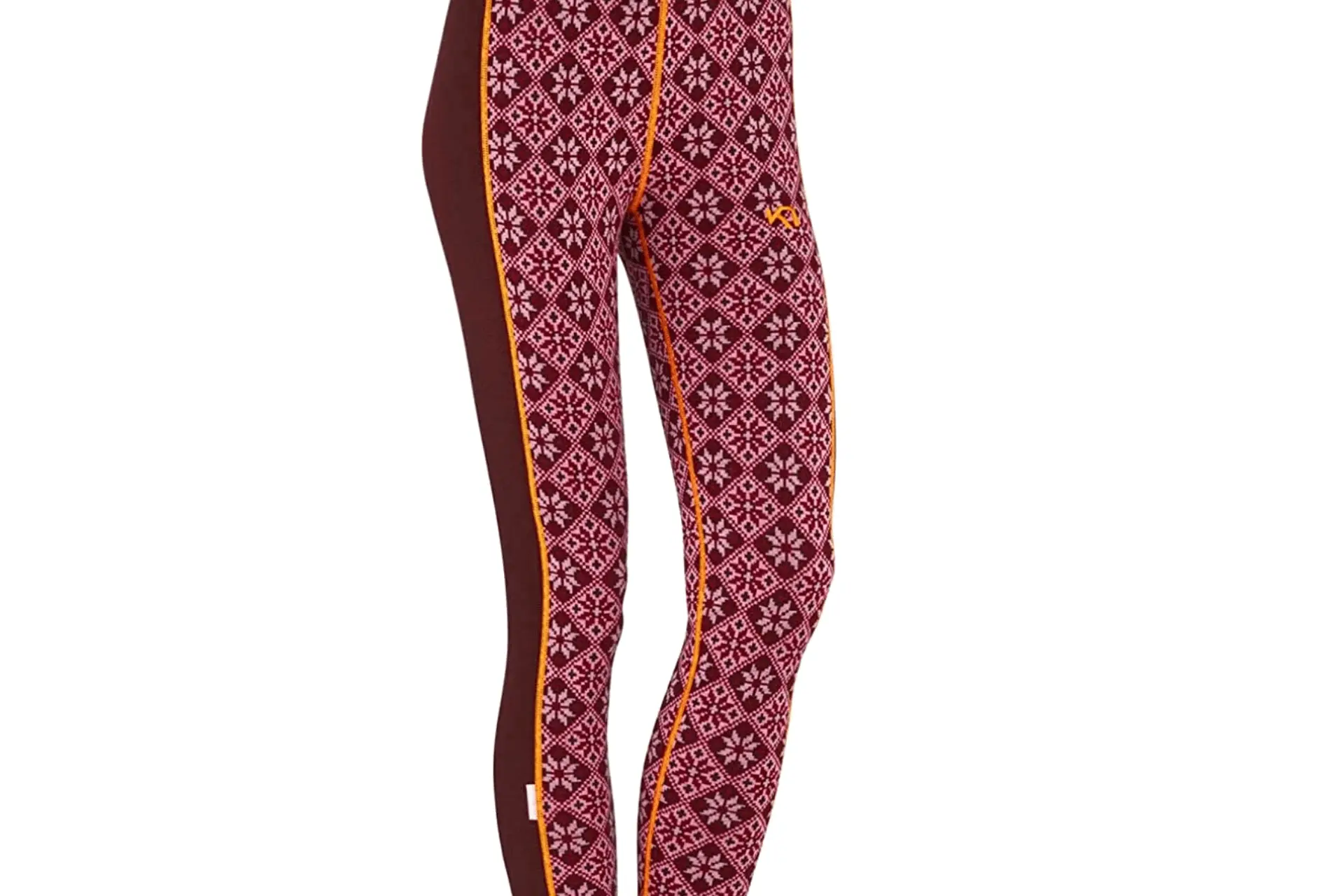 A comfortable pair of yoga pants is necessary, whether relaxing in Savasana or attempting the Handstand Scorpion for the first time. Kari Traa, on the other hand, is well aware of this. Wool leggings from Merino Rose Pants are our favorite.
To begin, the fabric and style of these leggings deserve special attention because they are very impressive. Leggings constructed well and fit snugly are ideal; they provide support where you need it while allowing you to move freely.
All yogis adore the 4-way stretch design used by Kari Traa. There are nine other colors and flower patterns to choose from, but I'll let you see them yourself.
There are usually a few drawbacks to any given situation. This pair of Kari Traa Merino Leggings is more delicate than I'm used to since they are lighter than I'm used to. To top it all off, you'll have to do more to protect them. It's still true that the more affection you offer these leggings, the more contentment you'll feel.
As a Merino wool wearer, I'm a great lover of the leggings' unusual patterns. In addition, Kari Traa is a well-known brand that produces high-quality items.
Product Features:
Completely natural Wool.
A merino wool blend is used to create this garment.
Insulation Mid-level build.
Form-fitting
Skiing, snowboarding, and hiking are some of the activities available.
Pros
A one-of-a-kind floral creation.
Breathable side panels are included.
Stretchy 4-way comfort.
Cons
Care must be used during washing.
Not recommended for a variety of outdoor pursuits.
Comparatively Pricey.
10. Merino. tech Merino Wool Base Layer Women's Pants:
Superfine 18.5 Micron | Super Soft & Breathable | All-Day Comfort | Wicking & Odor Resistance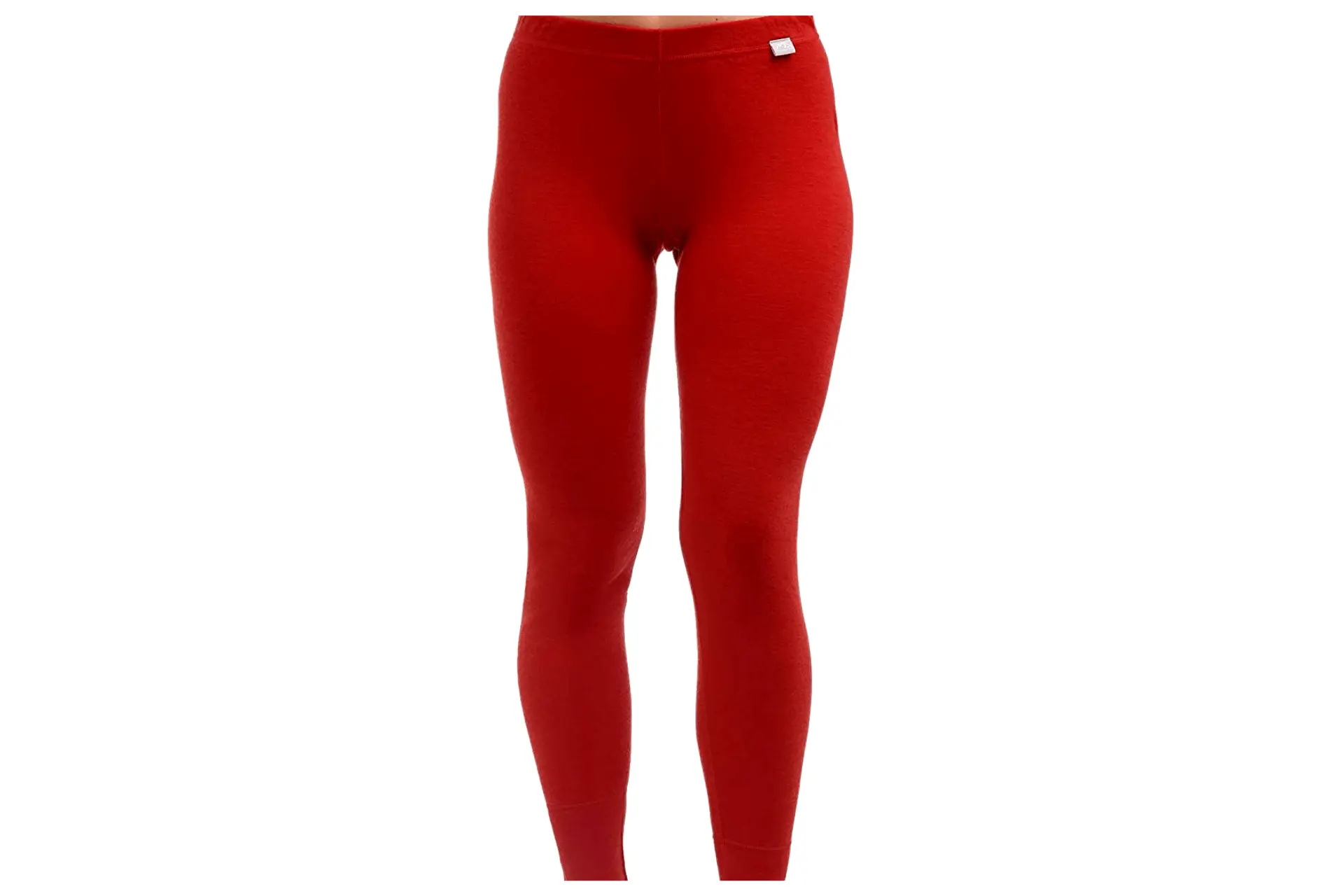 The price of Merino wool leggings is, yes, something I am aware of. However, there are other choices for people who wish to experiment with wool leggings without losing money first. How do you wear leggings if you don't have a leg?
However, Merino. Tech's wool leggings are an exceptional value for the money. Even though they aren't the best, they nevertheless perform admirably. They're soft, odor-resistant, and exceptionally effective in removing moisture from the body.
These leggings aren't as long-lasting as other leggings made of Merino wool that aren't combined with synthetics. In terms of fashion, these leggings may be worn as a single piece, but I like to wear them as pajamas or long underwear.
Despite this, you can't go wrong with the eight colors (a rarity in the Merino world). With each purchase, Merino. Tech will offer you a free pair of socks; all their items come with a lifetime guarantee.
Product Features:
Women's Merino Wool Pants made from 100% Superfine 18.5 Micron Wool for all-day comfort with no itch! Designed to be worn every day without the rubbing and overheating of cotton.
Unlike other fabrics, Merino Women's Wool Pants naturally drain away moisture and repel odors, keeping you dry and fresh.
Hand washing and air drying will extend the life of your garments.
Wool thermal women naturally regulate our body temperature to keep you warm all year round.
Pros
Excellent value for the money.
More than one color.
With any purchase, you'll receive a pair of wool socks.
Cons
The garments are somewhat enormous.
A little knee stretching after a lot of activity.
11. Ibex Izzi Tight – Women's:
Hand Wash Only | Super Soft & Breathable |Multipurpose Comfort | Wicking & Odor Resistance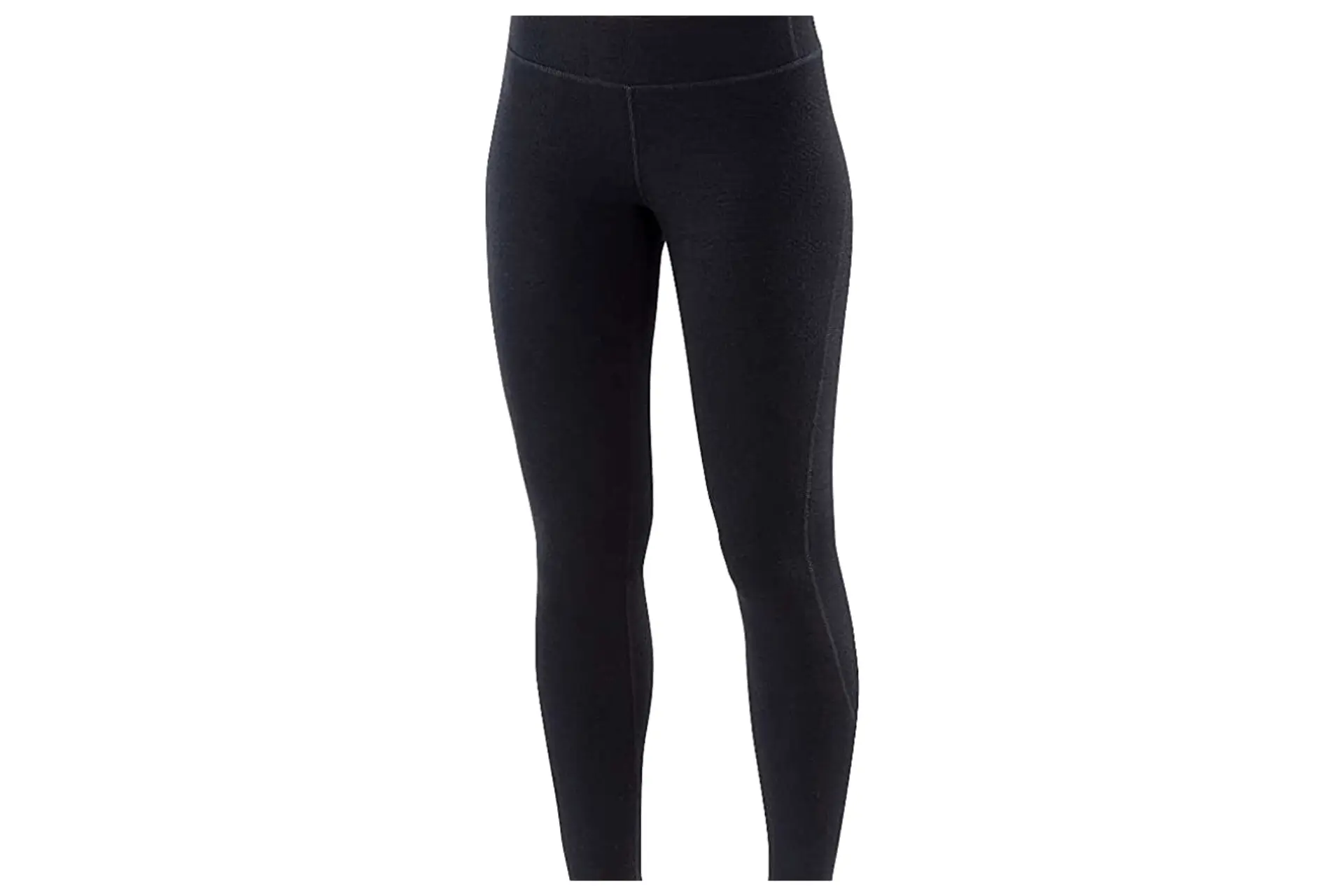 There is no better place to get a high-quality pair of Merino wool leggings than a business that cares about its origins. The Ibex Women's Izzy Tights and the Best Merino Wool Leggings are practically tied.
Ibex Merino is known for its high-quality fabrics and expert craftsmanship, so it's no surprise that these tights made our list. As a result, before moving on, give them the benefit of the doubt.
You wouldn't be doing yourself any favors if I didn't emphasize the athletic, flexible construction first. Stitching is strategically placed to allow you to move freely while giving additional support.
There is also a thick, high waistband that provides additional support and comfort. It's as though Ibex made these leggings just for the needs of women everywhere. It has a pocket, for goodness sake!
In addition, the fabric is the Ibex Izzy Tights' crowning achievement. A 71 percent Merino wool, 24 percent nylon, and 5 percent Elastane supersoft is available.
While the 19-micron Merino wool provides great comfort and odor resistance, synthetic materials help with breathability, resilience, and support.
It's like the ideal synthesis of the good and the terrible, minimizing the bad. Merino wool is known for its high price point, and these tights are no exception.
However, in terms of affordability, quality is equally as important as costs. The more costly, higher-quality garments, like the Ibex Women's Izzy Tights, pay for themselves over time. Merino wool leggings can be pricey, so if the idea does not persuade you, keep reading for some less expensive choices.
Product Features:
Wool from merino sheep.
Made in the USA.
Tights by W Izzi in Black XS.
Pros
Anatomically correct, wide waistband.
Thigh pocket with easy access.
The feeling of being wrapped in a warm, soft blanket.
Cons
There is a limited supply.
Costly, but not prohibitively so.
The sizes may be a little bit.
12. Eizniz Naturwool Women's 100% Merino Wool:
Superfine 18.5-Micron | 100% Wool |Multipurpose Comfort | Wicking & Odor Resistance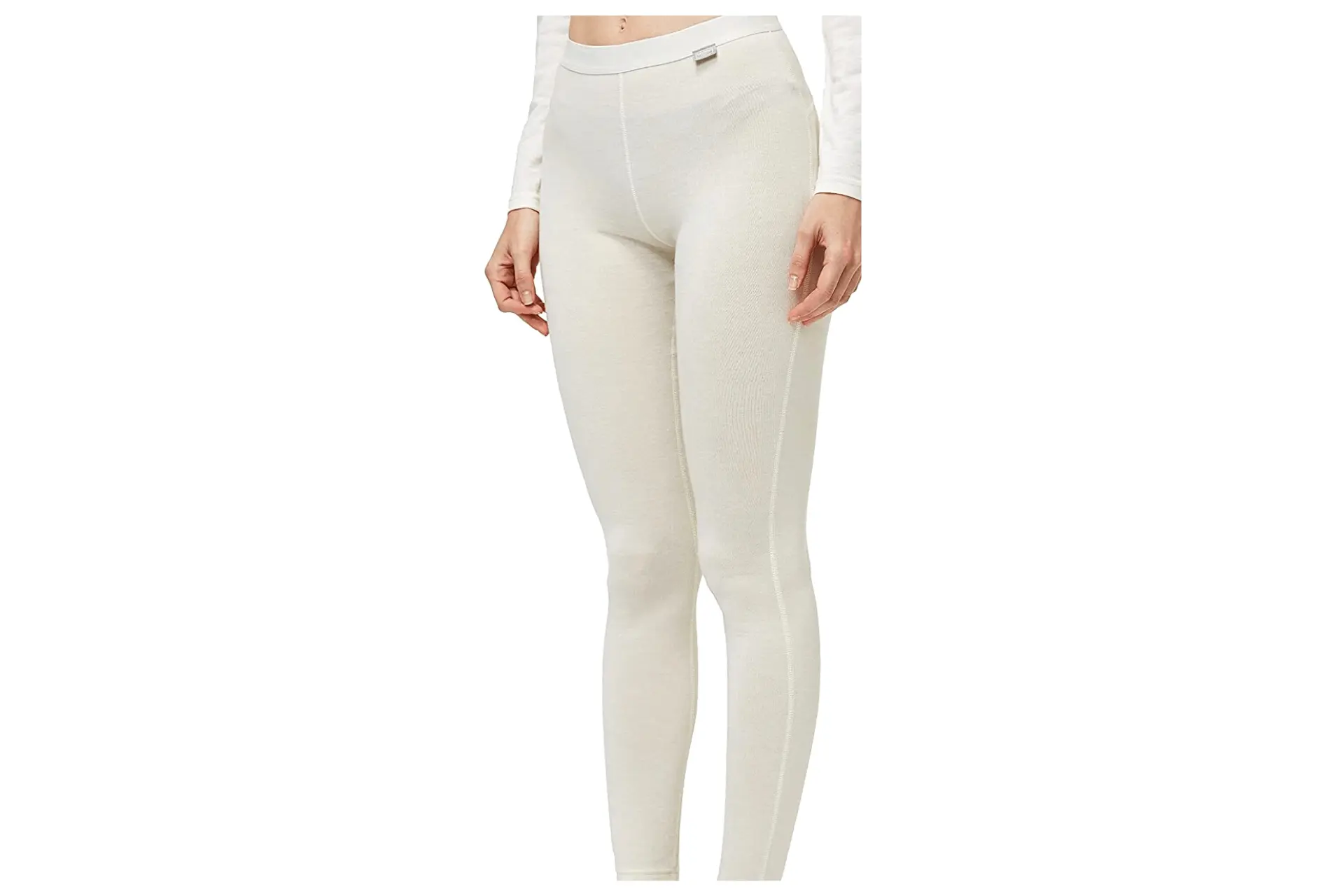 The wool yoga pants from Eizniz are constructed with one hundred percent merino wool, which provides your skin with excellent insulation to ward off the chill.
Because of the odor-resistant features of these leggings, you can rely on them to keep you feeling clean and fresh even if you're on the go the whole day.
In addition, the base layer fabric made of merino wool naturally wicks away sweat, allowing you to remain dry regardless of your activity. These woolen leggings come in sixteen different don't cause itching or clamminess.
Product Features:
Pants made of superfine 18.5-micron Merino wool that are fully natural and 100 percent Merino wool.
Bottom thermal leggings with a performance focus. Underwear is made of durable Merino fabric that may be used daily.
Keeping you warm during the cold winter months.
The odor-resistant characteristics of merino wool, together with its naturally breathable and moisture-wicking capabilities, ensure that your skin stays dry and comfortable regardless of the weather.
Your wool base layer leggings are designed with the most advanced technologies for simple care, which means they can be washed and dried in a machine.
Pros
Odor-resistant.
Moisture-wicking.
Non-itchy.
Available in 16 hues.
A smooth finish.
Cons
There is a possibility that the waistline is too tight for certain people.
13. Woolly Clothing Women's Merino Wool Legging:
95% Australian Merino Wool, 5% Elastane | Flatlock seams |4-Season Comfort |Tagless Interior | Wicking & Odor Resistance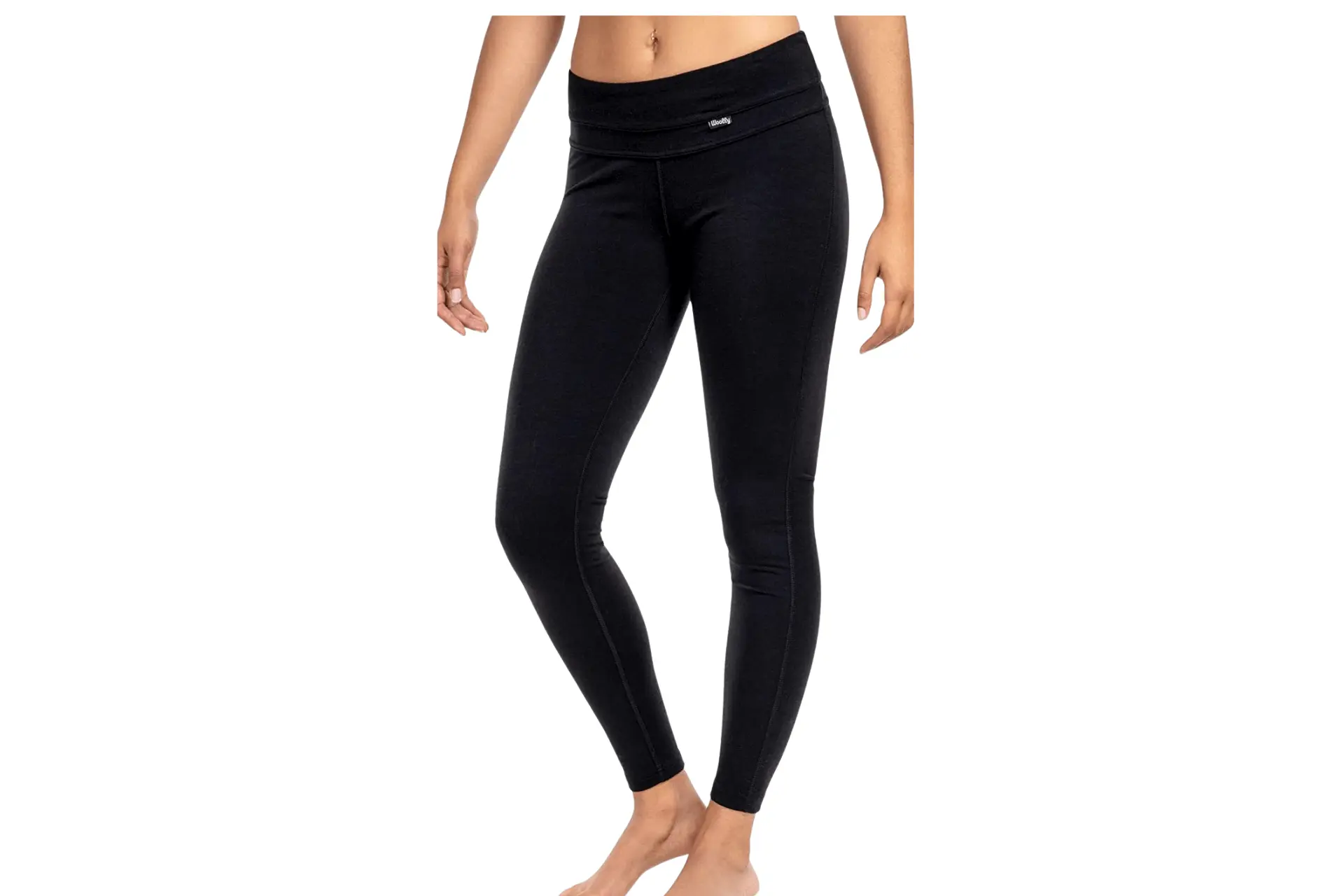 Although these Merino leggings have a simplistic appearance and appear to have few characteristics, they come with many features that boost comfort and performance.
The heavyweight 320 GSM fabric is opaque, so you won't be able to see through it, but it isn't so thick that it will prevent you from breathing. In addition to this, the structure of the cloth for Woolly includes 5% elastane, which provides a pleasant four-way stretch. Therefore, these leggings beautifully contour your contours while not limiting your mobility.
However, the things that make these leggings stand out to us the most are the little elements. To provide a higher level of comfort, they include flatlock seams and a tagless lining. The nicest aspect is that they don't have a foul odor.
Therefore, Woolly must be your first choice if you seek a pair of Merino wool leggings that can be worn in various ways and function very well.
Product Features:
95 percent Australian Merino Wool, 5 percent Elastane.
The perfect layer for hiking, yoga, sitting at home, or wearing outside when it's cool.
In every part of your life, you may take advantage of the odor-free, fire-resistant, moisture-wicking, and long-wearing comfort that merino provides.
Woolly combines the time-tested health benefits of merino wool with timeless daily designs that suit any setting.
Pros
Relaxing stretch in all directions.
Both warm and breathable.
Wider waistband.
Cons
It does not conform to the body.
Possible initial flaking and irritation at the site of application.
14. LAPASA Women's 100% Merino Wool:
100% MERINO WOOL | Super Soft & Breathable | 18.5 micron |Multipurpose Comfort | Wicking & Odor Resistance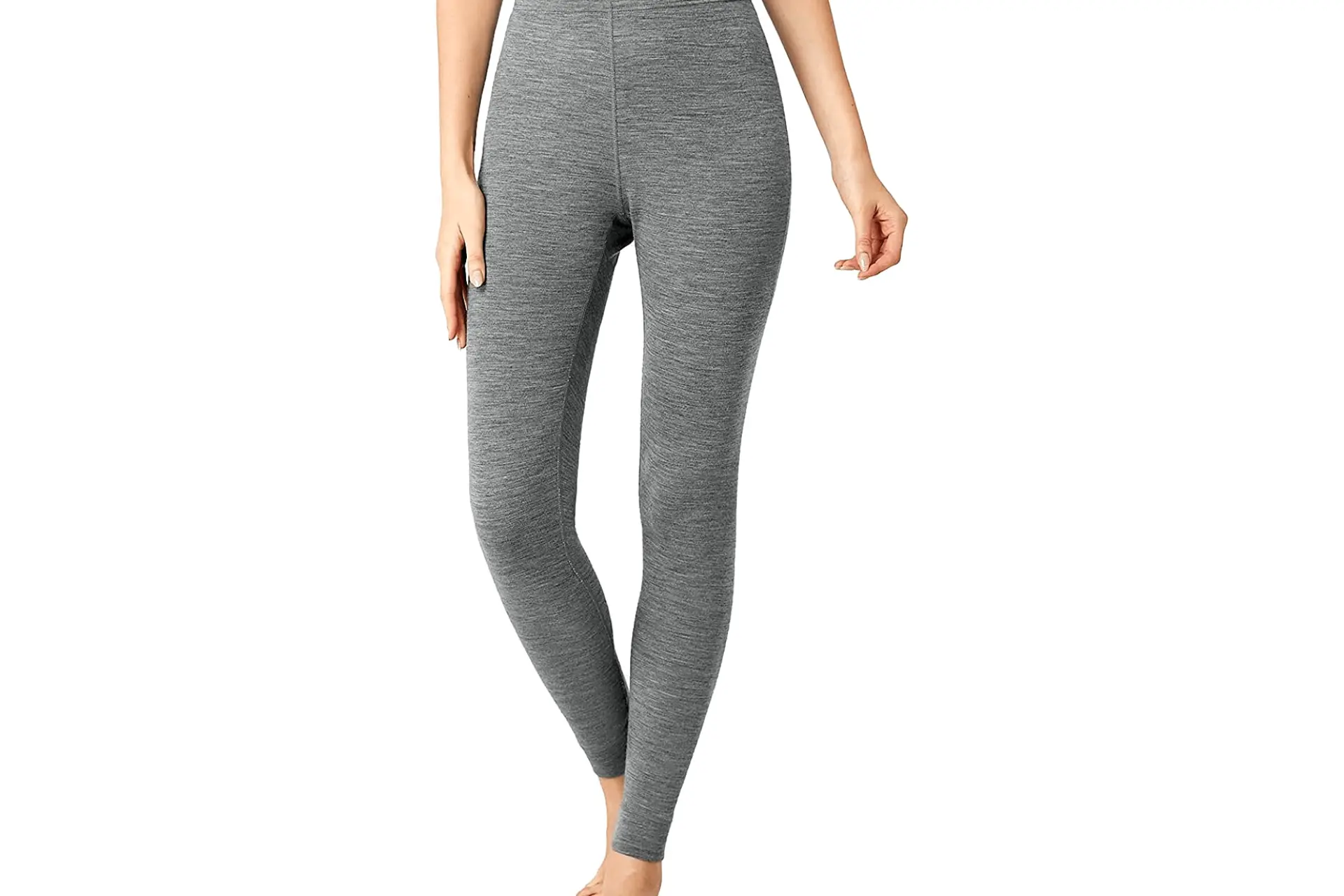 The wool running tights from LAPASA keep you warm without the itching sensation typically associated with wearing woolen gear.
Because it is breathable and keeps you cool, the fabric will not cause you to overheat while participating in your favorite activities.
You may run or jog in the cold weather while wearing these leggings as a base layer or outerwear since they are very good at retaining heat.
Merino wool is known for its ability to drain away moisture and block odors, making it an excellent choice for keeping you clean.
Product Features:
Standard 100 Oeko Tex Merino Wool is 100 percent natural and sourced from Australia.
The usage of 250g/m2 interlock knit Merino wool by LAPASA guarantees that this thermal will be the best option for conditions including low temperatures.
Because they are constructed with 18.5 micron Merino fibers, they have a velvety texture and do not itch in the same way that regular wool does.
The fact that this textile has received the STANDARD 100 grade from OEKO-TEX demonstrates that it has been examined for potentially hazardous compounds.
Merino wool is beneficial for several reasons, one of which is that the material can effectively insulate while allowing air to pass through it.
This is a thermal with a medium thickness, and it may be used as a base layer. It will drain away sweat while also keeping you toasty and comfortable.
Because of its long-lasting four-way stretch material and cozy, close fit, this item will flex and move with your body to ensure that your range of motion and comfort are not compromised.
Whether you're camping, trekking, skiing, working out, or simply taking it easy, this cozy thermal will keep you warm and comfortable no matter what you're doing.
Pros
Anti-itch.
Reduces the risk of overheating.
It is possible to wear it as a foundation layer.
Moisture-wicking.
Odor-resistant.
Midweight.
Cons
Possible shape degeneration with continued usage.
Are Leggings Made of Merino Wool Worth the Extra Money?
Base layers made of Merino wool are significantly more expensive than most synthetic materials. On the other hand, your foundation layer is not an area where you want to cut corners. It is the layer that is most closely in contact with your skin.
If the base layer does not effectively drain moisture and provide insulation, you will find that you are both cold and sweaty during your activity.
The following is a list of some of the reasons why the expense of Merino wool is justified:
You May Wear It either During the Winter or During the Summer:
Wool is an excellent insulator, making it a great choice for the cold months. However, because it allows air to pass through, you may wear it even when it's hot outside and still feel comfortable. The wool will serve to shield against UV rays.
Wool Can Wick Away Moisture:
Wool can wick moisture away from the skin, preventing evaporation—a process that would otherwise lead to losing body heat.
Even When Wet, It Provides Insulation:
Wool is made up of microscopic voids that are naturally filled with air. These are what offer the insulation to the building. Even after becoming wet, the little pockets of air will not disappear. If you are out trekking in the winter and end up falling into a creek, a base layer made of Merino wool might save your life and bring you back to base safely.
Merino Wool Doesn't Stink:
Okay, so this is up for debate. Some experienced hikers would swear they don't smell even after wearing the same base layer made of Merino wool for days. It stinks, but it doesn't stink nearly as horribly as synthetic base layers, which stink dreadfully! Even though it stinks, it isn't as horrible as natural base layers.
Merino wool is not the only wool type with strong insulating capabilities; other forms of wool do as well. On the other hand, they are quite irritating. Merino wool prevents this from occurring, particularly when produced by companies who take care to sew the garment in strategic locations.
Fairly Durable:
Merino wool isn't quite as robust as synthetic base layers, but it does have a decent amount of longevity overall. However, it does maintain its shape extremely well, particularly if you choose Merino wool that is of medium or high weight.
Rapidly Dries Out:
When hung up, lightweight Merino wool will dry in around thirty to sixty minutes. This enables you to give it a quick rinse at camp and then hang it up to dry before using it the following day.
Excellent ratio of heat retention to weight: When it comes to the ratio of warmth to the weight that Merino wool offers, there is virtually nothing else that can compare to it. Even though synthetic materials are always being improved, they leave a horrible feeling against the skin and cause odor.
Purchasing Advice for Leggings Made of Merino Wool Base Layers:
When shopping online for foundation layers, what characteristics should you search for? The following is a list of some of the basic information you need to know about base layer bottoms:
Wool Content:
Merino base layer pants are either made entirely of merino wool or a combination of merino wool and other synthetic fibers to improve specific properties.
Thermal trousers made from one hundred percent merino wool highlight all of the wonderful properties of the wool; however, thermal pants made from elastic, polyester, or nylon can increase the pants' durability, elasticity, and fit.
Because our bottoms occasionally require an additional measure of toughness, we do not mind using mixes containing merino wool.
Merino Yarn Weight:
When shopping for merino long Johns, you will frequently see that the product name includes a number like 120 or 240 GSM. GSM is an abbreviation for grams per square meter, referring to the width of the fibers utilized.
Merino wool is often used to make lightweight base layer bottoms, with a GSM ranging from 110 to 180, while midweight base layer bottoms have a GSM ranging from 180 to 300. You won't come across anything significantly thicker very often since it would be uncomfortably hot.
Crotch:
If you are a man, you should consider whether or not you want a fly opening that works, but in addition, you should look at the crotch's contour and how far it is from the waist. Base layer bottoms may be worn high up without giving you a wedgie, but preferably, they will sit around your trouser line so you do not have a large saggy crotch.
Even though thermal pants with a diamond-shaped crotch would be something we would be interested in seeing, we have never seen any with that design.
Value:
To get the most out of your money, you should opt for merino wool mixes rather than pure merino wool because they are often less expensive.
They are nearly as warm and provide all of the same advantages, but to a somewhat smaller amount than what the original offers. You should budget from twenty dollars on sale to more than one hundred dollars for the best merino thermals.
Construction:
When shopping for leggings, look for ones that have flatlock seams because these are more functional for outdoor activities. This stitch eliminates friction and makes for comfortable clothing that does not restrict mobility.
Crotch gussets that are sewed in also increase the flexibility of movement since they can relieve pain caused by bending down or crouching in awkward positions. A gusseted crotch is another feature that assists in maintaining the fabric's integrity in the middle.
If your body warms up more quickly than the average person's, you should seek leggings with built-in mesh panels since these leggings maintain a strong airflow while also providing insulation.
Fit:
Leggings have to be the right size for you, which means you have to measure your waist and thighs. Additionally, they have to flatter your body form.
You can select a high or low waist for your leggings, depending on your choice and whether you want to use them as an outer layer.
Wider waistbands are often more comfortable and may be worn alone when participating in strenuous activities. On the other hand, they may be too noticeable when worn as a foundation layer.
There are several leggings styles, some of which include bands or cuffs around the ankles. These help keep the fabric from rolling up. You should investigate these choices if this is something that appeals to you as a preference.
Leggings of one hundred percent merino wool may get baggier with repeated wear. Look for wool that is combined with other synthetic materials such as polyester or Lycra if you want something stretchy yet snug at the same time.
The winter season is thrilling, but the biting wind might make it difficult to enjoy the weather. Woolen necessities such as hoodies, coats, wool leggings, and boots help keep your body warm and toasty throughout the chillier days of this month.
Your legs will stay toasty warm, odor-free, and itch-free when you wear the finest wool leggings crafted from an extraordinarily high-quality fabric that is kind to the skin.
You may protect yourself from the cold by wearing these thermal pants underneath whatever other clothes you have on. They are perfect for outdoor activities such as walking, trekking, or skiing when the weather is below freezing.
They are constructed with fabrics that can wick away moisture while still being lightweight and flexible. On the other side, some leggings have a looser fit yet are still easy to manage.
Bottom Line:
Leggings made of Merino wool are an excellent choice for the colder months and any other time of year. They not only keep your legs warm and comfortable but also contribute to the overall temperature regulation of your body. Because there is a wide variety of leggings constructed with merino wool, you will have no trouble finding a pair that is just right for you.
We hope you liked reading our blog on the best leggings made of Merino wool. We have gone over all the fundamentals of what to search for in merino wool leggings, and we have also supplied you with a brief selection of the companies that Weider to be our favorites. If you are interested in purchasing a high-quality pair of leggings made of merino wool, we hope the information provided in this article will be useful.